You could spend $20 buying a boxed game or you could browse through my library of fun & FREE bingo games for kids! From number bingo to alphabet bingo, I've got you covered with a bingo card template to fit any boring summer or rainy day!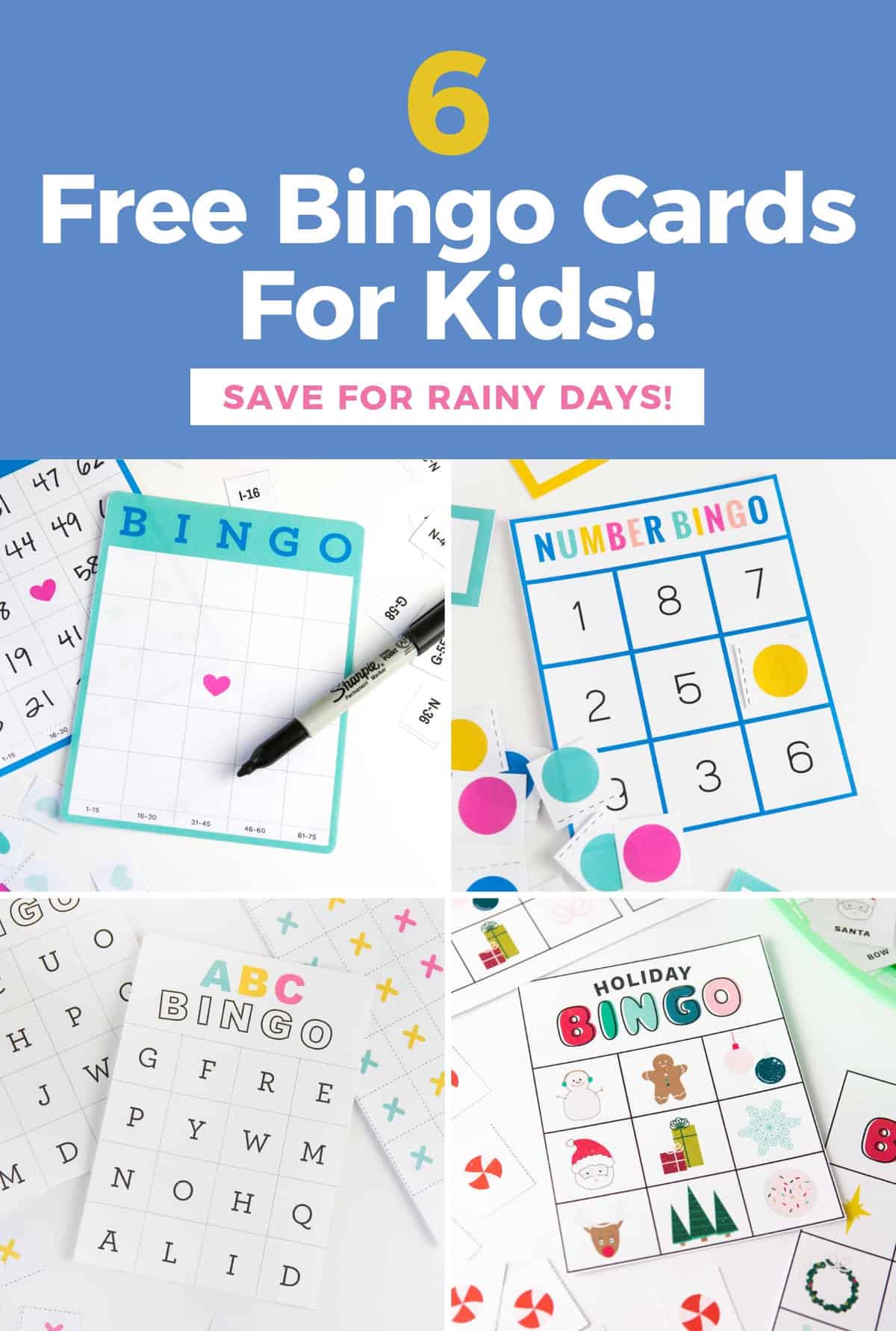 Keep in mind that the ages listed here are mere suggestions. As long as the kid's can recognize numbers & letters, they can play! And for the littles who can recognize letters and numbers but may not yet comprehend the horizontal/vertical nature of winning bingo, simply have them play under the card is full!
6 Free Bingo Games for Kids
For the little tikes just learning their numbers, this game of number bingo using a small range of numbers is a great way to keep them busy while still learning. Designed to use numbers 0-10, these printable bingo cards are perfect for preschool or kindergarten age kids.
Great for: Rainy Day Activities, Birthday Party Games, Kindergarten Activities, or Every Day Activities
For the kiddos who have mastered their numbers 0-75, my set of 4 printable bingo cards is a great way to cure those "I'm bored" summer days. With a colorful & fun design, these cards are a great way to get the kid's off the devices and into a game of old-school fun.
Great for: Rainy Day Activities, Birthday Party Games, or Every Day Activities
Help kids learn the alphabet by printing out these free printable alphabet bingo cards. This set includes 8 set of cards using uppercase letters, allowing 8 children to play at once.
Need more than 8 cards? Use these printable blank bingo cards and instead of them filling in the numbers, have them fill in letters instead. Then simply write the alphabet on a piece of paper, cut out, and use those as the calling cards.
Playing with a large crowd and need more than 12 cards? Print off as many of these blank bingo cards as you need! Simply have each player write in their own numbers and use the provided cards to call out the numbers!
Christmas/Holiday Bingo
After decorating cookies, whip out these adorable Christmas Bingo Cards for an extra layer of holiday fun. With Rudolph's shining nose to Christmas cookies, these bingo card templates are sure to put the crowd in a holly jolly (and slightly competitive!) mood.
And for the Christmas party prizes? These printable santa treat bags would be a darling way to package up holiday cookies, candy, or treats.
For more fun games and activities for kids, pop on over my Games & Charts Printable Library!