Gift your favorite cookies with these EASY homemade cookie packaging ideas! I've even included FREE printable gift tags and templates to help you look like a legit bakery!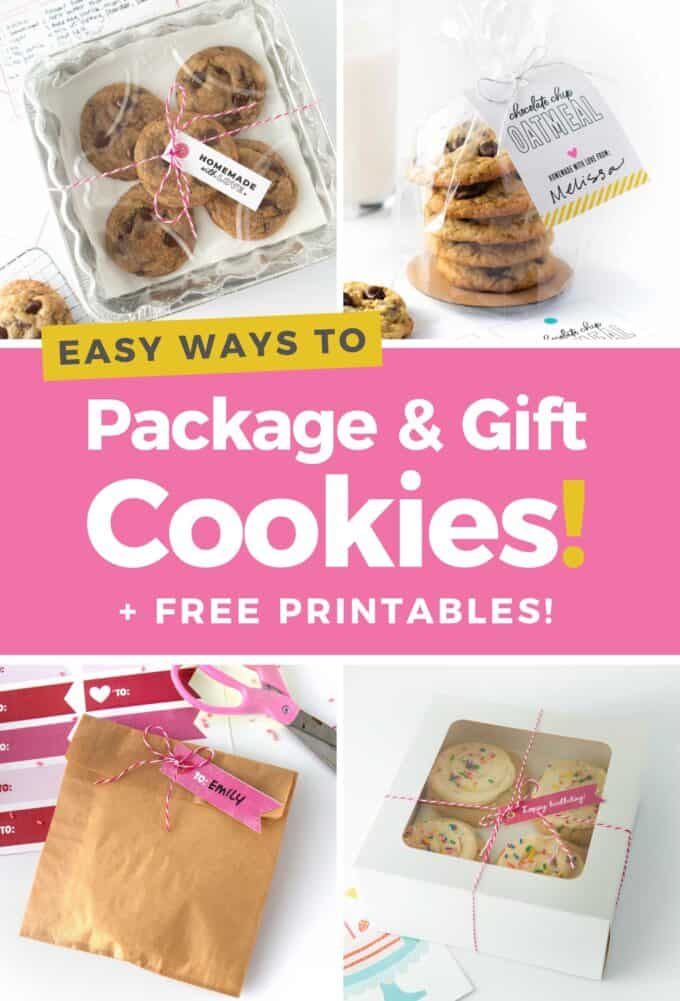 Cookie packaging ideas…made EASY!
I'm a firm believer that you don't need to spend a lot of money to make an adorable (and delicious!) food gift. Whether you keep a bulk pack of pans on hand or use my free printables, I've got you covered with 7 easy cookie wrapping ideas to help your cookies look as legit as they taste!
Use these cheap DIY cookie packaging ideas for bake sales, neighbor gifts, holiday food gifts, and more!
Mix. Bake. Print. Gift!
How to wrap cookies for gifting – 7 ways!
Wondering how to gift cookies but not sure where to start? Use any of my 7 easy ideas for packaging homemade cookies! And if you need some recipe inspiration, I've got a whole library of cookie recipes for you to chose from!
Idea 1: Gift in foil pan
Grab a foil pan (any size) from the grocery store and gift your baked cookies inside! It's a quick & easy way to make your treats look a little more presentable, rather than just gifting them on a paper plate!
Purchase Online: Square Foil Pans with Lids
Recipe: One Bowl Chocolate Chip Cookies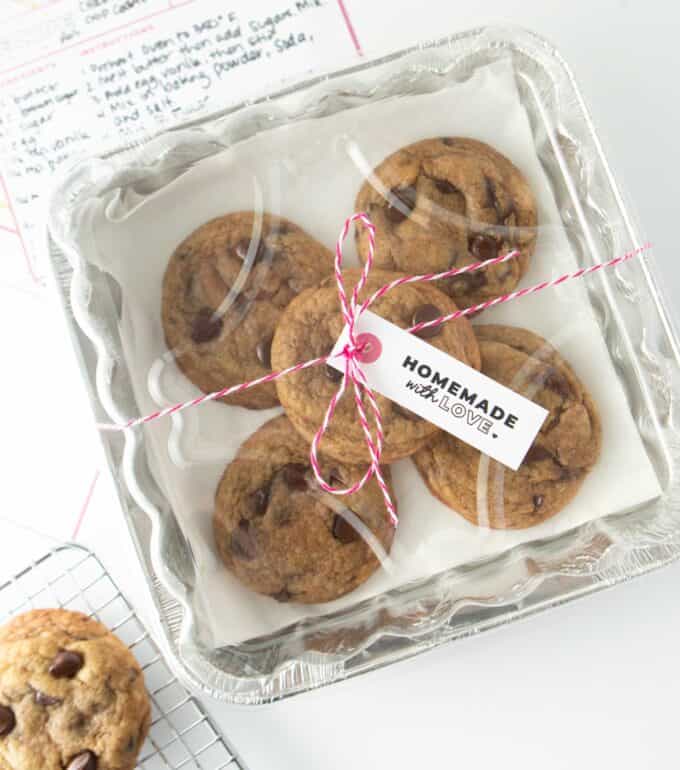 Idea 2: Gift in a plastic bag
Whether you use a regular ziploc bag or a cellphane treat bag made for cookies, plastic bags are a quick & easy way to package cookies! In a pinch, you can cut the zipper off a Ziploc bag, slip in a cookie, and tie the top with string!
Purchase Online: Clear Cookie Bags
Printable Tags: Printable Cookie Gift Tags
Recipe: Chewy Chocolate Chip Oatmeal Cookies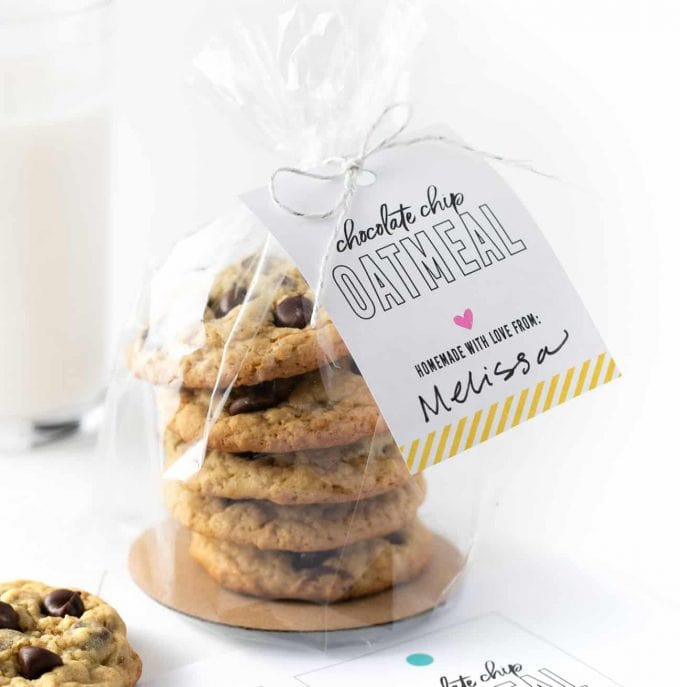 Idea 3: Gift in printable pouch
Skip the store and print off your own cookie pouches at home! These are great for small to medium-sized, flat cookies (like my Kitchen Sink Cookies or One Bowl Chocolate Chip Cookies. Just be sure to wrap your cookies in plastic wrap before putting in the paper pouch (or else the grease will soak through).
Download: Printable Chocolate Chip Cookie Bags
Recipe: One Bowl Chocolate Chip Cookies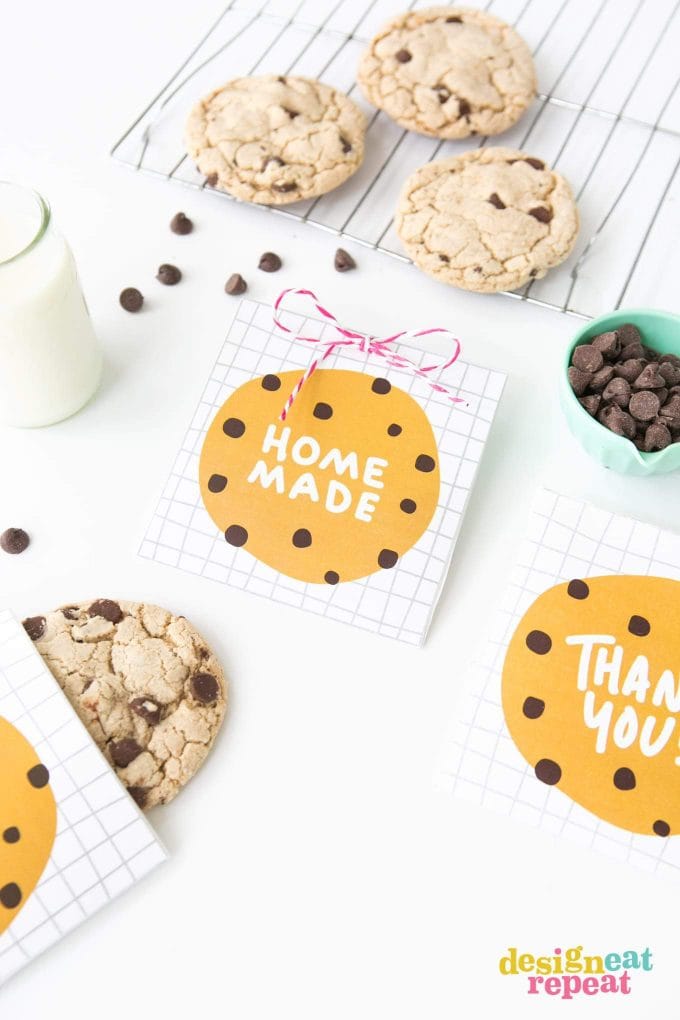 Idea 4: Gift in a grease-proof pouch
These grease-proof paper bags from Amazon are one of my favorite ways to package cookies. They are inexpensive, grease-proof, and have a peel-off adhesive strip, making them easy to close and embellish with a tag or twine!
Purchase Online: Grease-proof paper bags
Recipes: Any unfrosted cookie!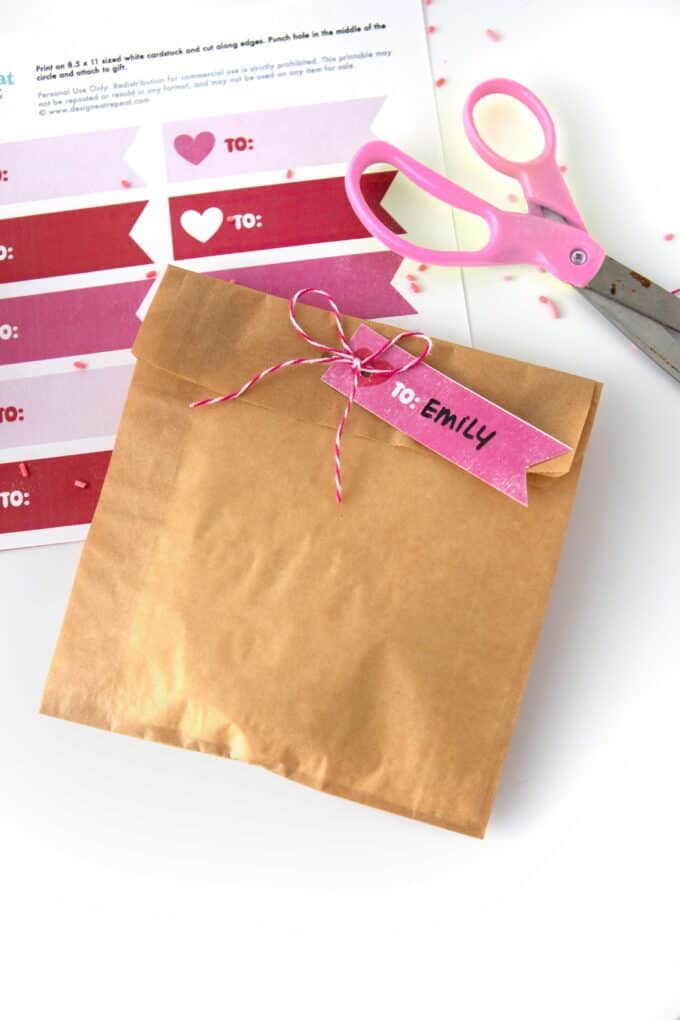 Idea 5: Gift in box
For a true bakery-style gift, I love to gift cookies in a white bakery box with a window lid. It's great for sugar cookies (or any frosted cookie!) that you don't want to mess up, while also providing a peek into your hard work!
Purchase Online: Individual Cookie Boxes | Large Bakery Boxes
Recipe: Fluffy Sugar Cookies (or any frosted cookie!)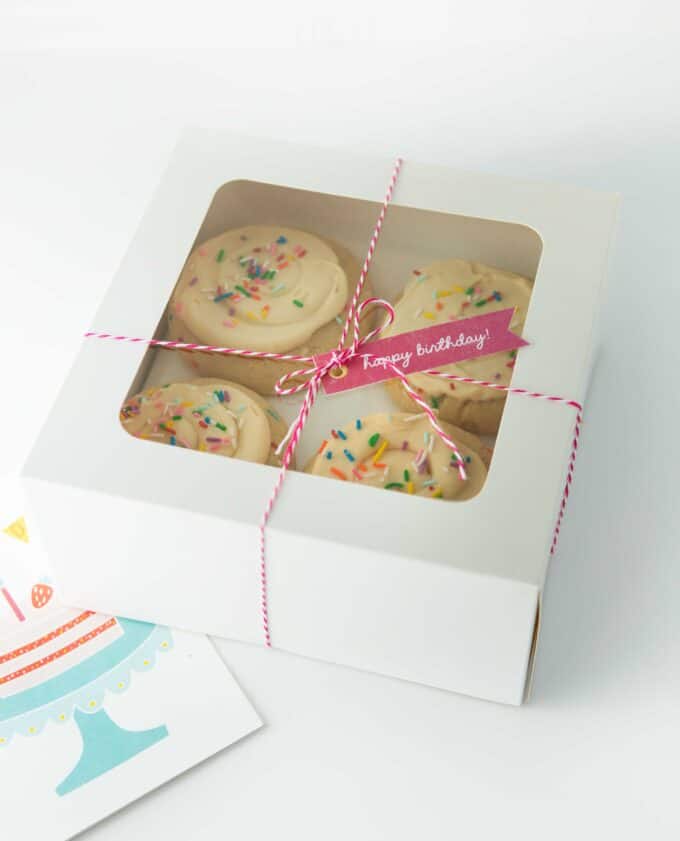 Idea 6: Gift in printable bags
For smaller treats or cookies, you can print off my printable treat pouches and gift them in there! These are fun for little birthday treats or anything where you don't want to run to the store to get bags! Be sure to wrap cookies in plastic wrap before slipping in bag to prevent grease from soaking through.
Want to create cute labels and printable stickers to add to your treat bags? You can use sticker sheets or a fun label printer (like the Munbyn Bluetooth thermal printer that doesn't even require ink or toner!) to customize the name of the recipe, the recipient's name, or even a fun holiday message!
Download: Printable Party Favor Bags
Recipes: Reeses Peanut Butter Cup Cookies, S'more Cookie Bars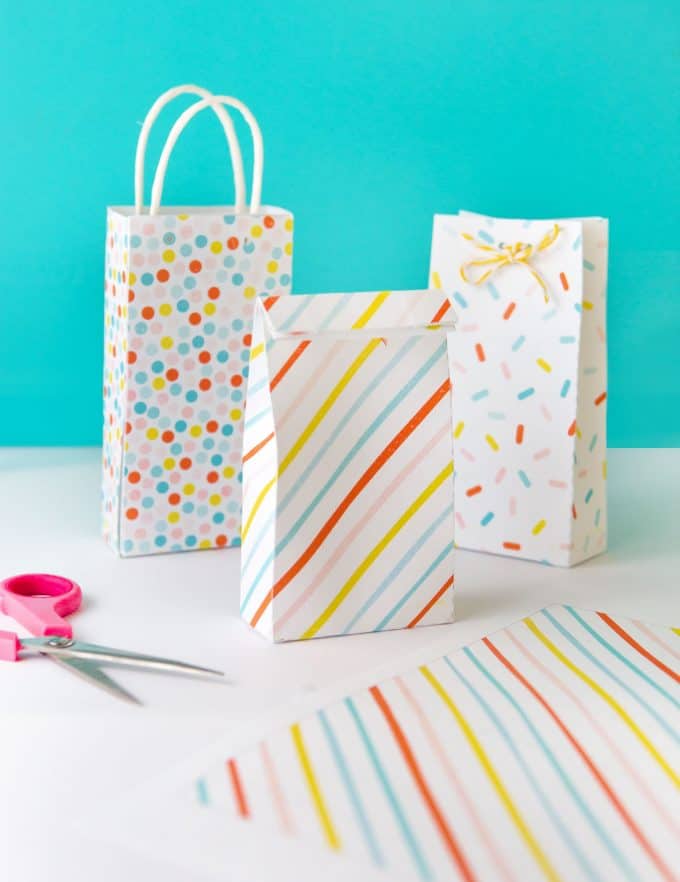 Idea 7: Gift the dough!
One of my favorite food gifts to give to friends with new babies (or new neighbors!) is freezer dough! Simply make your favorite drop cookie recipe and gift in a foil pan with the baking instructions.
Purchase Online: Square Foil Pans with Lids
Printable Tags: Chocolate Chip Cookie Instruction Tags
Recipe: One Bowl Chocolate Chip Cookies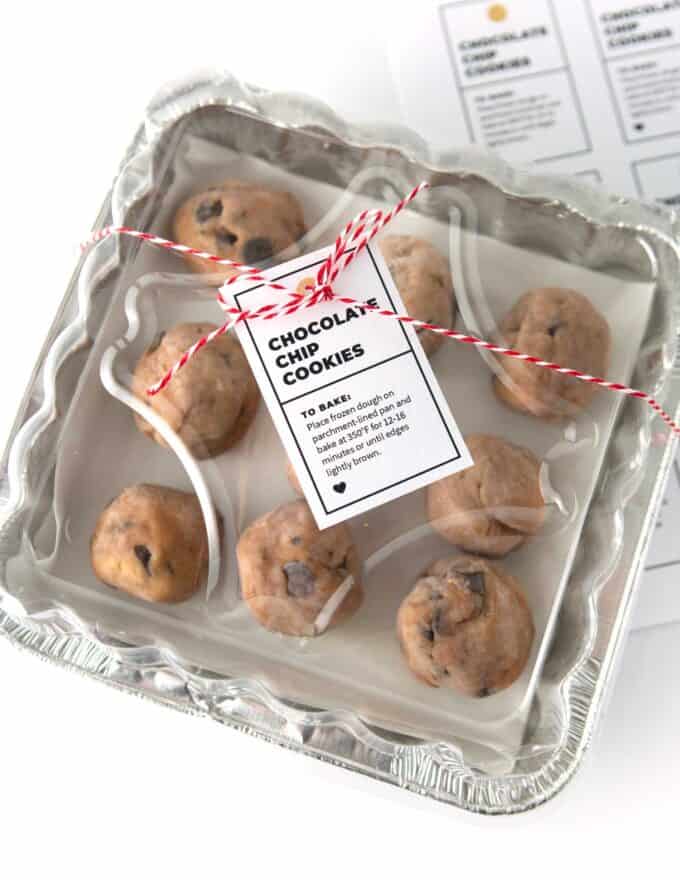 Do you have a favorite way to gift cookies? Be sure to leave a comment and let me know – I love hearing your ideas!