Use your home printer to print off these colorful cookie gift tags! Attach to treat boxes or bags for the perfect teacher gift, neighbor treat, thank you gift, or Christmas cookie treat bag. Includes designs for a generic "thank you" tag, chocolate chip oatmeal cookie tag, normal chocolate chip cookie tag, rainbow sprinkle funfetti, sugar cookies, or peanut butter cookie tag.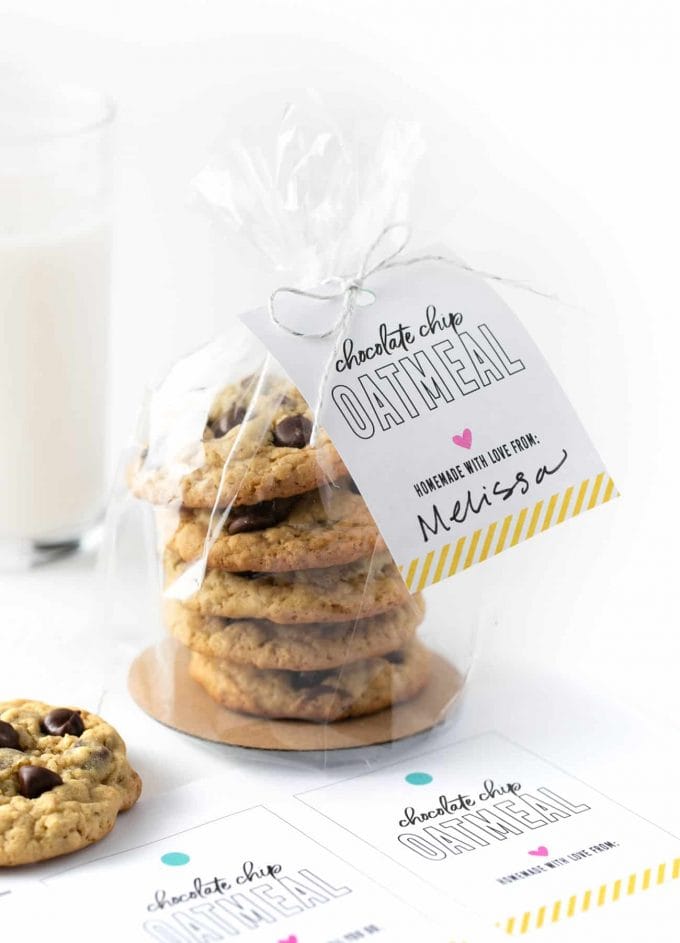 Nothing says "thank you" or "I love you" quite like homemade cookies. Whether it's a special occasion or you want to treat your favorite people "just because", these printable cookie gift tags are here to help. Attach them to a bag filled with your favorite cookie recipe (or one of mine below!) and become the favorite mom, friend, or coworker anyone could ask for.
What You Need for Printable Cookie Gift Tags:

How to Make Printable Cookie Gift Tags:
Step 1: Choose Cookie Type/Design
Choose the cookie flavor you are making and only print off that page in the PDF. As you'll see, there are 6 different designs included on each page of the PDF. If you don't see a design for the cookie you're making, you can use the generic "thank you" design on Page 6 or if it's not for a thank you gift, then check out some of my other printable gift tag designs.
Step 2: Print
Print the design on 8.5 x 11″ white cardstock.
Step 3: Cut & Attach
Cut along edges and use a hole punch to punch a hole through the blue circle. Use string or ribbon to tie through and attach to a plastic cookie bag, box, or pouch.