Celebrate national chocolate chip cookie day (which is every day around here) by gifting homemade cookies in these printable cookie pouches! Perfect for party favors, teacher appreciation gifts, or just as a simple thank you treat!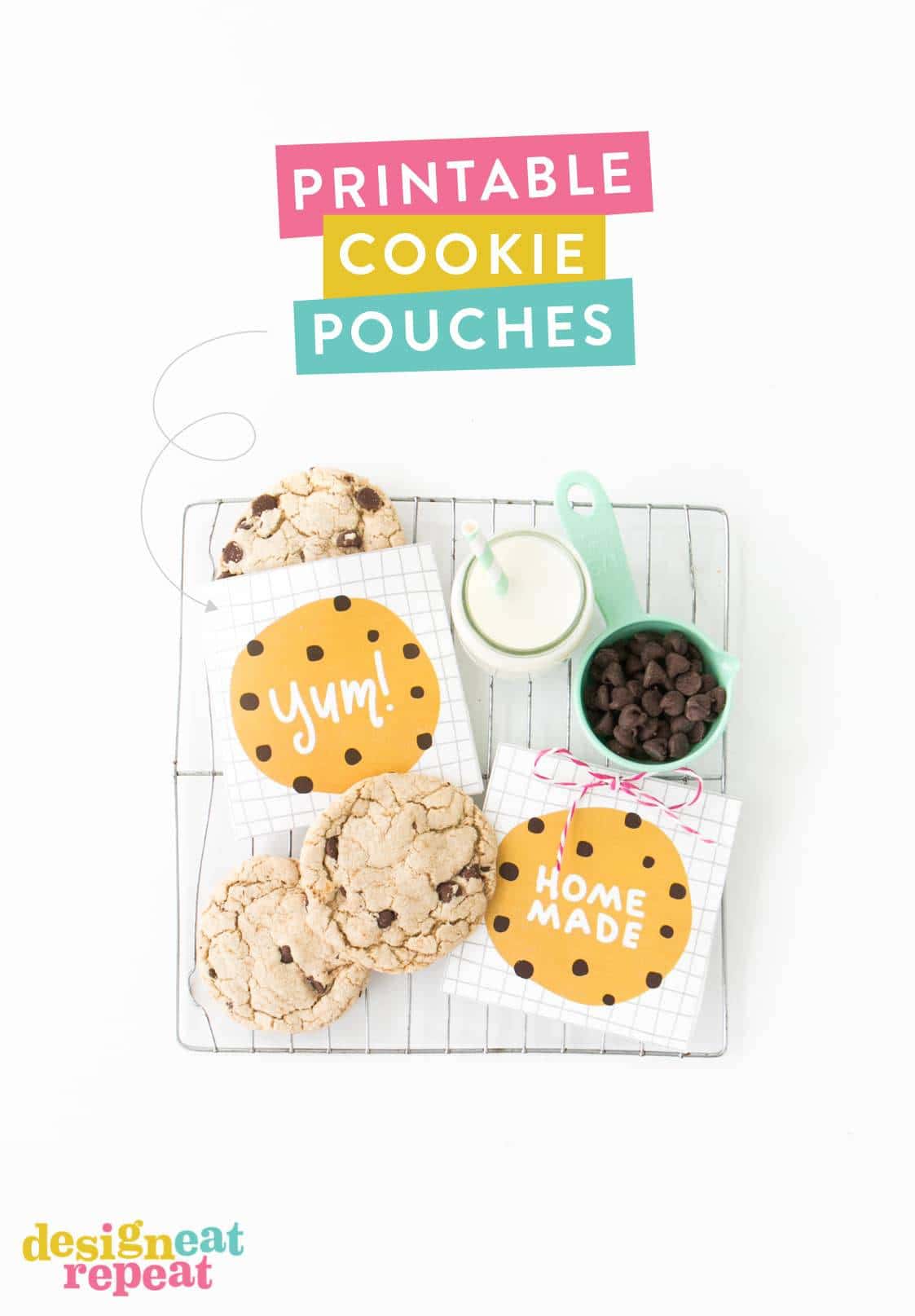 So word on the Instagram streets is that today is National Chocolate Chip Cookie day, so I figured it was time to whip out this printable that I've been hoarding in my files for a few months now. Chocolate chip cookies are so near and dear to my heart that my brother and I ever-so-annoyingly call them CC Cooks. In fact, we've found that it's the perfect way to annoy the other siblings by speaking about them purely in abbreviation form. For some reason, saying the phrase CC Cooks 10 times in a conversation instead of just saying chocolate chip cookies is grounds for sibling war.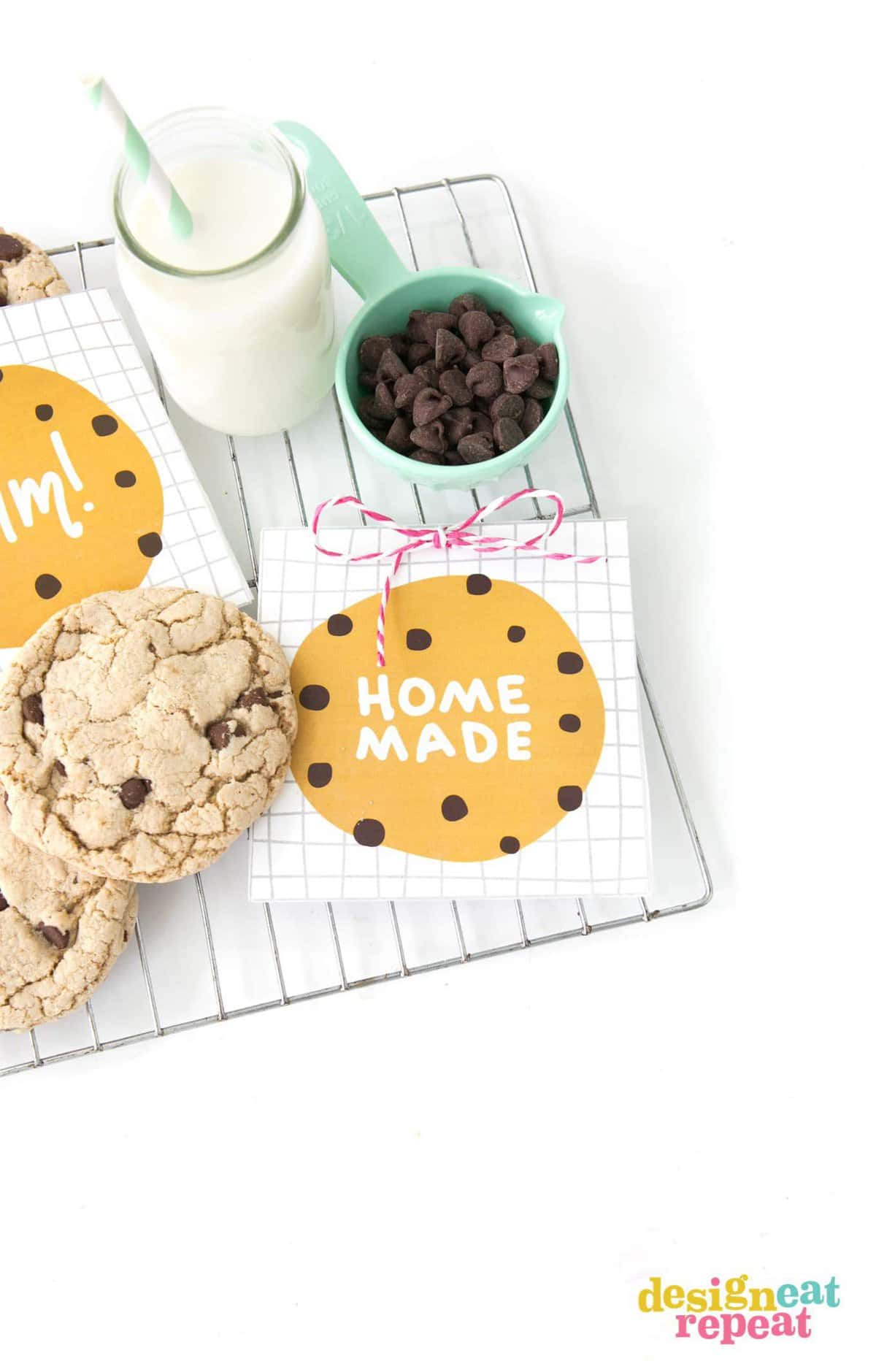 But that's okay, because CC Cooks are worth it. I got him hooked on these chocolate chip cookies, so now any time I go back home CC Cooks are the top request. (You can probably now see how annoying it is when I abbreviate it, so I will stop now.)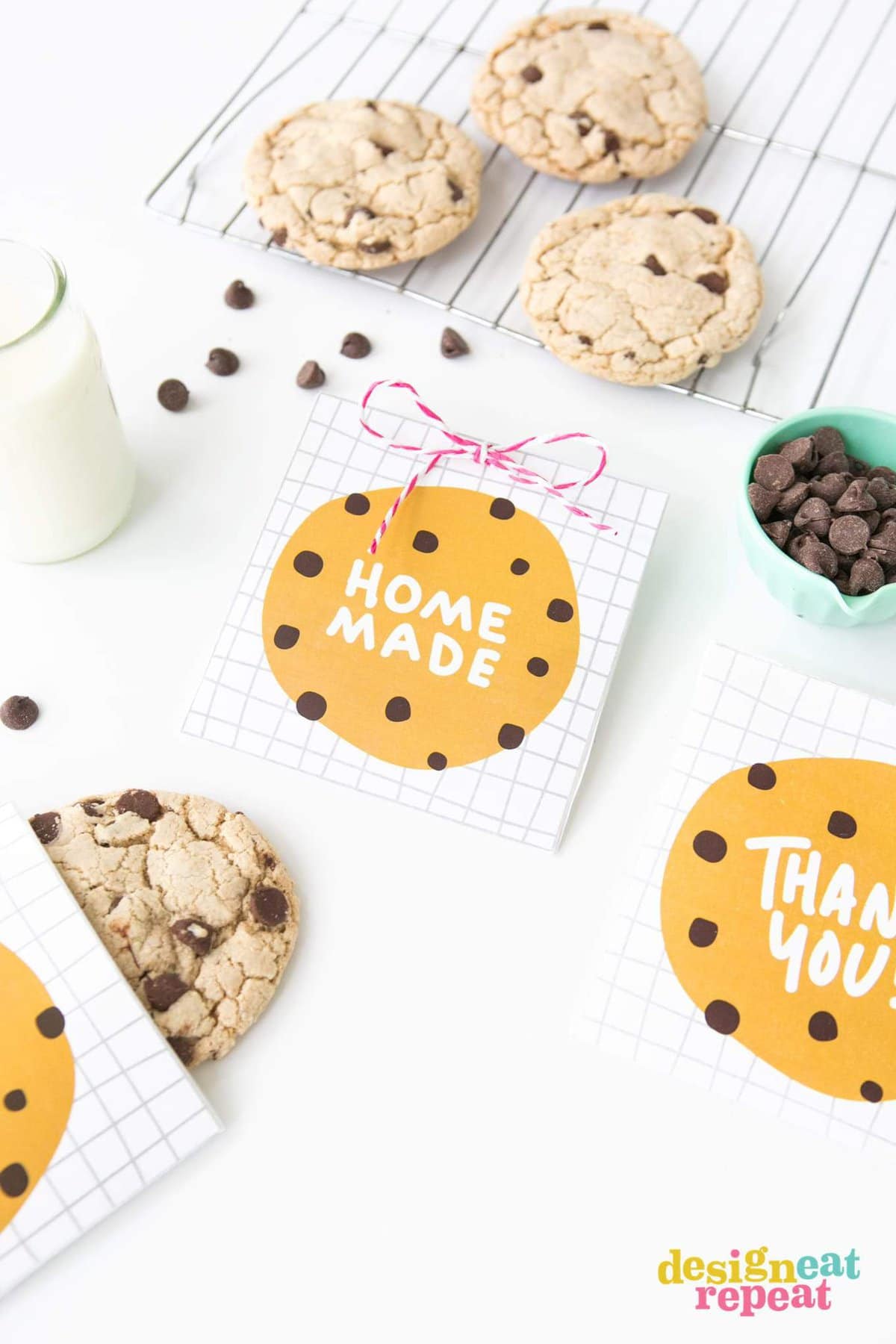 I've decided that chocolate chip cookies really are America's nectar. They're great for all events, all people, and all crowds – so the next time you need a party favor, teacher appreciation gift, or just a simple "thank you" treat print off a few of these printable cookie pouches!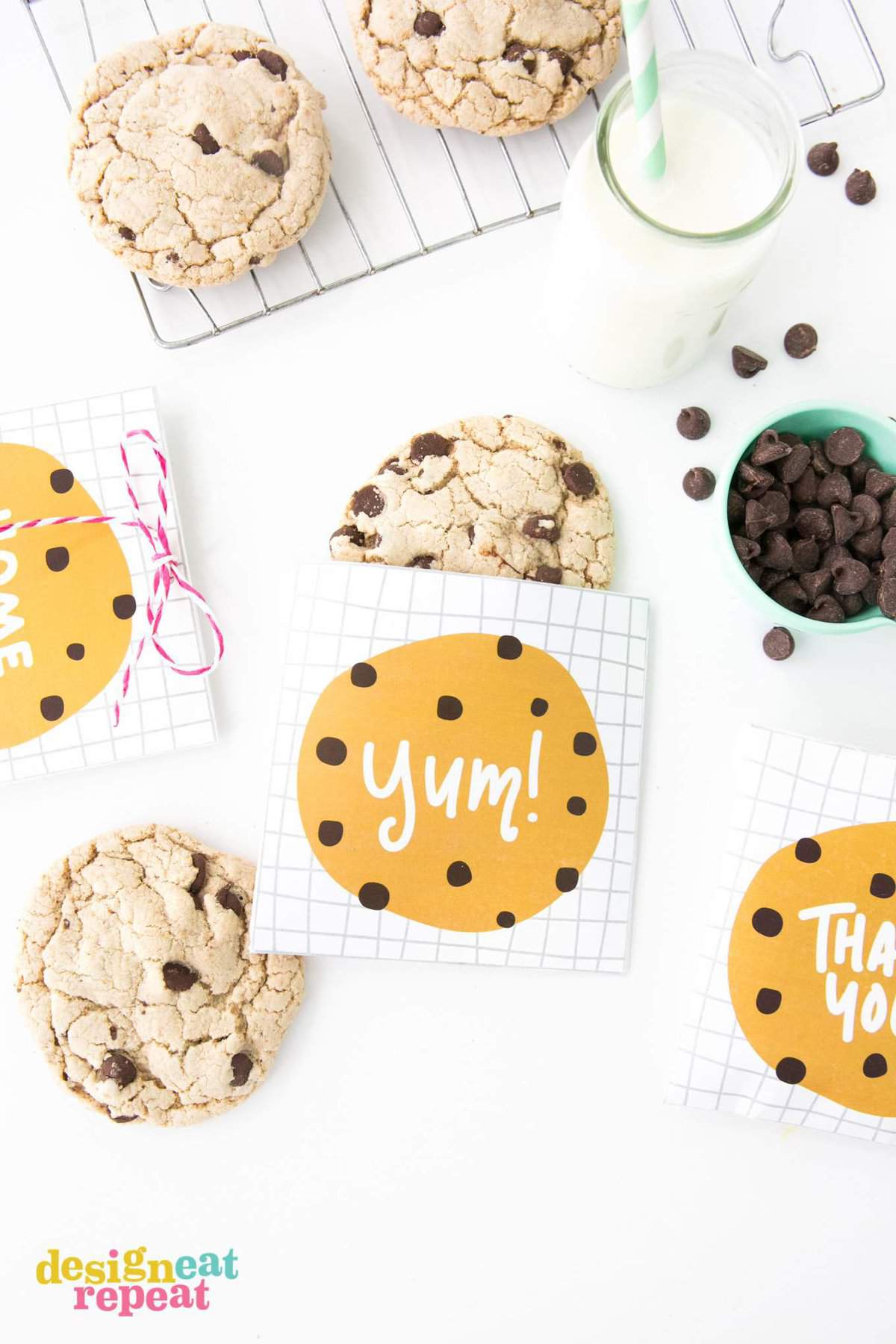 I've included 3 designs so you can personalize the phrase to what you need. We've got a versatile "Yum", a gratitude-filled "Thank You", and of course a good ol' fashioned "Homemade". They would all work for other types of treats (bars, mini chocolate chip cookies, or even candies), so go crazy and do whatever your heart desires! The pouches are about 4.5″ inches when assembled, making a 3″ round cookie fit perfectly. (I suggest wrapping your cookies in plastic wrap BEFORE slipping into the pouch to keep the cookie fresh and protected.)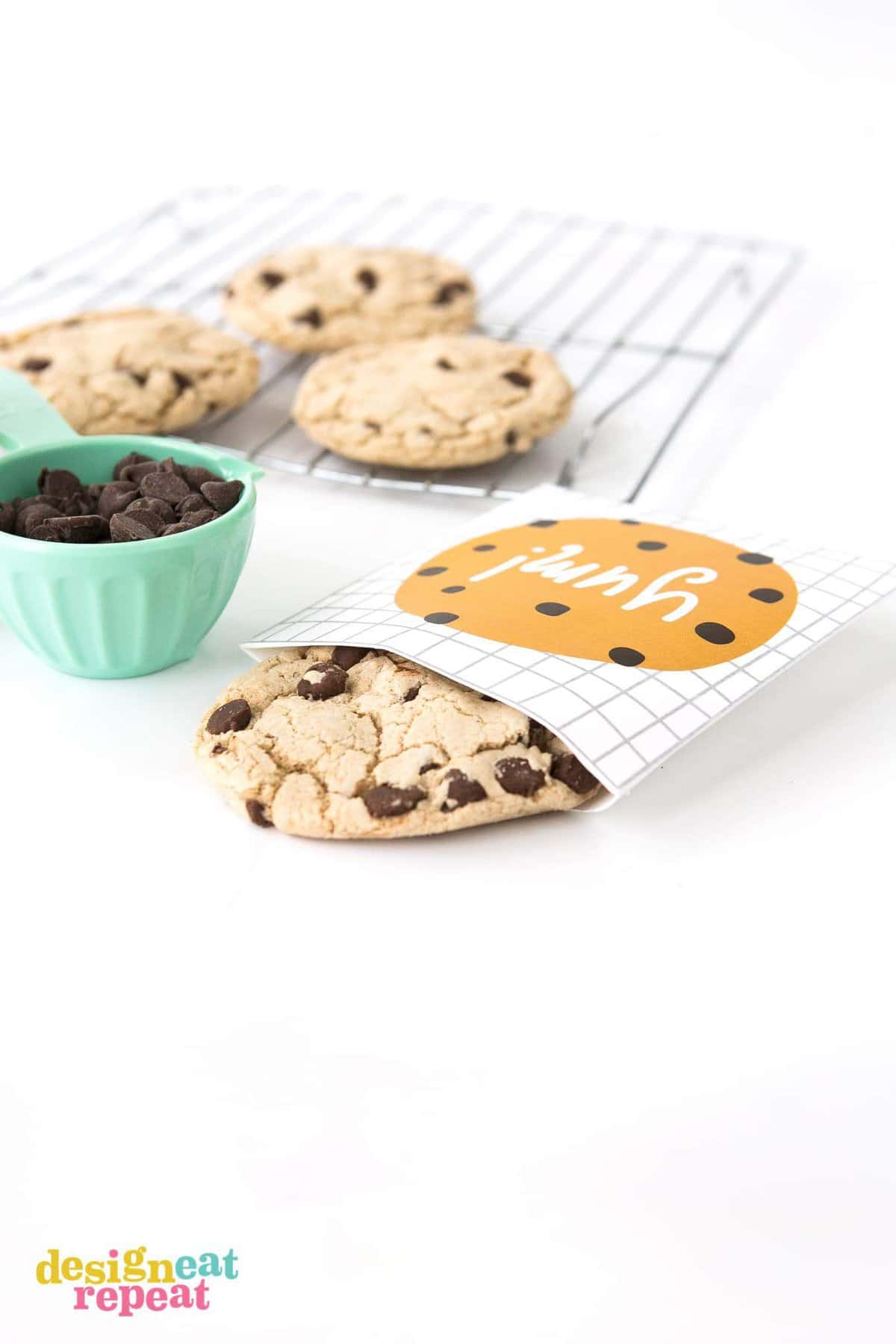 Know someone who could use a good ol' CC Cook in their life? Of course you do. Be a good friend/coworker/human and bake them up a warm, gooey cookie!
Materials:
White Cardstock  //  Scissors or Exacto Knife (For adult use only)
Strong Double-Sided Adhesive //  Cookies!
Please note that these files are for personal use only and redistribution or reselling for commercial use is strictly prohibited. If you would like to spread the word about this printable, you are free to do so but (A) must link directly back to this post for download (please do not link directly to the printable download file) and (B) may only use one image from the post. Thank you for your cooperation!