Today I'm sharing with you my favorite EASY & CUTE ways to package banana bread! Whether you're gifting a regular-sized loaf or mini loaves, I've got you covered with lots of fun ideas to spruce up that boring loaf of bread!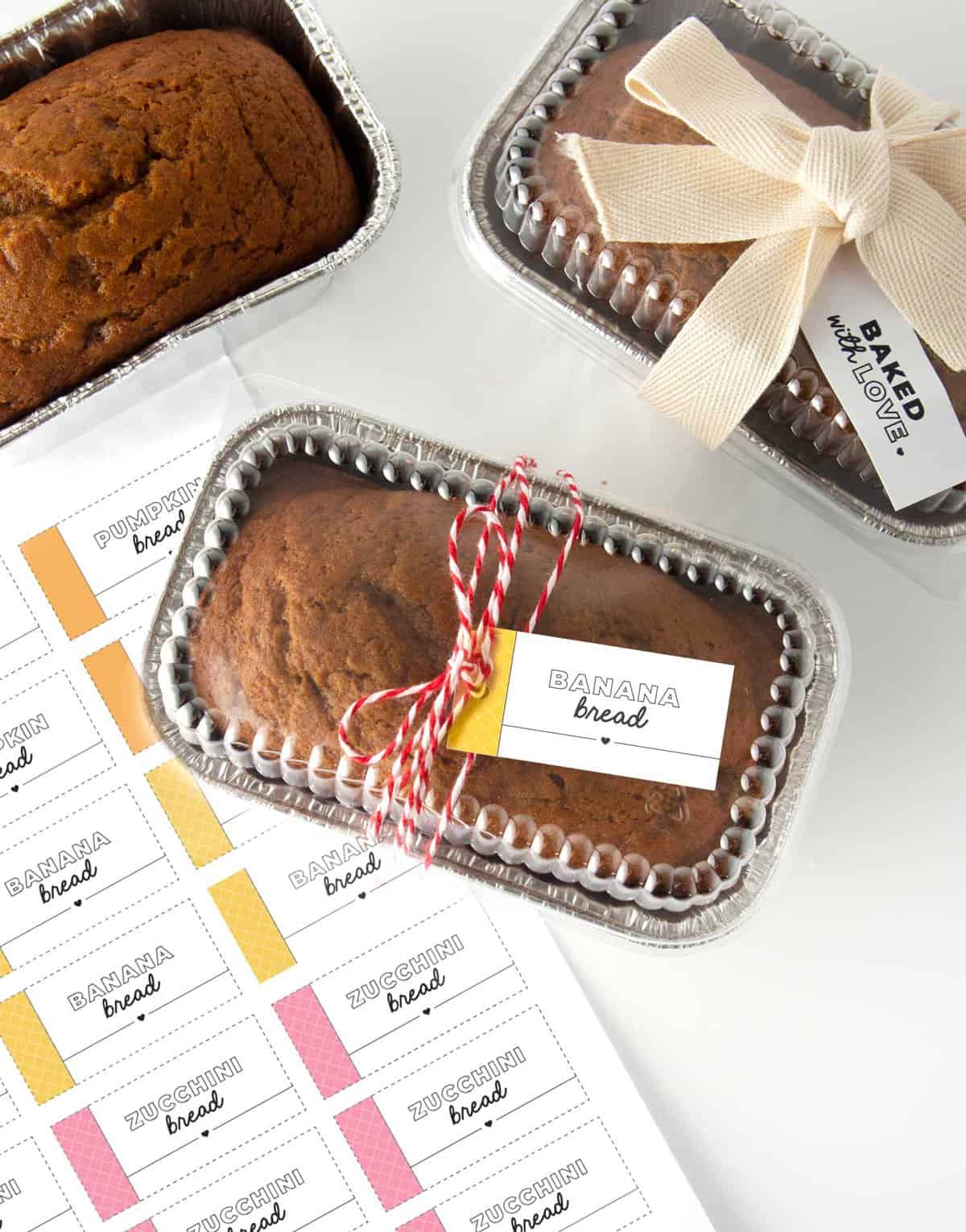 Tips & tricks for packaging banana bread
Fully cool your bread! Make sure your banana bread is fully cooled before you package it. Packaging it while warm will create condensation in your packaging and will make the top sticky (and therefore can ruin your pretty presentation!).
Go mini! Mini bread loaves are the perfect size for gifting. You can use disposable pans or snag a mini loaf pan on Amazon (my popular banana bread recipe makes 4 mini loaves!).
Use my FREE printables: Download my free banana bread gifts tags below to help you gift like a pro! You can also gift them in a basket, attach a handwritten recipe card, or use special ribbon.
Keep it simple! All the ideas in this post use my free printables & things you can find at a typical grocery or craft store. DIY banana bread packaging is where it's at!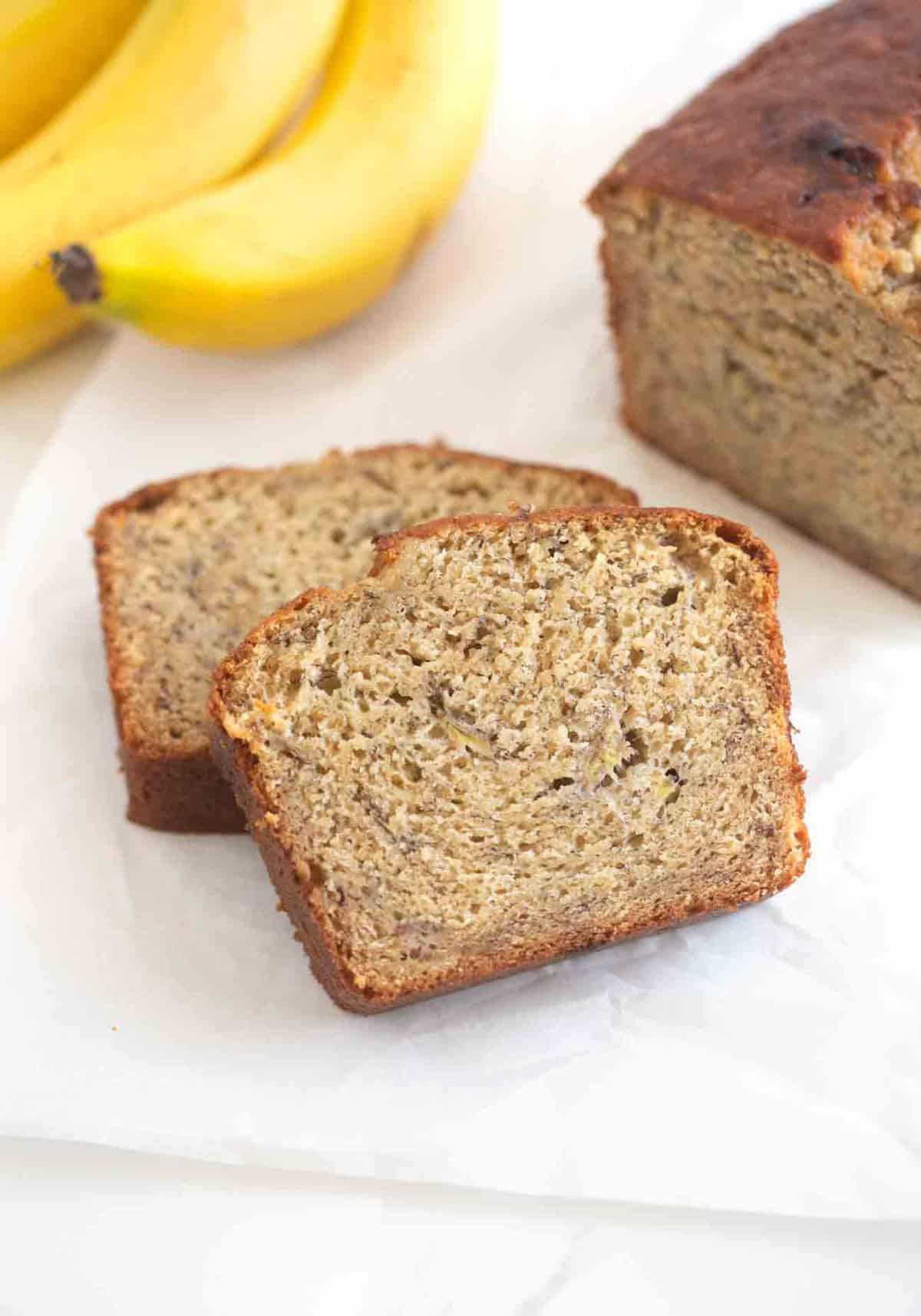 How to wrap banana bread as a gift – 5 ways!
If you've ever wanted to gift your homemade banana bread but weren't sure how…today is your lucky day! I'm giving you 5 bread packaging ideas to answer the popular question of "how do I package banana bread as a gift?". These simple ideas (with free printables) will have you packaging loaves of bread like a gosh dang bakery.
Freebies: download the free printable tags shown in the ideas below!
Idea 1: Disposal Pan with Lid
It doesn't get easier than grabbing a pack of foil loaf pans at the grocery store. Simply baked your banana bread, let it fully cool, then either cover with the plastic lid or slip the pan into a cellophane bag. The loaf pans with lids are also a great option for frosted loaves (like banana cake!) since the lids will protect the frosting.
Tip: My moist banana bread recipe will make 1 large loaf or 4 mini loaves!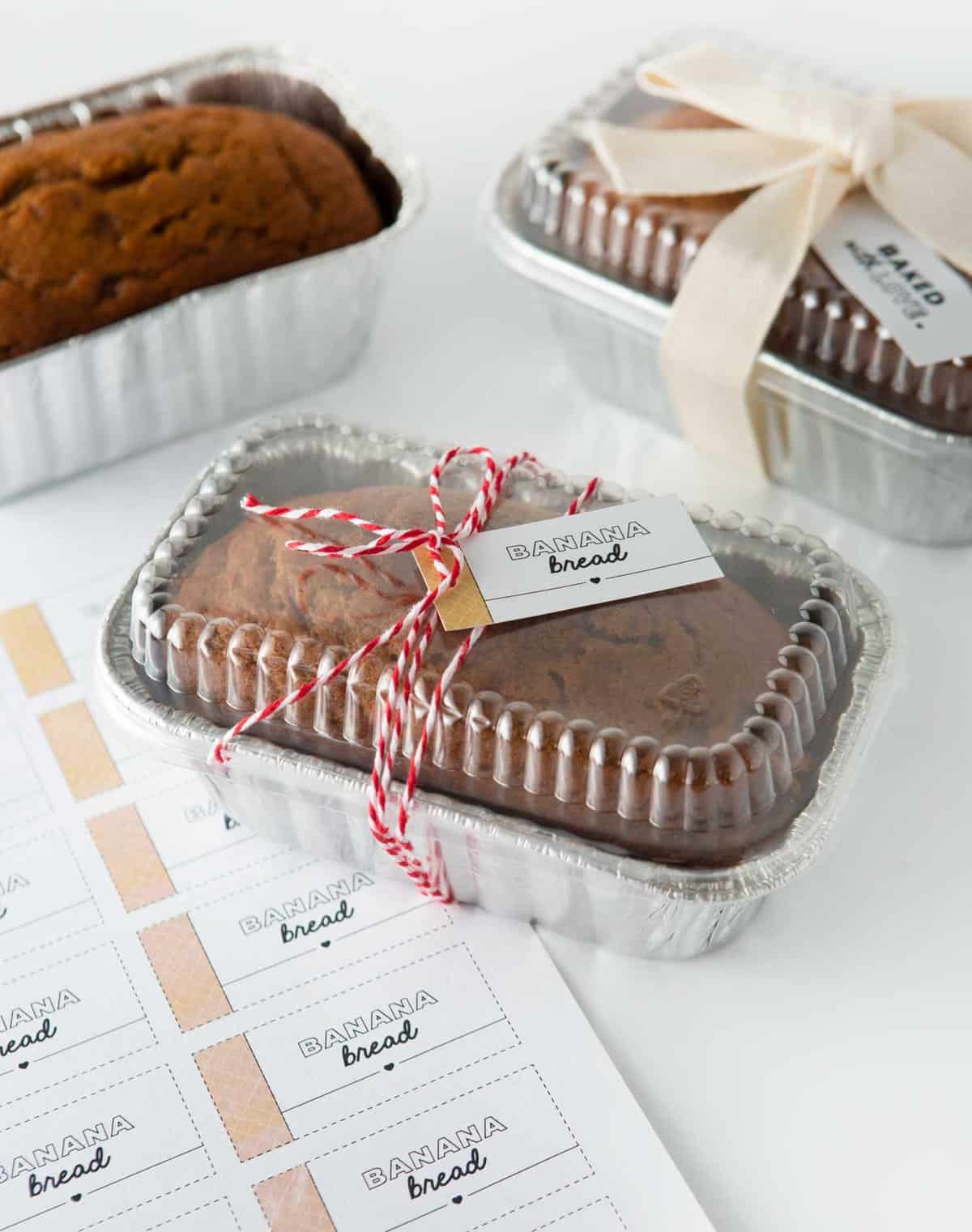 Idea 2: Wrap in Parchment
Once the loaf fully cools, wrap it in plastic wrap then use parchment or wax paper to create a fun little gift wrap! You can also use this method to wrap any kind of quick bread as a gift, as long as it fits on the parchment paper.
How to wrap banana bread in parchment:
Cut a piece of parchment paper to roughly 12×16″ (this size works for both standard and mini loaves.
Place bread in the center of the parchment sheet.
Lift the short sides up and have them meet at the top.
Fold the top edges down into 1″ folds until you reach the bread
Fold the other two ends into a triangle shape (like you would wrap a gift), then tape at bottom.
Finish it off with twine and a gift tag or a belly band wrap.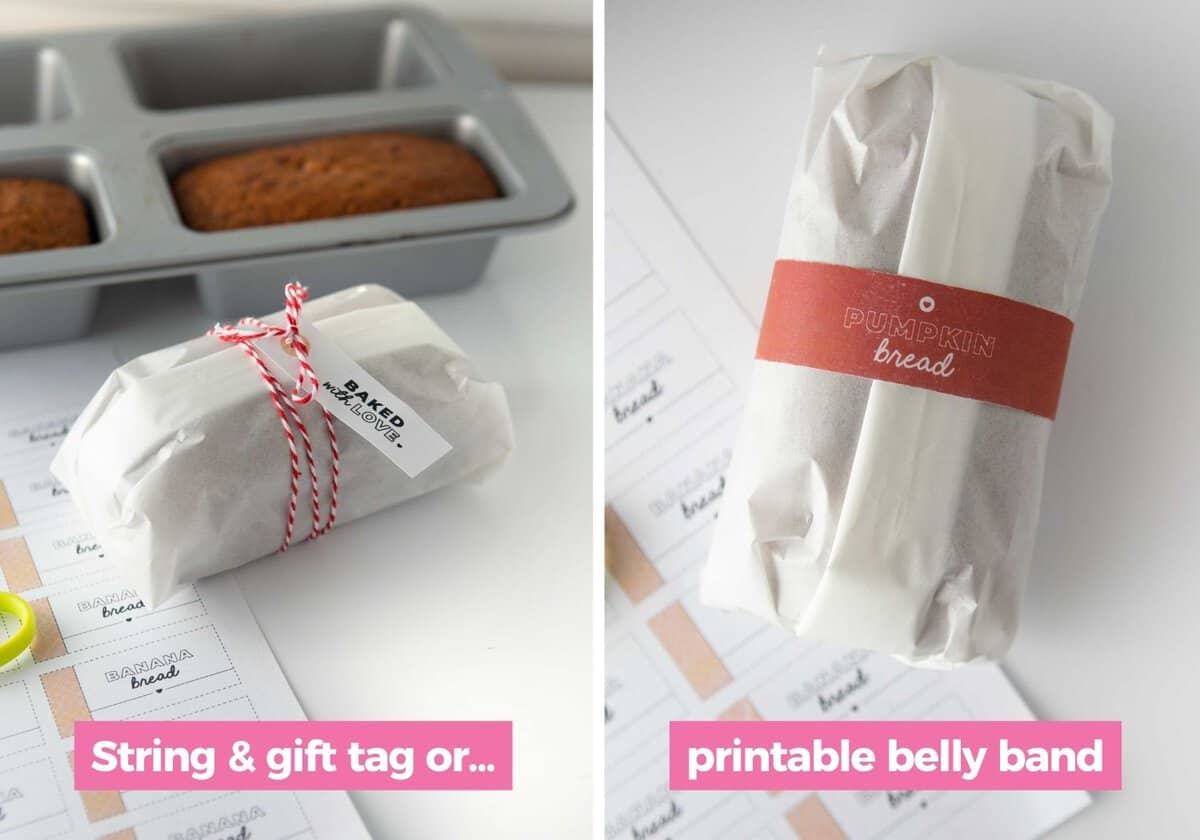 Idea 3: Slip in Plastic Bag
If you're gifting a lot of loaves, cellophane bags can be the easiest & most affordable option for packaging banana bread. A tall, clear cellophane bag will give you that professional feel on a budget! This method works for any size loaf but I especially love it for mini loaves (or tiny loaves!). You can usually find tall plastic bags like this at craft stores (for mini loaves, you want the bag to be at least 12″ tall).
How to wrap mini loaves for gifts: let bread fully cool then slip in a plastic bag. Tie the end with a twist tie or baker's twine and attach a gift tag.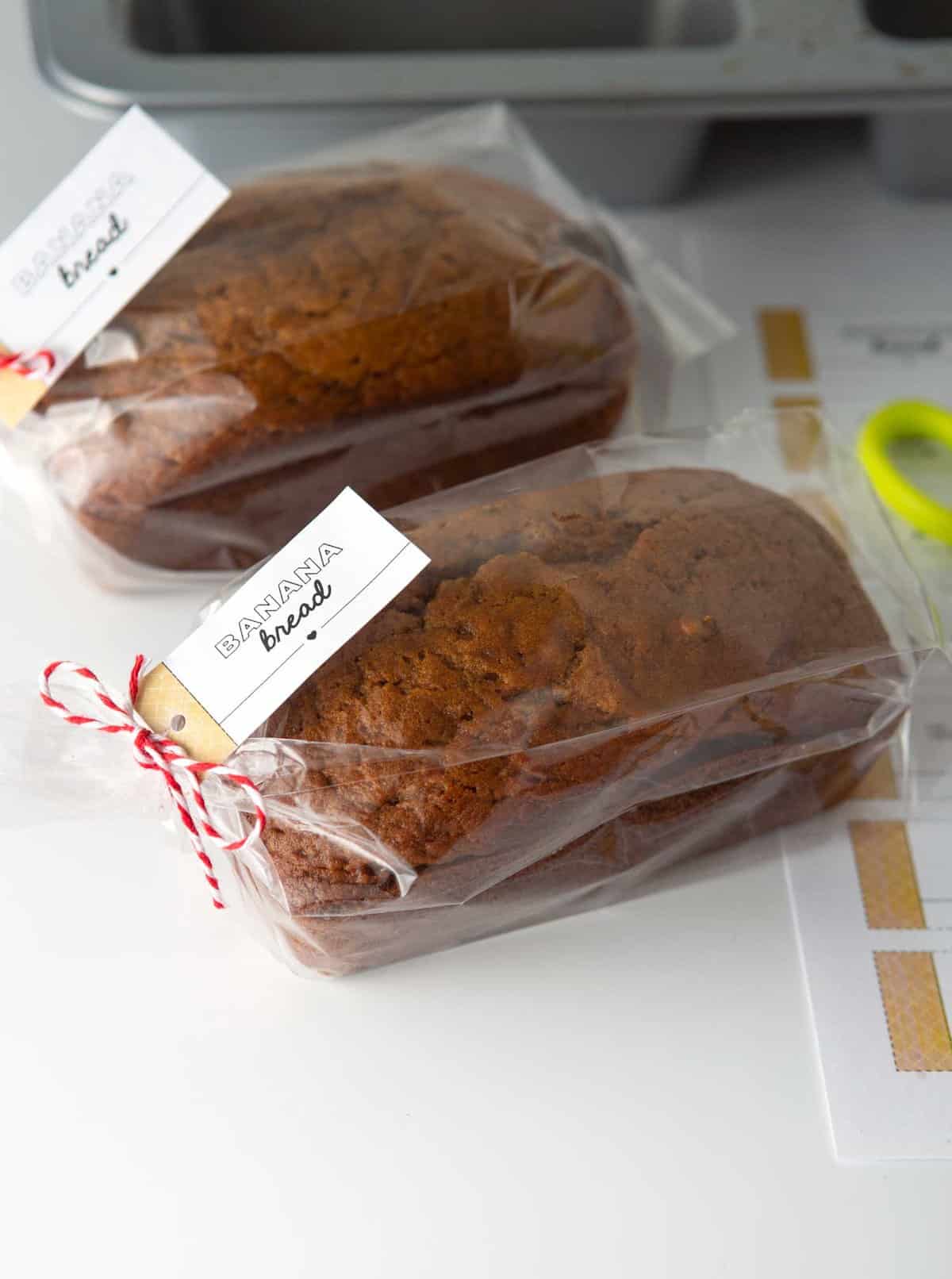 Idea 4: Jazz up a Brown Paper Bag
Brown paper bags have a bad rap but they can actually look so cute when paired with some baker's twine and festive gift tags! Be sure to first wrap your banana bread in plastic wrap to ensure the moisture doesn't soak through the bag. Wrapping banana bread doesn't get easier than this!
You can do this with both mini and standard-sized loaves; just make sure you get a bag that is large enough for the size of loaf you use!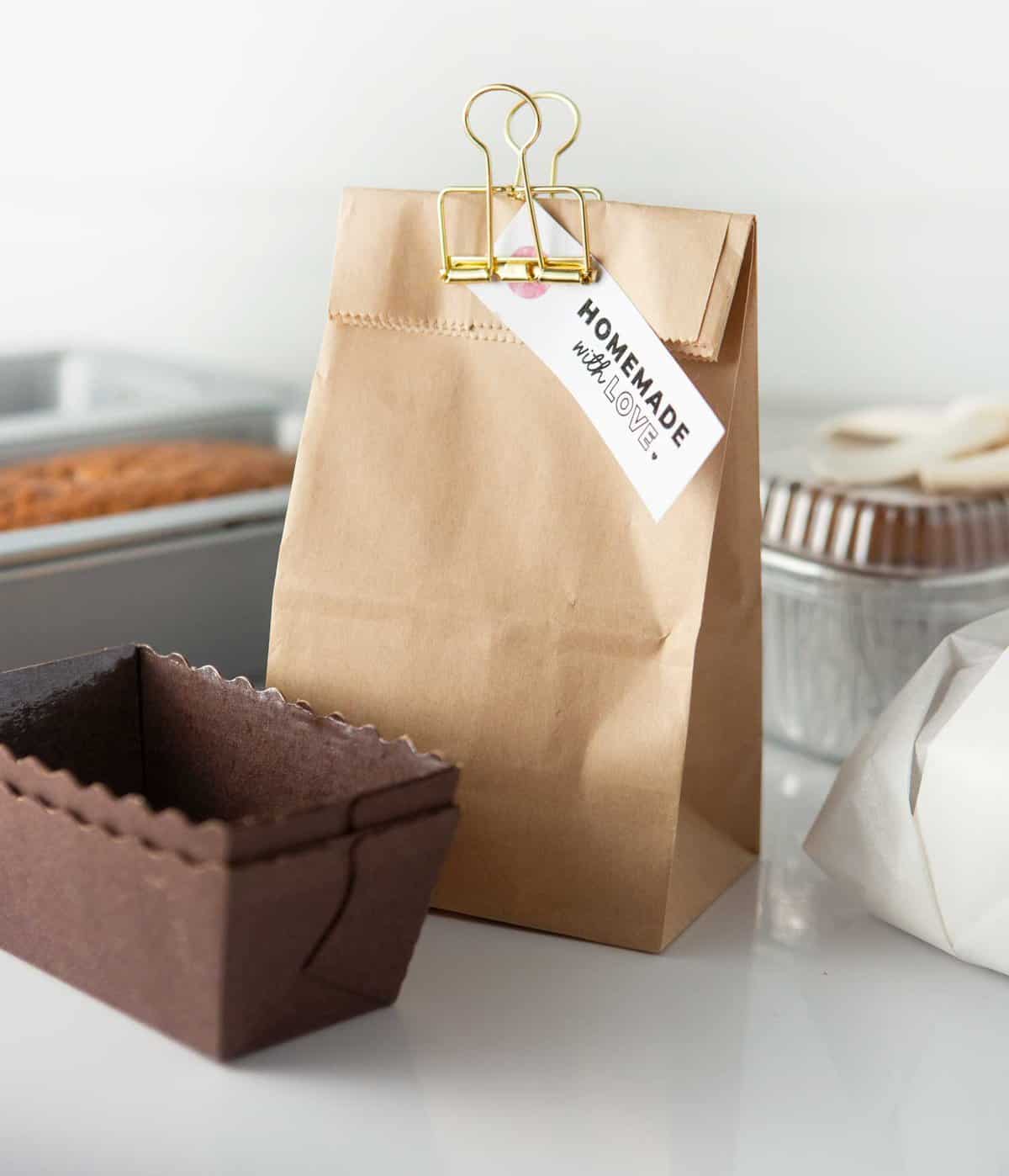 Idea 5: Gift in Slices
While most people gift entire loaves of bread, grease-proof treat pouches are such a fun way to gift individual slices of banana bread (just like how Starbucks does it!). I love doing this for any kind of quick bread but especially my copycat starbucks lemon loaf!
My favorite loaf pans:
Mini loaf pan: if you don't want to bake or gift your bread in disposable pans, this mini loaf pan from Wilton is my favorite!
Disposable mini loaf pans with lids: you can typically find these at grocery stores but these mini loaf pans and standard loaf pans from Amazon both come with lids.
Single serve (super tiny!) paper loaf pans: I love these paper loaf pans for tiny loaves (they're about the size of a large muffin). They bake up so well, remove easily, and even have perforated sides that you can tear down to slice your bread.
I hope this post helped you see that gifting homemade bread doesn't have to be complicated or expensive! These homemade bread packaging ideas were so much fun to put together and if you use any of the ideas, be sure to leave a comment below to let me know!
/