Happy June everybody! Can you believe 2015 is almost half-way over? I'm literally in shock over here. Pure craziness, I tell ya. To me, June officially marks the beginning of summer which means warm weather, lots of ice cream making, and s'mores! Ever since I made the 4-ingredient peanut butter bites, I've been longing to make more easy bite-sized treats. So today, I'm switching things up a bit from the normal recipe format to bring you a fun visual to show you just how easy these little s'more bites are!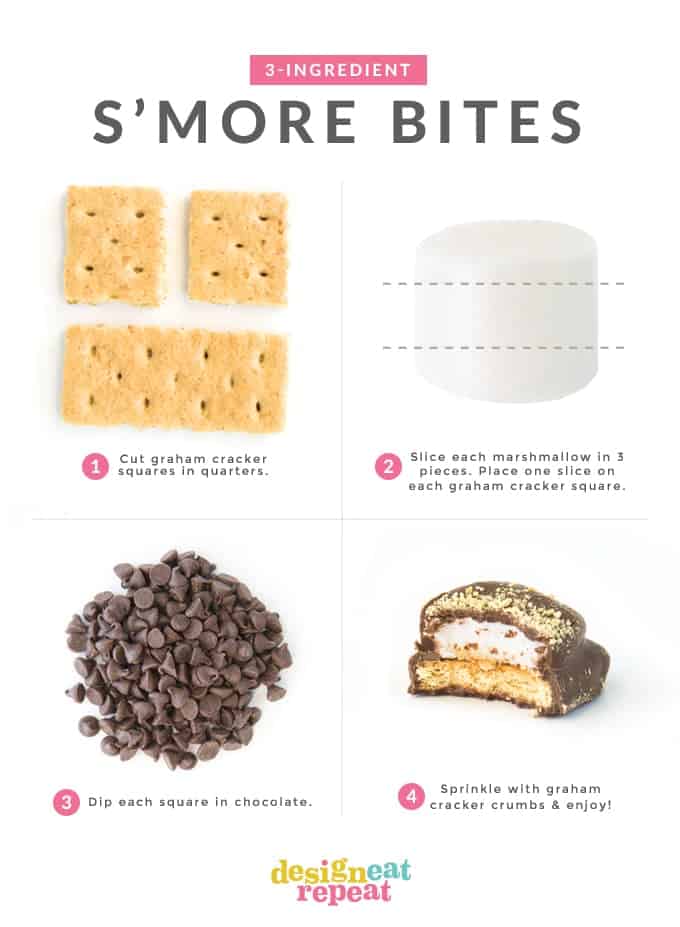 These hardly even count as a "recipe" since they only require a few ingredients and are so easy to put together. After cutting the graham cracker squares in four pieces, lay on a slice of marshmallow (the larger ones, not mini), and then dip in chocolate. Allow the chocolate to harden and you've got yourself a bite-sized dessert for your summer barbeque or Fourth of July celebration!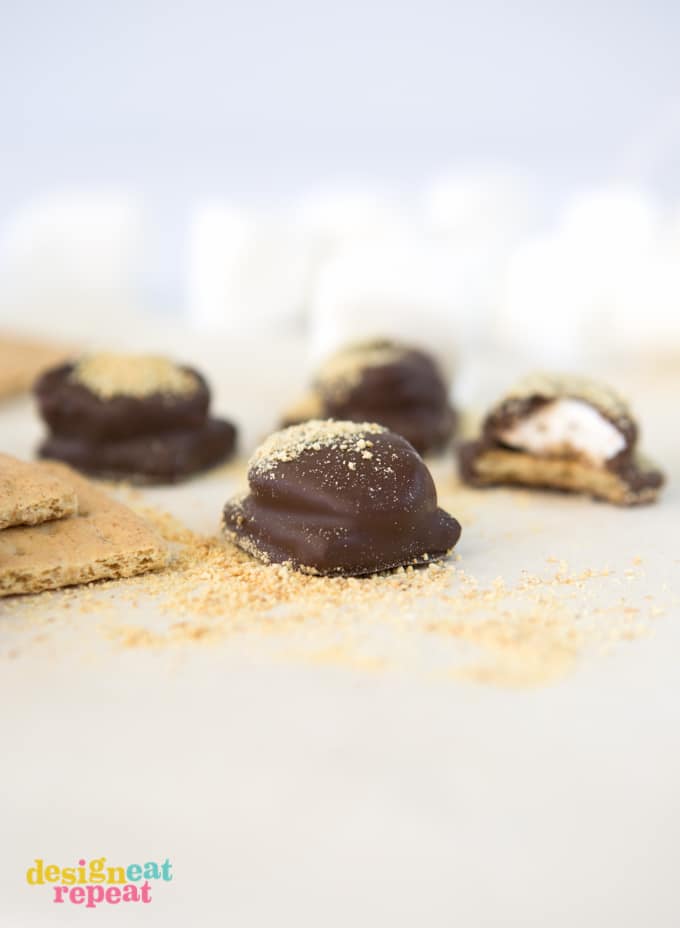 3-Ingredient S'more Bites
Easy, bite-sized s'mores perfect for party appetizers or snacks.
Prep Time: 15 minutes
Total Time: 15 minutes
Course: Dessert
Category: Easy Snack
Servings: 24 bites
Ingredients
6 Graham Crackers Squares It's always good to have a few extra in case you break a few
8 Regular Sized Marshmallows Not mini & not the super jumbo ones
1 cup melted chocolate I use prefer Ghiradelli Melting Wafers
Graham Cracker Crumbs for Topping Optional
Instructions
Use a sharp knife to cut each graham cracker square into four pieces. (If using a full rectangular graham cracker, you'll be able to get 8 pieces out of it.)

Slice each marshmallow horizontally in 3 pieces. Place one slice of marshmallow on top of each graham cracker square and gently press down so the stickiness of the marshmallow helps adhere to the cracker.

Melt chocolate in the microwave according to instructions on package. Place each cracker/mallow square on top of a fork and gently dip each one in the chocolate until fully covered.

Place each dipped square on wax paper, sprinkle with graham cracker crumbs, and allow chocolate to harden.
Nutrition
Calories: 59kcal
Fat: 2g
Saturated fat: 1g
Sodium: 26mg
Potassium: 27mg
Carbohydrates: 8g
Sugar: 5g
Calcium: 5%
Iron: 0.3%
These vaguely remind me of those marshmallow chocolate bunnies that come around at Easter time. A little crunch combined with some fluffy marshmallows and sweet chocolate make these a fun switch up from regular s'mores. And the best part? They're tiny which means popping in a few (or 5) is basically the equivalent to eating a normal s'more, rightt?! Riiiggghhhtt.