Use melted chocolate to create these modern & fun Halloween DIY Cupcake Toppers!  Perfect for decorating last-minute cupcakes for Halloween parties, class treats, or more! 
In this post you will learn: how to make edible cupcake toppers for Halloween using chocolate.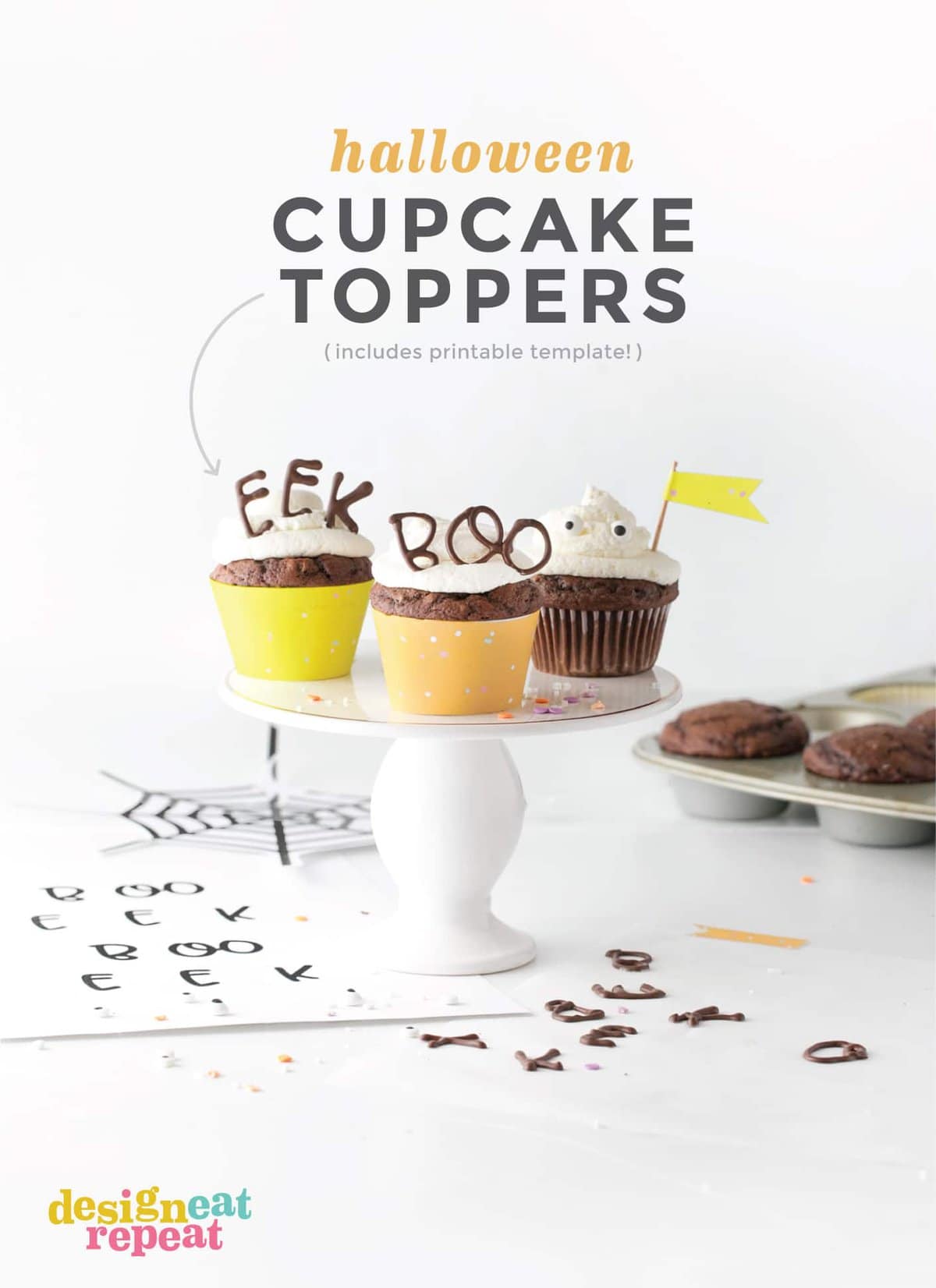 Being a designer, I like to think that I look at food crafting in a little different lens. While most would be happy with the premade edible cupcake toppers you find at the store, I on the other hand, just look at things like that and want to tweak the font, size, or colors to match the vision in my end. I also have a tendency to see these edible embellishments for $5/pack and think to myself, "I could make that".
So today's project is the result of one of those Michaels visits where I got inspired to just create my own cupcake toppers using one of my favorite handwritten fonts! By piping chocolate on top of the printable lettering template, you can create easy Halloween DIY cupcake toppers for all your upcoming treats!
What You Need for these Easy Halloween Cupcake Toppers:
Melted Chocolate (I like using these wafers)
Printable BOO & EEK Lettering Template
Piping Bag or Plastic Bag with Corner Cut Off
Your Favorite Cupcakes!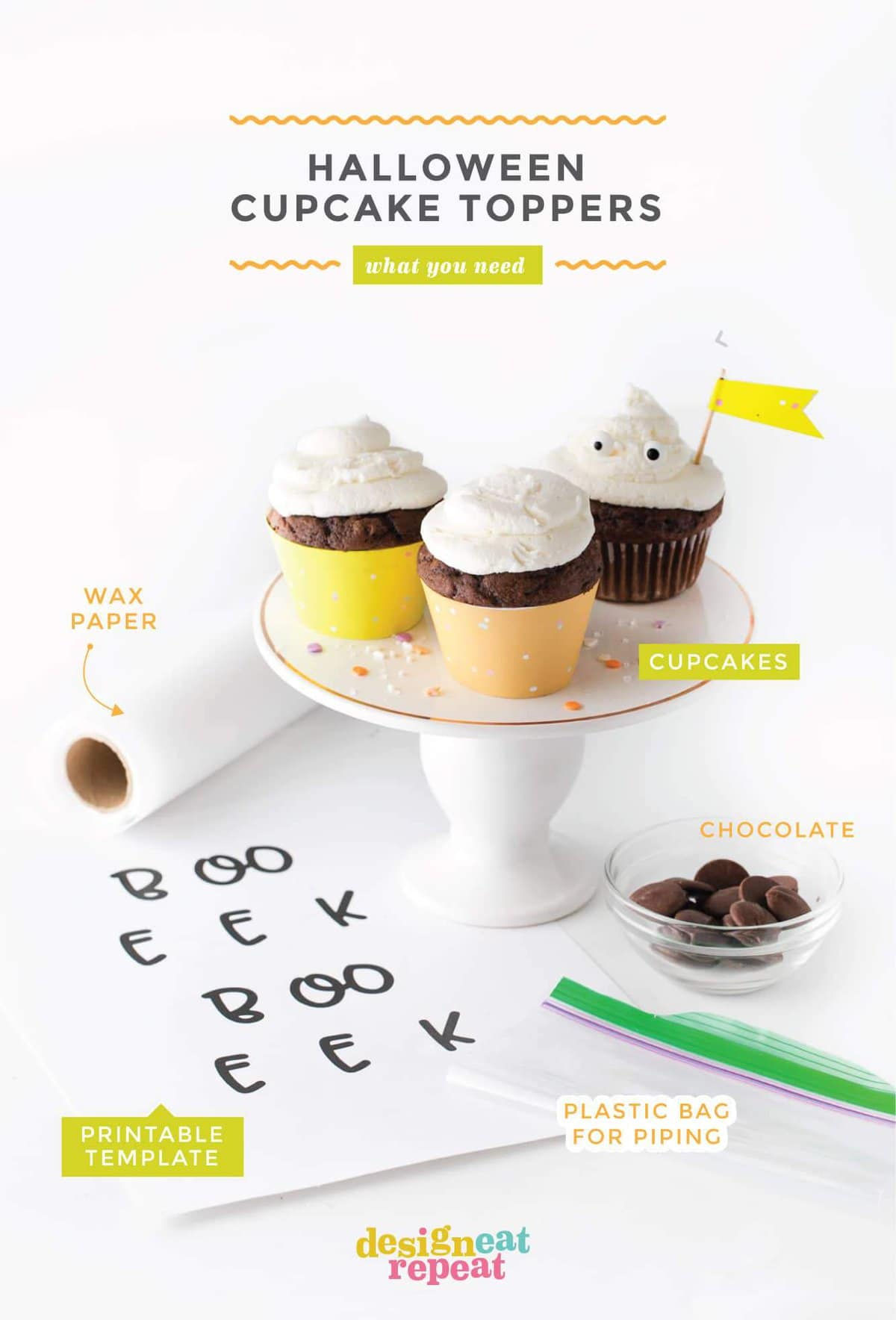 How to Make Chocolate Halloween DIY Cupcake Toppers:
Melt chocolate and spoon into a piping bag (or plastic bag with one corner cut off).
Place printable BOO & EEK word template under a piece of parchment or wax paper.
3. Using the printable as a guide, trace each letter with the melted chocolate.
4. Allow to completely harden before removing each letter from the wax paper. Once completely hardened, carefully peel back the wax paper and place on top of cupcakes. I recommend making extra letters, as a few will inevitably break while you're peeling them off and you'll have to eat them instead ;) #Shame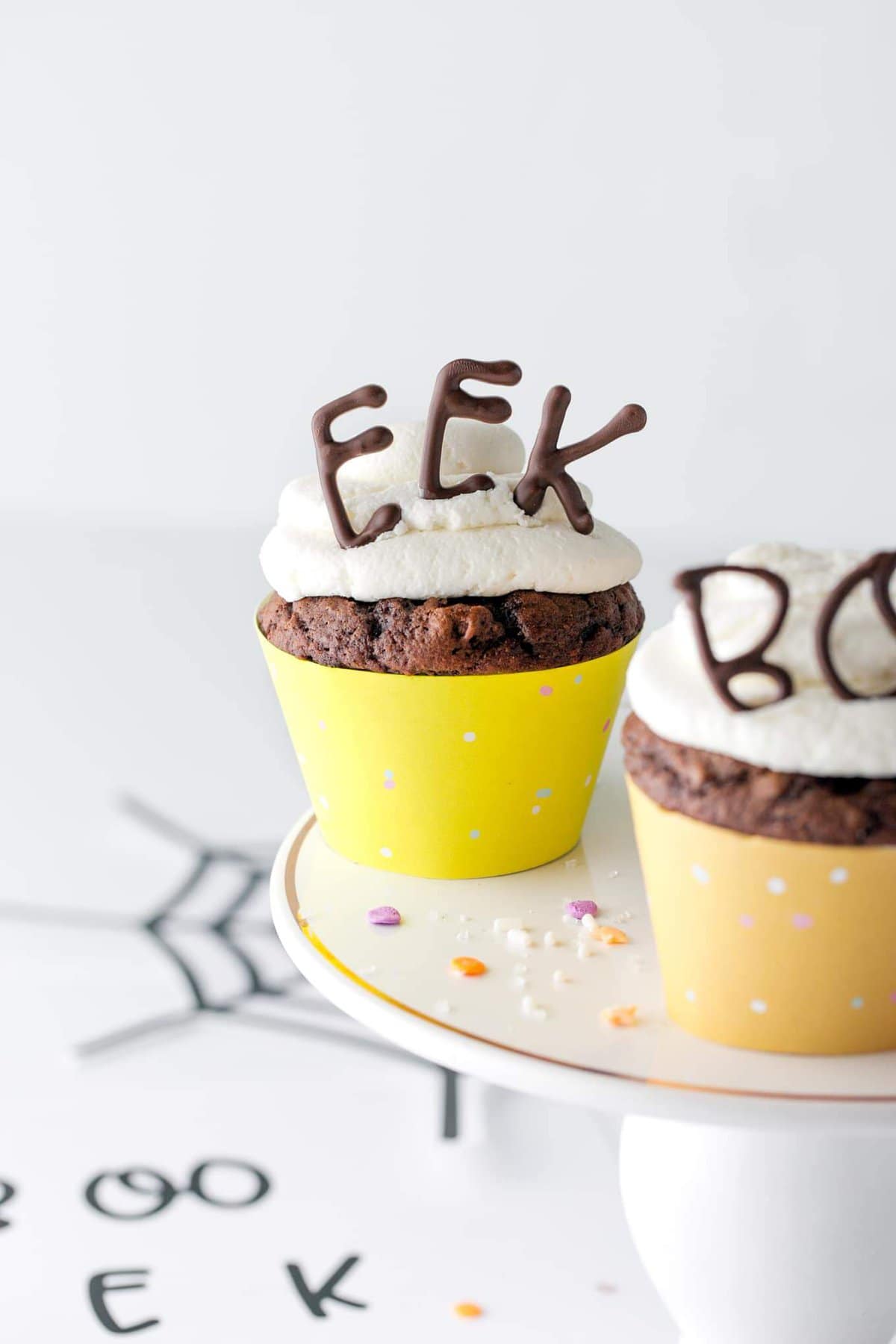 The fun thing with these is that in addition to the printable template I created, you could also print off your own template with your own custom words!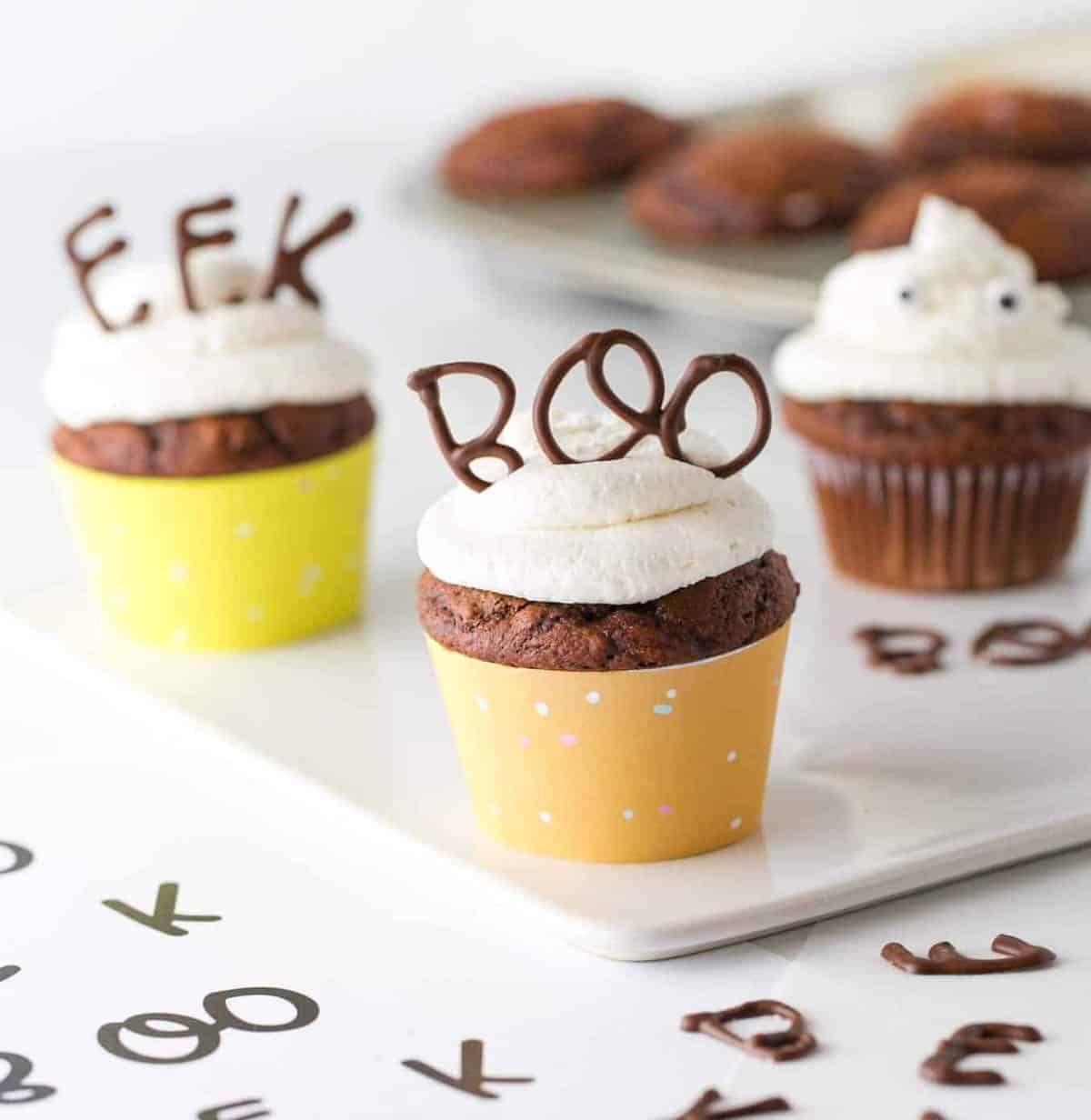 Want More Easy Halloween Treat Ideas?
Emoji Ghost Halloween Cupcake Toppers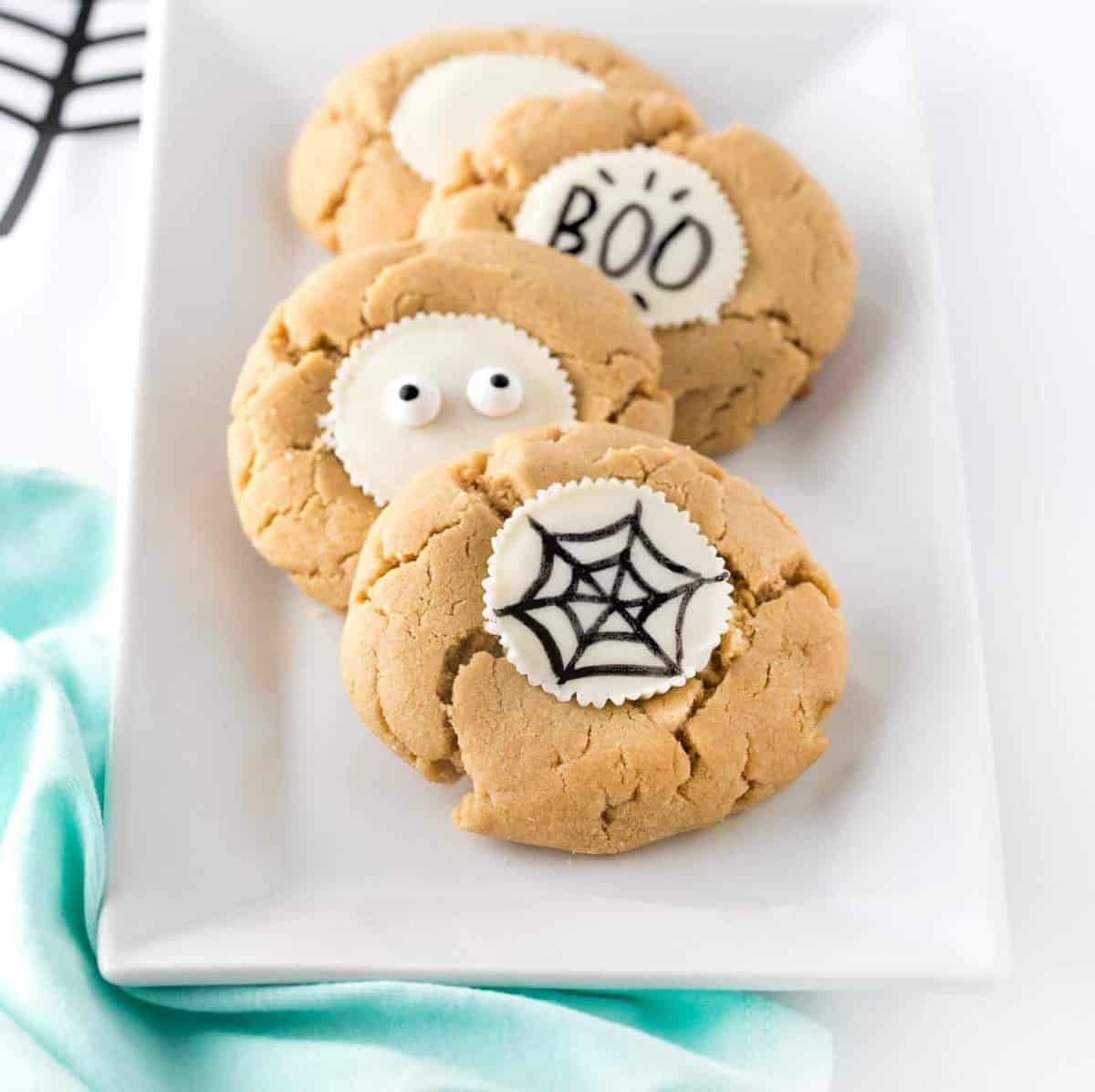 Draw-Your-Own Halloween Cookies