Transform a mediocre boxed cake mix into a super moist, bakery-worthy birthday cake that everyone will be asking the recipe for! Bake in a 9×13 pan and top with an easy cream cheese frosting for the best "homemade" doctored sheet cake!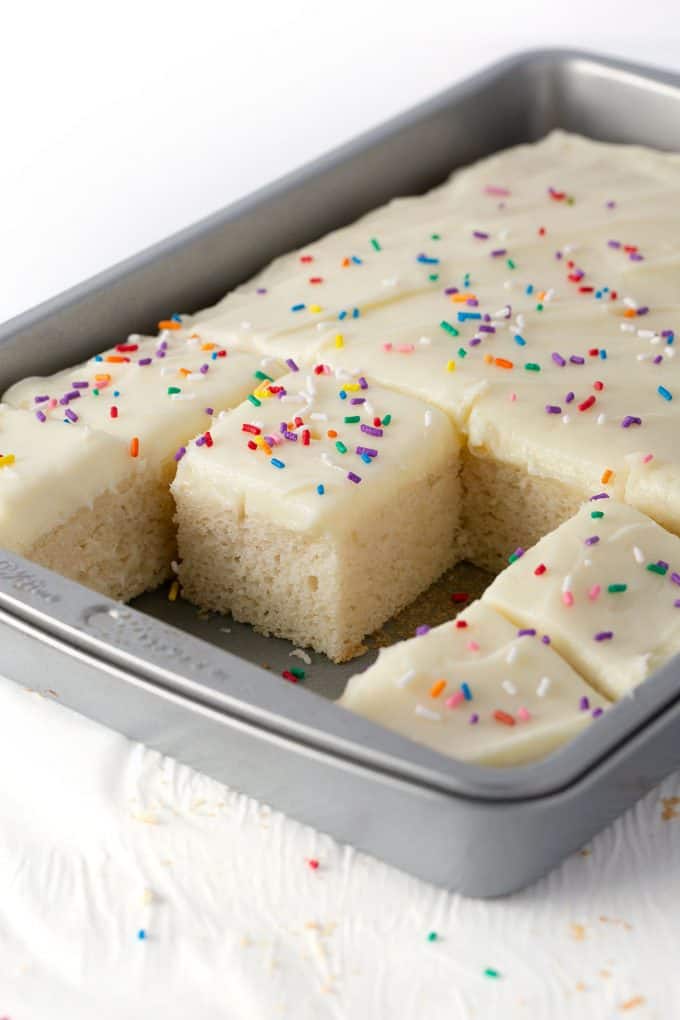 Why I Love This Doctored White Cake:
It's So Moist: This white sheet cake is super moist and has the perfect, dense cake crumb. Unlike a regular cake mix that is fluffy and crumbles when cut, then once slices perfectly!
It's A Nice Tall Sheet Cake: In my opinion, most box mixes don't produce enough batter for a tall sheet cake. But by adding our secret ingredients, you get a tall, substantial 9×13 cake!
It's Full of Flavor: The added vanilla and almond extract give this a true white wedding cake flavor that blows any regular boxed mix out of the water!
Perfect for: Kid's Birthday Cakes, Baby Shower Cakes, Bridal Shower Cake, DIY Wedding Cake, Mother's Day Cake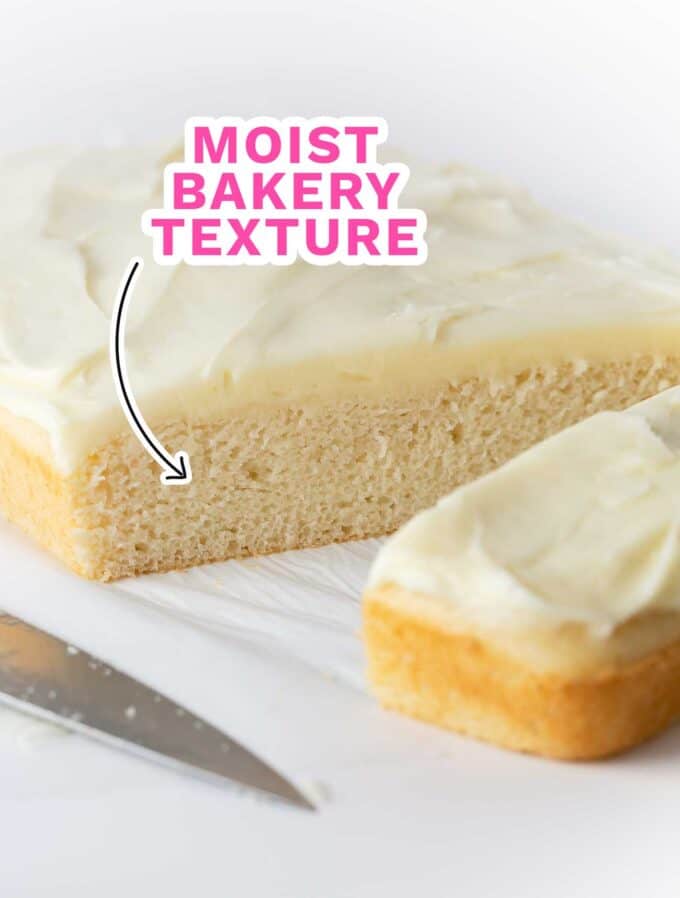 Yes, start with a cake mix!
I've used this recipe for years but have always been hesitant to post it because the #haters will say that starting with a boxed cake mix is cheating. But guess what, if that's considered cheating then I guess I love cheating.
Because when it tastes this DANG GOOD and better than any from-scratch cake I've ever made, I don't care if it started with a box mix. Besides, in case you didn't know, a lot of real bakeries actually use cake mix as their base (I once saw the backroom of my favorite bakery and lined on the shelves were cake mixes LOL). It's the PERFECT, cheap way to make a bakery-quality cake without spending $20 at the grocery store.
Plus, I am not a fan of most grocery store frosting. This, however, you'll be licking off your finger.
I recommend and prefer Pillsbury White "Moist Supreme" but I've also used other brands with a similar result.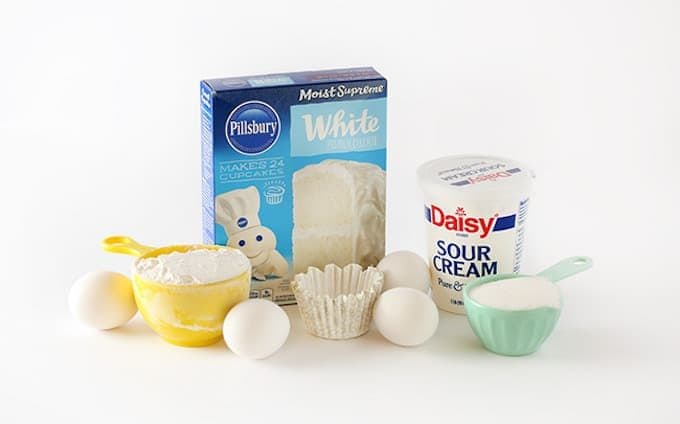 Delicious Cream Cheese Frosting
Ditch the canned frosting and top this with a vanilla almond cream cheese frosting to take this cake up a notch! You can also use a traditional buttercream frosting if you want a sturdier, more pipeable frosting but I much prefer the taste of this cream cheese frosting!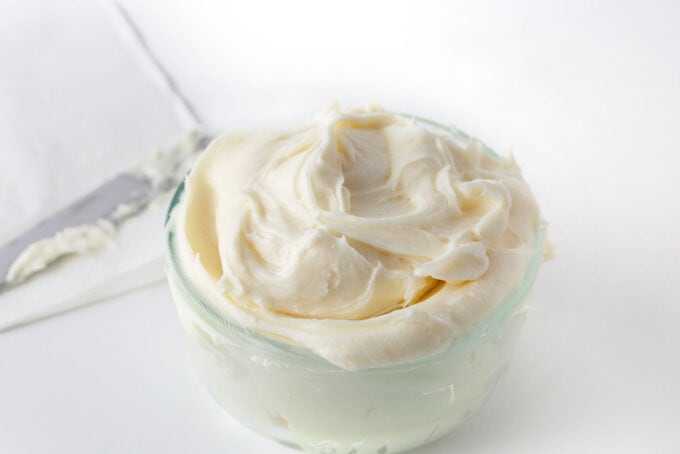 Ingredients for the Best Sheet Cake:
15.25 ounce White Boxed Cake Mix (I recommend and prefer Pillsbury White Moist Supreme)
Flour
Sugar
Sour Cream
Egg Whites (save the yolks for tomorrow's scrambled eggs!)
Vanilla extract
Water
Frosting: Cream cheese, powdered, sugar, vanilla extract, and almond extract
Notice that this recipe requires NO oil, butter or pudding mix! Even without those standard ingredients, this cake transforms into the perfect dense crumb, wedding cake texture and taste.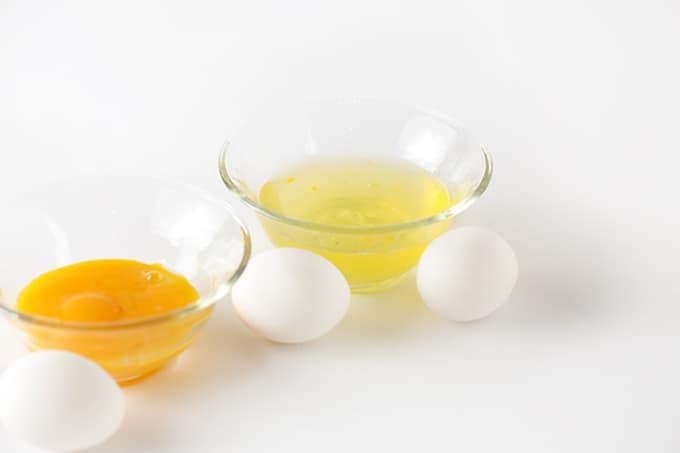 How to Make White Sheet Cake:
Step 1: Mix Batter
Start by mixing the dry ingredients with a whisk. Once combined, mix in the egg whites, sour cream, and water and continue mixing until combined. You can use an electric mixer, but whisking by hand works well for this recipe.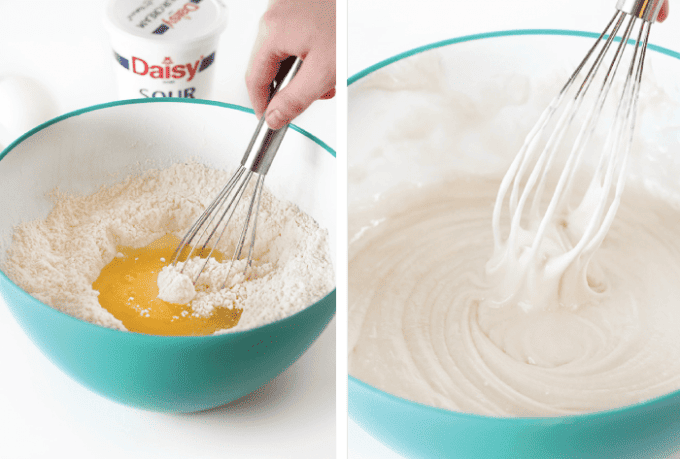 Step 2: Pour in 9×13 Pan & Bake
Pour batter in greased 9×13 metal pan and bake for 28-30 minutes or until toothpick comes out clean. The edges should look *slightly* brown but you don't want it to darken too much.
If you use the Pillsbury cake mix, the top always bake nice and flat (not domed) which makes it easy to decorate!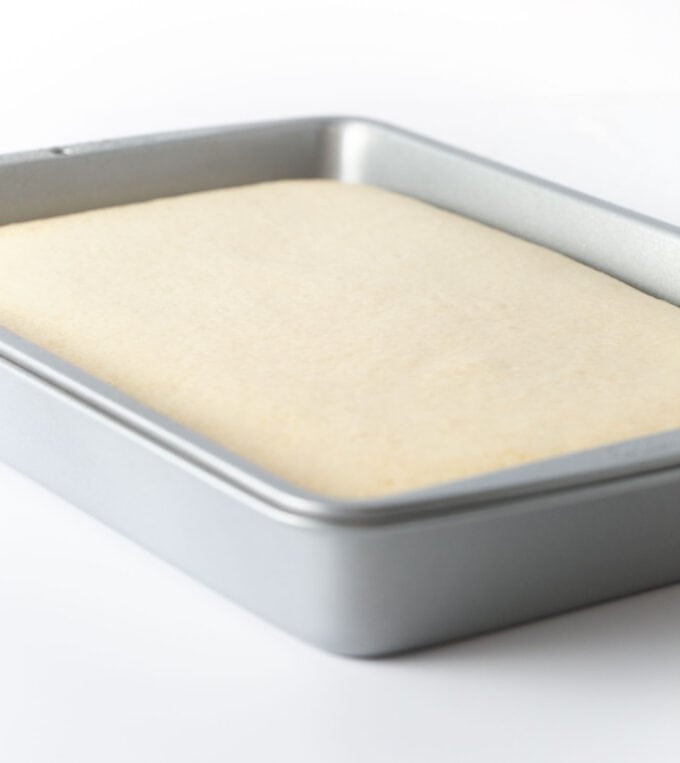 Step 3: Cool & Frost
Allow cake to completely cool before frosting.
My personal favorite frosting for this white cake is my delectable cream cheese frosting (recipe below). It's not too sweet and is the perfect pairing with these vanilla cupcakes. If you want a more pipeable frosting, try out a buttercream frosting instead.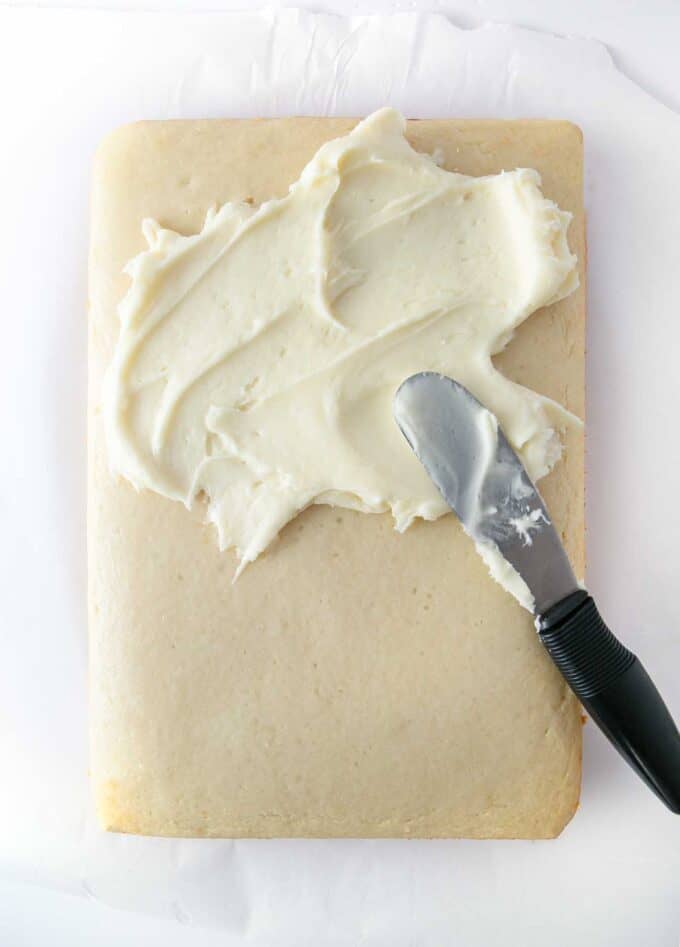 Frequently Asked Questions:
What brand of cake mix do you recommend?
I used and prefer Pillsbury White (Moist Supreme) but I've tried it with several other mixes and it works fine.
What's the difference between this recipe and a cake mix straight-out-of-the-box?
You might be thinking, "what's so different about this recipe if you are still using a boxed cake mix?" Well, I will tell you. The secret is sour cream and egg whites. Yes, sour cream ain't just for baked potatoes anymore. It is used to moisten many types of cakes/batters and any time I've used it, the result has always been amazing. And the egg whites? Since you are removing fat content (by taking out the yolk), you need to use the sour cream to balance that back out to produce a soft & moist cake.
Tip: Save the egg yolks in a plastic bowl (covered with saran wrap) and toss into a big batch of scrambled eggs in the morning. Or use the liquid egg whites you can buy in a carton to avoid having leftover egg yolks.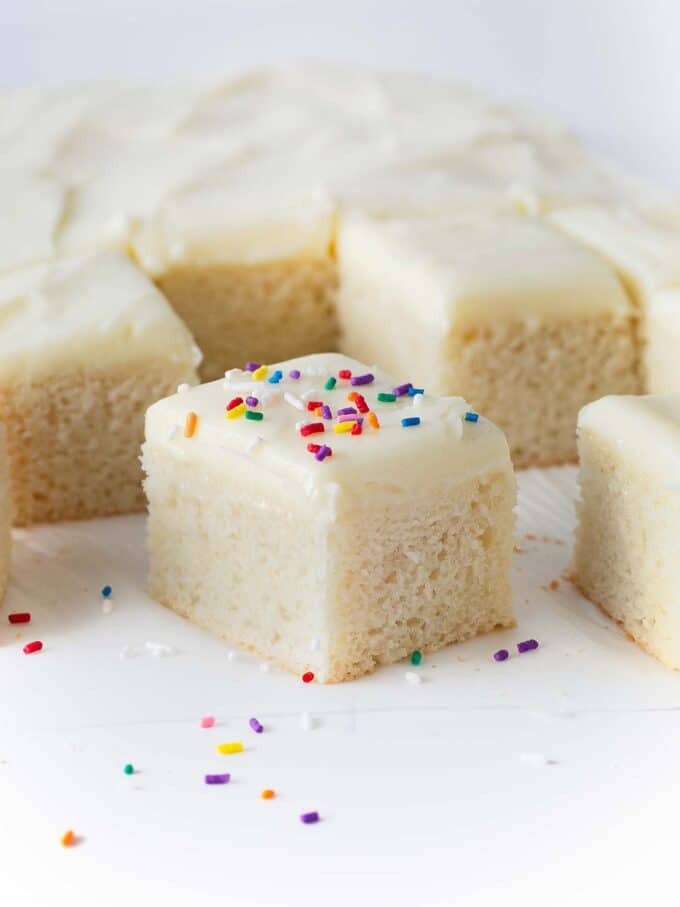 Can I make these into cupcakes?
Yes! If you want to turn these into cupcakes, you can bake them for 18-20 minutes. I have that step-by-step in my White Wedding Cupcake post.
If you're looking for a pipeable frosting for cupcakes, you can use my Buttercream Frosting recipe instead of the cream cheese one (although I personally like the cream cheese better!).
Do I have to refrigerate this cake?
If you're making the cream cheese frosting, you will want to refrigerate the cake if sitting out for more than 1-2 hours.
You can also freeze white cake for up to a month by wrapping in plastic wrap and storing in airtight container. Any longer and your cake might dry out.
What if I don't have almond extract?
I will say that almond extract does give this cake the best flavor but if you don't have it, you could substitute for extra vanilla extract or lemon extract.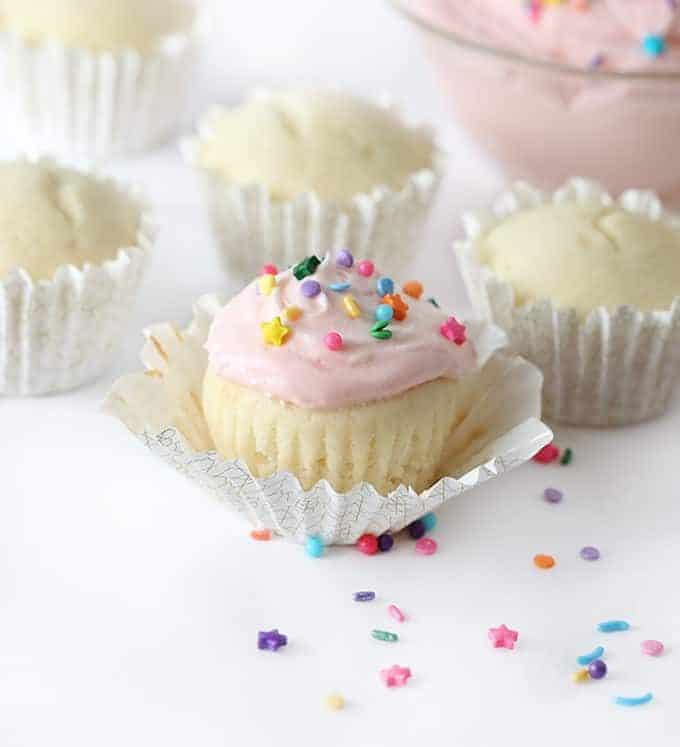 The BEST White Sheet Cake (Doctored Cake Mix!)
Transform a mediocre boxed cake mix into a tall, super moist, bakery-worthy 9×13 cake that everyone will be asking the recipe for!
Prep Time: 10 minutes
Cook Time: 30 minutes
Total Time: 30 minutes
Course: Dessert
Category: Cake
Keyword: cake
Servings: 24
Ingredients
9×13 White Cake
1 15.25 ounce box white cake mix I prefer Pillsbury Moist Supreme
1 cup all-purpose flour
1/2 cup white sugar
1 teaspoon vanilla extract
1 1/2 cups water
3/4 cup sour cream
4 large egg whites (equal to 1/2 cup if using liquid carton egg whites)
Cream Cheese Frosting
1/2  cup unsalted butter (softened)
4  ounces  cream cheese (softened)
1 teaspoon vanilla extract
1/4 teaspoon almond extract
1 1/4 cup powdered sugar add more for stiffer frosting
Instructions
Preheat oven to 325°F.

In a large bowl or stand mixer, whisk together cake mix, flour, and sugar.

Once incorporated, add in the vanilla, water, sour cream, and egg whites one at a time until combined. Do not whip cake mix, just mix until everything in incorporated.

Pour batter into greased 9×13 metal pan and bake for 28-30 minutes or until toothpick or fork come out clean.

Allow to cool completely before frosting.
To Make Cream Cheese Frosting:
In a large bowl, beat the butter and cream cheese on medium speed using a hand or stand mixer (with paddle attachment) for 2-3 minutes (until light and creamy).

Keeping the mixer on medium speed, slowly add in vanilla extract, almond extract and powdered sugar. Once incorporated, turn mixer to high speed and beat for 2 minutes until creamy.

Spread on cooled cake and top with sprinkles!

If not enjoying immediately or within 1-2 hours, refrigerate cake until serving.
Last Step! Please leave a review and rating letting me know how you liked this recipe! This helps my small business thrive so I can continue providing free recipes and high-quality content for you.
Recipe Notes
Looking for a more pipe-able, fluffy frosting? Try my Buttercream Frosting recipe instead!
If you don't have almond extract you can substitute for extra vanilla or even lemon extract. Although I do think almond extract gives the best flavor!
You can turn these in cupcakes by baking for 18-20 minutes. Recipe yields 24 standard sized cupcakes.
I used and prefer Pillsbury White (Moist Supreme) but I've tried it with several other mixes and it works fine.
Nutrition
Nutrition facts per serving (1square)
Calories: 207kcal
Fat: 8g
Saturated fat: 5g
Cholesterol: 19mg
Sodium: 213mg
Potassium: 44mg
Carbohydrates: 32g
Fiber: 1g
Sugar: 20g
Protein: 2g
Vitamin A: 226%
Vitamin C: 1%
Calcium: 62%
Iron: 1%
Did you make these cookies? Be sure to leave a comment below with how you liked them!