It's time for some FREE rainbow printable paper for all the scrapbooking fans out there! I mean, you can never have enough paper, right? Printable scrapbook paper is perfect for all your crafty projects. Even if you aren't into scrapbooking, these free printable papers work for card marking, envelopes, party hats and more!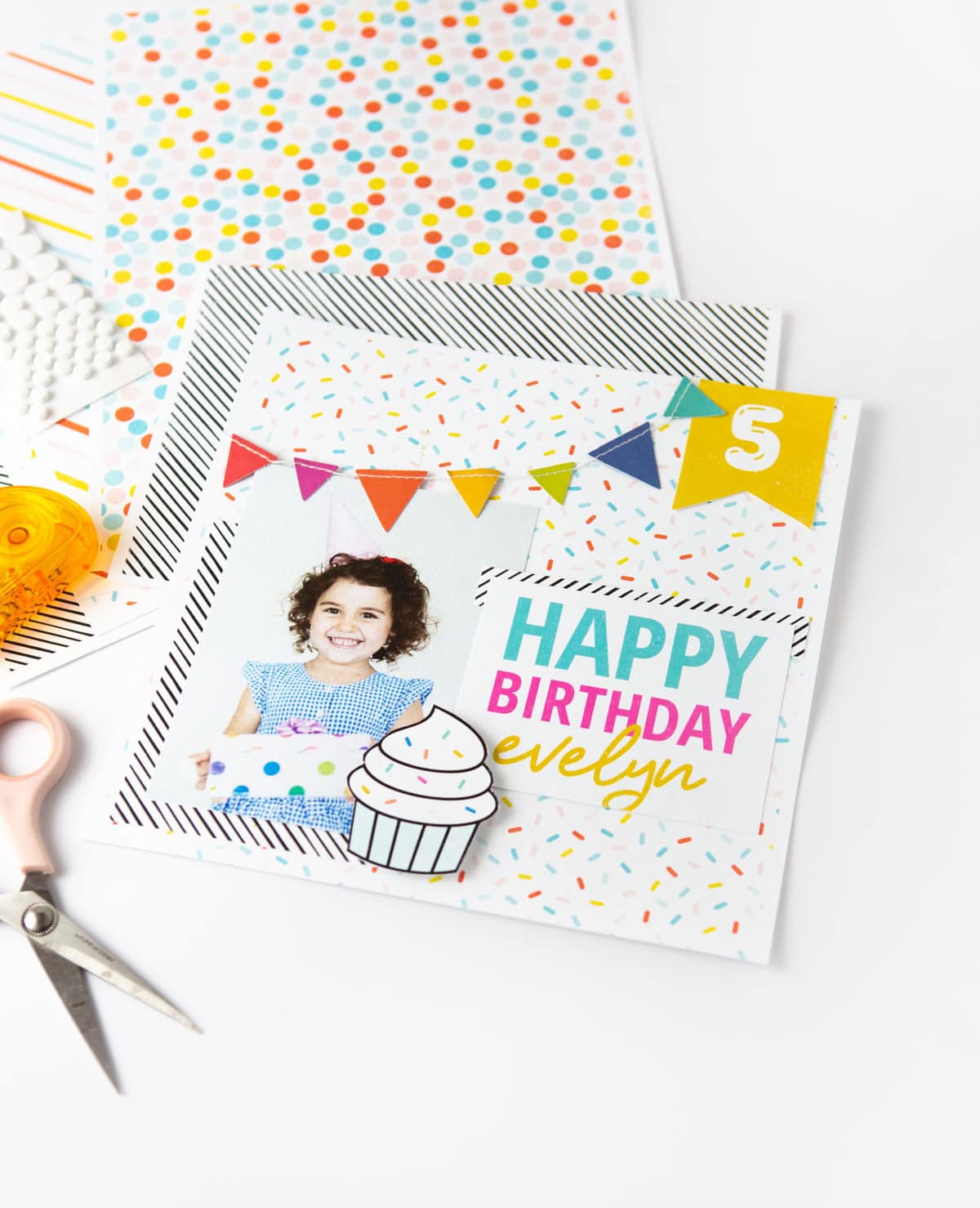 Fun Ways to Use These Printable Pattern Paper
Use the pieces of paper to wrap small gifts–perfect for baby shower gifts. Don't forget to add a printable baby card!
The colorful papers make fun DIY cards for birthdays or even party hats.
The digital paper have colorful geometric and sprinkle designs–perfect for printable paper crafts like party hats, tags, and place cards.
Use them to add panels of decorative paper to projects.
Cut shapes out the printable paper to use as embellishments.
Screenshot the pattern PDF and use as screen savers or phone wallpapers.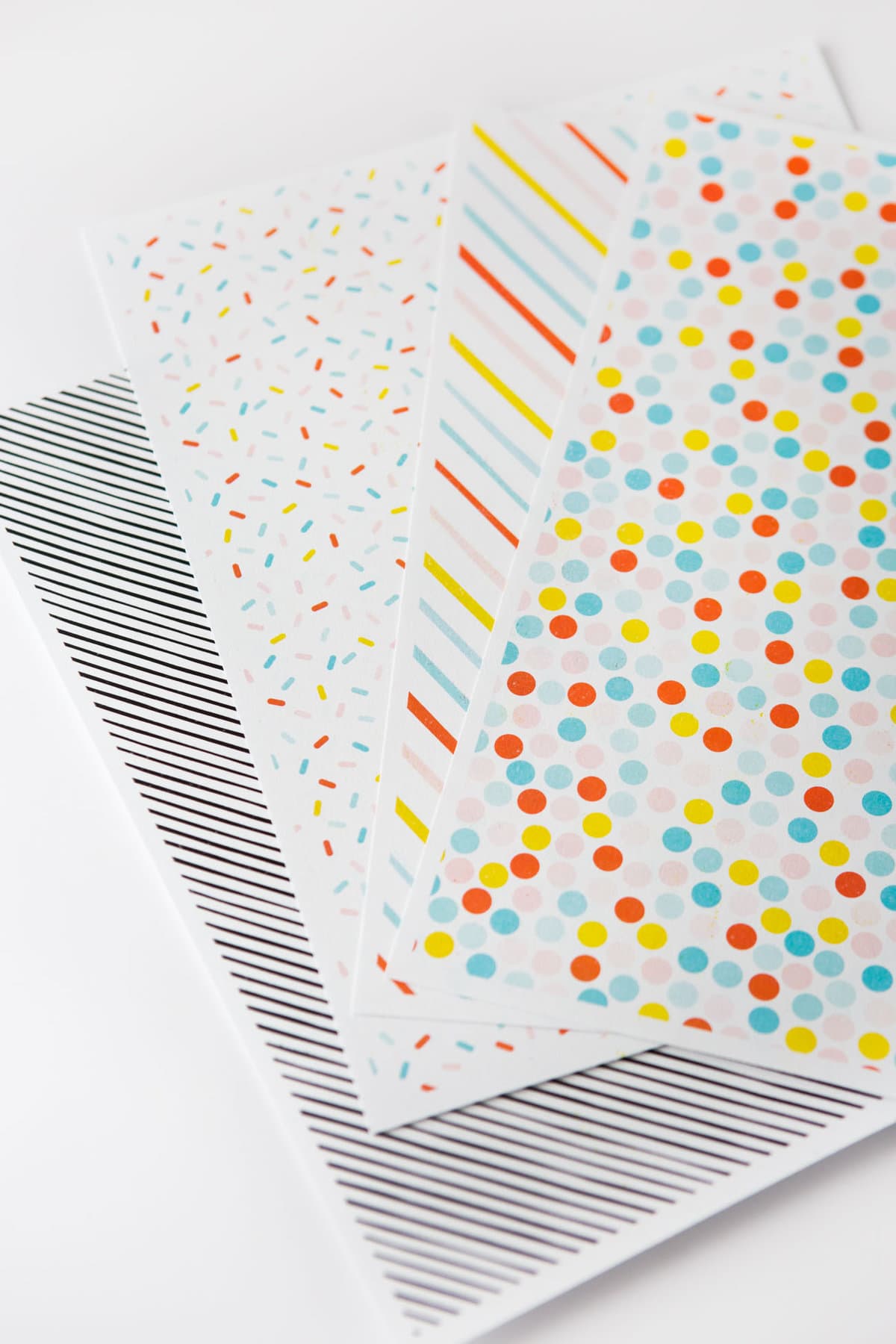 What You Need to Make Printable Scrapbook Paper
To make these printable paper patterns, you'll need a color printer and regular printer paper–that's it. Or, if you plan to use them for a digital scrapbook and as free printable background images, just download and you are done!
This download includes 4 patterns: Sprinkles, Polka Dots, Stripes, and a Black and White Stripe
Materials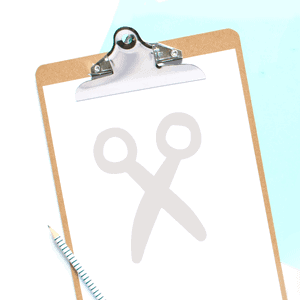 Printable Template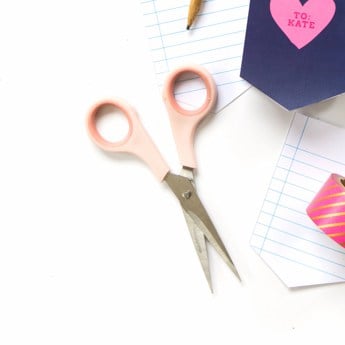 Scissors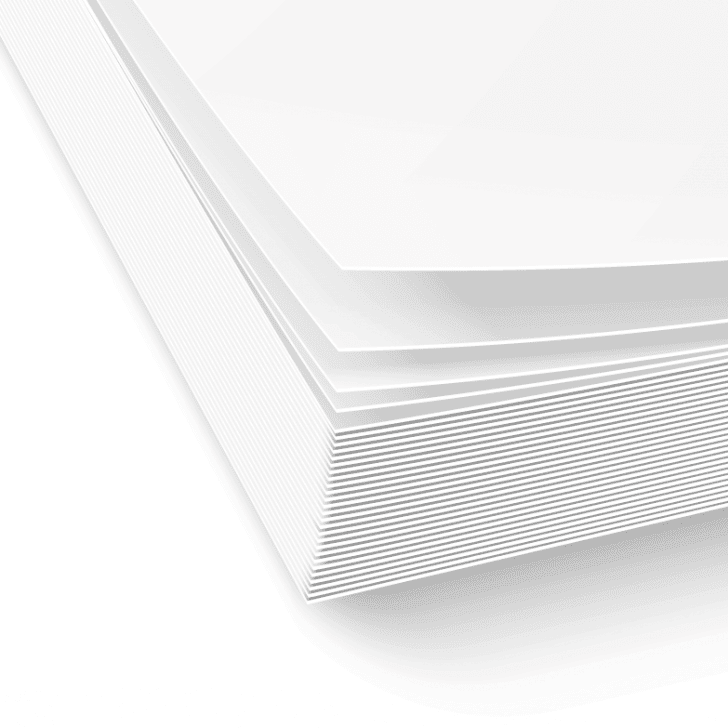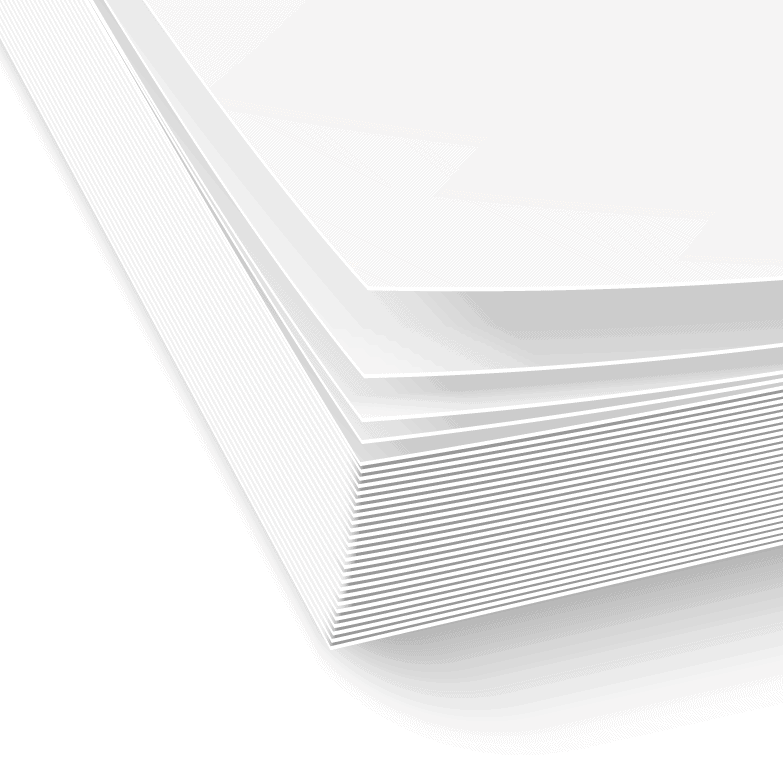 White Cardstock
How to Make Printable Paper:
Step 1: Print
Download the printable geometric and sprinkle scrapbook paper PDF and print on 8.5 x 11″ white printer paper. I like using foam dots and paper banners in scrapbook designs to give it a dimensional look.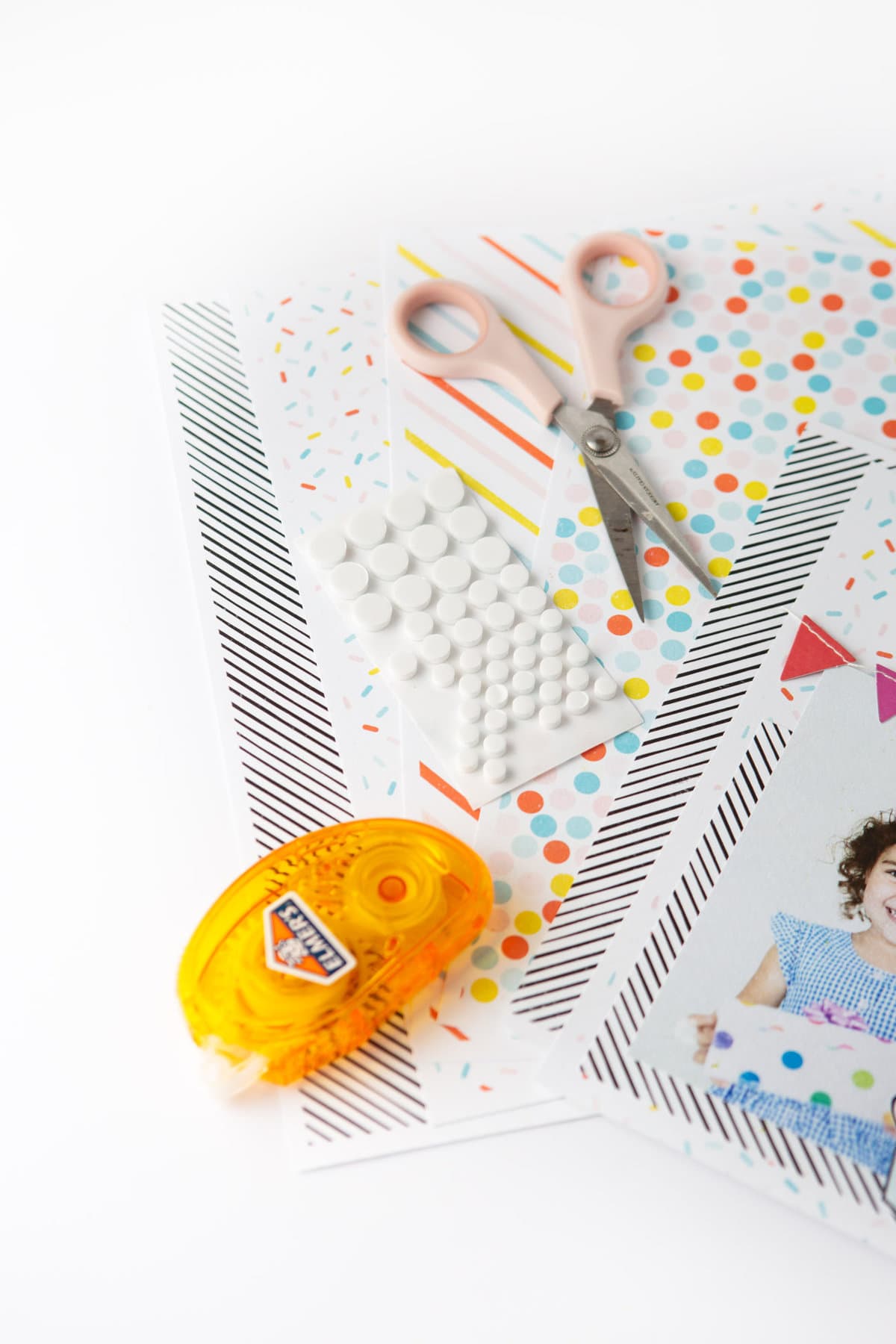 Step 2: Trim & Craft!
Cut the white edges off and use to craft! You can also tape together a couple of sheets of paper to the proper size for the project you are using it for. But the best part of printable scrapbook paper is that you can print as many as you need & save all the small scraps for other projects like cardmaking or scrapbook embellishments.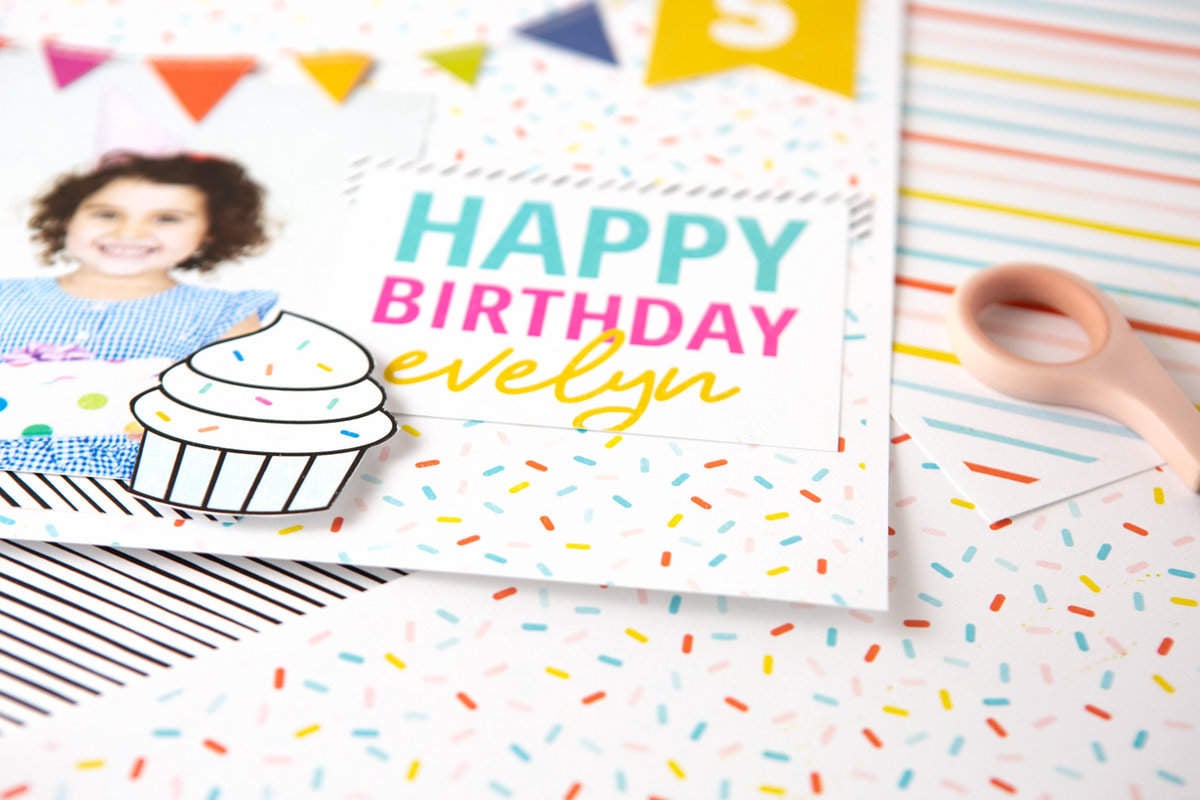 Frequently Asked Questions:
How to Use Printable Scrapbook paper:
Digital scrapbook paper has many uses. They work as phone and computer backgrounds as well as for digital scrapbooks. They can be printed to use for crafting projects such as card making, gift tags, and other paper crafts. Use it to decoupage wood boxes or wallpaper a dollhouse. And, of course, you can print them as needed for your scrapbook!
What size are these printable papers?
The papers are 8.5 x 11" when printed. You'll notice that your printer will leave a small white border around the edge, which you'll want to trim off.
Psst! Looking for some printable scrapbook paper for Christmas? My Christmas Printable Wrapping Paper doubles as scrapbook paper!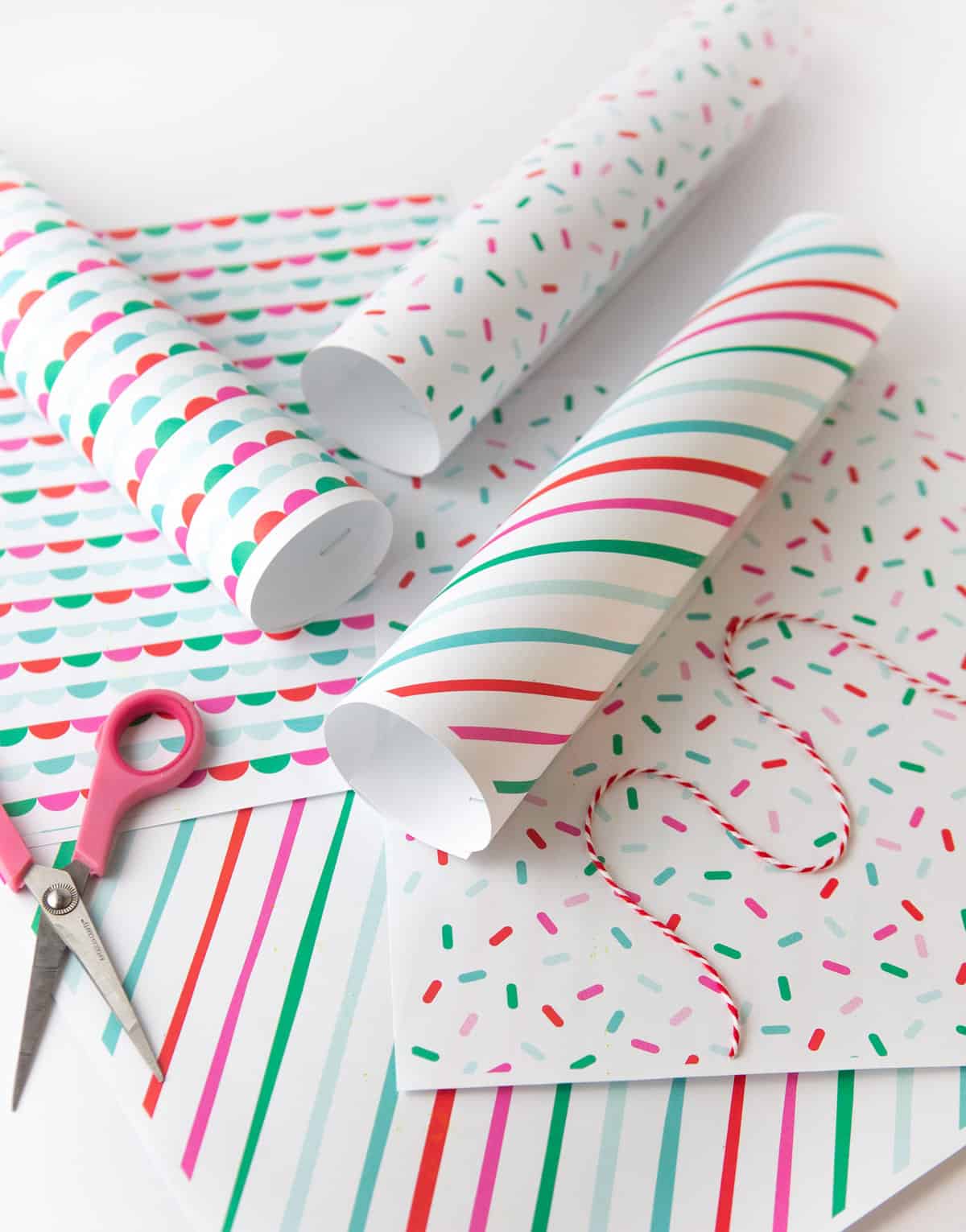 Other fun occasions to use these free printable papers?
The paper is for kids and adults alike. If you are a fan of rainbow paper or colorful paper in general, then this paper is perfect for you. You can also use this paper to make party hats, invitations, patterned envelopes (to pair with the matching) 4 Free Birthday Cards to Print, or party banners (cut into pennant shapes and add letters on top). If you use it for a party, you can even pair your DIY paper creations with the matching Printable Party Favor Bags!
What paper weight is best for these?
I suggest using white cardstock (65lb) for these but you can also just use normal text-weight computer paper!
How to store scrapbook paper?
Store the paper flat in a drawer or box. The best part of having digital paper, is that you can print them as needed, eliminating the need to store a bunch of paper.
Not into scrapbooking?
You can also use these patterned papers to make party hats!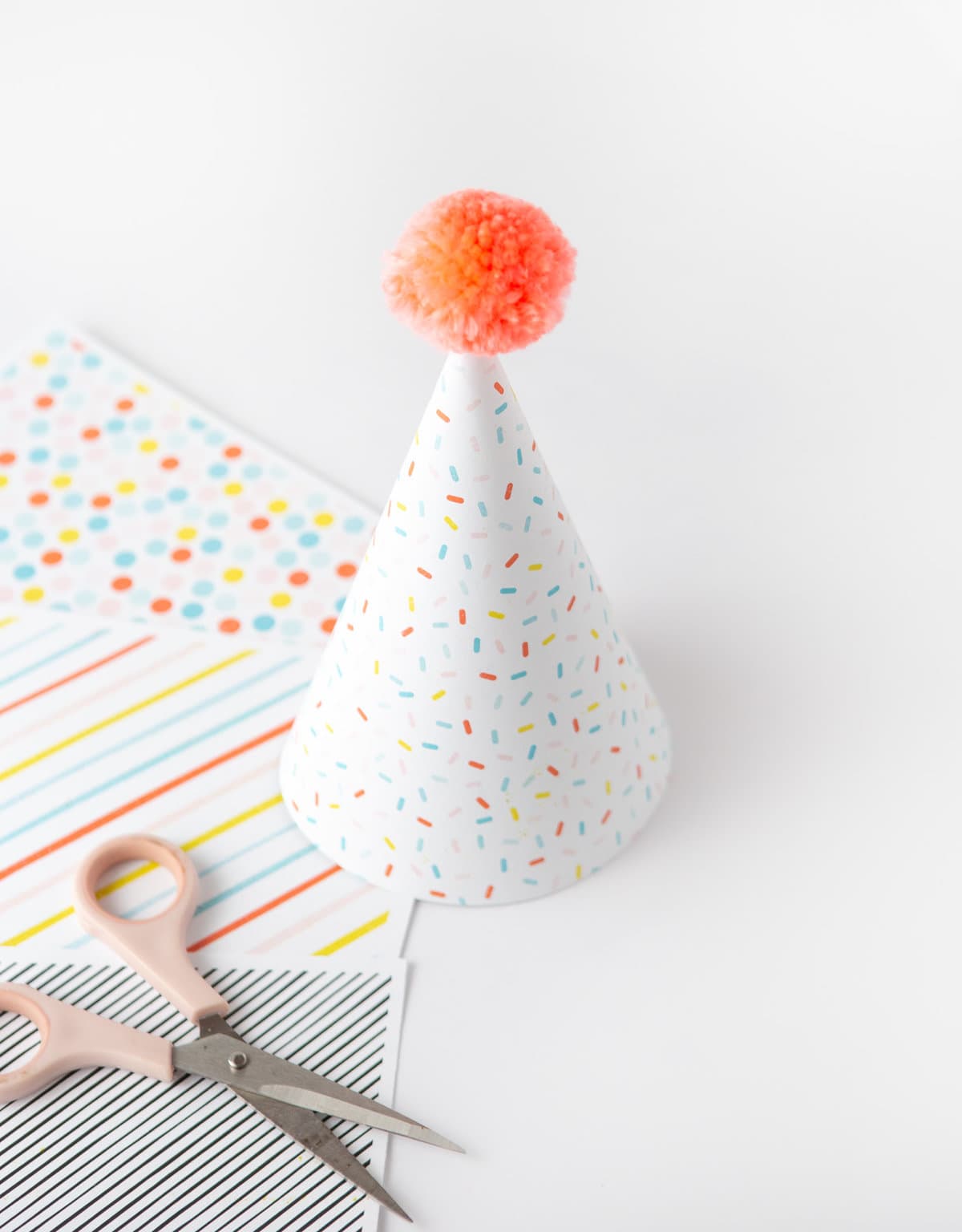 More Free Paper Crafting & Birthday Printables
Please note that these files are for personal use only and redistribution or reselling for commercial use is strictly prohibited. If you would like to spread the word about this printable, you are free to do so but (A) must link directly back to this post for download (please do not link directly to the printable download file) and (B) may only use one image from the post. Thank you for your cooperation!