Start summer off right with an adorable printable cactus popcorn box template! Great for movie nights, a themed cactus party, or just a fun way to liven up snack time!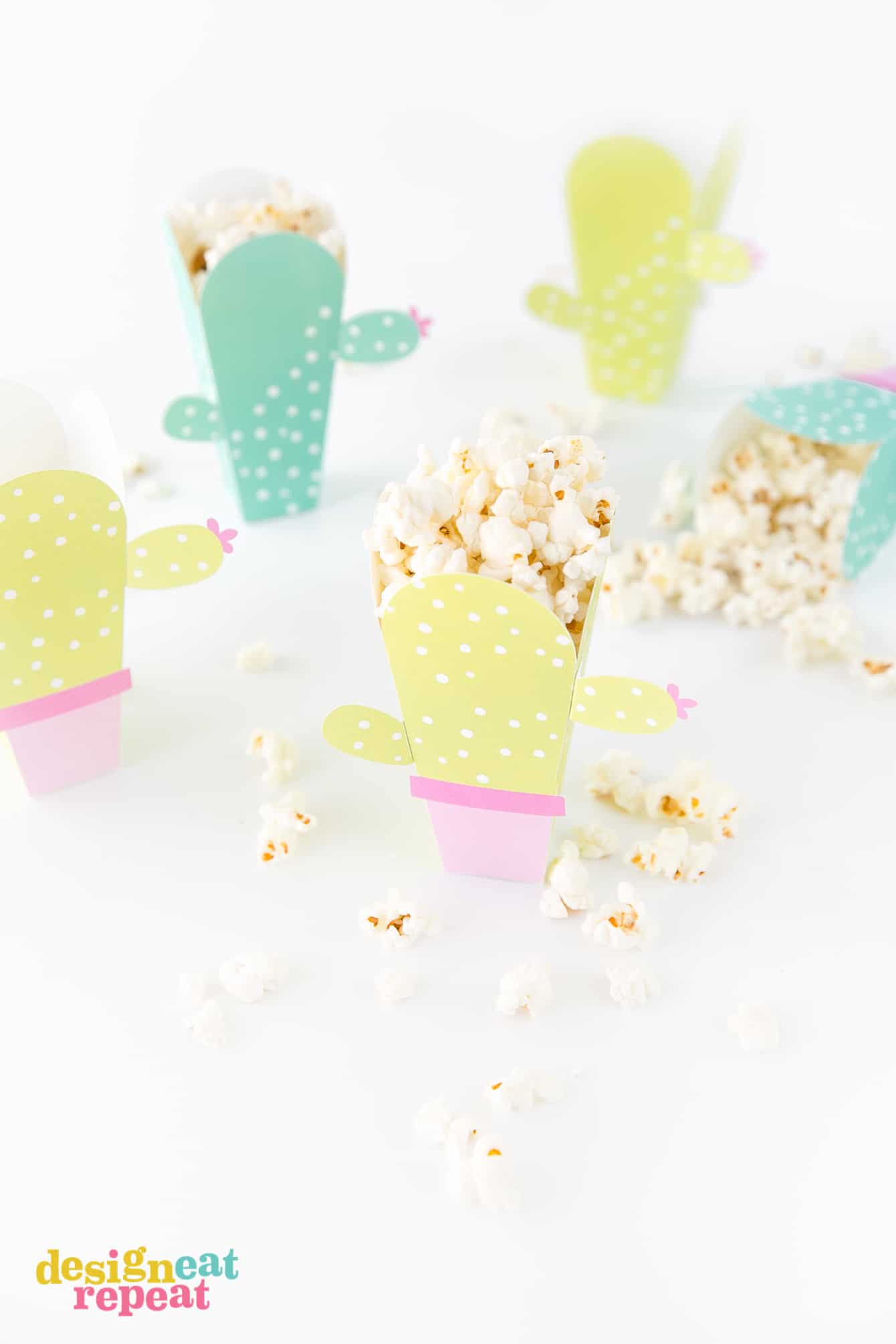 Have you ever taken a minute to think about how trends evolve? I mean, at what point did the internet decide pineapple, donuts, and cacti were cool and throw them onto everything imaginable? I'm not complaining but it's so fascinating to me how things like this work. So being the crafter that I am, I figured it was time to bring that trend to POPCORN.
What You Need to Make A Cactus Popcorn Box:
White cardstock, printable popcorn box template, scissors or exacto knife (or Silhouette or Cricut die-cutting machine!), strong double-sided adhesive, and popcorn!
New! Purchase the popcorn box SVG file to cut on your home die-cutting machine or find the design in the Silhouette design store here.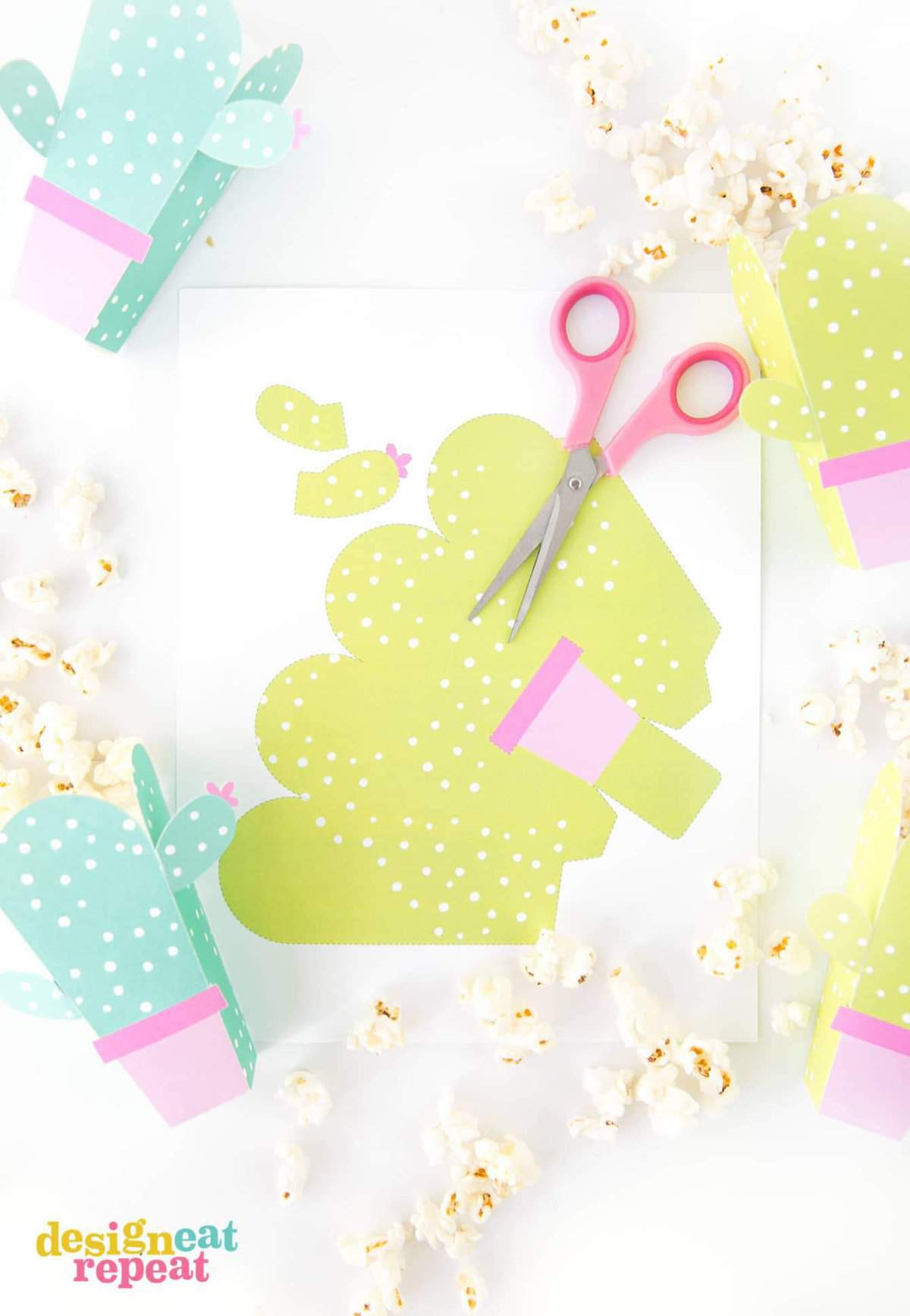 How to Make Popcorn Box Template:
Download and print the printable popcorn box template on 8.5 x 11″ white cardstock.
Use a scissors and exacto knife to cut along the edges and score the sides where indicated on the PDF.
Apply strong double-sided adhesive where indicated, fold, and adhere the tabs closed.
Fill with popcorn!
What I love about these is that they're easy to put together requiring just the printable template, a cutting knife (or scissors), and double-sided tape. (And for all you electronic die-cutters out there, you can now purchase popcorn box SVG file for easy cutting in my Etsy shop or download the Silhouette design here!)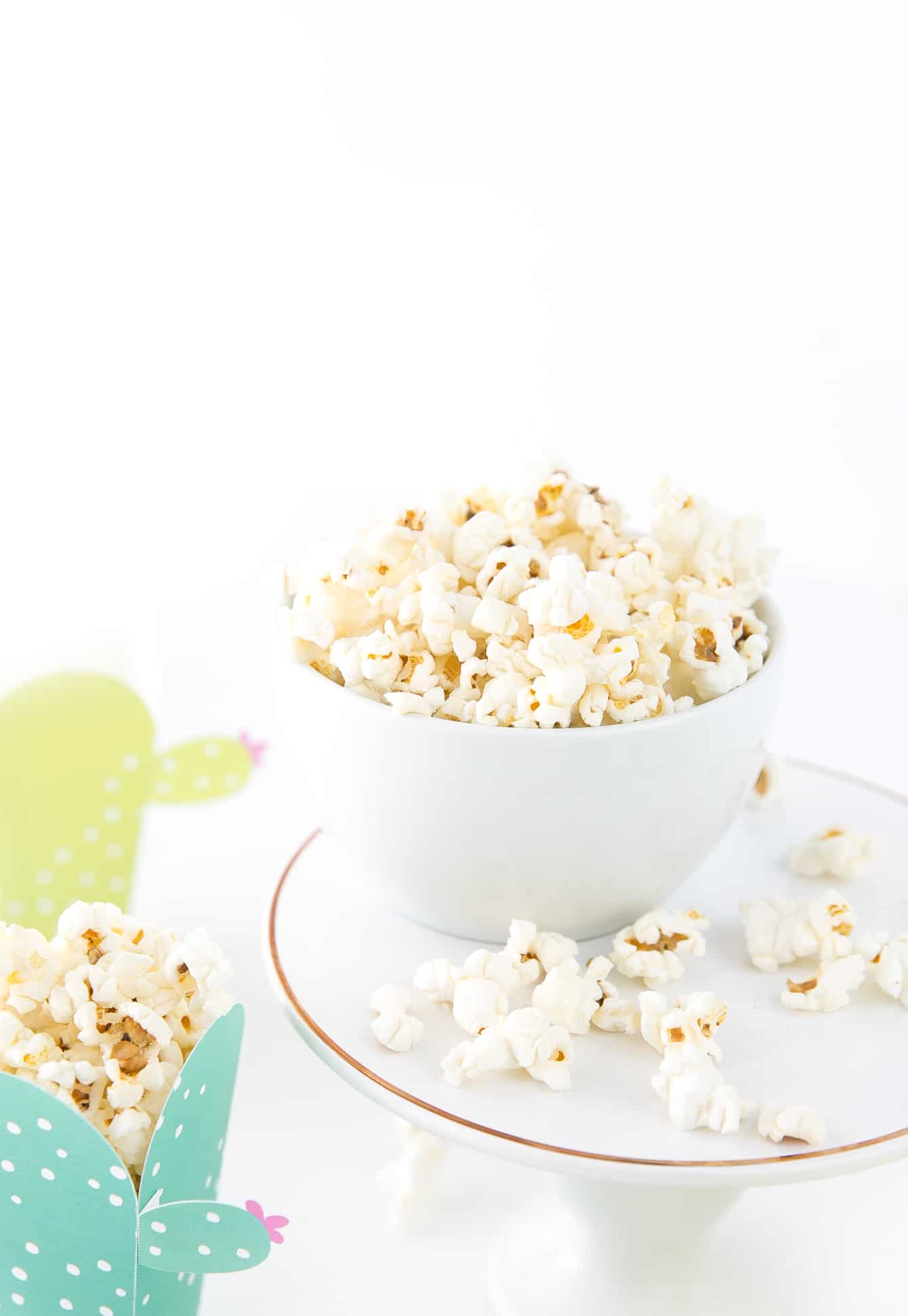 Frequently Asked Questions:
What Size Are These When Assembled?
The template for these adorable cactus popcorn boxes will produce a box that measures 2 inches wide x 5 inches high and will hold approximately ½ cup of popcorn! Colorful, cute, and mini.
Do You Have a SVG File?
Yes! If you use Silhouette, you can purchase the design for this popcorn box template in their design store. If you have a different die-cutting machine, you can purchase the SVG here.
Do You Have Other Popcorn Box Template Designs?
I do! I have  several designs that are perfect for baby showers, circus parties, or themed birthday parties.
Striped Popcorn Box Template (Pastel Pink, Blue, and Yellow)
Geometric Popcorn Box Template (Bright Pink & Yellow)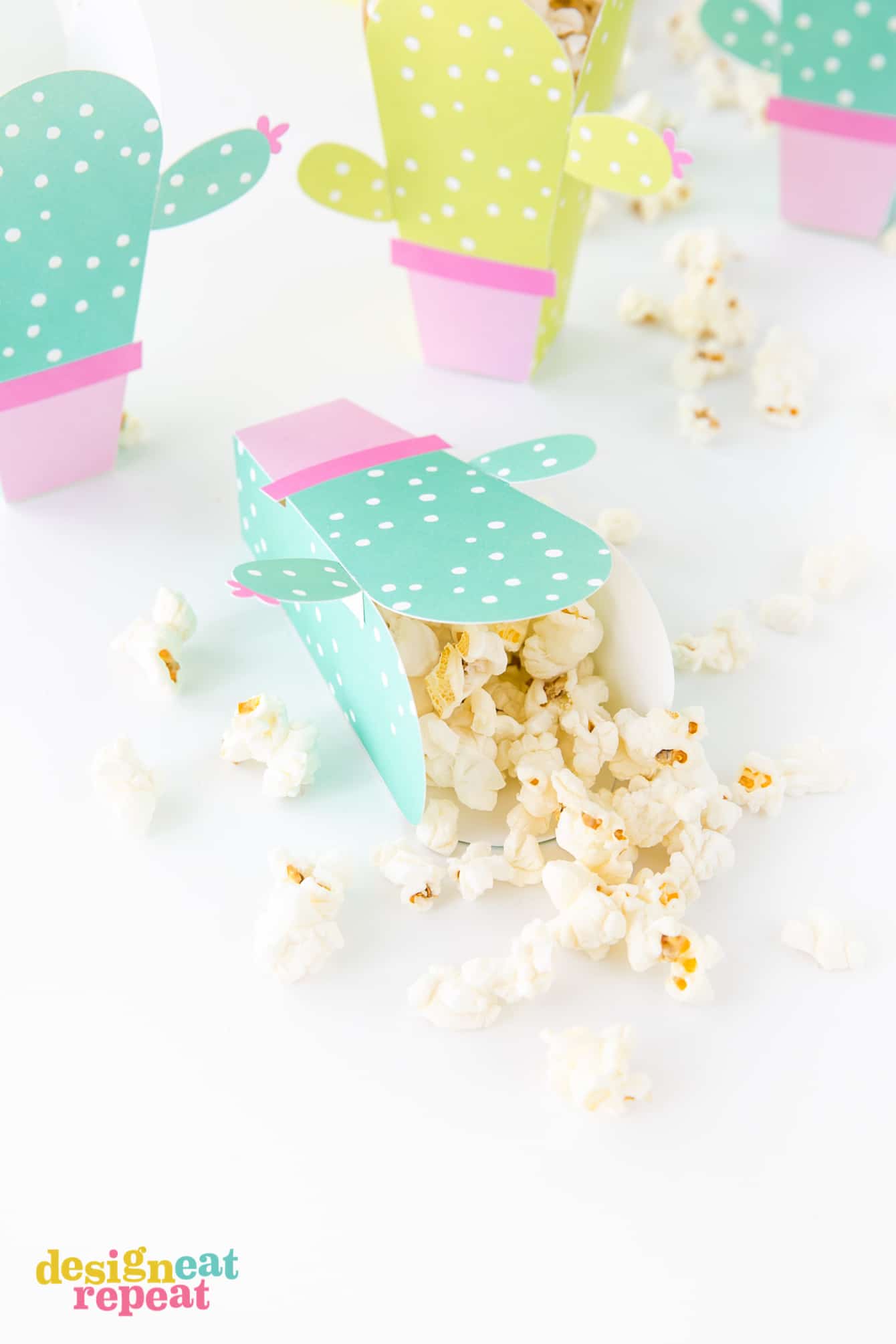 Popcorn box templates are surprisingly one of the most popular projects on my site, so when I was thinking about a way to take them to the next level of cuteness I knew exactly what had to be done. With the kids out for summer, how fun would popcorn nights be with these little guys?!
So what do you say? Who wants to throw a popcorn party?!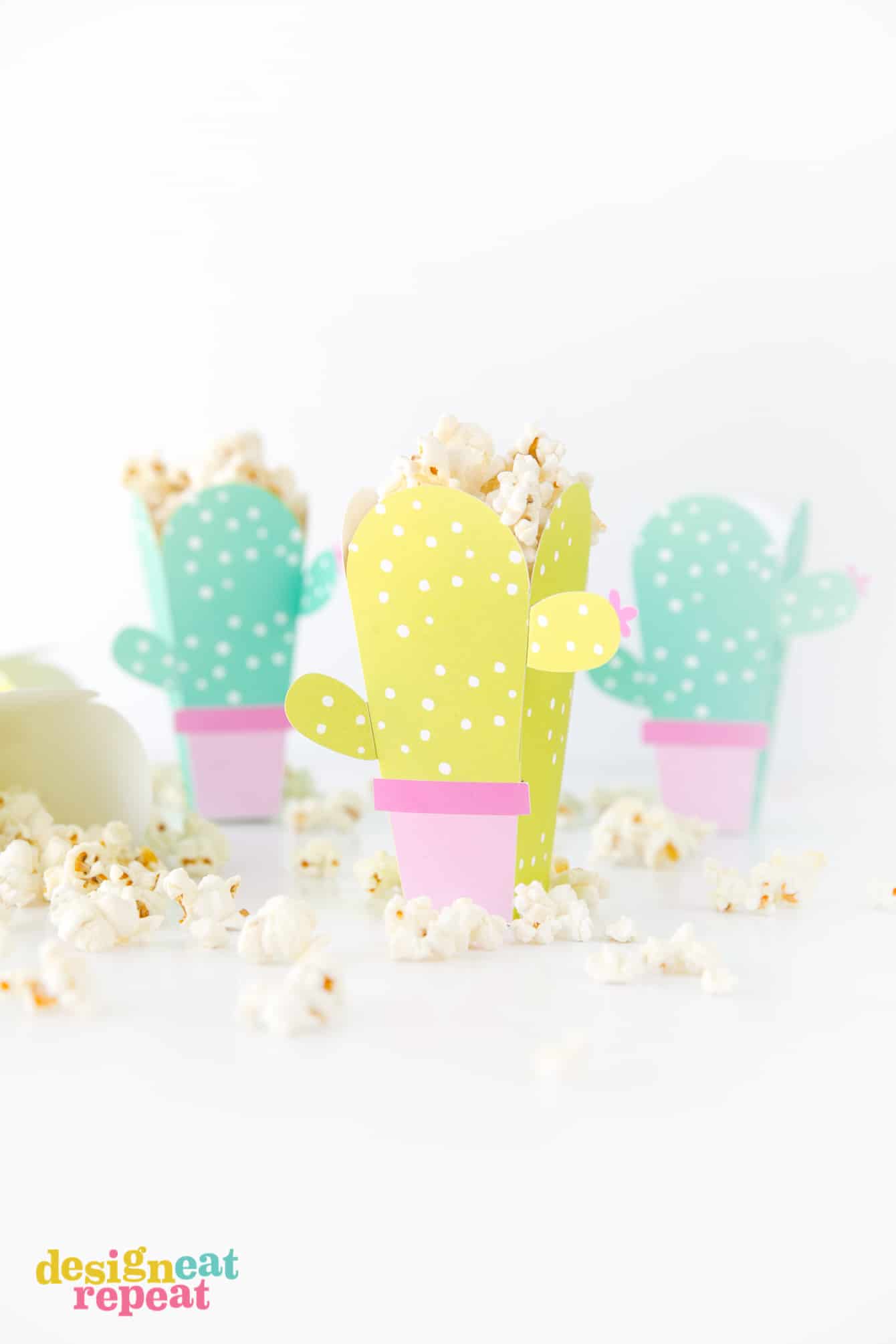 Please note that these files are for personal use only and redistribution or reselling for commercial use is strictly prohibited. If you would like to spread the word about this printable, you are free to do so but (A) must link directly back to this post for download (please do not link directly to the printable download file) and (B) may only use one image from the post. Thank you for your cooperation!