Update: Since posting this recipe years ago, I since tweaked the recipe and reposted a new, more comprehensive tutorial here. If you're looking for a dough that holds it shape a bit more, I recommend checking that one out!
Today, I'm sharing my family's favorite cut out sugar cookies. A soft, buttery, sugar cookie dough that is great for cut-out sugar cookies. I've actually posted this sugar cookie base recipe a time or two before with various decoration ideas, but because it really deserves a little more attention, I'm featuring it again in a little different way.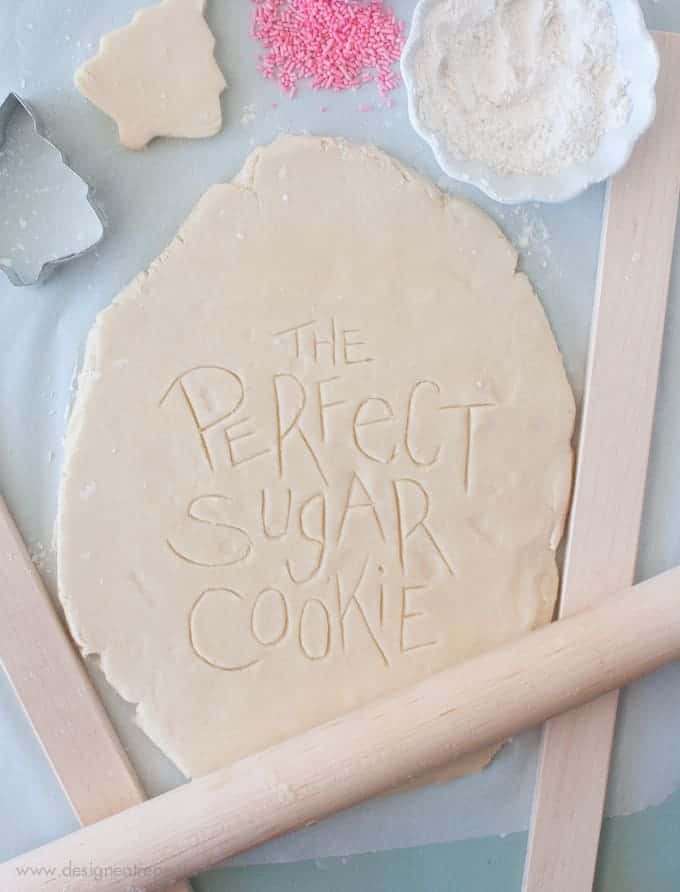 So what makes this such a great cut out sugar cookie recipe?
Well, there are two factors that I think make cut out cookies "work." The first thing is the dough. You need a dough that isn't going to break, crumble, or stick while rolling & cutting. I've made plenty of cut out cookies in my day that turn into big blobs when they're intended to be Christmas trees.
They stick to the counter because the dough isn't sturdy enough, and just like that, your five-pointed stars turn into two-pointed cat ears. No bueno. This sugar cookie recipe cuts out perfectly so that you can ensure those gingerbread men don't lose their arms this holiday season.
Update: Since posting this recipe, I have a new cut out sugar cookie recipe that I like. (I'm keeping this one on the site because it's still great & a lot of people have tried and love it.)
This Recipe: All powdered sugar, more butter = a buttery, slightly flakey texture.
New Recipe: Granulated Sugar, Less Butter = a thicker, softer, more moist texture (better for more intricate shapes).
Be sure to check out my Christmas Cookie Frosting Guide for my favorite recipe, food coloring tips, and piping tips! And for EASY decorating ideas, check out my 5 EASY Christmas Cookies for Kids!
The dough is made with powdered sugar, which makes it super soft and a complete cookie-dough-eating-worthy-snack. I typically don't promote eating raw cookie dough (on public forums), but in this case, I don't think I hold back from telling you to try it.
It's crazy soft, has a hint of almond, and is just all-around addicting. If you don't actually have any left to make cookies with, I won't judge.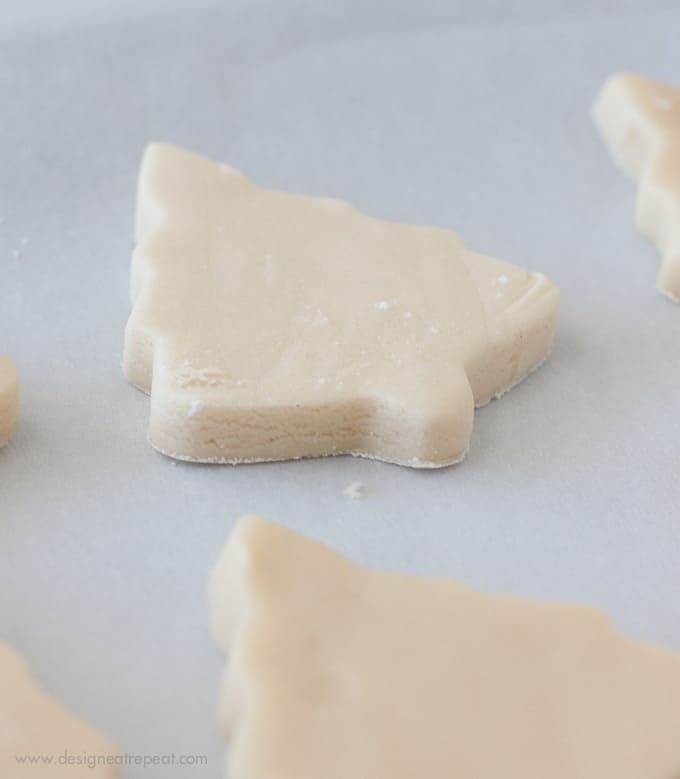 Rolling It the Perfect Thickness
The second thing that makes the perfect sugar cookie is how thick you roll out the dough (check out my guide on how to roll the perfect sugar cookie). If you roll it too thin, you're going to have a crunchy cookie that breaks easier when cutting them out. Roll them too thick and you're going to have trouble getting the cookie to bake evenly. My ideal thickness is 1/2" thick.
A few months ago, I came across The Cookie Thing, which is a simple tool for rolling out doughs to the perfect thickness. It comes with four sets of boards in different widths, letting you decide how thick or thin you want the dough. It's been sitting in my craft corner for a few months now and I was eager to try it out for holiday sugar cookie season.
I also have the Joseph & Joseph adjustable rolling pin and use it on the thickest ring (the purple one).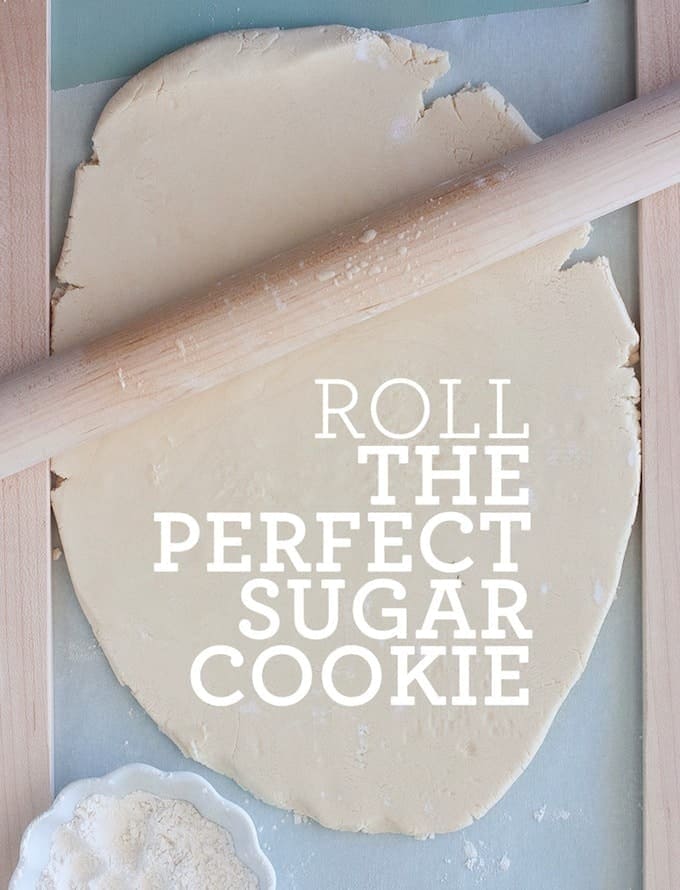 I'm more excited to bring this nifty tool home in a few weeks because it will relieve me of some of my cookie-rolling duties. Let's just say that some people in my house haven't quite mastered the perfect sugar cookie thickness, which results in crunchy cookies. With The Cookie Thing, all the guessing is over and the fam can finally stop asking me if they rolled the cookies thick enough.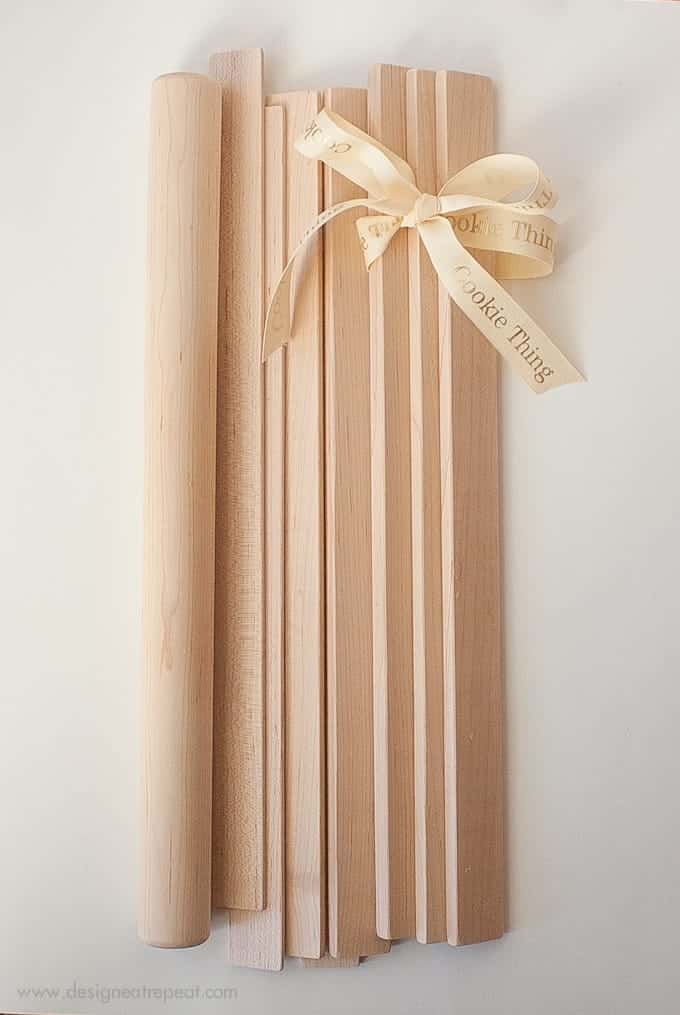 You'd swear I was Martha Stewart with the demand of questions during the annual holiday baking weekend. Heck, the family might need this more than ever, because after 30 days of cookies, I may just take the year off and take a weekend-long nap instead of participating in our annual Christmas baking day.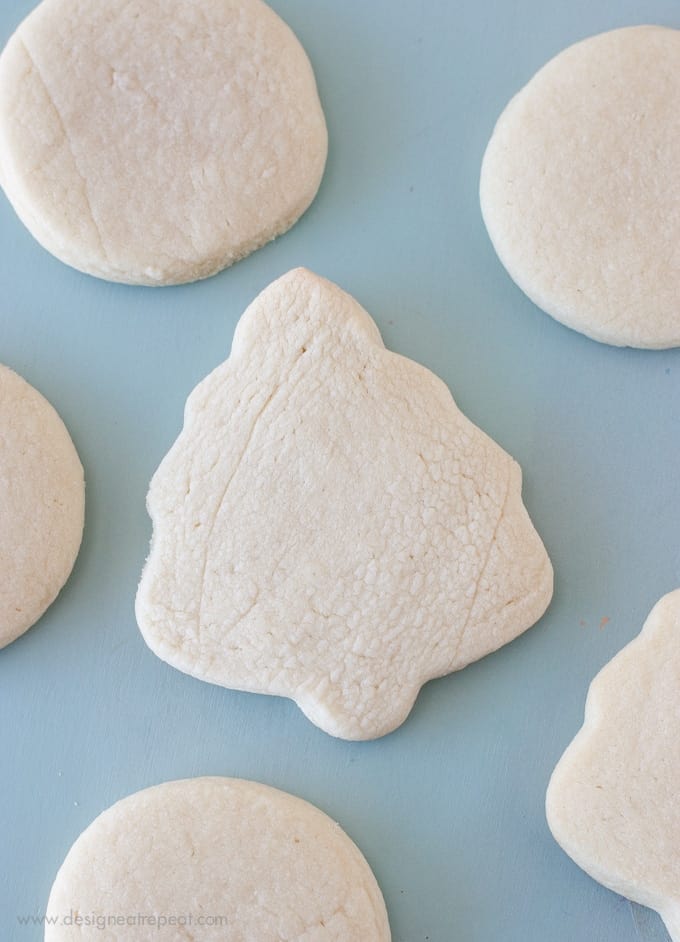 I rolled the dough using the 3/8″ thick boards, cut them out, and baked them on a parchment-covered baking sheet for 8 minutes. Depending on the size you cut them out, you may need to add or subtract a minute or two from the baking time. The smaller cookies are usually done in 8 minutes, while the larger ones are closer to 9 or 10.
The trick with these cookies is to take them out when you see a tiny, tiny bit of browning around the edges. The cookies may look underdone after 8 minutes, but they will continue to bake on the hot pan outside of the oven. This allows them to be fully baked on the inside, while still having a soft outside.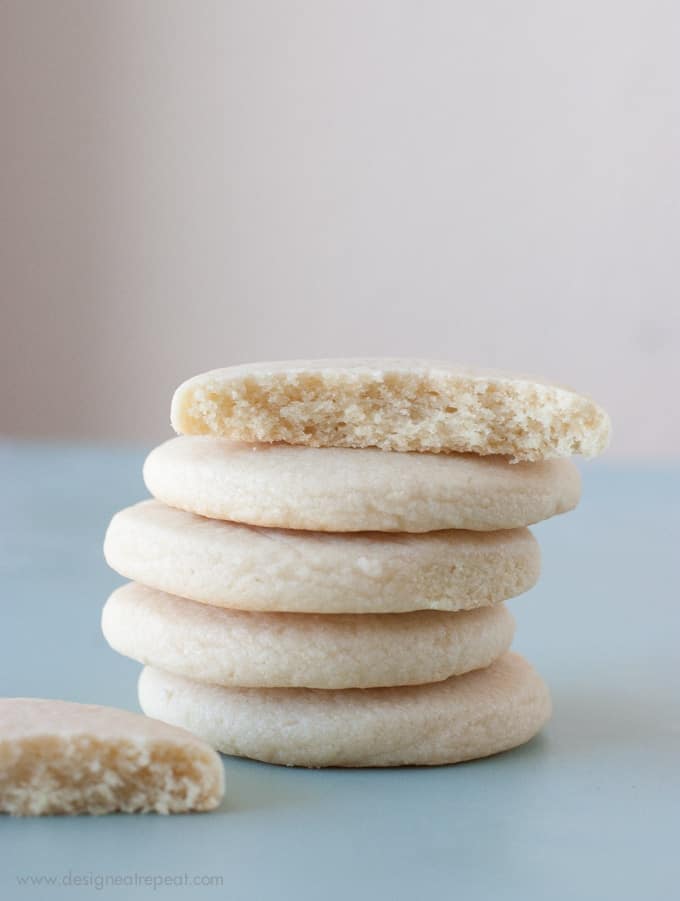 My Favorite Frosting Recipes
After cooling, these are ready to frost and decorate with your favorite frosting (I like using my sugar cookie buttercream for non-fancy decorated cookies or my easy sugar cookie icing for a smoother finish). Pop them on your favorite holiday plate or use these free printables for a fun holiday decorating idea to help gift the perfect DIY cookie tray.
Tip: For more royal icing or piping ideas, check out my guide on 4 sugar cookie icing without corn syrup.
How to Make The Perfect (Soft) Cut Out Sugar Cookies
The perfect soft cut out sugar cookies, made with unsalted butter and powdered sugar.
Update: Since posting this recipe years ago, I since tweaked the recipe and reposted a new, more comprehensive tutorial HERE. If you're looking for a dough that holds it shape a bit more, I recommend checking that one out!

Prep Time: 20 minutes
Cook Time: 10 minutes
Total Time: 30 minutes
Course: Dessert
Category: Cookies
Servings: 18 Cookies (depending on the size you cut them)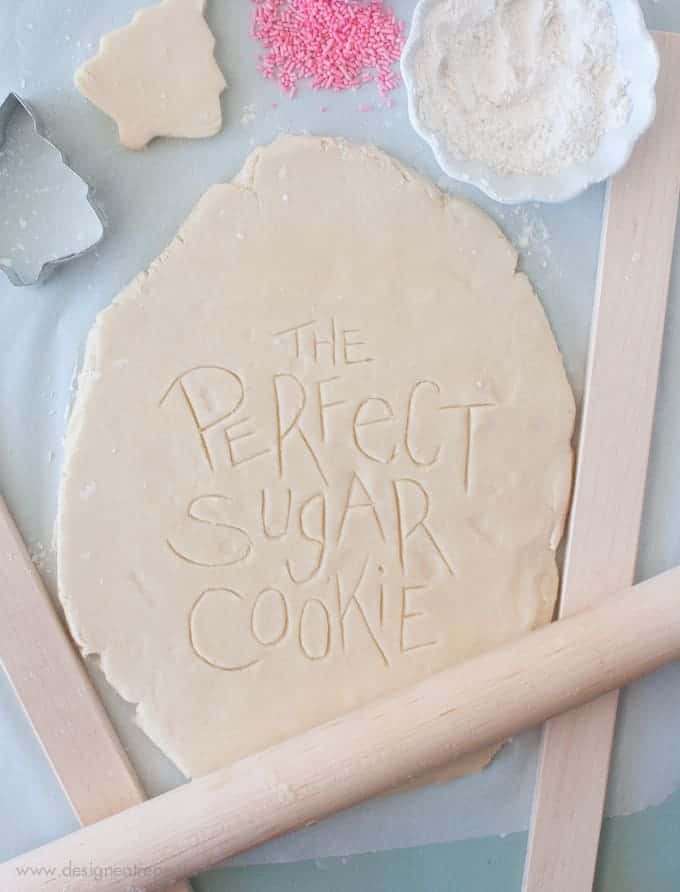 Ingredients
1 cup unsalted butter (i.e. 2 sticks) softened (*Read Tips below)
1 ½ cup powdered sugar
1 egg medium sized
1 teaspoon vanilla extract
½ teaspoon almond extract
1 teaspoon baking soda *See note below
2 ½ cups all-purpose flour
1 recipe sugar cookie frosting
Before you begin! If you make this, will you do me a huge favor and leave a review and rating letting me know how you liked this recipe? This helps my small business thrive so I can continue providing free recipes and high-quality content for you.
Instructions
In a large mixnig bowl, cream the unsalted butter (1 cup, i.e. 2 sticks) and powdered sugar (1 ½ cups) together with an electric mixer.

Add the egg (1 large), vanilla extract (1 teaspoon), almond extract (½ teaspoon), and baking soda (1 teaspoon) and continue to stir on medium speed. Once incorporated, turn the mixer down to low speed and add the flour in one cup portions.

When the flour disappears, turn off the mixer and transfer the dough onto a floured surface. Knead the dough until it forms a solid ball. If dough is sticky, add additional flour while kneading (do not be afraid to add 1/4-1/2 cup more flour while kneading if sticky).

Next, on a floured surface, use a rolling pin to roll the dough out to 3/8 to 1/2 inch thickness. The thinner you go, the faster they will bake & the crispier they will be. I like them to be thick and soft, so I keep them around 3/8 inch thick and use a 2.5 inch circle cookie cutter or wine glass rim to cut them out.

As you are cutting them out, transfer them to a parchment paper covered cookie sheet, leaving about 2 inches between them (to allow them to spread). Cover and refrigerate cut out cookie dough for 1-2 hours. (For more intricate cut out shapes, I highly recommend this refrigeration step. For regular circle cookies, refrigerating is not as important, but will result in a cookie that does not spread as much. For intricate shapes, I cut out the cookie shapes first and then refrigerate the entire trays. This helps so you do not have to work with a cold chunk of dough.)

Bake at 350°F for 8-10 minutes or until the edges are very lightly browned. Do not worry if they look underbaked, as they will continue to bake on the hot cookie sheet after it comes out of the oven.

Cool and frost with a vanilla icing of your choice. Have fun with colors & decorations to make these match any occasion.
Last Step! Please leave a review and rating letting me know how you liked this recipe! This helps my small business thrive so I can continue providing free recipes and high-quality content for you.
Recipe Notes
Check out a great royal icing recipe for simple & easy frosting.
* A few readers have commented that their cookies puffed up quite a bit during baking. The cookies WILL raise a little, but should not be "puffy." Because the raising of baked goods can vary based on altitude, I recommend referring to King Arthur's altitude adjustment guide prior to baking. Although I have never had a problem with these puffing up (I live in the Midwest), this is something to consider in other regions.
* Tips on Butter: Use real unsalted butter, not margarine or shortening. Butter should not be melted, just softened to room temperature. If butter is melted too much, the cookies will spread, resulting in skewed shapes.
* This recipe has been in my family's cookbook for many years, but a reader recently pointed out that this recipe is very similar to a Betty Crocker recipe. Which may very well be where we got this one originally! So feel free to check that one out here for more in-depth reviews (the main difference is that I do not use cream of tartar because I find it to give these cookies a crunchier texture).
Nutrition
Calories: 94kcal
Fat: 10g
Saturated fat: 6g
Cholesterol: 36mg
Sodium: 65mg
Potassium: 6mg
Vitamin A: 330%
Calcium: 4%
Do you have a go-to sugar cookie recipe that you stick with every year? Since doing 30 Days of Cookies, I have a few other ones that would foot the bill, but I'm not sure I'm going to be able to convince the family to branch out from this one. But I guess now that they can make these themselves with the new rolling pin gadget, I may just let them do all the sugar cookie dirty work while I go take a two-day nap under my heater blanket. Hibernation season has officially begun.
Need a easy homemade cream cheese buttercream recipe? Check out my favorite Sugar Cookie Buttercream recipe.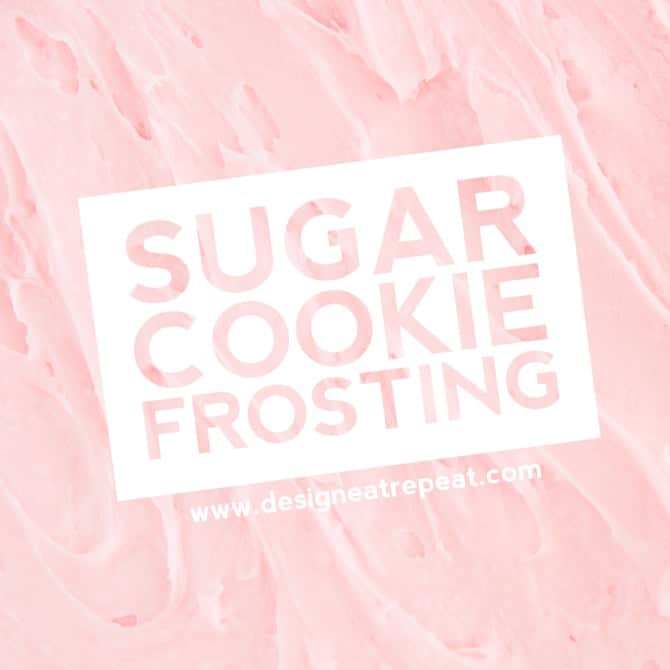 Or want a smoother finish? Try out my Easy Sugar Cookie Icing Recipe.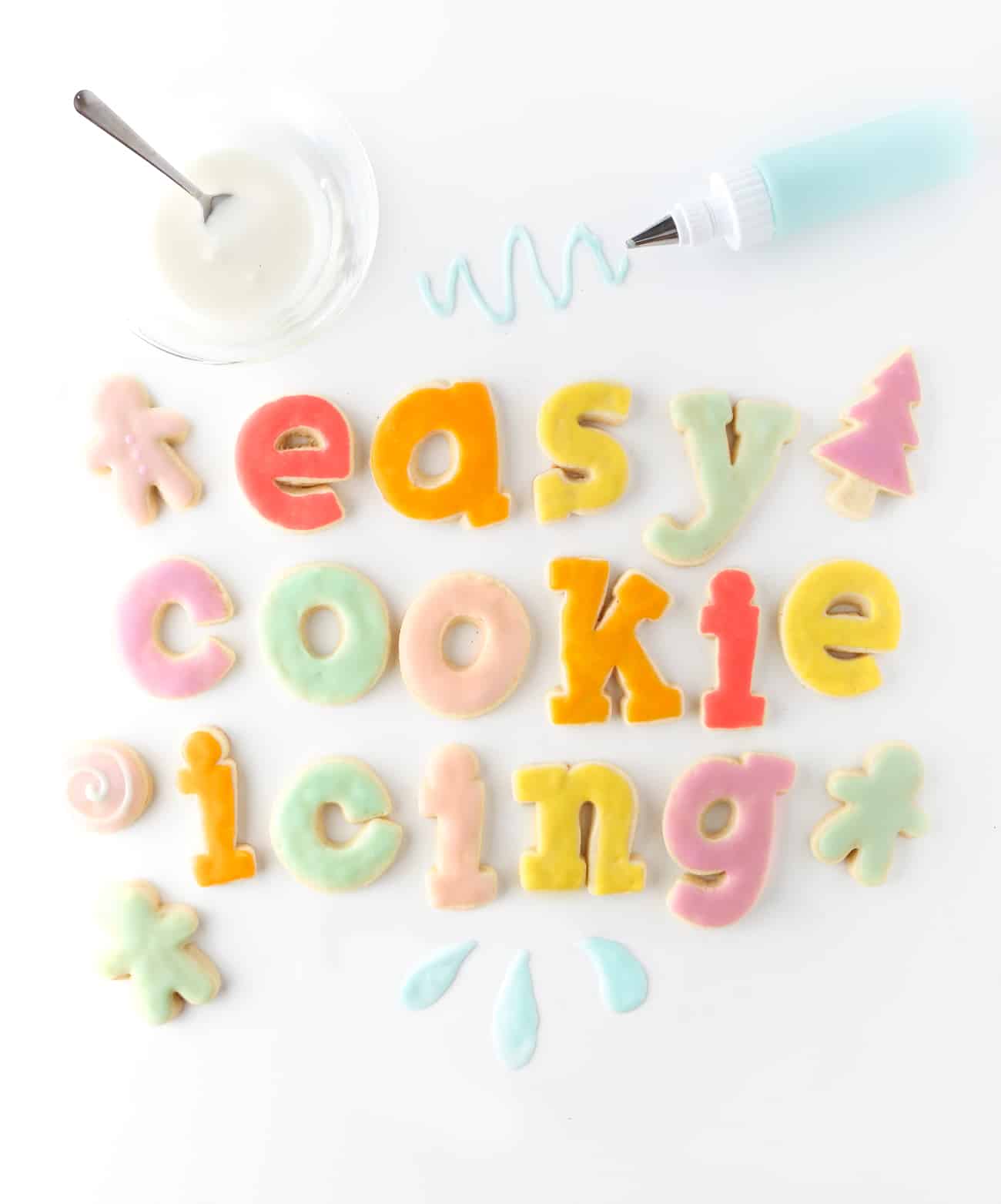 Need some fun sugar cookie decorating ideas?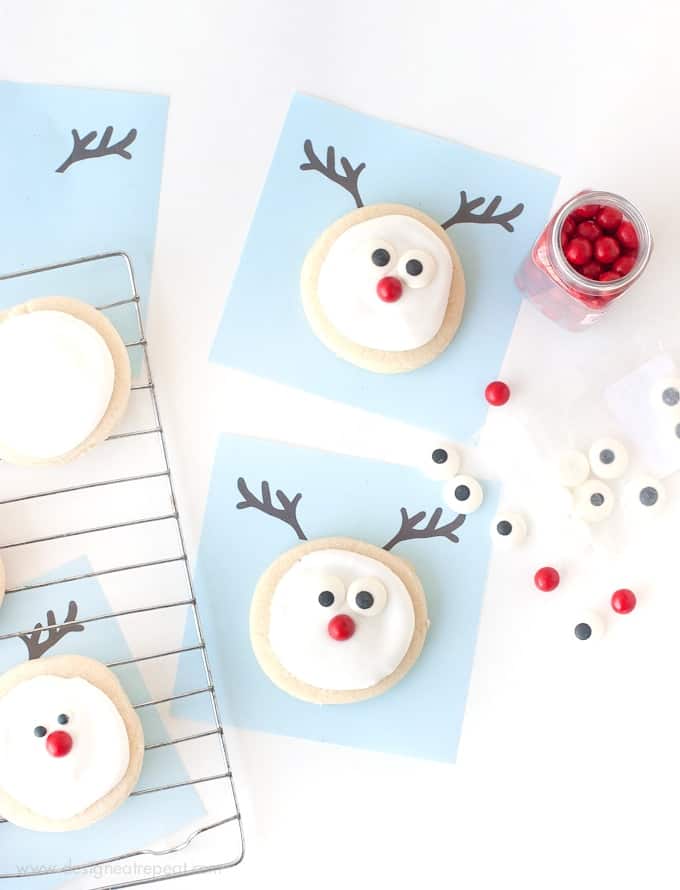 Easy Reindeer Sugar Cookies