These easy winter cookies are made with simple round sugar cookies! No cookie cutters needed, just whip up my perfect sugar cookie dough and buttercream frosting and follow the directions below for adorable circle cookies.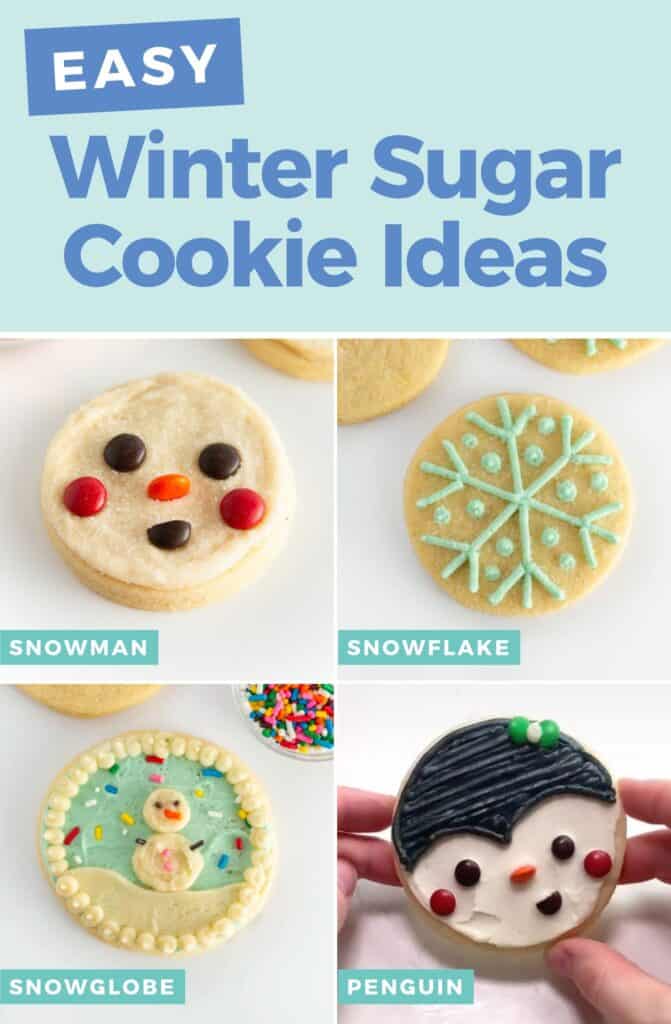 Circle Winter Wonderland Cookies
My round Christmas cookies were such a hit, I couldn't wait all the way until next December to make them again! Luckily, a lot of those easy Christmas sugar cookies recipes are just as fitting as winter-themed treats. With the chill in the air and the snow on the ground, the season for snowmen, polar bears, and penguins isn't quite over yet!
Grab a mug of your favorite warm beverage and browse through these easy winter cookie recipes for some inspiration!
Sugar Cookie Dough & Frosting Recipes
Dough: These frosted cookies all start with my fail-proof sugar cookie dough, but if you want to make them even easier, you can make your winter cut-out cookies using pre-made dough from Pillsbury.
Frosting: I use a simple vanilla buttercream. If you prefer a more traditional iced cookie, you can use royal icing or my sugar cookie glaze instead. (You can also use these same decorating ideas for winter cupcakes!)
These snowman face cookies have rosy cheeks, a carrot nose, and frosty little smiles—all thanks to M&Ms! Yep, you only need white frosting and M&M candies to make these simple decorated snowman cookies. They're the perfect winter sugar cookies for kids to help with, along with my other easy M&M face Christmas cookies.
How to Make: Pipe or spread frosting onto a round sugar cookie, then smooth it out and dip it into white sanding sugar. Use whole M&Ms for eyes and cheeks, an orange M&M on its side to create the perfect carrot nose, and a half M&M to make a smile.
Video Tutorial: Watch on TikTok here!
Gifting Idea: Once the frosting has dried, place the snowman face cookie in a plastic bag and decorate it with a snowman gift tag! You can also frost some of your round sugar cookies with white buttercream, then use M&Ms to create buttons for the snowman's body. Place a face over the body in a tall plastic bag for a complete snowman!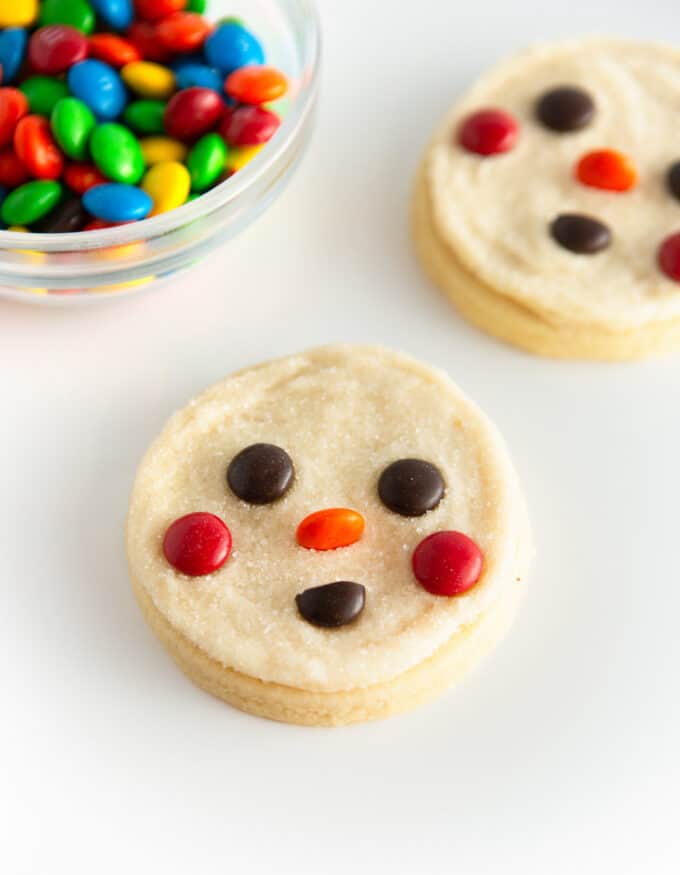 My polar bear sugar cookies are sweet as can be! If you're looking for white winter cookies to keep kids' hands and clothes free of stains, these Arctic-inspired treats are perfect.
How to Make: Spread or pipe white frosting onto a round sugar cookie and dip it in sanding sugar for some sparkle! Pipe on a large white dot for the snout, followed by two smaller dots to create ears. Use mini M&Ms for eyes and cheeks, and a regular-sized M&M for the nose.
Video Tutorial: Watch on TikTok here!
Get the full step-by-step tutorial: Easy Polar Bear Cookies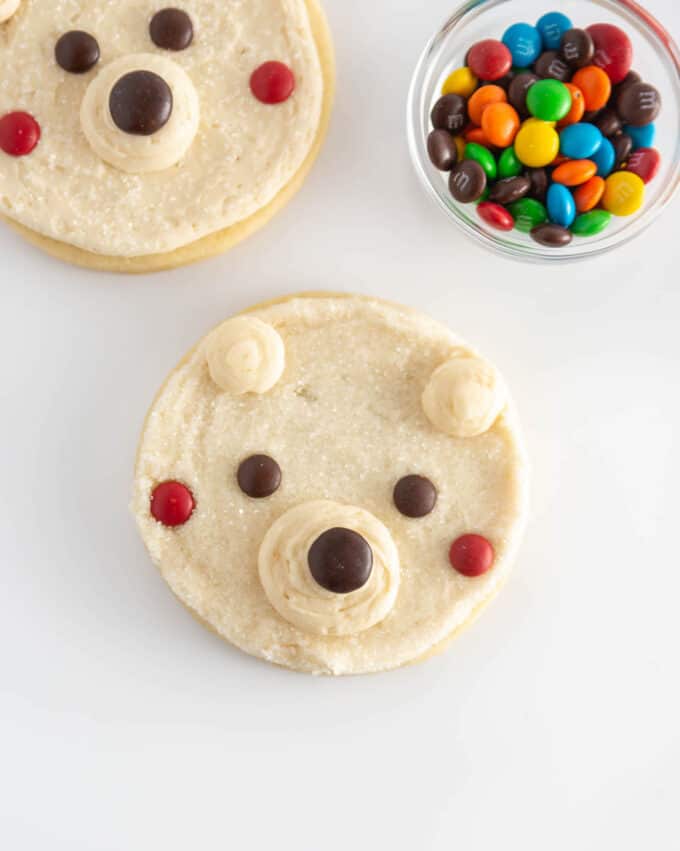 Penguin Sugar Cookie
These penguin cookies were requested by a few of my followers on TikTok and they might just be one of my favorite winter sugar cookie ideas! If you're making decorated winter cookies with toddlers, I suggest piping on the frosting yourself and letting them add the eyes, mouth, and beak for a frustration-free winter activity!
How to Make: Spread on a base of white buttercream frosting, then use a small piping tip and black frosting to add two small arches and a line along the top. Fill in this top area with black, then use mini M&Ms for eyes and rosy cheeks, a sideways orange M&M for a cute little beak, and a halved M&M for a smile. You can add a bow using two green M&Ms and a dot of frosting in the middle.
Video Tutorial: Watch on TikTok here!
Gifting Idea: You can make a penguin sugar cookie duo by frosting a second round cookie to look like a penguin body, with white in the middle and black "wings" on either side. Stack the head on top of the body in a clear cellophane bag and tie the top with a bow for the cutest winter-themed sugar cookies!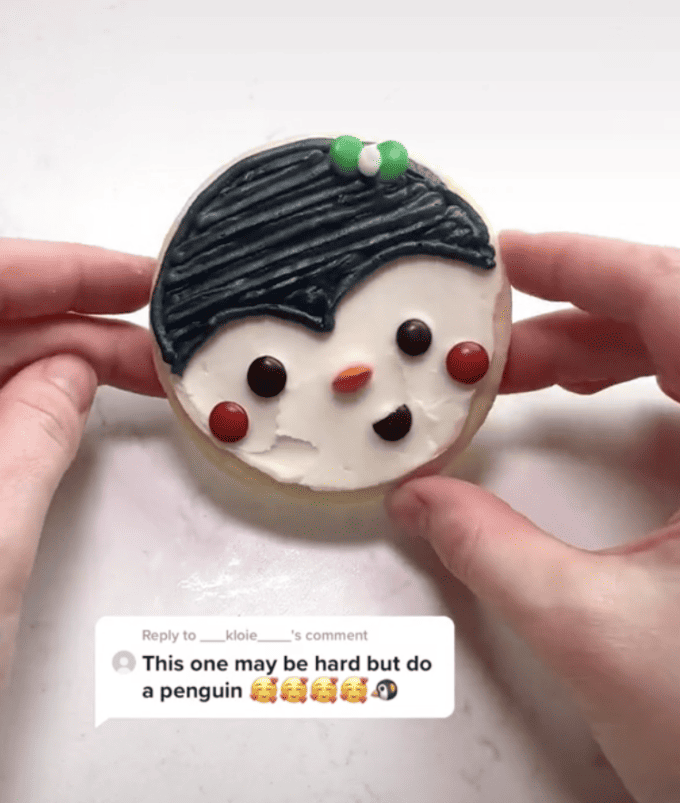 Snowflake Cookie
These snowflake sugar cookies don't require any fancy cookie cutters or elaborate piping techniques. When you watch my TikTok video, you'll see how I form the snowflakes on each cookie, but since no two snowflakes are exactly alike, you can definitely come up with your own snowflake cookie designs, too.
How to Make: Use a piping bag fitted with a small tip to draw a straight line across a round cookie, then criss-cross it two more times. Pipe additional lines and dots to create your snowflake design. Use sanding sugar to create a sparkle effect!
Video Tutorial: Watch on TikTok here!
Gifting Idea: Wait for the frosting to dry completely, then place the snowflake cookie in a small cellophane bag and tie it with a snowman gift tag!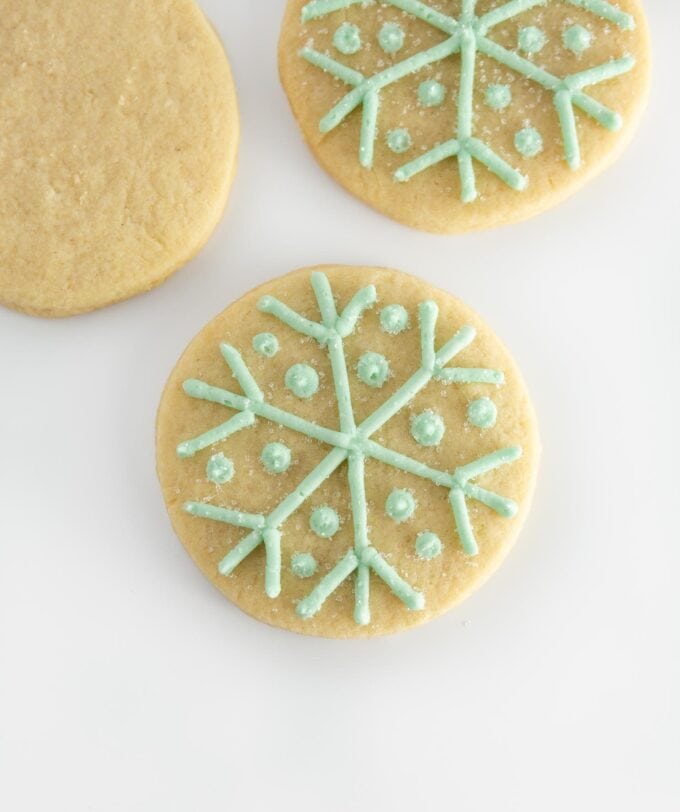 Snowglobe Cookie
Of all my winter cookies, these snow globe sugar cookies have the most detail—but don't think that means they're complicated! I use rainbow sprinkles to create the features on the snowman.
How to Make: Spread pale blue frosting onto a round sugar cookie to create the background. Pipe a curved white line near the bottom and fill that in to create your snow. Pipe one large circle and a smaller circle on top to build your snowman and use sprinkles for the carrot nose, arms, eyes, and buttons. Use some extra sprinkles to create a falling snow effect, then pipe dots along the border for a decorative touch.
Video Tutorial: Watch on TikTok here!
Gifting Idea: After the frosting dries, place the snowman cookie in a plastic bag and tie it with a personalized gift tag!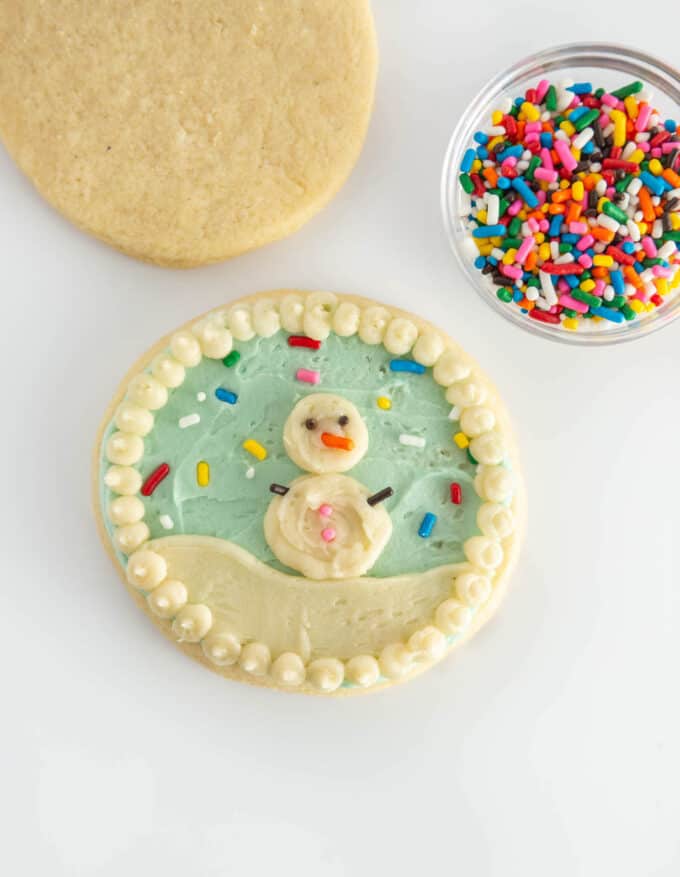 Looking for more circle cookie inspiration for the holidays? Check out my 12 EASY Circle Christmas Cookies!