A few weeks ago, I got the idea to do some fruit-inspired icecream cone wrappers. So like any modern day shopper, I headed over to Target – the ultimate hub for disappearing money & icecream cones. (And no, this isn't a joke about their credit card deal-io…the disappearing money in this case is all my fault the dollar section's fault.) Like every Target trip I set out on, I go for one thing and leave with a basket full of things I never knew I ever needed . This particular trip, I went specifically for icecream cones and of course left with paper straws, napkins, balloons, and just about every other thing I needed to throw one rockin' party. But I had no party to throw, which brings me back to the problem. So I got home, unpacked the bags, and…the cones were nowhere to be found.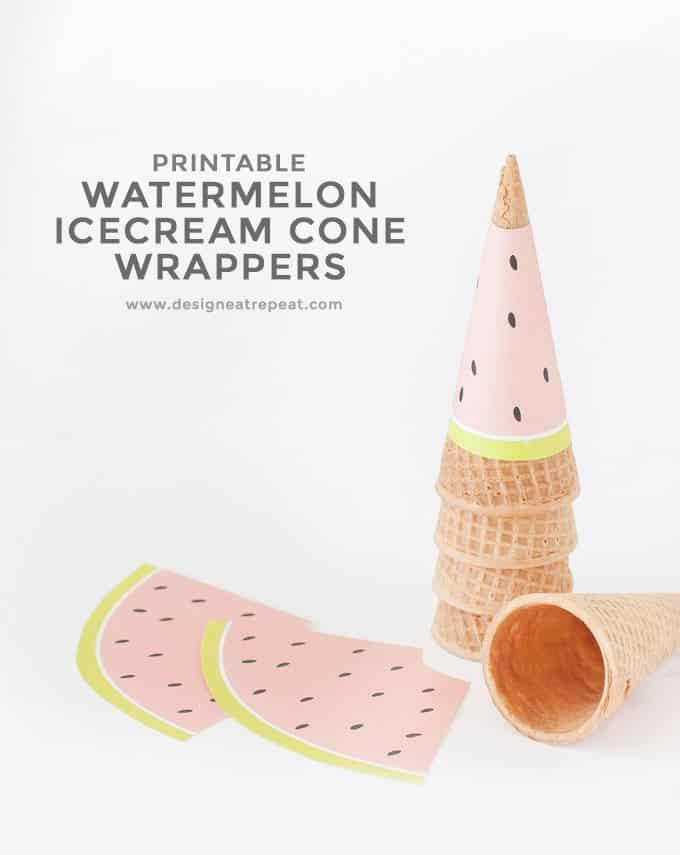 I checked the bags, the car, even the receipt – and somehow unknowingly to me, the cones escaped the checkout line. They were there one second, and then the next they were gone. I thought about driving back across town to solve the mystery, but after checking the receipt and realizing that they were literally the only thing missing from the list (and I hadn't paid for them), I let it go and hit up the next closest grocery store. Which brings me to the moral of the story: there are just some cones out there that will do anything they can to escape from getting a watermelon wardrobe.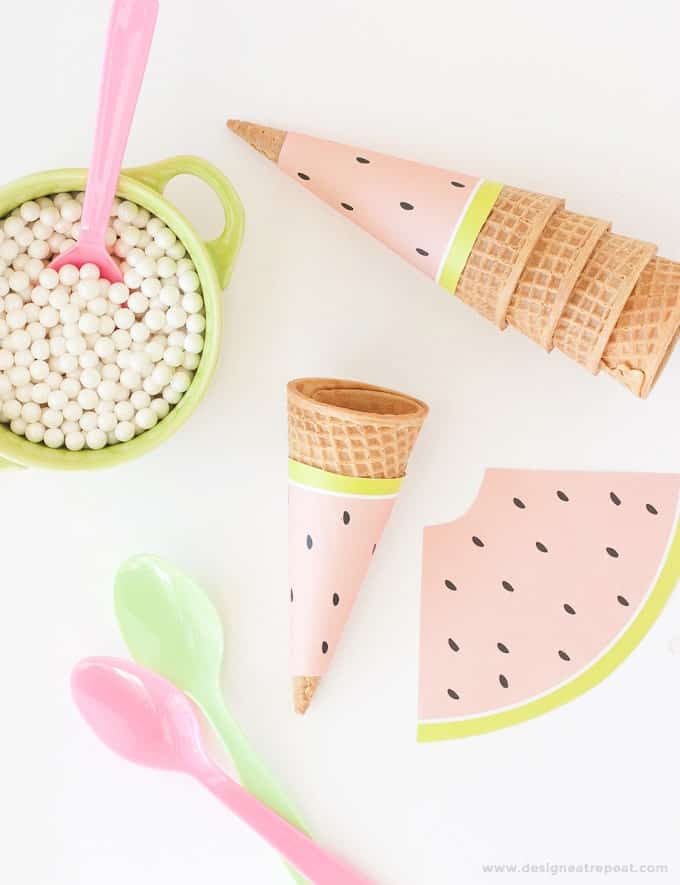 So after that whole she-bang, I set off to do a little spring time overhaul on the cones. At this point, I knew the cones had it out for me, so a makeover was the least I could do to win them over. I got these small waffle cones at ALDI, but the printable is designed to fit cones that are 4.5 inches in height and 1.75 in diameter (at the top circle opening).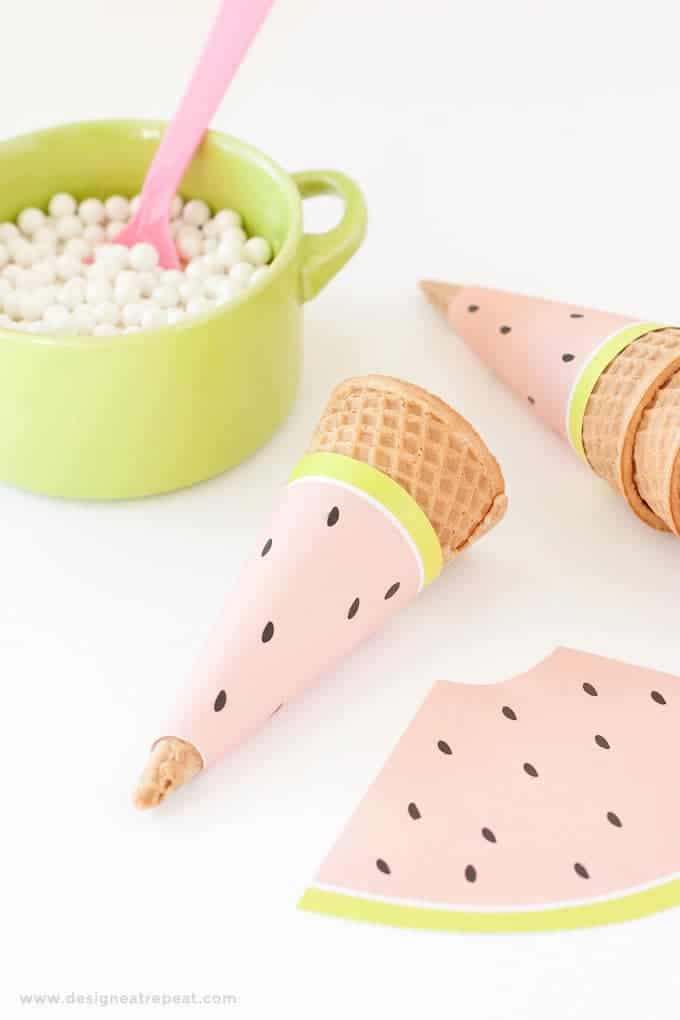 These cones would be a perfect addition to any summer or fruit-themed party. Just looking at them makes me want to whip up some sherbet punch, sit outside, and soak in the sun. Which I desperately need, because I currently look like the palest character in Twilight.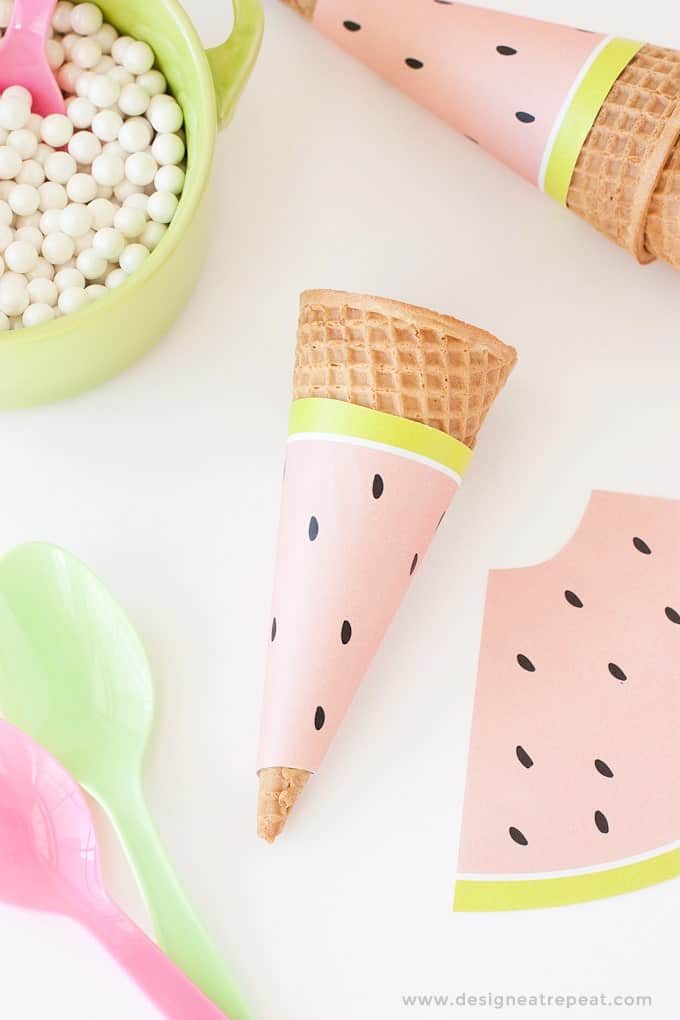 Materials:
Icecream Cones // Scissors/Exacto Knife  //  Tape
Watermelon Printable Ice Cream Cone Wrappers
What's your biggest store disappearance story? I feel like this is something that happens all too often, and it seriously baffles me every time. Even after double-checking the entire bag rack, there always seems to be a way for something to disappear. Tell me I'm not the only one.