Say hello to summer with these fun (and free!) interactive printable ice cream party invitations! Allow your guests to piece together the party details with sticker ice cream scoops and give them the scoop of the fun that's to come!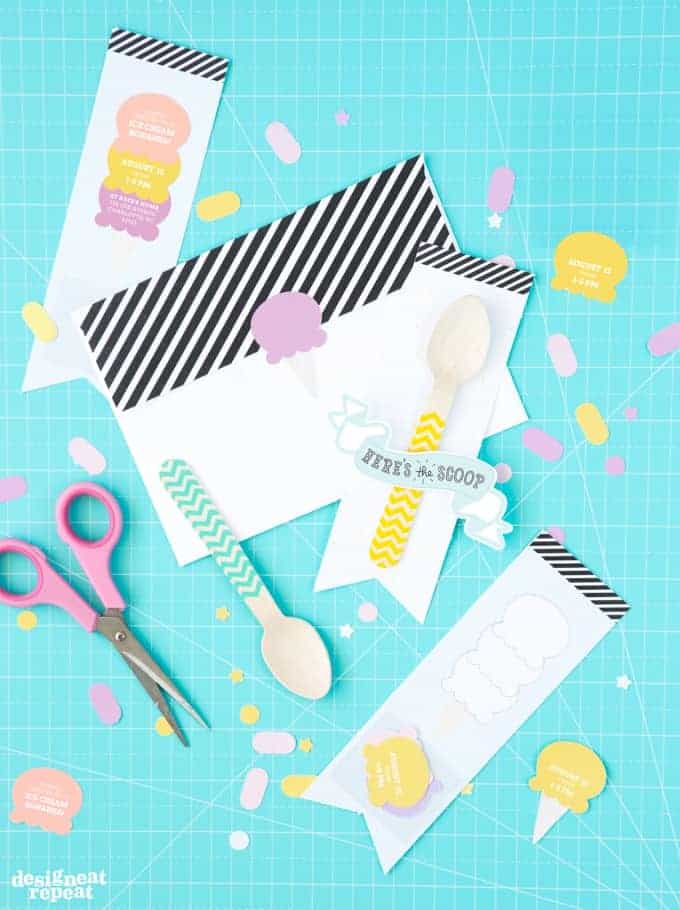 Oh hey there! Where has this year gone? How is it already almost July?! I feel like I say that every month but seriously. Time needs to slow the heck down! With it being my first summer in Utah, it's safe to say that adventuring and being anywhere but on my computer has gotten the best of me. While I'm transitioning to a slower schedule for the summer and easing out of the go-go-go mode for the blog, I've still been keeping busy with other fun projects outside of the interwebs that are stretching my design muscles in new ways. (More on that to come later!)
And let's be honest, part of that Utah adventuring consists of hitting up all the food places that I've been deprived of my whole life so don't worry. I'm still getting my fill of sweet treats. I've been commissioned to give some friends some baking classes this summer and macarons, sugar cookies, and homemade ice cream are on that agenda! And when there are food parties, there shall be food-inspired invites to go with! Starting with these printable ice cream party invitations that I'll be delivering to the attendees. Because who wants a boring text message invite when you can have interactive ice cream scoop stickers delivered to your door?!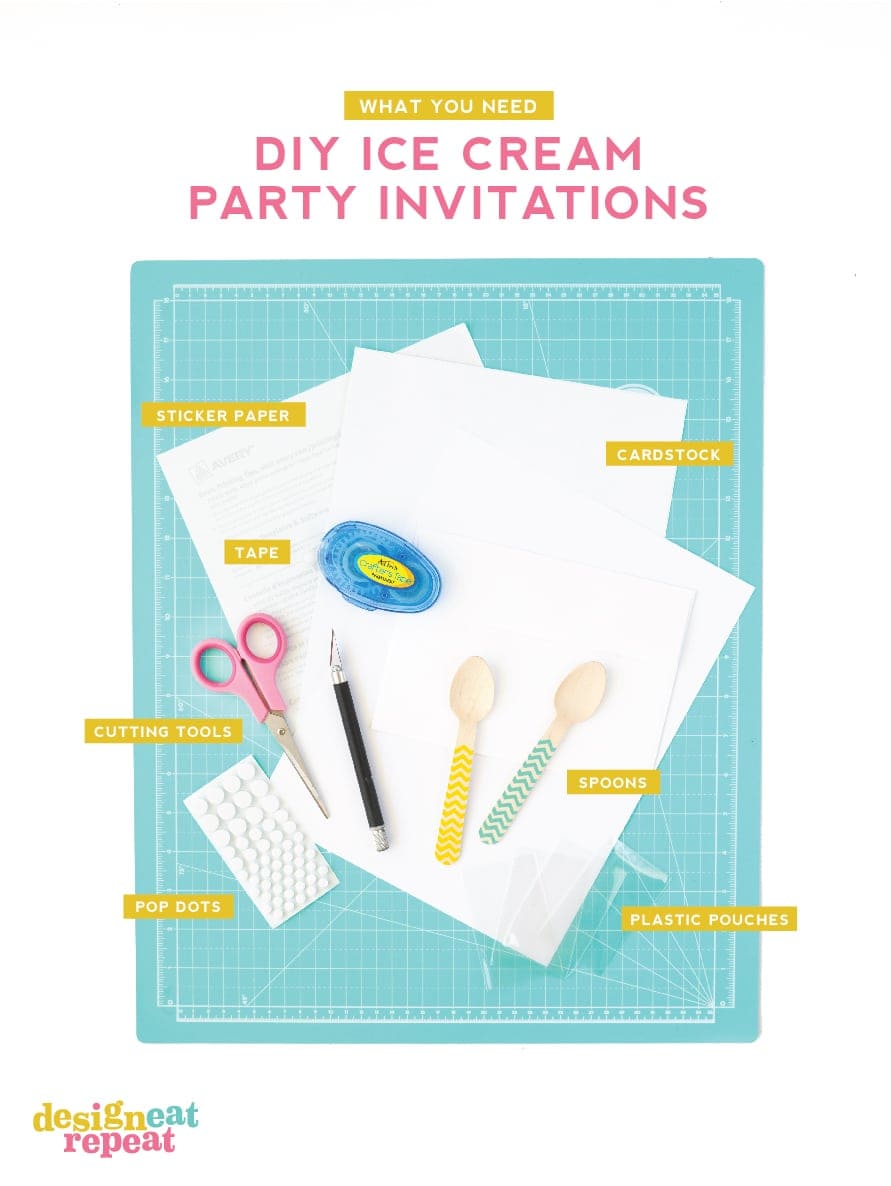 To get started, you'll need some card stock (for the invite), letter-sized sticker paper (I used these Avery White Shipping Labels), cutting tools (exacto knife works best to cut out the stickers), double-sided adhesive, plastic pouches (or sections of a plastic sandwich bag), adhesive pop dots, and some cute spoons!
The fun thing with these invites is that you can customize the scoops with your own party details so that the recipient can peel off the back and piece them together on the ice cream cone to complete the agenda. Simply upload the pre-designed ice cream scoop file I designed to Avery Design & Print Online (instructions below!), fill in your details, and print on a sheet of their White Shipping Labels. Use an exacto knife to cut out (but don't peel the back off!) and then set aside until it's time to slip them onto the invites.
After printing off the stickers, print the invitation card PDF on white cardstock. Cut along the edges, as well as the two slits on the sprinkle side where you will be slipping in the spoon.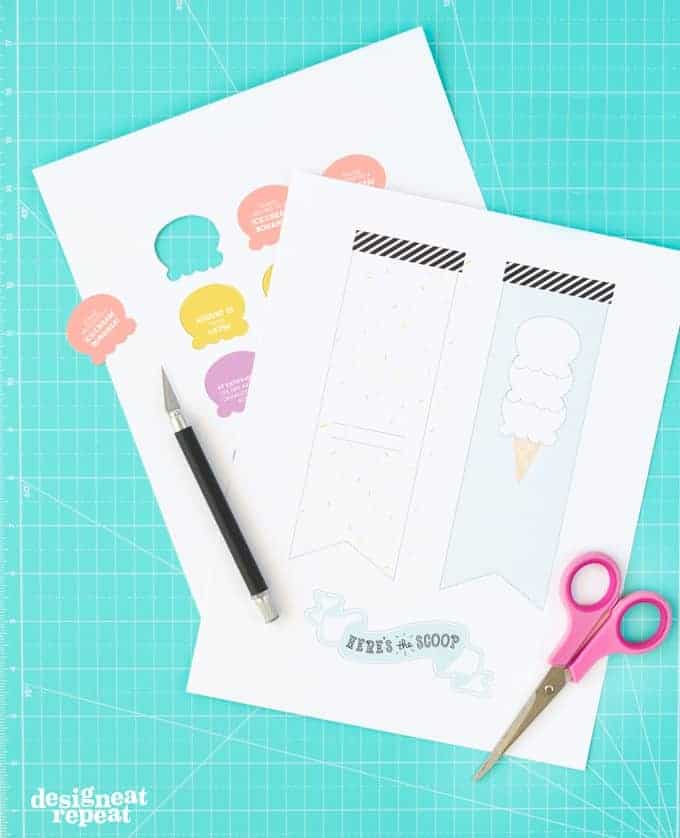 Once cut, (1) apply double-sided tape to the back of the sprinkle side being sure to avoid putting adhesive close (or in between) the slits. (Doing so will not allow you to slip in the spoon.) (2) Adhere the two sides together, making the sprinkle side the front and the ice cream scoop the back of the invite. Use double-sided tape to attach the plastic pouch below the cone on the back of the invite. (3) Slip in the spoon (you may need to lift the slit with the exacto knife) and attach an adhesive pop dot to the back of the "Here's the Scoop" banner. Attach the banner to the center of the slit. (4) Slip the ice cream scoop stickers into the plastic pouch and send away!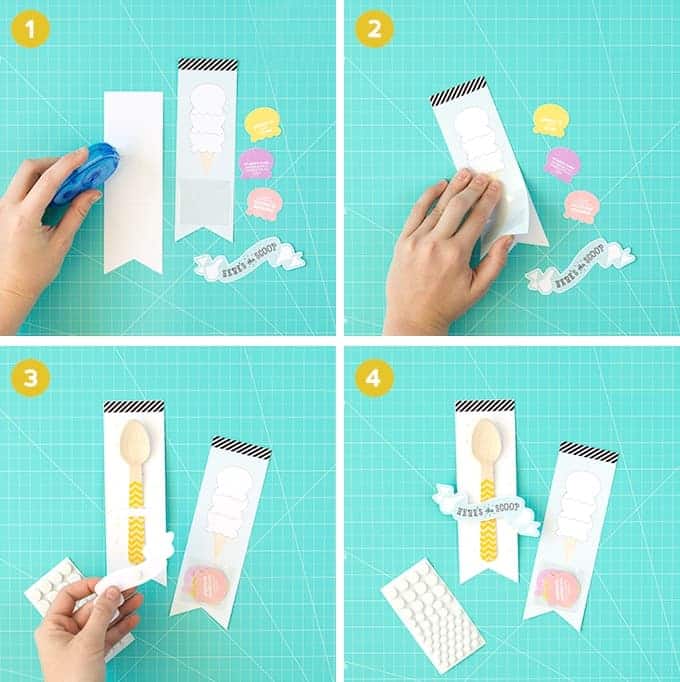 I mean seriously, what would you do if you received ice cream scoop stickers AND an adorable spoon? Head to an ice cream party that is! When I showed my sister this project she said, "What is this? A BYOS (bring your own spoon) party?!" She clearly just doesn't understand the spoon addition is not out of necessity, but out of pure design fun.
Slide the invitation in a 5×7 envelope and send away! If you're mailing these and want to use a flat envelope, just make sure the spoon you use isn't too thick to run through the post office machines. Otherwise, sending them in a padded mailer with a few cups of confetti wouldn't be a bad idea either ;) I've also included a (bonus!) ice cream cone sticker on the Avery template that you can use to seal the envelope. Never hurts to warn them on what's inside.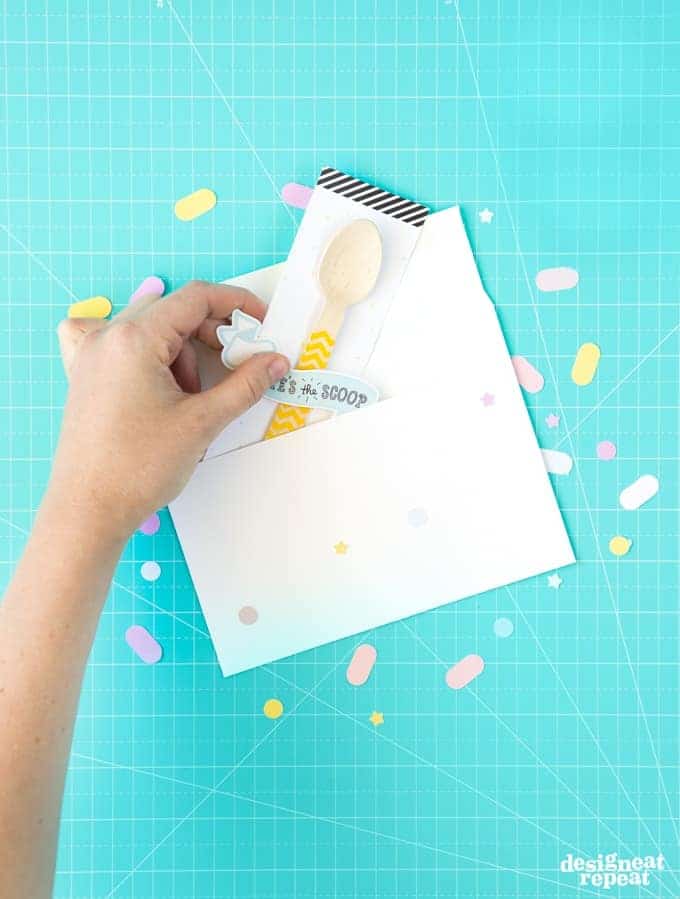 So there's the scoop! Starting summer off with ice cream parties is always a step in the right direction, don't ya think? Because these are customizable, you can use these for birthday parties as well! Or any party for that matter where ice cream will be involved. Which in my opinion, should be every party that ever takes place…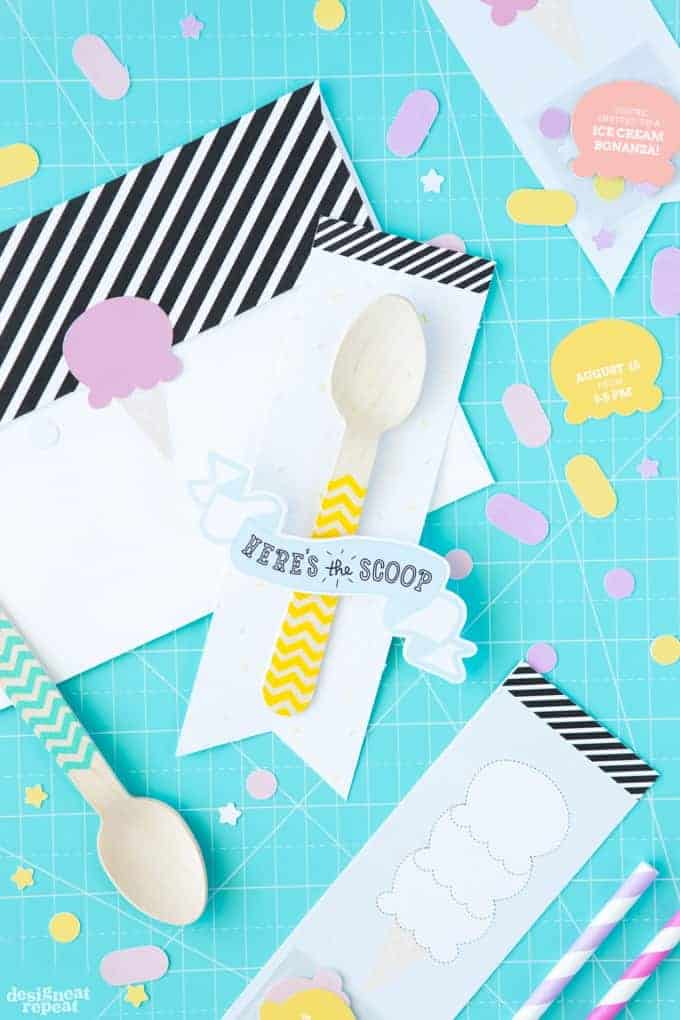 To Download & Print the Customizable Ice Cream Scoop Stickers:
A. Download & save the Avery Template to your computer.
B. Print and customize the tags through the Avery Design & Print Online software by:
1. Go to the Avery website and click "Open A Saved Project: From Your Computer" on the right side of the screen.
2. Upload the file you just downloaded.
3. Customize text on pre-designed template.
4. Print on Avery White Shipping Labels (#5165), cut out, and attach to the invitations!
Materials & Supplies:
Avery White Shipping Labels (Item #5165)
Avery Template (Click here to download the template)
Cardstock // Double Sided Adhesive // Exacto Knife & Scissors
Plastic Pouch // Wooden Spoons // Pop Dots
Please note that these files are for personal use only and redistribution or reselling for commercial use is strictly prohibited. If you would like to spread the word about this printable, you are free to do so but (A) must link directly back to this post for download (please do not link directly to the printable download file) and (B) may only use one image from the post. Thank you for your cooperation!