Customize your party's tablescape with these trendy gold foil DIY napkins! Perfect way to customize your decor to the party's theme, colors, and vibe…without spending $12 for a pack of napkins! Die-cutting machine owners, this ones for you.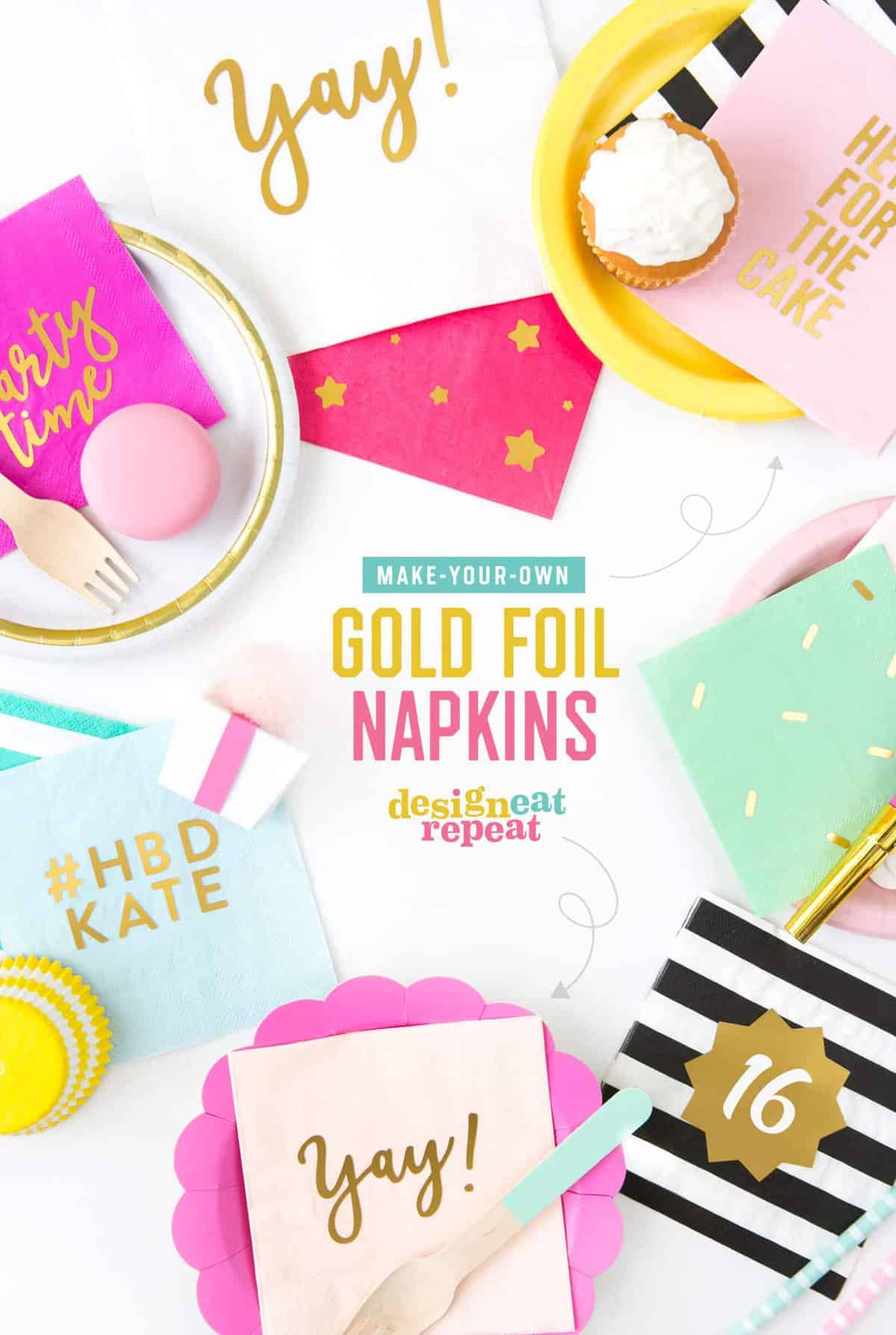 I was at Michaels the other day trying to figure out what I wanted to use to make gold foil DIY napkins. I considered using a gold stamp pad, but there weren't any "good" golds and I didn't want to limit myself to using pre-made stamps. I wanted custom, ridiculous phrases about cake. I then came across some metallic gold cardstock and figured I could use double-sided adhesive to attach the phrases to the napkins after cutting.
But I was worried they wouldn't really stick. Then out of the corner of my eye I spotted this printable gold foil from Silhouette (FYI this post is not sponsored) and it was already adhesive-backed. And it was in a "good" gold. DING DING DING. It even allows for printing, which I didn't use for this post but having the option for future projects helped me justify the price. (I think it was around $10 but be sure to use the 40% off coupon!)
What You Need to Make Gold Foil DIY Napkins:
Adhesive-Backed Printable Gold Foil, Die-Cutting Machine, my free SVG Phrase Template, and solid colored paper napkins.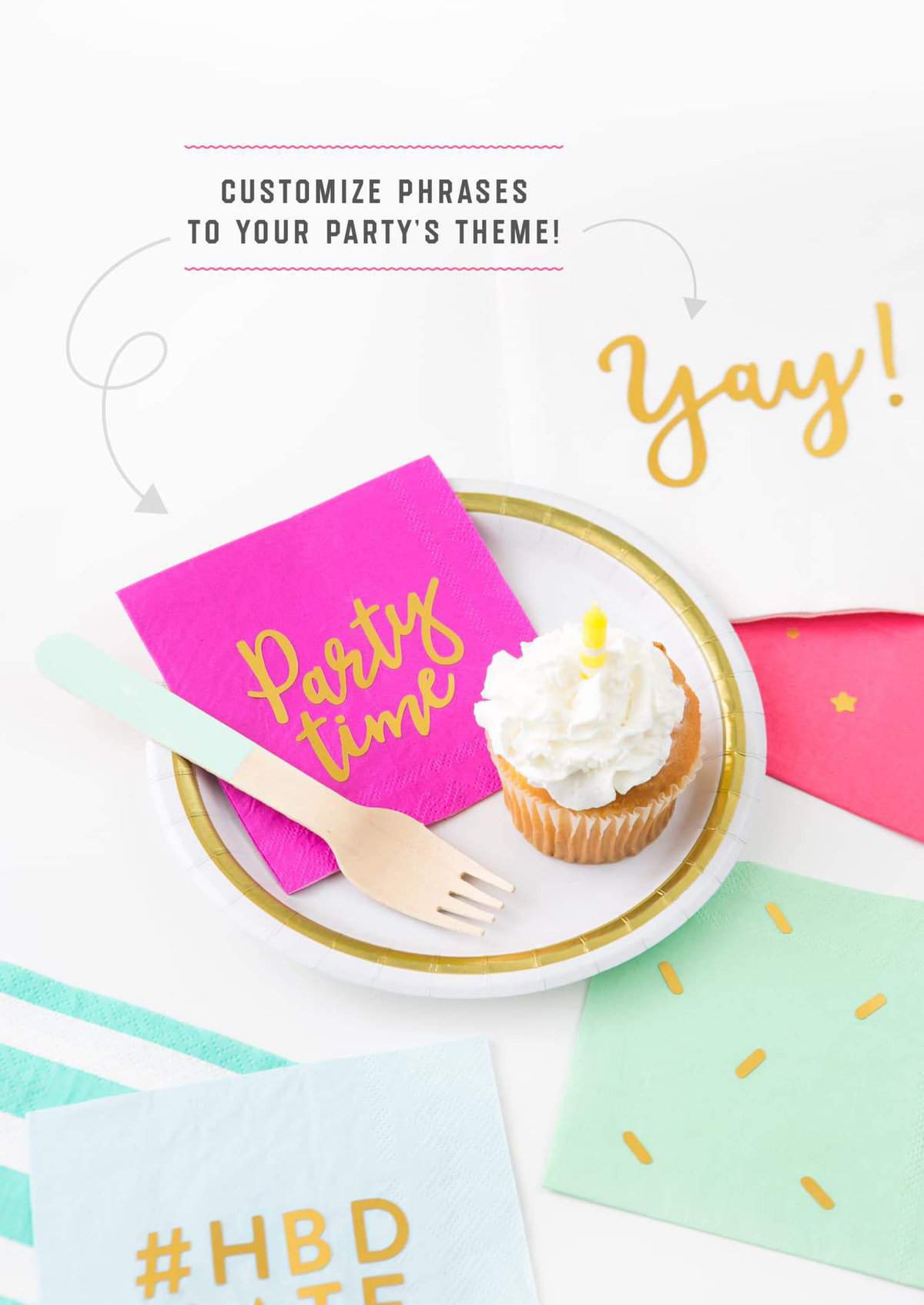 How to Make Gold Foil DIY Napkins:
Step 1: Download the SVG File
Upload the SVG file to your die-cutting software. I've included the download to the. SVG file I designed, so those of you with a die-cutting machine can easily cut out the sprinkles, stars, and phrases! I mean, SPRINKLE NAPKINS? YES, PLEASE.
The SVG file is sized to fit standard 5″ square cocktail napkins but you can easily resize in your machine's software if you want them bigger/smaller. Each file includes one phrase so that you can easily duplicate them on your sheet as many times as you need.
Step 2: Cut & Adhere to Napkins
Cut the desired phrases on Adhesive-Backed Printable Gold Foil using the pressure settings instructed on the package. Peel off and attach to the tops of the colored paper napkins.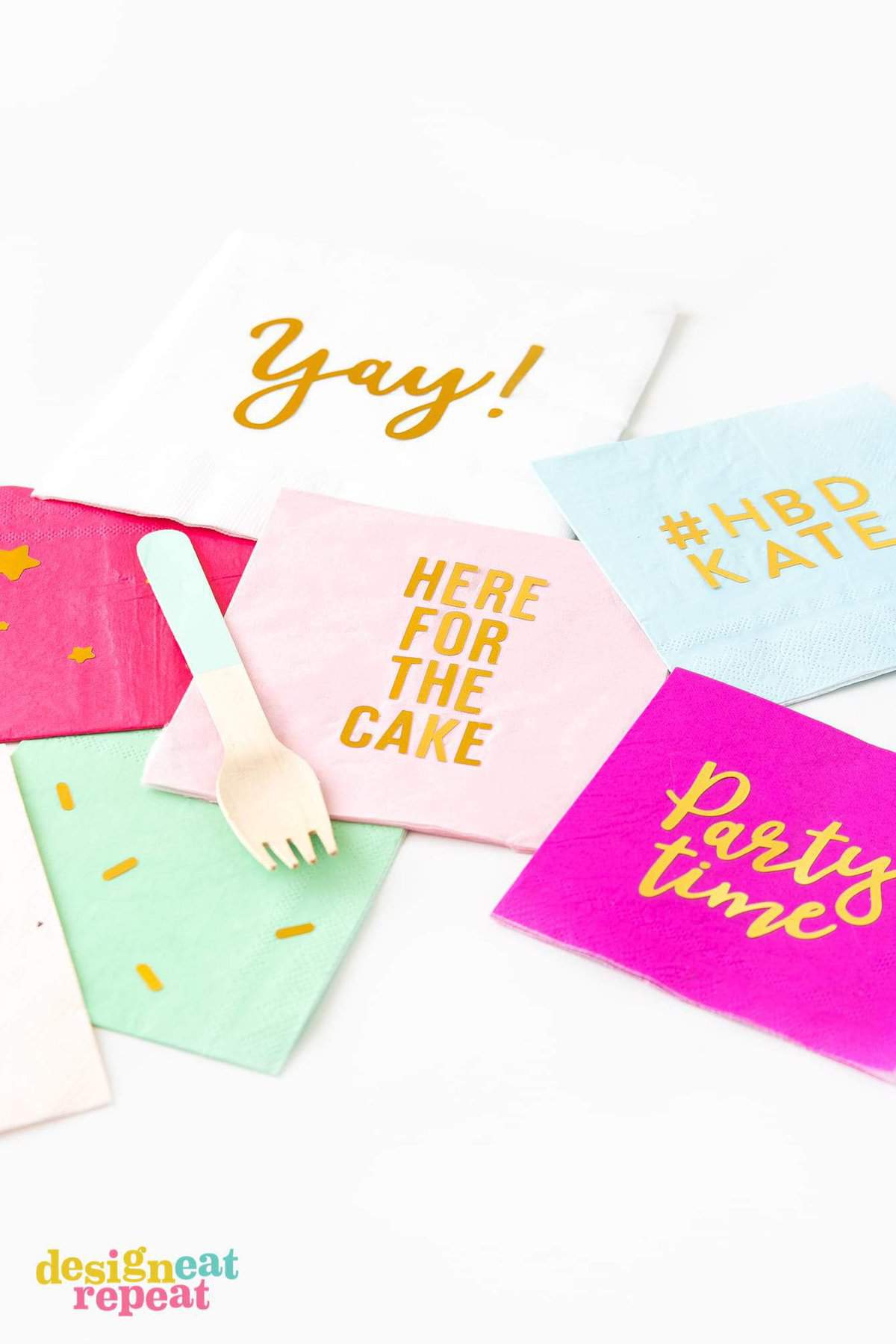 Frequently Asked Questions:
What Phrases Are Included in the SVG Download?
All you see here! I wanted to create a variety of phrases to show how versatile making your own can be. I mean, have you ever walked into a party store and found a napkin with your name or age in the color that matches your party scheme? I'm going to go ahead and say no. Custom napkins will cost you a pretty penny online (and even generic gold phrase napkins can be $10 a pack!) but with your die-cutting machine and cheap solid napkins you can make magic.
Do You Need to Use a Transfer Sheet?
Nope! With this particular gold sticker sheet, I didn't need to use any transfer tape. It has a thick backing and the gold layer is also relatively thick, so I just peeled them off like stickers and placed them one-by-one.
Do These Actually Stick to the Napkins?
I was initially worried about this, but the gold foil that I used has a pretty sticky back. I pressed on them a few times to get them set and when I tried peeling them off, they would peel the napkin paper with it. I tried some other kinds of sticker paper that peeled more easily before I settled on this one.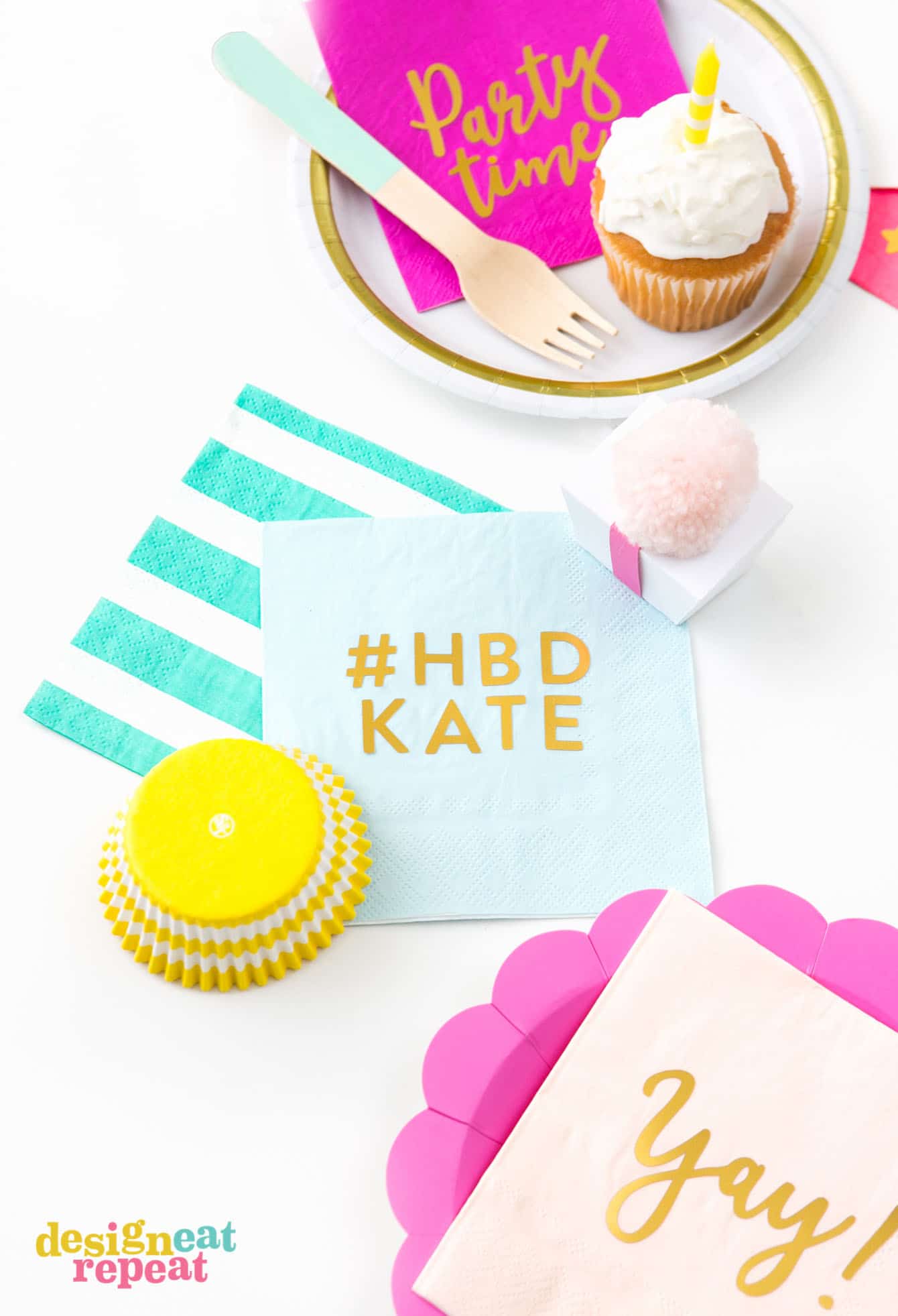 More Ideas for Custom Phrases (using your software & own fonts):
Below are just a few things you can customize:
Age (like the "16" I did for these photos)
Happy Birthday, ________!
Graduation Year (ie. 2017, Congrats Grad!)
Happy ___th  Anniversary
So what do you say? You ready to turn your craft room into a party!?
Please note that these files are for personal use only and redistribution or reselling for commercial use is strictly prohibited. If you would like to spread the word about this printable, you are free to do so but (A) must link directly back to this post for download (please do not link directly to the printable download file) and (B) may only use one image from the post. Thank you for your cooperation!