The amount of time I spent thinking about the title of this post is ridiculous. Do I call them animal cookies even though they aren't technically animal shaped or do I leave it out and risk the nostaligic connection between these sweet treats getting lost? Oh the struggles that come along with blogging. But after much debate, I decided that it doesn't really matter what shape they're in…pink & white cookies with sprinkles will forever be called animal cookies in my sprinkle-lovin' mind.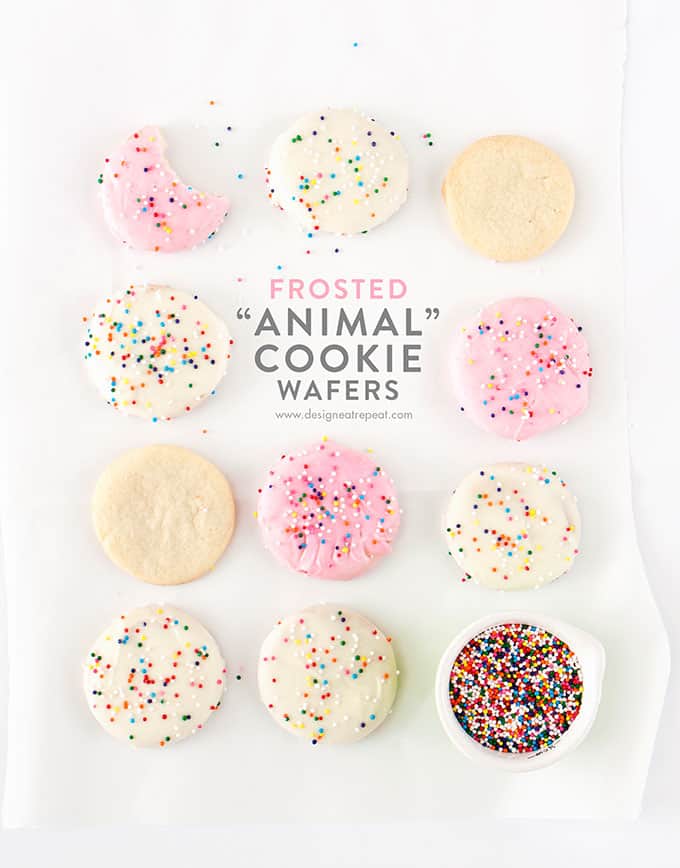 I'm technically not a big fan of crunchy sugar cookies, but let's be honest here. I'll usually make an exception for anything covered in almond bark. One of my high school friends was in town the other night and after watching the painstakingly dramatic 3 hour premier of The Bachelor, I needed some good ol' baking to de-stress. I'm usually a fan of the show (even though I can't help but read the spoilers), but this season has me shaking my head by how the show is portraying Iowa. I won't go into one of my full-on rants, but let me just say this. Yes, there are a lot of farmers. Yes, there's a lot of corn (I grew up in a farming community town with lots of farmer friends & classmates). And yes, my high school closed down twice a year to host tractor shows. BUT, we're not all running around yelling yee-haw and eating sweet corn for every meal (although I would actually love that…have you HAD Iowa sweetcorn?!). All I'm saying is that although I'll watch the season, I'll probably be doing it with a few too many eyerolls. While feasting on corn and beef. Kidding. Kind of.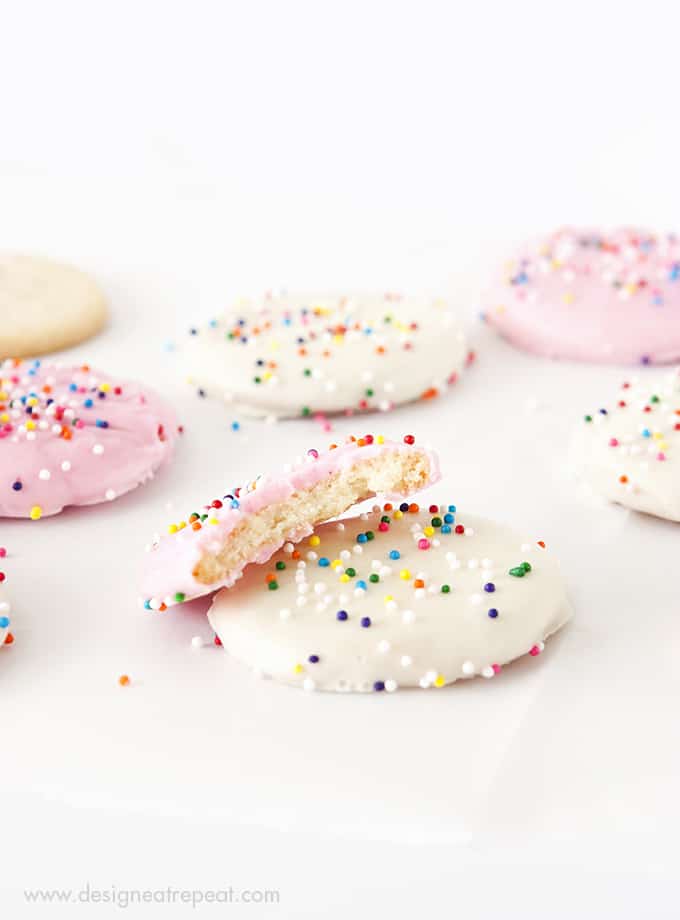 Okay, back to the cookies. These cookies use a sugar cookie base recipe similar to my favorite one, but are rolled thinner than I typically make them to allow for these to have more of a crunch. I used a lid of a spice jar to cut them out (super fancy, I know) so they were about 1.5 inches round. The other trick to making them have a crunch is to bake them longer than you might otherwise do. I typically take sugar cookies out immediately after seeing the edges start to lightly brown, but with these, I left them in an extra minute or two until the brown edges were more prominent. If you want them to be soft, you can take them out before the edges turn brown – but just know that you may have more trouble dipping them if they're on the softer side.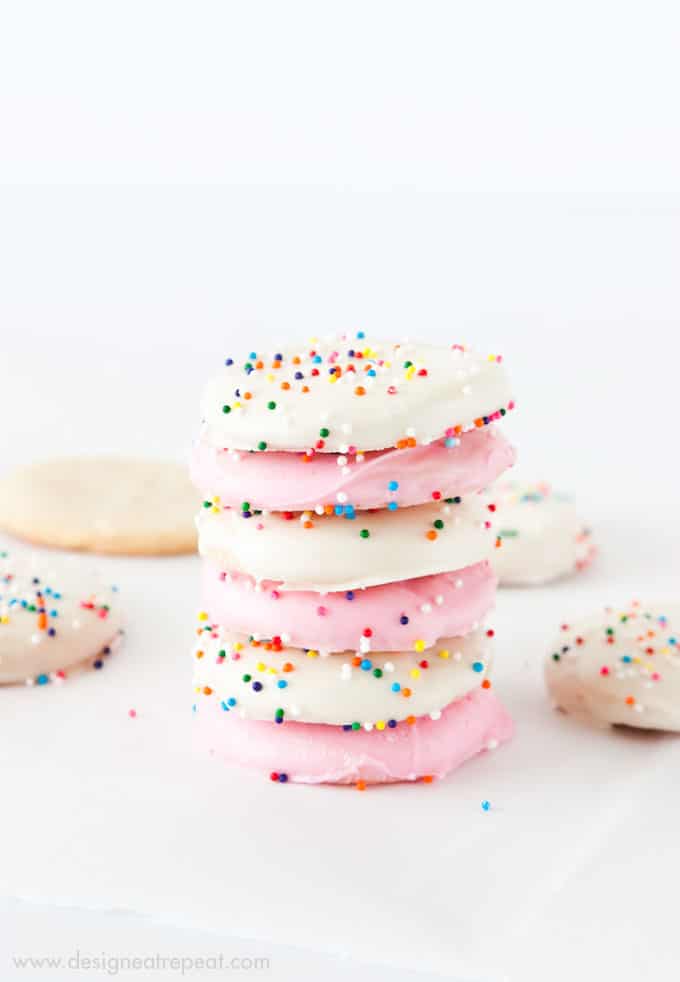 After the cookies were baked and cooled, I melted some almond bark in the microwave for dipping. Once the bark is melted, I like to stir in a few tiny drops of vegetable oil so the bark stays melted longer. Once the oil was mixed in, I then added some pink food coloring to one of the bowls. If you are doing this by yourself, I recommend melting one bowl at a time. Otherwise, if you melt both the pink & white bowls at the same time – you may find that one will start to harden before you are finished dipping the other one.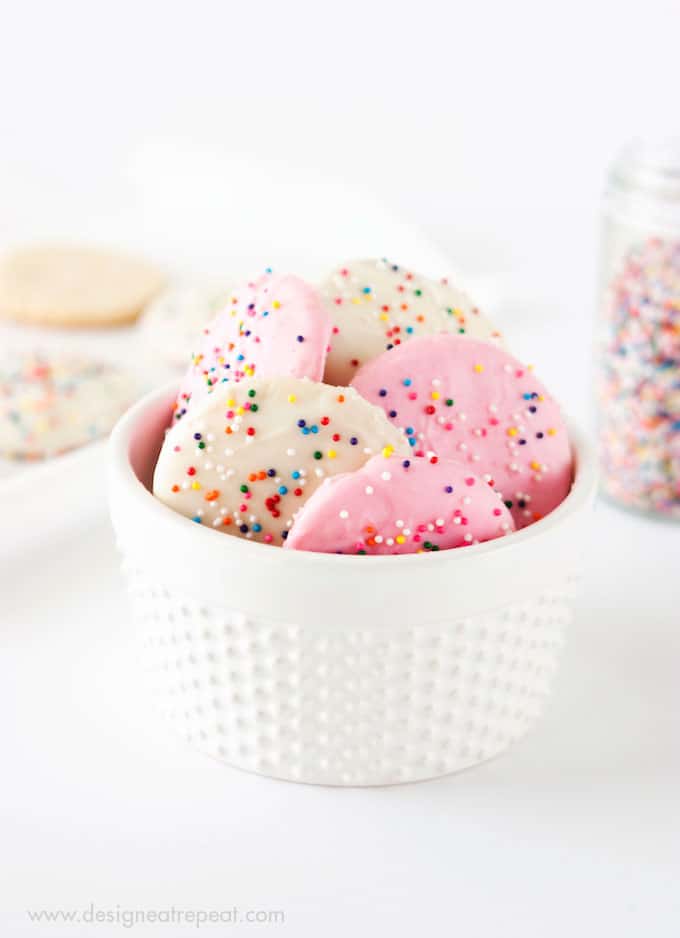 I like to place the cookies on the top of a fork to dip, making it easier to tap off the excess bark. Once dipped, I placed them on parchment paper and sprinkled on some rainbow nonpareil sprinkles. You'll want to add the sprinkles sooner than later, or they might not stick as well once the almond bark starts to harden.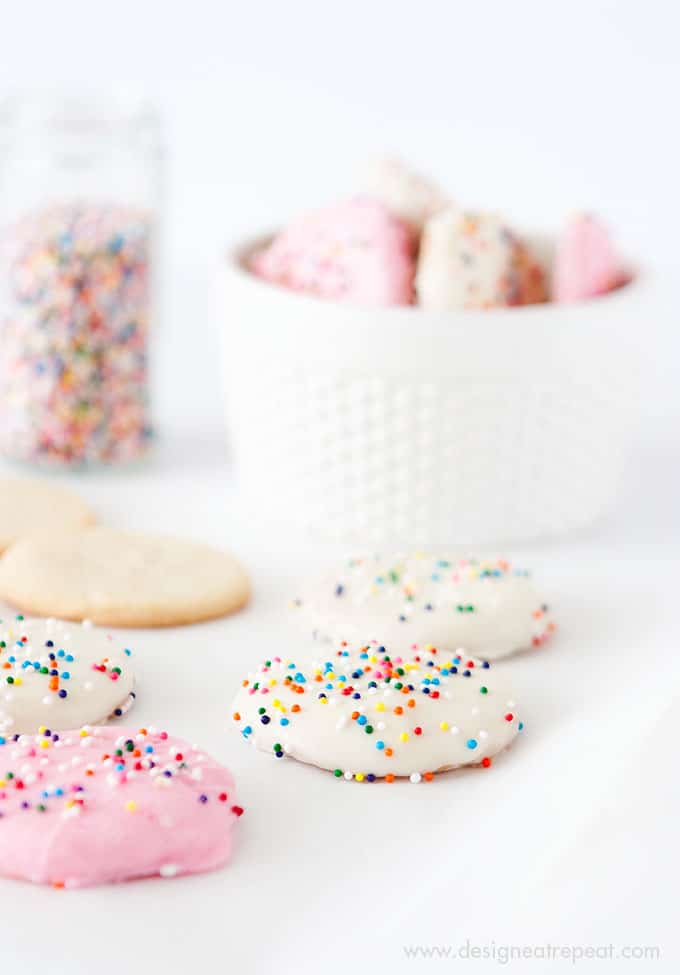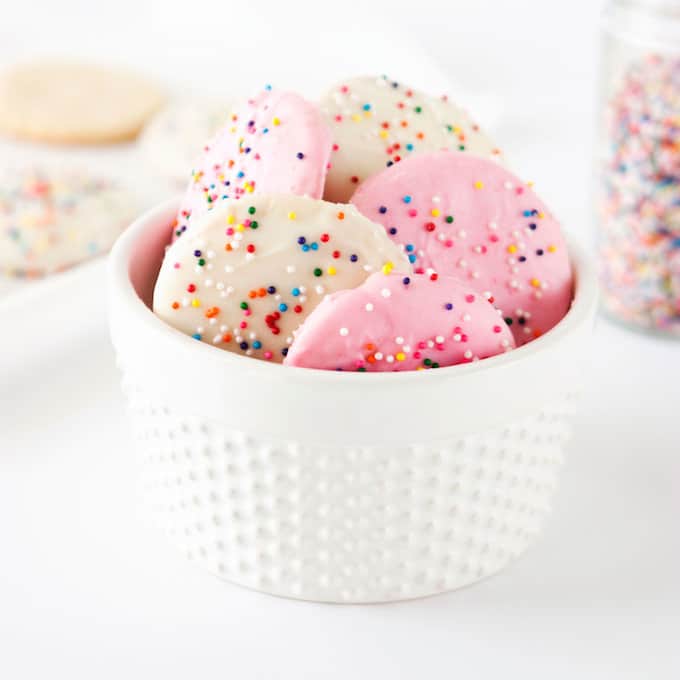 Frosted Animal Cookie Wafers
Recreate a childhood favorite with these Homemade Frosted Animal Cookie Wafers! Uses a sugar cookie base & almond bark for dipping!

Ingredients
1

cup

butter

1/4

cup

sugar

1 1/4

cup

powdered sugar

1

egg yolk

1 1/2

teaspoon

vanilla extract

1/2

teaspoon

almond extract

1/8

teaspoon

salt

2

cups

all-purpose flour

1

package

white almond bark

Food Coloring

Sprinkles
Instructions
Cream the butter, sugar, and powdered sugar together with an electric mixer. Once mixed, add the egg yolk, vanilla, almond extract, and salt and continue to stir on medium speed. Once incorporated, turn the mixer down to low speed and add the flour in one cup portions. When the flour disappears, turn off the mixer and transfer the dough onto a floured surface. Knead the dough until it forms a solid ball. If dough is sticky, add additional flour while kneading (do not be afraid to add 1/4-1/2 cup more flour while kneading if sticky).

Next, on a floured surface, use a rolling pin to roll the dough out to 1/4 inch thickness. The thinner you go, the faster they will bake & the crispier they will be. Cut 1.5-2 inch circles out with cookie cutter or shot glass and place the cookies on a parchment-covered cookie sheet.

Bake at 375 degrees for 7-10 minutes or until the edges are lightly browned. After about 6 minutes, check the cookies each minute to check the brownness and take out as soon as the edges are lightly browned. They will continue to bake on the hot cookie sheet after it comes out of the oven, so I take them out right when they are starting to brown. Cool cookies completely before dipping.

To dip, follow the instructions on the package to melt almond bark in a glass bowl. Once melted, add in food coloring and mix until color is smooth. (Like I mentioned above, I also like to add a few tiny drops of vegetable oil to the melted almond bark to prevent it from hardening so quickly.) Using a fork, carefully dip each cookie into the bark and tap excess bark off the cookie before setting it on the parchment paper. After set on the parchment, top with sprinkles and allow to full harden before enjoying!
Nutrition Facts
Frosted Animal Cookie Wafers
Amount Per Serving
Calories 138
Calories from Fat 63
% Daily Value*
Total Fat 7g 11%
Cholesterol 14mg 5%
Sodium 43mg 2%
Potassium 6mg 0%
Total Carbohydrates 16g 5%
* Percent Daily Values are based on a 2000 calorie diet.
And that's all there is to it! The most time consuming thing about this recipe is rolling out the dough, but then again, I really do not like rolling out any kind of dough because it's double the mess. Cleaning up a bowl is enough work for me, but to clean up a entire counter full of flour? Well that's a task I try to avoid at all costs. It's not as painful as watching The Bachelor girls talk about pigs & corn, but it's pretty dang close.