Have you ever tried to get a light pink frosting, only to start mixing and realize it's much darker (or red!) than you want? Today I'm sharing a SIMPLE trick for how to make light pink frosting (the perfect shade!) – perfect for girl baby shower cookies, birthday parties, or just any time you need a light, blush pink color.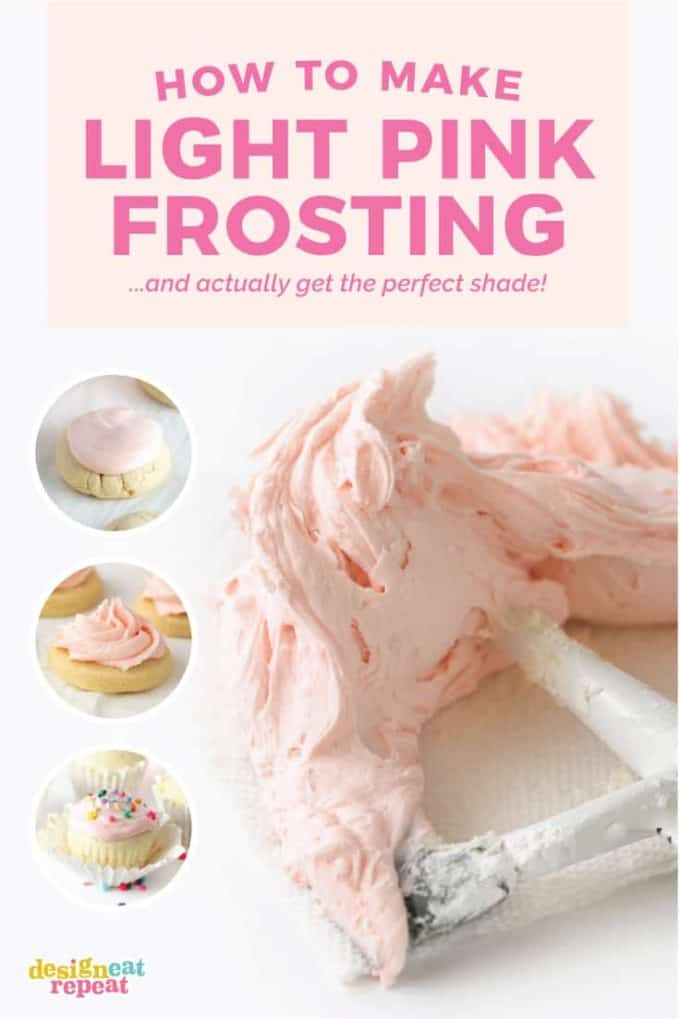 Considering food coloring bottles often come with droppers, it may seem obvious that squeezing a drop or two directly into your icing is the best way to color frosting. But the problem is that even if you only squeeze in ONE drop of red food coloring, that is often too much for a light pink color. So what can you do instead to make sure you don't ruin your frosting by adding too much?
The answer? TOOTHPICKS!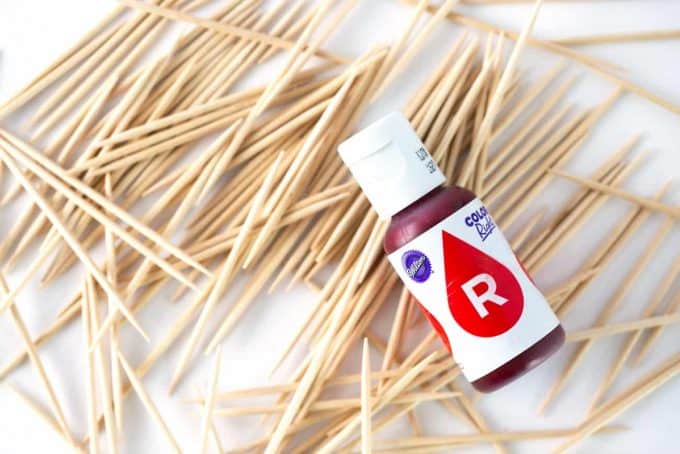 How To Make Light Pink Frosting
Step 1: Choose your type of frosting or icing. Some of my favorites for sugar cookies are cream cheese frosting, easy sugar cookie icing, or buttercream frosting.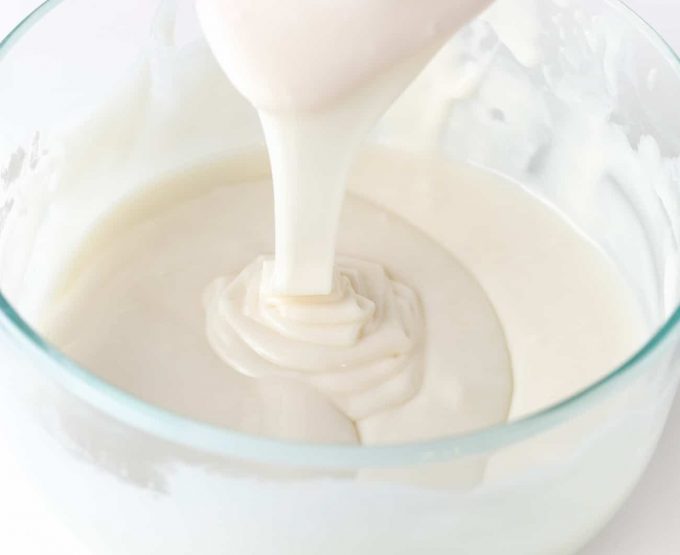 Step 2: Squeeze a drop of red food coloring into a bowl or paper plate (I prefer paper plates, since you don't have to bother washing them off). Some brands of food coloring will sell pink, but I've found red works better for achieving a soft pink color. The pink food coloring often looks more bubblegum/bright than I like.
Step 3: Dip the tip of the toothpick into the food coloring then swipe the tip of the toothpick through the icing.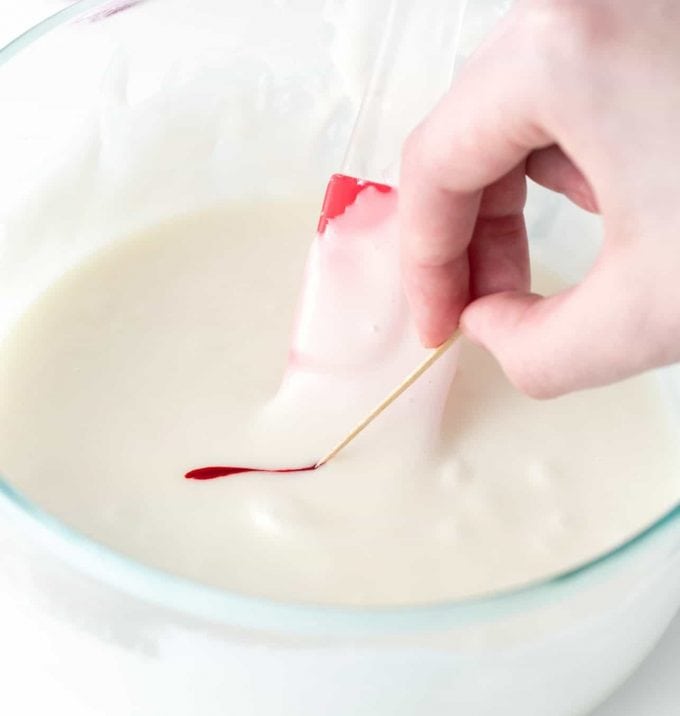 Step 4: Stir the icing until the color is worked through. This will help you gauge how dark it will be. If you'd like it darker, simply swipe the toothpick through again. Continue doing this until you have your desired pink shade.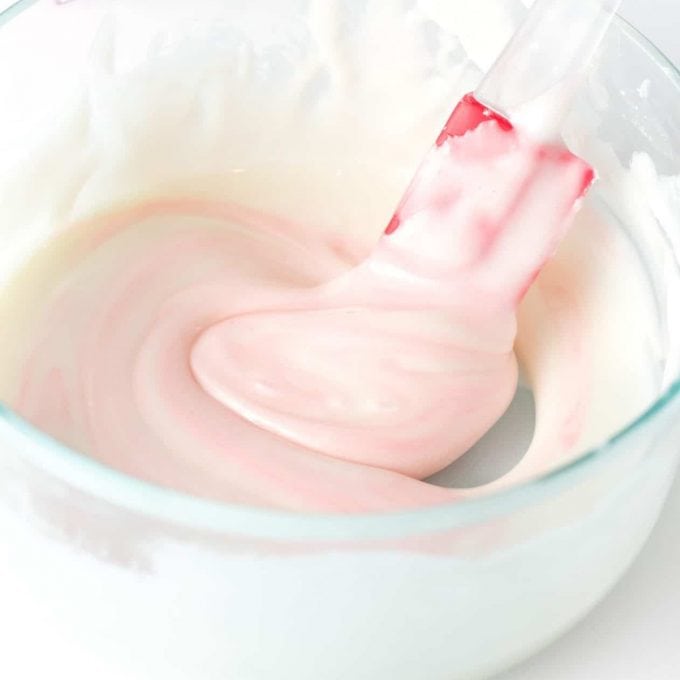 The great thing about this technique is that it allows you to start light and work your way up to your desired shade. As opposed to squeezing in drops, you don't have to worry about "going too far" and coloring it darker than you'd like.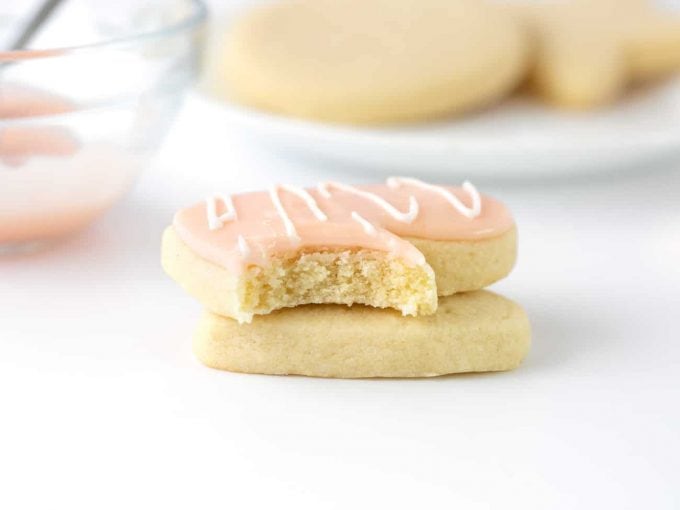 Use this technique when coloring any type of frosting! It works great for creating a light blue color for baby showers.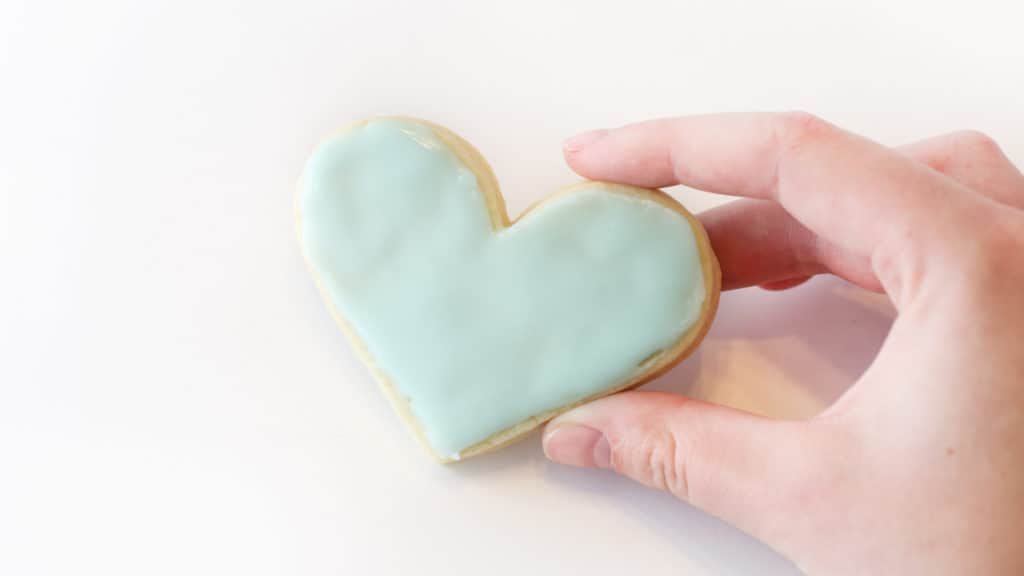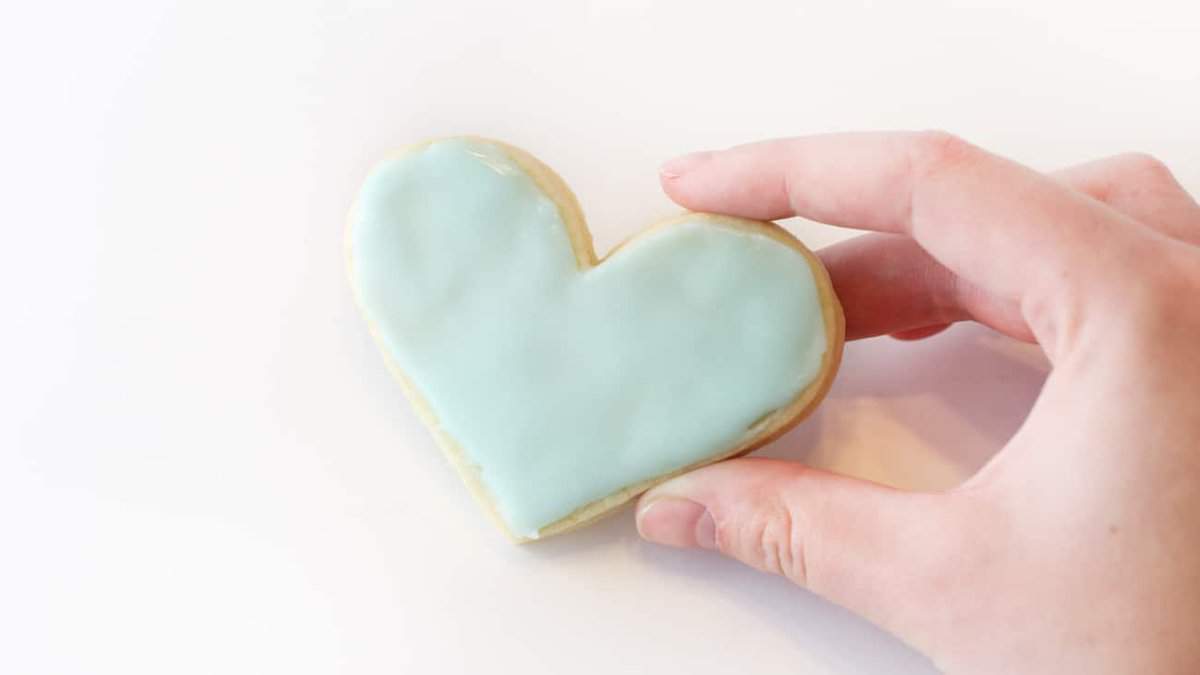 This technique also works great for making a peachy pink shade. Simply add 1 swipe of yellow to every 2 swipes of red. Any time you want to control your colors, this is the method to do it!
This technique works great for canned, store-bought frostings or any homemade vanilla frostings! Keep scrolling for some of my favorite homemade frosting and icing recipes.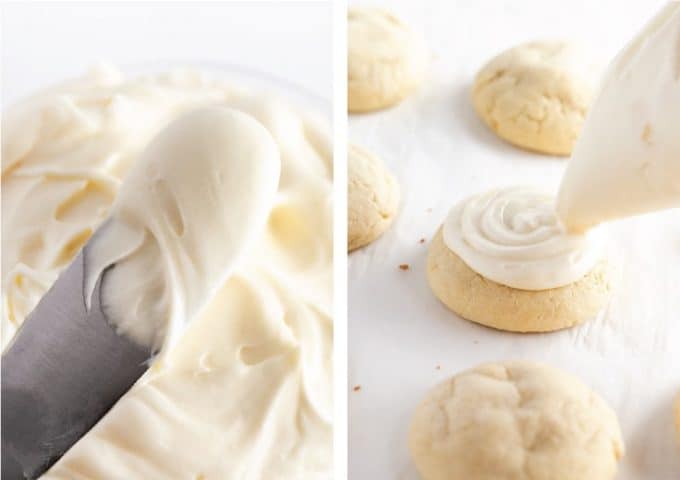 My Favorite Frosting & Icing Recipes
This easy sugar cookie icing takes the intimidation out of traditional royal icing recipes. It can be made in one bowl (without a mixer!) and is the perfect recipe to quickly frost your holiday cookies. And much like traditional royal icing, this easy sugar cookie icing dries quickly and develops a hard crust without being crunchy.
Perfectly pairs with: Cut Out Sugar Cookies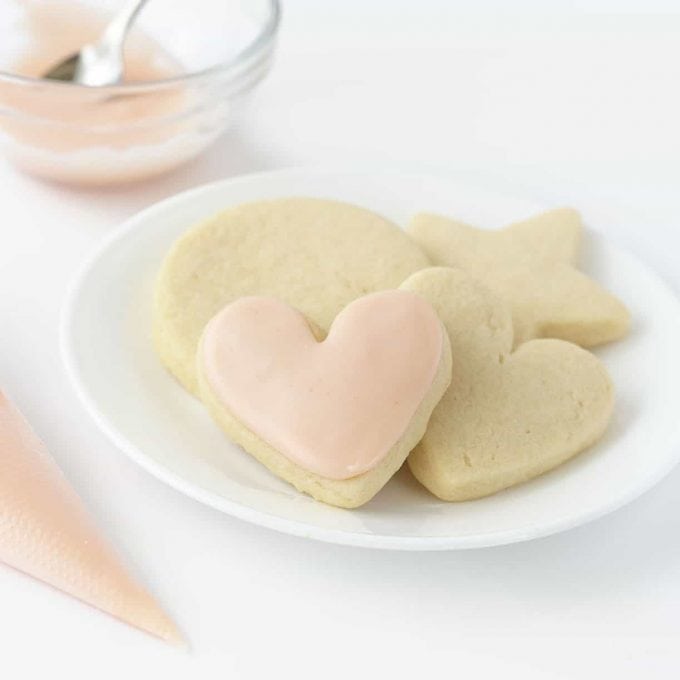 This cream cheese frosting is easy to make with basic ingredients (without milk!) and can be used to frost just about any sugar cookie recipe. Add it to thick, fluffy no roll sugar cookies (pictured below) or just as an easy spreadable icing on top of cut out sugar cookies.
Perfectly pairs with: No Roll Sugar Cookies, Cut Out Sugar Cookies, or White Wedding Cupcakes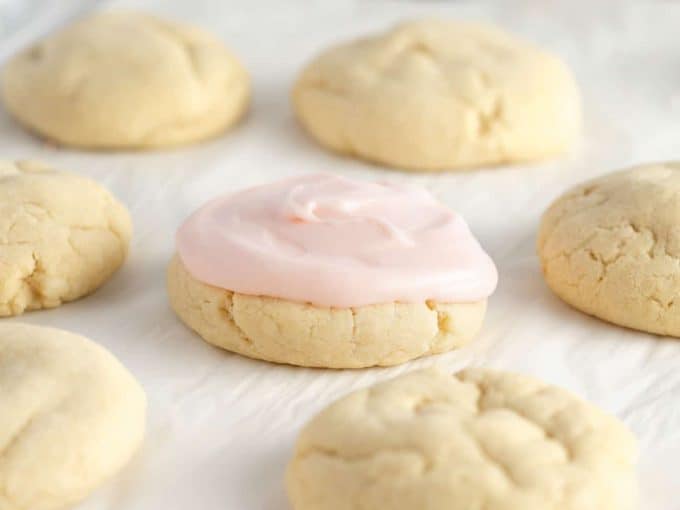 The best fluffy vanilla sugar cookie buttercream frosting! With a blend of vanilla and almond extract, this recipe is perfect for spreading on soft cut out sugar cookies to make the ultimate buttery and creamy Valentine's, Christmas, or birthday cookies! 
Perfectly pairs with: Cut Out Sugar Cookies