Tired of your typical butter and syrup waffle routine? Here are 10 easy (and mostly kid-friendly!) waffle toppings to help you take that homemade brunch up a couple notches! Because who said you had to get out of your pajamas to enjoy a majestic waffle bar, anyways?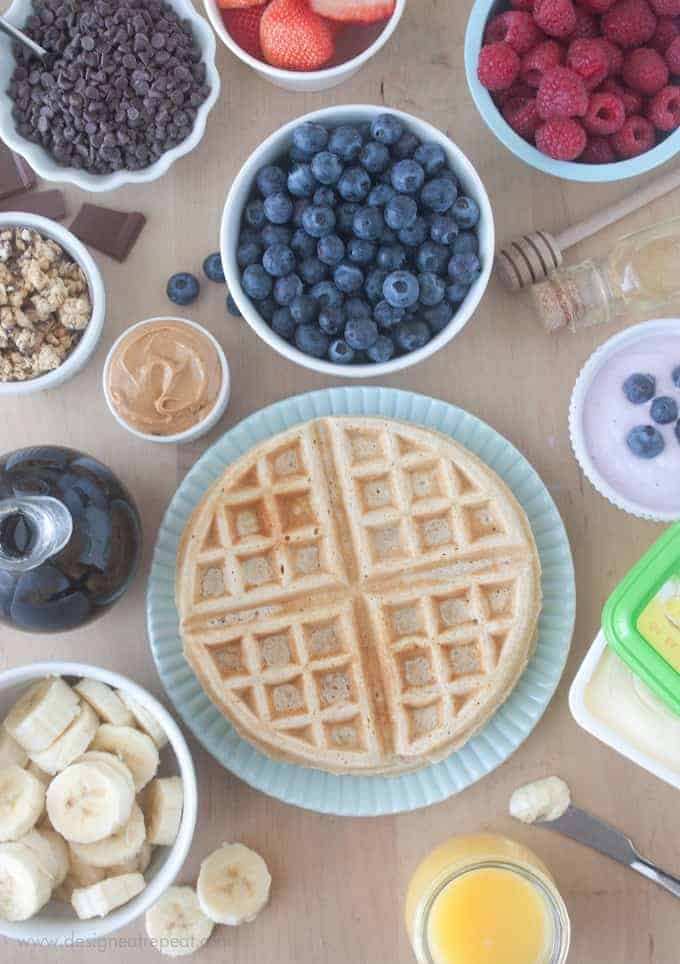 10 Ideas for Waffle Toppings
After whipping up some homemade waffles (my favorite are these whole wheat waffles), it's time to get to work on what you really got out of bed for. TOPPINGS! And lots of 'em.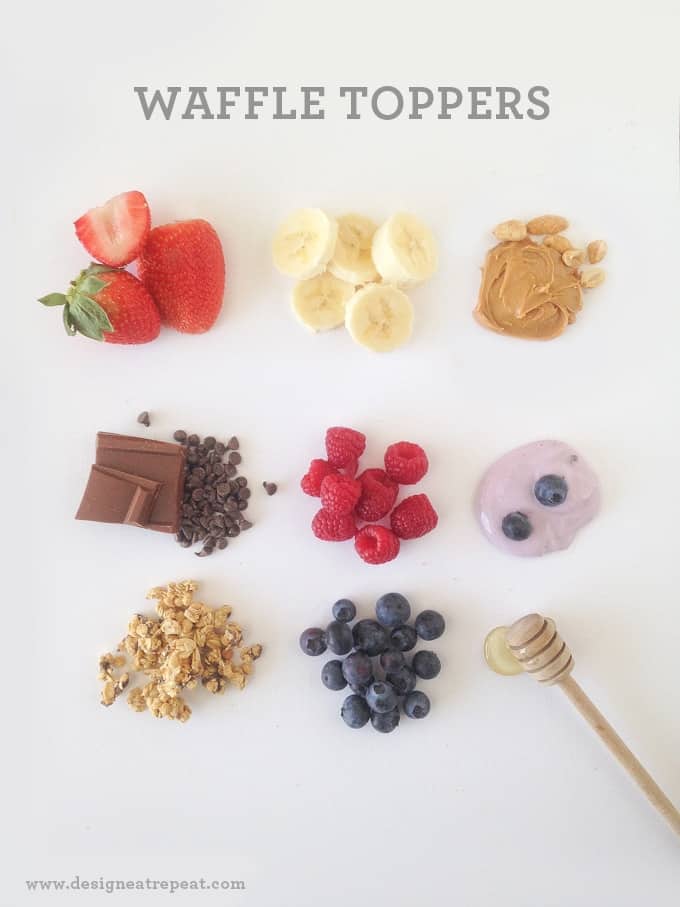 1. Fresh Sliced Strawberries
I don't know about you but fresh strawberries rank at the top of my list for waffles. In fact, the only time I usually make homemade waffles is when I have fresh strawberries on hand. The frozen or pre-packaged berries in syrup just don't do it for me.

2. Sliced Bananas
Got a banana that is getting a little too ripe? Slice it up in thin pieces and use it as a waffle topping along with some fresh whipped cream. Add some mini chocolate chips and strawberries and you're on your way to replicate a banana split in waffle form.
3. Peanut Butter
Slather on a layer of peanut butter to boost that early morning protein. Although I typically bake with regular peanut butter, I like adding natural peanut butter when it comes to waffles. My olive oil peanut butter would be delicious here!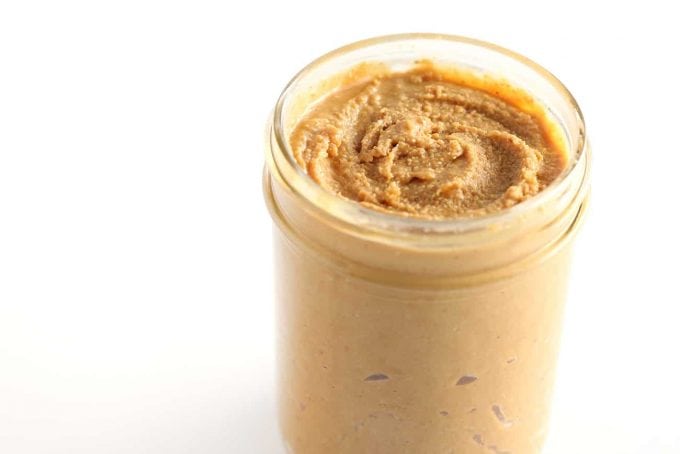 4. Chopped Nuts
If you're into that crunch life, chopping up your favorite nuts and using them as waffle toppings is the way to go. Salted peanuts or almonds are my favorite go-to toppings to add to a waffle bar spread.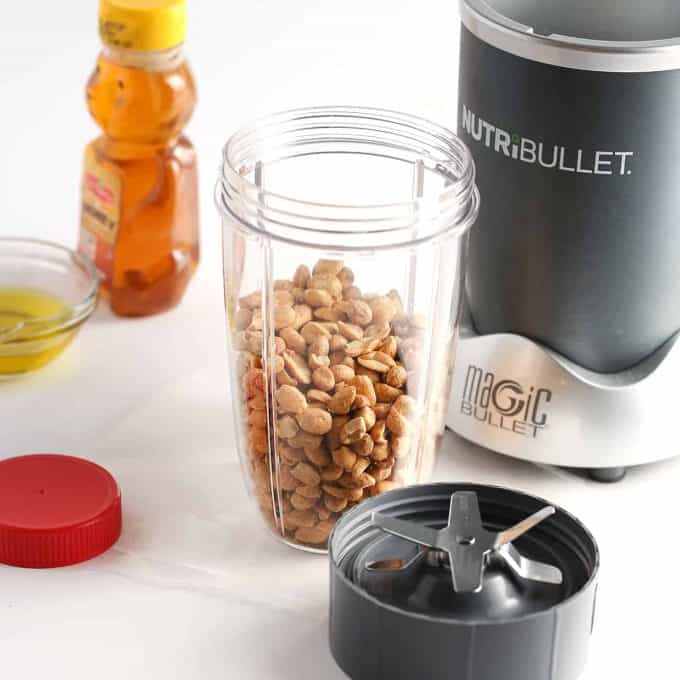 5. Mini Chocolate Chips
I mean, did you think I was going to get through this line-up without chocolate? Use a potato peeler to "shave" a few chocolate curls off your favorite chocolate bar or go the easy route and use mini chocolate chips. Since I'm not a huge fan of adding chocolate chips into the waffle batter, I love adding a few dark chocolate shavings on top of whipped cream and fresh berries.
6. Fresh Raspberries
Along those same lines, when berries are in season you better believe #AllTheBerries go on top of our homemade waffles. Washing and completely drying the raspberries before topping will help you create the most picture-perfect (and non-soggy!) waffle.
7. Yogurt
Much like you would use peanut butter, yogurt is a great way to add some fruity and creamy deliciousness to waffles. My favorite yogurt to use is light blueberry or raspberry, but just about any flavor would do there. Lemon, strawberry, vanilla, oh my!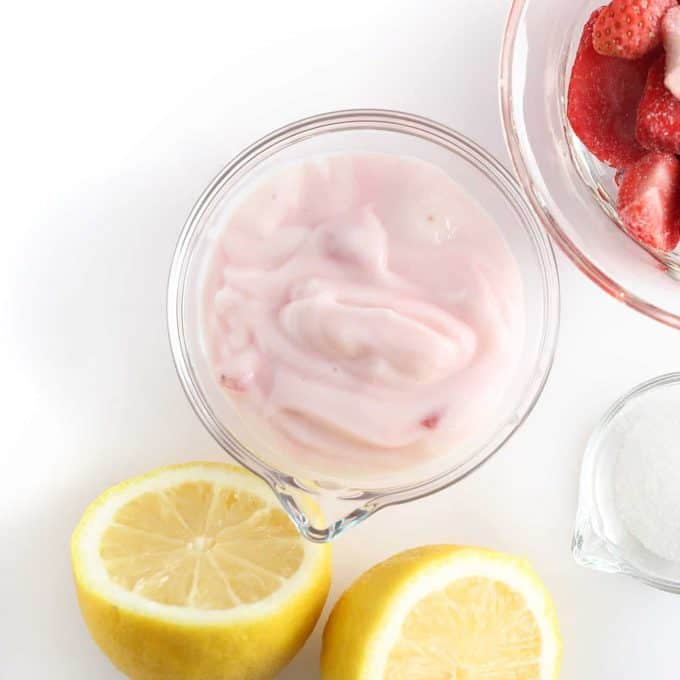 8. Granola
Another great way to add some crunch to waffles or pancakes is granola! Whether you make it homemade or buy it pre-packaged, there are tons of varieties that will put your waffles over-the-edge-delicious.
9. Blueberries
I don't know about you, but I'm not a huge fan of putting fresh blueberries inside pancakes or waffles. Something about warm fruit weirds me out, so when it comes to fresh fruits at brunch, adding them as toppings is the way to go. Just like I mentioned with the raspberries, washing and completely drying them before adding them to your waffles is what I recommend.
10. Honey
Drizzling honey over warm waffles is a great way to add a little sweetness without having to drench them in syrup. Use a honey dripper to lightly drizzle overtop or squeeze a little bit on a butter knife and spread it on.
And that's it! What is your favorite waffle topping? Leave it in a comment below!