Build your own waffle bar by implementing these fun topping ideas. Includes a recipe for whole wheat oat waffles for a guilt-free breakfast treat!
Something revolutionary happened over Christmas. Something life-changing. Something along the lines of getting a new waffle maker. After moving this past summer, I quickly realized that the sketchy waffle maker I previously owned hadn't quite made its way to the new place. I can't tell you the amount of times in the last 6 months that I've tried to make waffles, only to realize that I didn't quite own a waffle maker. It even once went as far as mixing the batter before I realized my ownership of a waffle maker was non-existent. Talk about the struggles of having to make pancakes out of waffles.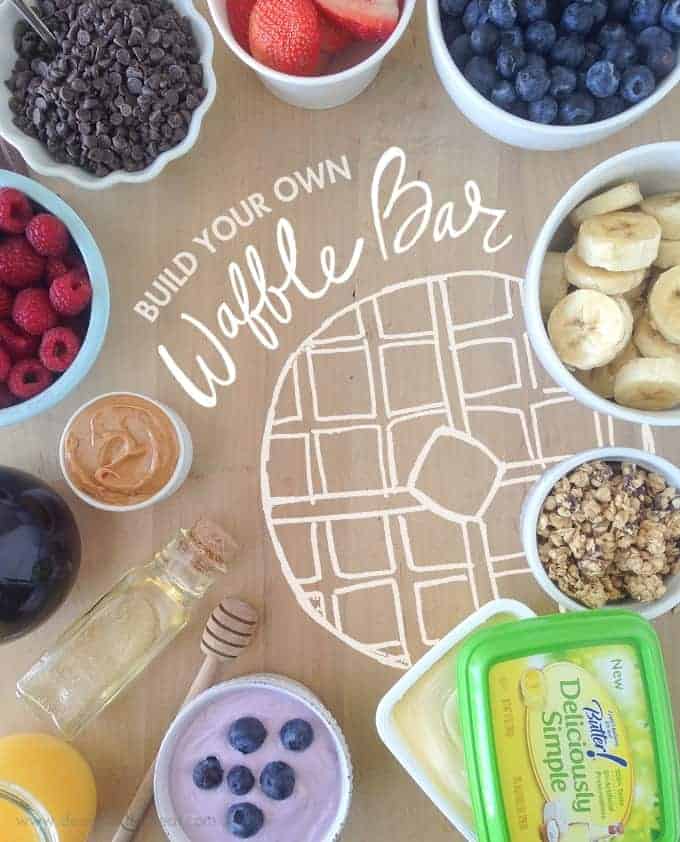 As these photos show, you can imagine how overboard my first waffle-making experience got. We have a little bit of everything happening here today. A little sweet, a little fruity, and a whole lot delicious. One of the little perks to food blogging is getting to occasionally taste-test new & exciting products in the grocery world. I work in grocery advertising at my 9-5, so concepting & executing different ways to show "simple" products is what I do daily. But when I'm able do it with total creative freedom for the blog, it's always guaranteed to be a fun time.
I decided to experiment with ways to make the waffle base a little healthier, while spicing things up with lots of options for simple toppings (many of which, you probably already have in your cupboard). For the waffle batter, I used a mix of whole wheat, all-purpose, and oat flour to add in a little extra fiber. Heck, if I'm going to top them with chocolate chips, I better add some kind of nutritional value wherever I can, right?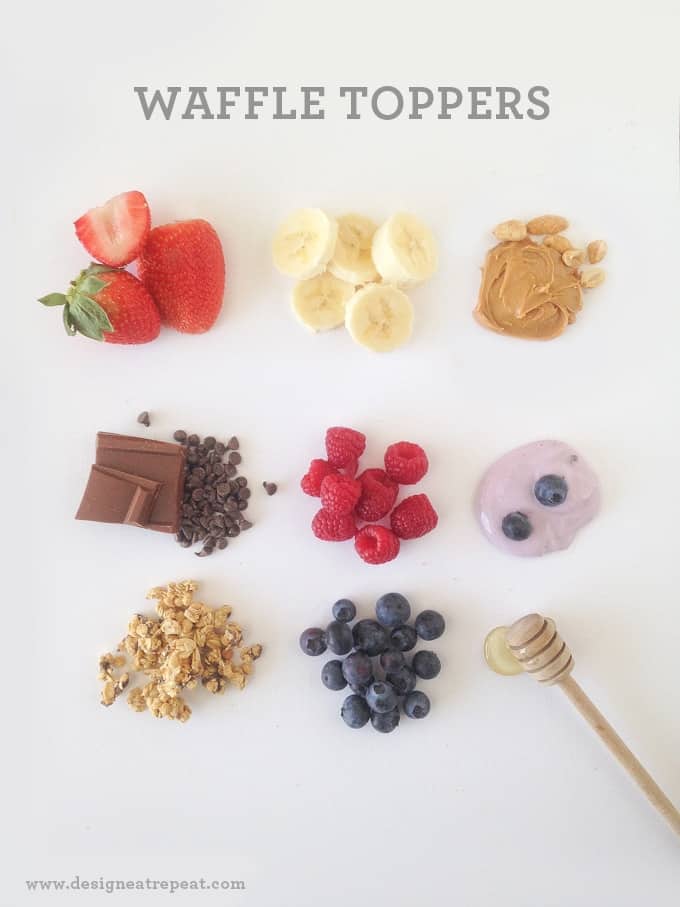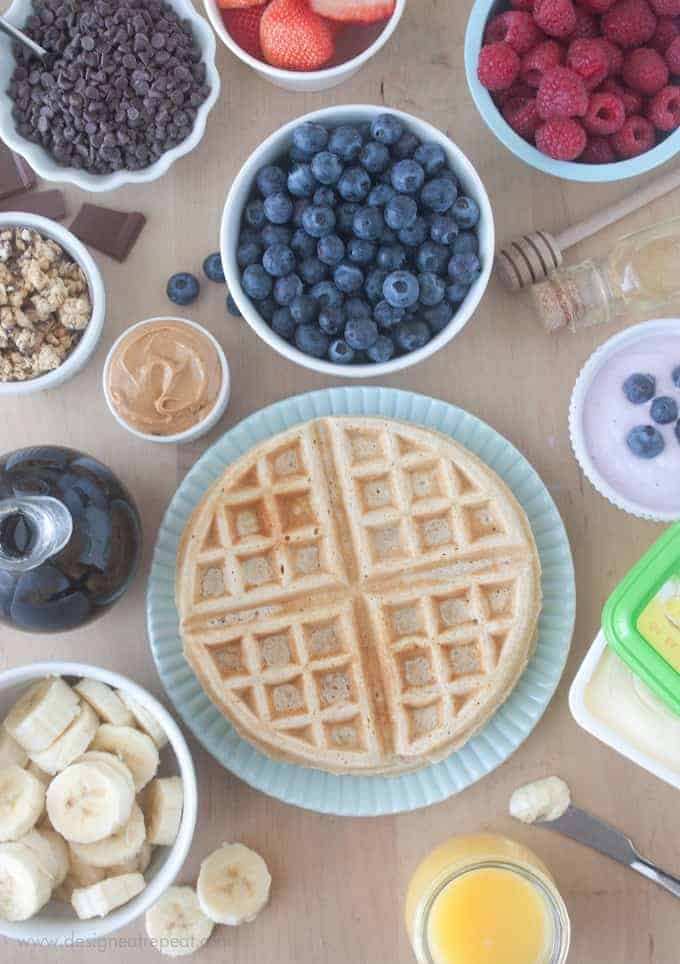 Try and tell me you don't just want to gobble this right up. The waffles, the berries, the chocolate, the whole nine-yards. If I could have an waffle bar embedded in my kitchen, I'd do it.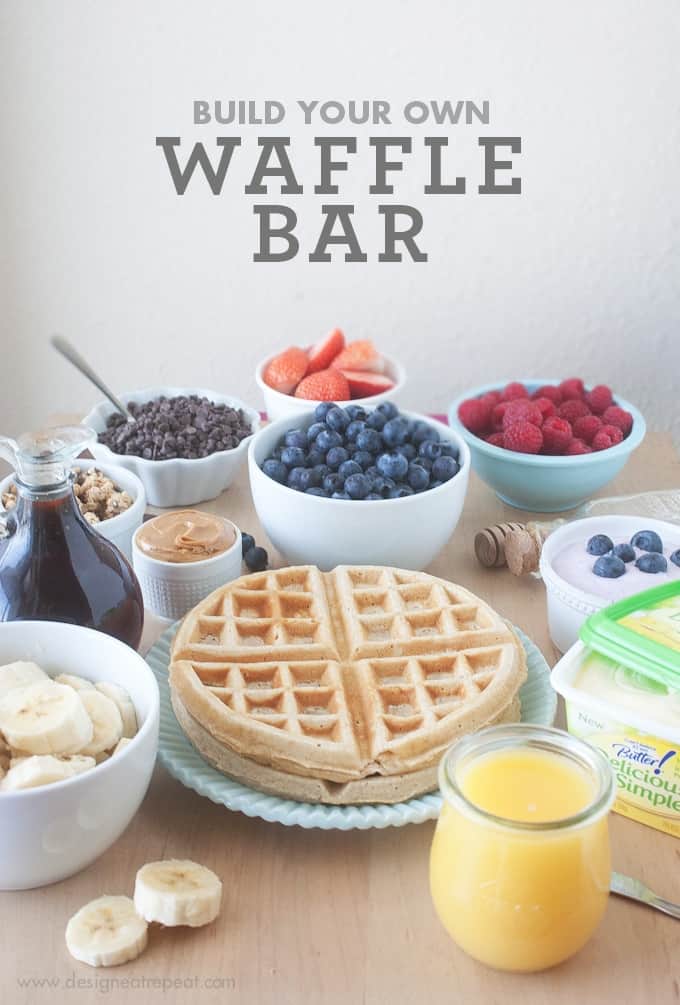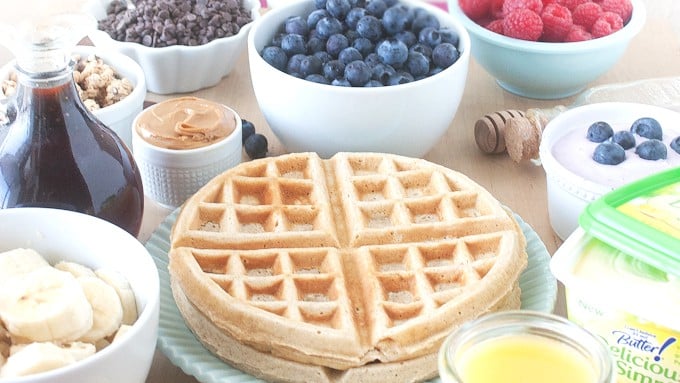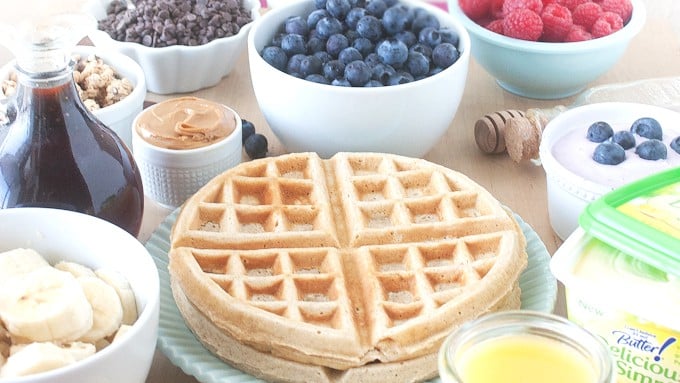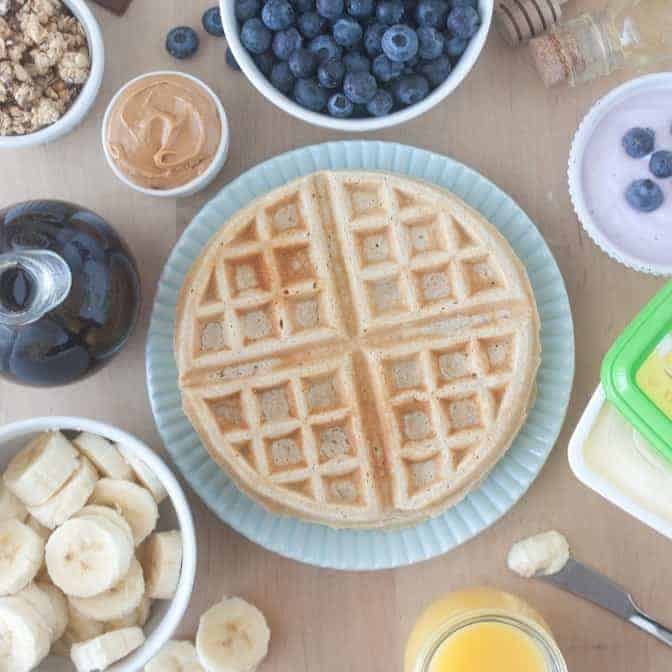 Whole Wheat Oat Waffles
Build your own waffle bar by implementing these fun topping ideas. Includes a recipe for whole wheat oat waffles for a guilt-free breakfast treat! |
Adapted from
All Recipes
Ingredients
3/4

cup

oat flour

1/2

cup

all-purpose flour

1/2

cup

whole-wheat flour

1

tablespoon

baking powder

1/4

cup

sugar

1 1/2

tablespoons

butter

1 1/4

cup

milk

1

tablespoon

vegetable oil

1 1/2

teaspoons

vanilla

2

eggs

separated
Instructions
Preheat your waffle maker according to manufacturers instructions.

In a large bowl, mix together oat flour, all-purpose flour, wheat flour, sugar, and baking powder.

In a separate bowl, whisk together egg yolks, milk, oil, and vanilla.

In a third bowl, beat egg whites with an electric mixer until soft peaks are formed (1 1/2-2 minutes).

Add milk and egg yolk mixture to the flour mixture and slowly mix until combined. Gently fold the egg whites into the batter, trying to keep as much volume as possible. Set batter aside & let stand for 3-5 minutes until it slightly thickens.

Pour 1/4-1/2 cup of batter into preheated waffle maker and cook according to the manufacturers instructions.

Top & enjoy!
Nutrition Facts
Whole Wheat Oat Waffles
Amount Per Serving
Calories 266
Calories from Fat 81
% Daily Value*
Total Fat 9g 14%
Cholesterol 67mg 22%
Sodium 72mg 3%
Potassium 392mg 11%
Total Carbohydrates 36g 12%
Protein 8g 16%
* Percent Daily Values are based on a 2000 calorie diet.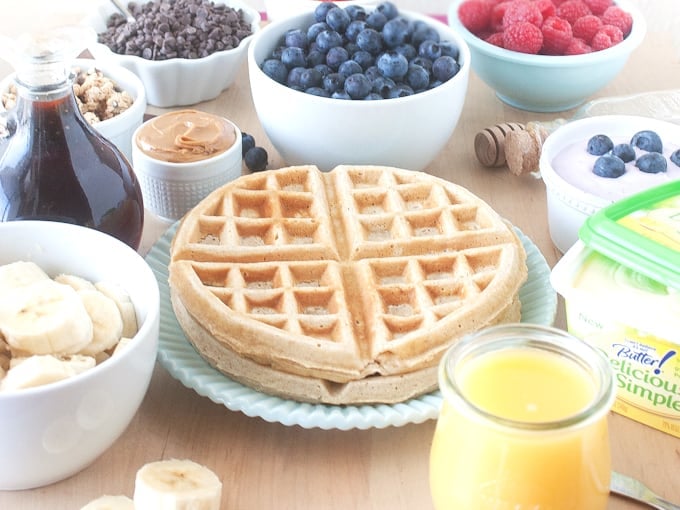 I've heard of some crazy waffle toppers in my days, but now I want to hear what YOU top your waffles with. Strawberries, sugar, honey? The craziest one wins a prize. The prize being the satisfaction of knowing your waffle-topping-risk-taking abilities are so much more daring than mine.