Make these easy candy button cookie sticks for the perfect birthday party cookie, Halloween treat, or candy party idea!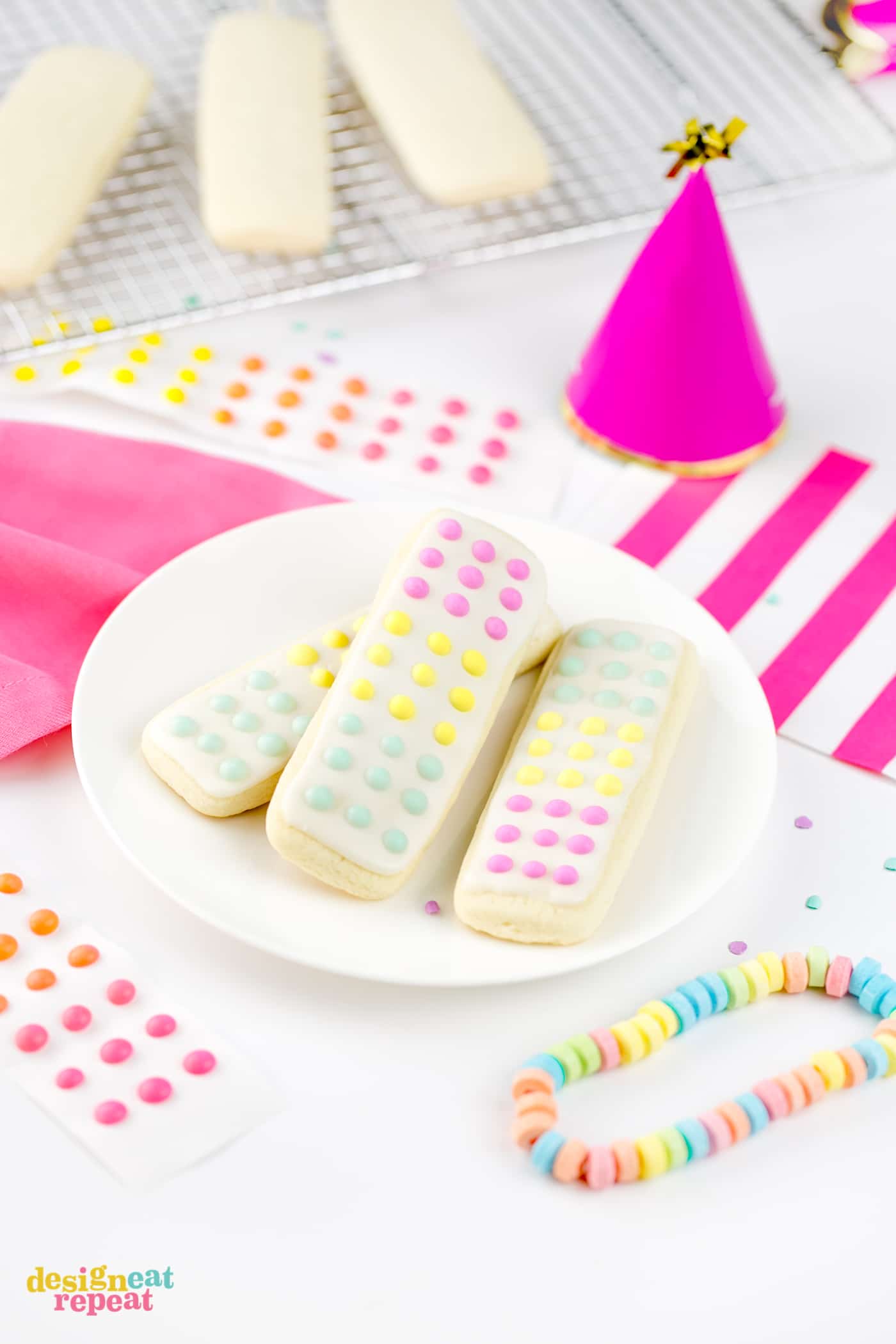 Last week on Instagram, I asked everyone when it was socially acceptable to start posting Halloween projects & recipes. Even though back-to-school season is about wrapped up, posting pumpkins & Frankensteins in August seemed a little soon. So while most of you voted to start Halloween now, I decided we're going to ease our way into things by starting off with some all-occasion candy-inspired projects. So while they'd make cute & out-of-the-ordinary Halloween treats, these ideas will also be perfect for birthday parties, candy parties, or even baby showers by using colors that match the party theme!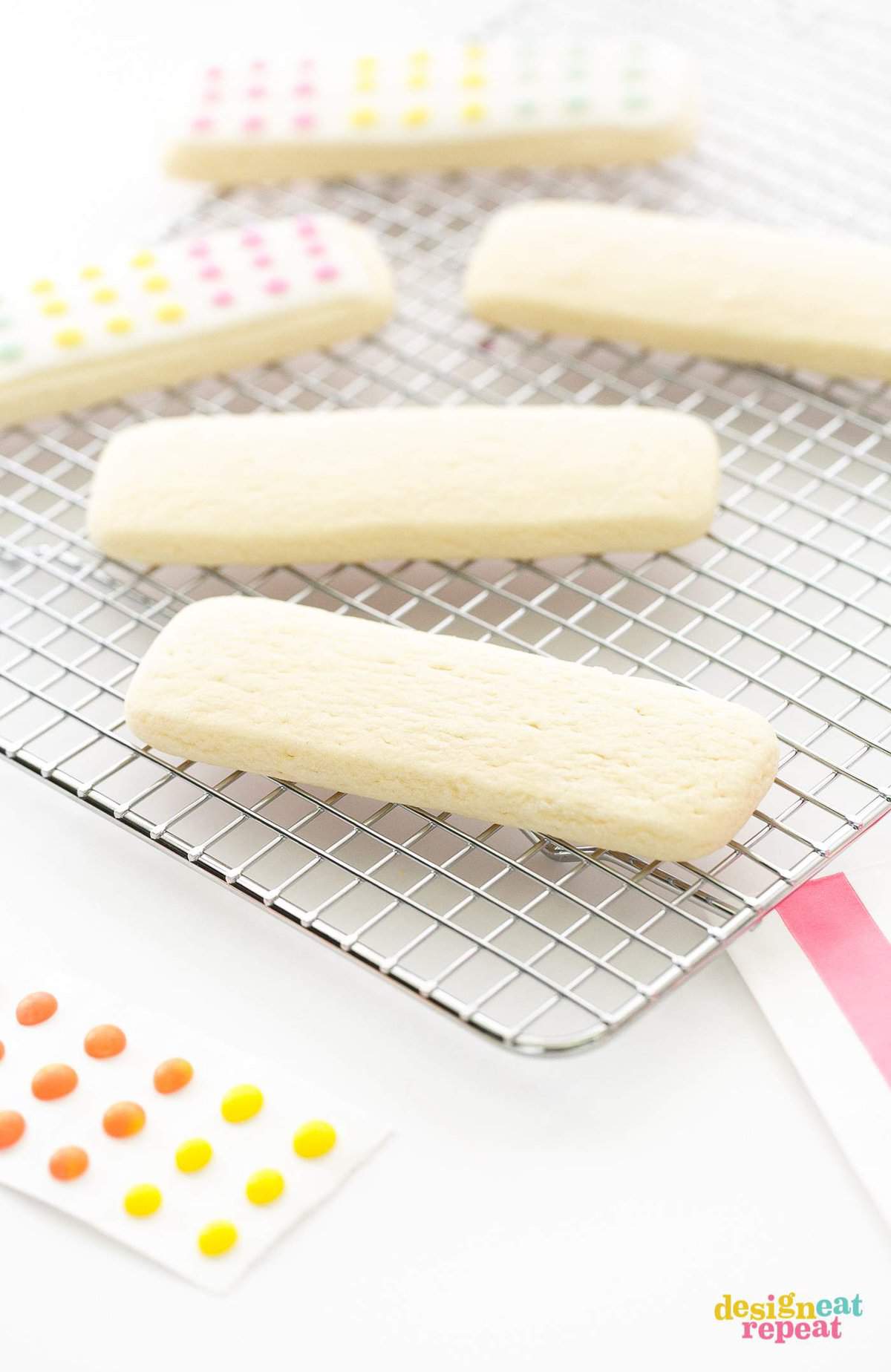 And in the grand scheme of cookie decorating, these are some of the easier cookies I've made. I've been working hard to bring more recipes to this blog that are approachable for any skill level so that you don't have to be a crazy skilled decorator (or spend 24 hours in the kitchen) to make cute things.
These candy button cookies use the same cookie stick cutter I used to make the pencil cookies a few weeks ago and it has quickly become one of my favorite cookie cutters. I don't know why, but food that is cut into sticks or placed on sticks is 10x more fun.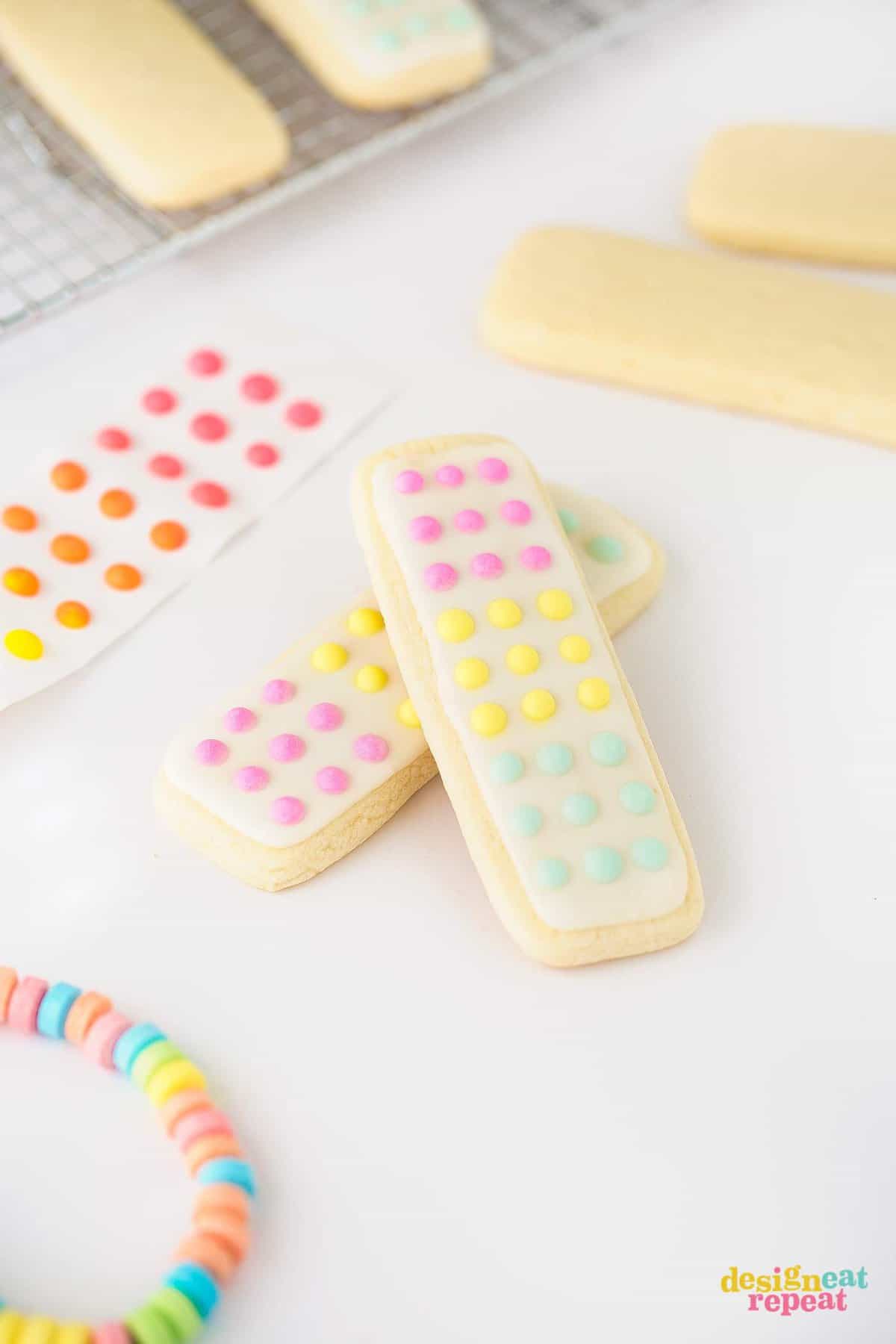 After baking, simply pipe some white royal icing (or canned frosting) on each cookie stick, let dry, and then use a plastic bag to pipe on the colored dots. Or if you happen to have some real candy buttons on hand, you could top each cookie with a bunch of those instead!
Candy Button Cookie Sticks
Make these easy candy button cookie sticks for the perfect birthday party cookie, Halloween treat, or candy party idea!
Prep Time: 20 minutes
Cook Time: 10 minutes
Total Time: 30 minutes
Course: Dessert
Category: Cookie
Servings: 24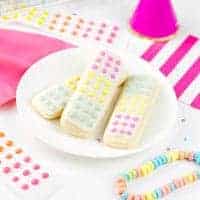 Instructions
After baking sugar cookie sticks and letting cool, pipe on white icing. I prefer royal icing, but you can also pop white canned frosting in the microwave for about 10 seconds to make it a flooding consistency.

Once white frosting is set, distribute leftover icing (and more, if needed) into 3 small bowls. Use food coloring to dye icing the color you want the dots. Place icing in a piping bag and pipe dots in 3 columns, switching colors every 3 rows until you have 3 blocks of colors.
Nutrition
Calories: 120kcal
So my question of the day is: does anyone actually like the taste of real candy buttons? Although fun & colorful, I can't say that eating candy dots with paper stuck to the back of each one is my favorite ;)
What are your thoughts on real candy buttons? Yay or nay?