The only thing better than sprinkles are sugar cookies shaped like sprinkles! Make these sugar cookie dippers as the perfect birthday party treat!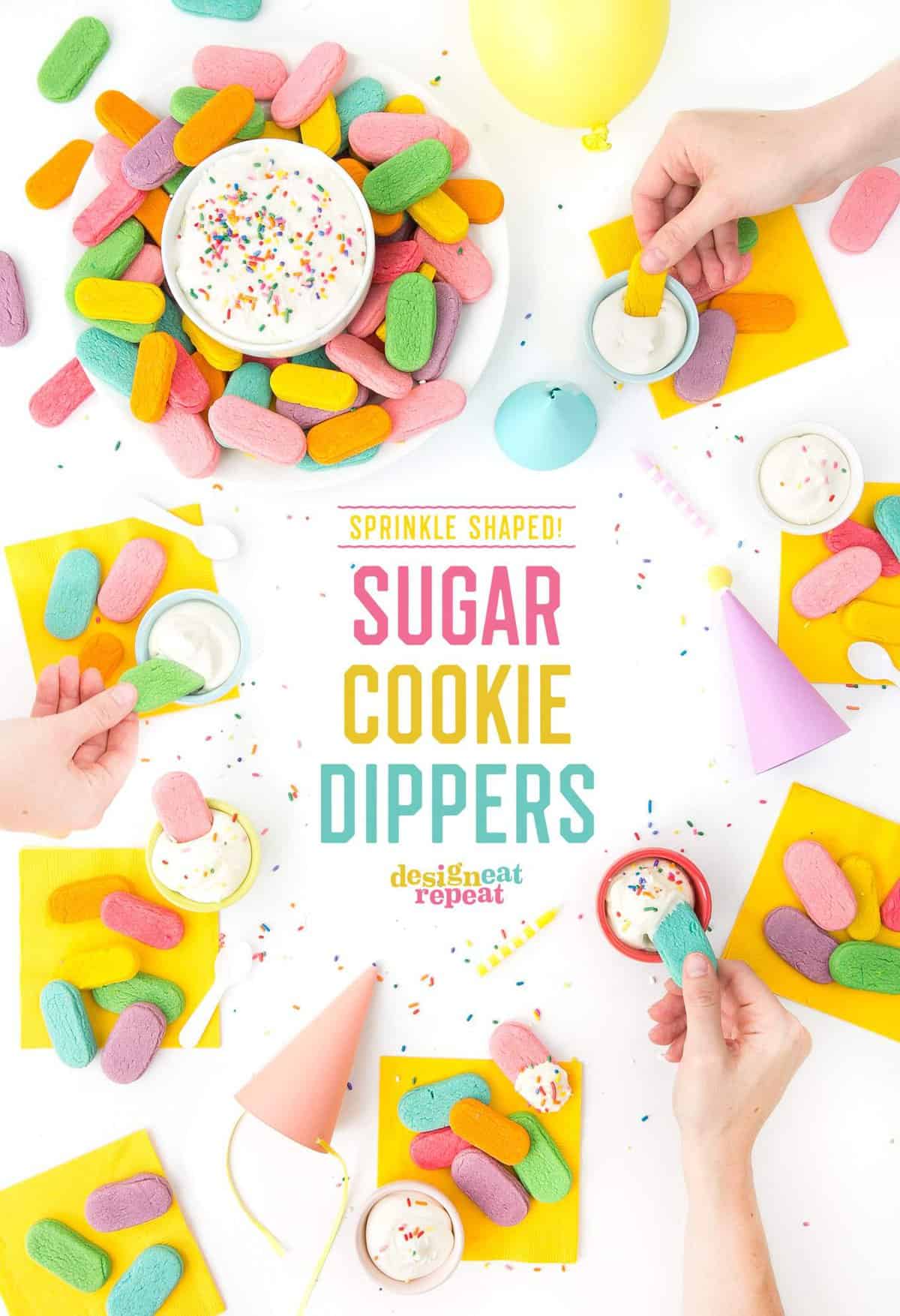 Happy Friday! Wrapping up this week of birthday themed posts with a recipe DIY I've had in my idea book for months! Sprinkle sugar cookie dippers! When I first thought of the idea for these, I figured I would have to either hand cut the cookie dough or find someone to 3-D print one for me. But after a little brainstorming, I realized that I could get a mini pill cookie cutter off of Amazon and it would be the perfect shape for these colorful sprinkles.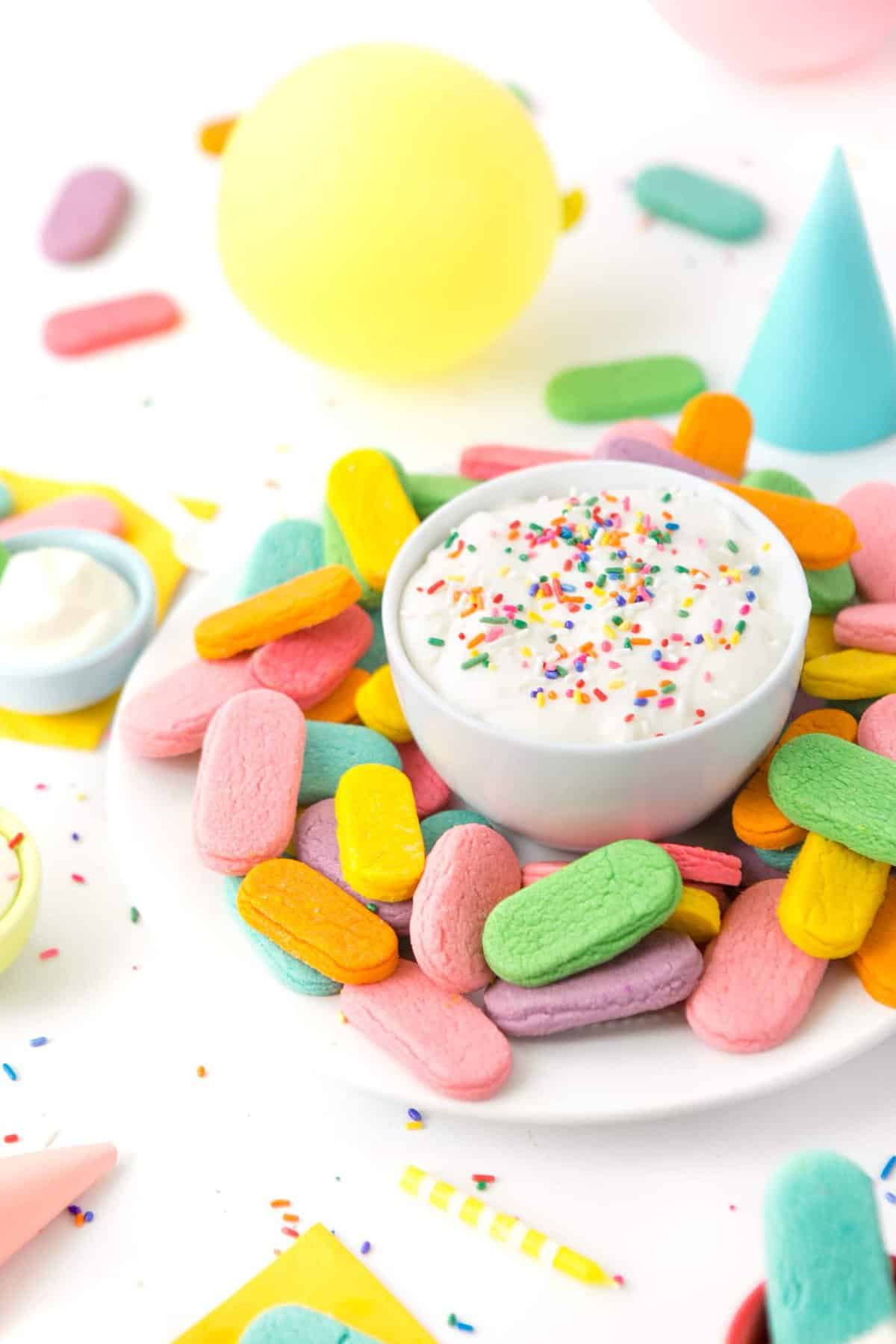 With just a few drops of gel food coloring added to my Perfect Cut Out Sugar Cookie recipe, these mini cookies are the perfect bite-sized treat to dip in a bowl of creamy icing.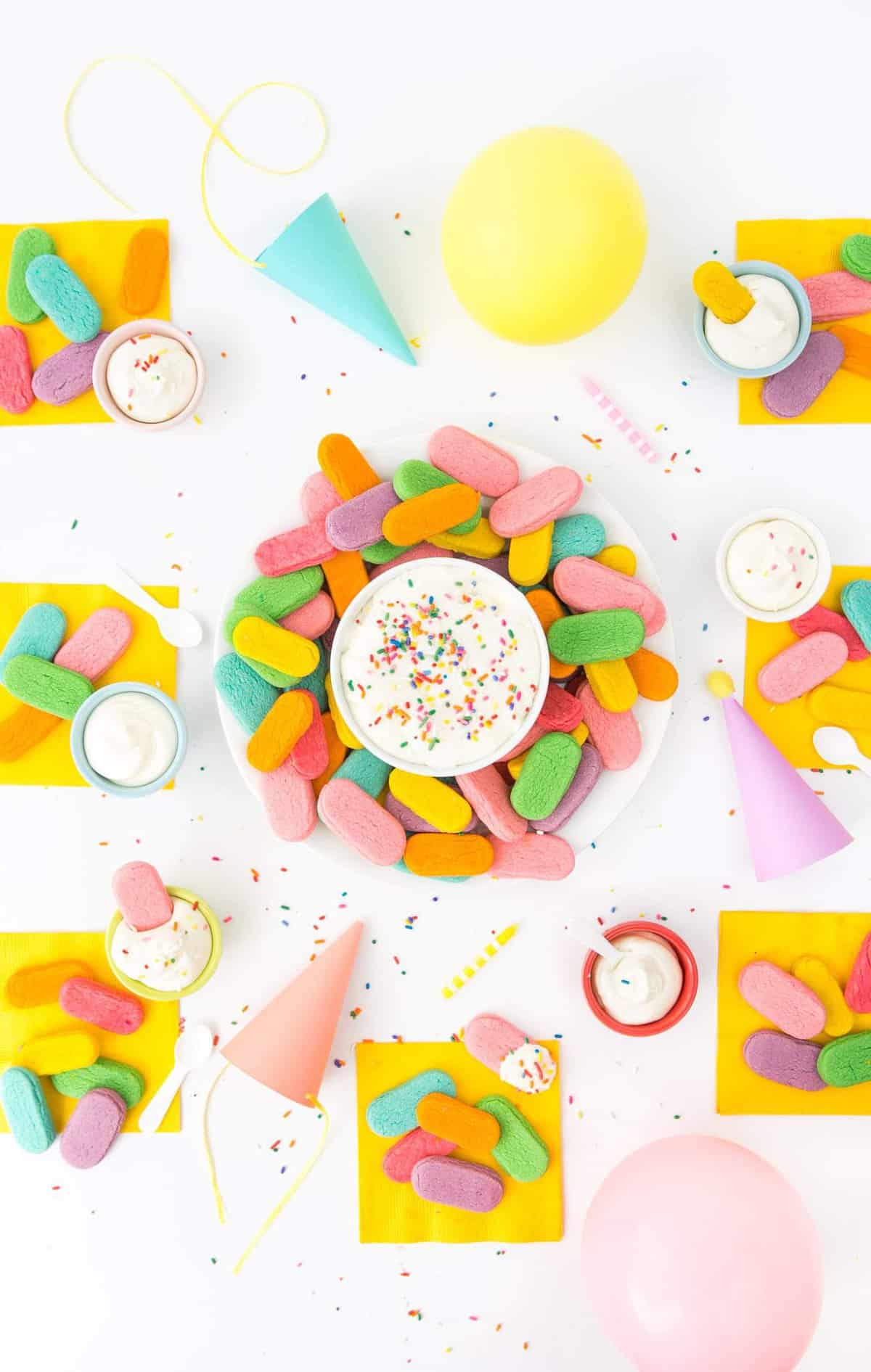 Set on on a platter with a big bowl or divide onto napkins & mini bowls for individual servings. I'm kind of obsessed with miniature bowls, so my vote would be serving them up 90's Dunkaroo style. But you do whatever your sprinkle-loving heart desires.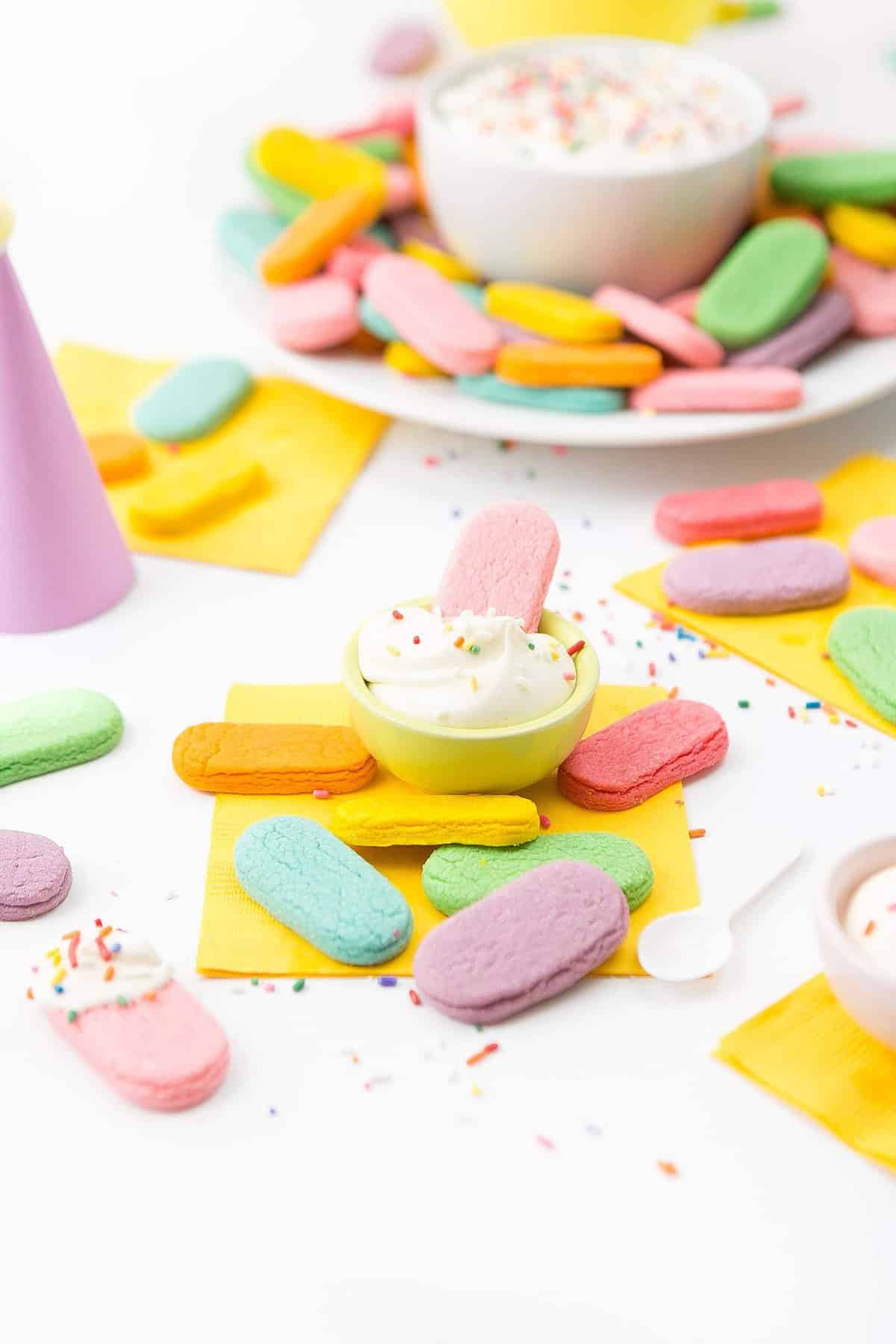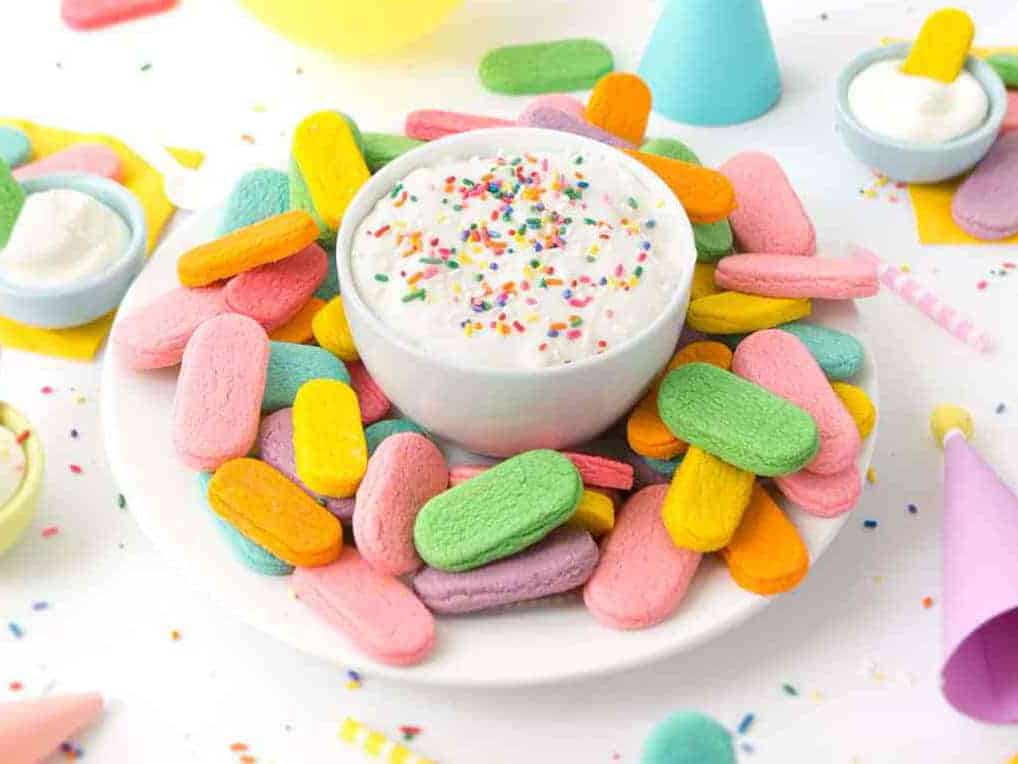 I whipped up a bowl of cream cheese frosting to dunk these in, but you could also use homemade or canned white frosting if you're not a cream cheese person. I like the combination of sweet cookies with a little less sweet cream cheese frosting, but again, dip them in whatever frosting is your favorite!
These would also make a fun party favor by popping 4-5 in a plastic bag with a tiny container of icing and a colorful confetti gift tag. Whatever you do with them, you're bound to have a party full of sunshine and rainbows!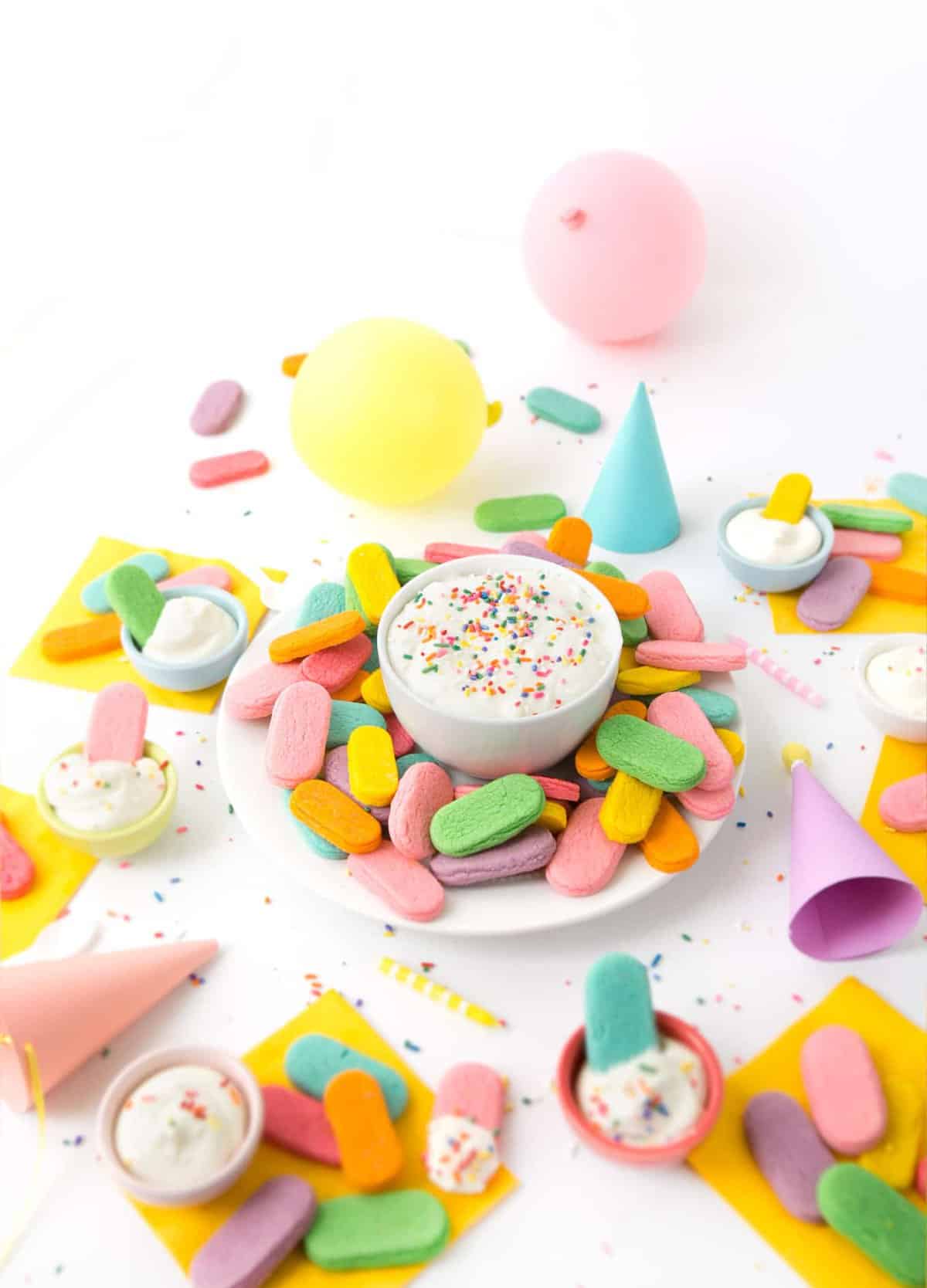 Birthday Sprinkle Sugar Cookie Dippers
The only thing better than sprinkles are sugar cookies shaped like sprinkles! Make these sugar cookie dippers as the perfect birthday party treat!
Prep Time: 15 minutes
Cook Time: 10 minutes
Total Time: 25 minutes
Course: Dessert
Category: Cookie
Servings: 48 Cookies
Ingredients
Cookies
1 cup unsalted butter softened (*Read Tips below)
1 ½ cup powdered sugar
1 egg medium sized
1 teaspoon vanilla
½ teaspoon almond extract
1 teaspoon baking soda *See note below
2 ½ cups all-purpose flour
Food Coloring
Cream Cheese Dip (makes 1.5 cup)
8 oz cream cheese chilled
3/4 cup powdered sugar
1/4 cup milk
1/2 cup marshmallow cream
1 teaspoon vanilla
2 Inch Cookie Cutter I used this one
Instructions
Cream the butter and powdered sugar together with an electric mixer. Once mixed, add the egg, vanilla, almond extract, and baking soda and continue to stir on medium speed. Once incorporated, turn the mixer down to low speed and add the flour in one cup portions. When the flour disappears, turn off the mixer and transfer the dough onto a floured surface. Knead the dough until it forms a solid ball. If dough is sticky, add additional flour while kneading (do not be afraid to add 1/4-1/2 cup more flour while kneading if sticky).

Split into 5 equal sized balls (or as many colors as you want to make).

Place first ball back into the mixer mix in yellow food coloring until incorporated. Remove from bowl and repeat for all colors. I recommend going in this order so that you don't have to wash the bowl between mixes (I do recommend wiping down with paper towel between colors): Yellow, Orange, Red, Pink, Purple, Blue

Next, on a floured surface, use a rolling pin to separately roll each color dough out to 3/8 to 1/2 inch thickness. The thinner you go, the faster they will bake & the crispier they will be. I like them to be thick and soft, so I keep them around 3/8 inch thick and use a 2.5 inch circle cookie cutter or wine glass rim to cut them out.

As you are cutting them out, transfer them to a parchment paper covered cookie sheet, leaving about 1 inches between them (to allow them to spread). Cover and refrigerate CUT cookies on sheet for 30 minutes (I highly recommend this refrigeration step so that your sprinkles don't spread as much.

Bake at 350 degrees for 6-7 minutes or until they no longer look moist. Do not worry if they look underbaked, as they will continue to bake on the hot cookie sheet after it comes out of the oven.

Cool and dip into cream cheese dip or your favorite white frosting!

To make the frosting: Place the cream cheese in a stand mixer and mix on high speed for 1-2 minutes until smooth and creamy. Turn to medium speed and add in powdered sugar and mix until combined. Keep mixer on medium speed and add in milk, marshmallow cream, and vanilla. Beat for 1-2 minutes on smooth and creamy.
Last Step! Please leave a review and rating letting me know how you liked this recipe! This helps my small business thrive so I can continue providing free recipes and high-quality content for you.
Nutrition
Calories: 64kcal
Fat: 5g
Saturated fat: 3g
Cholesterol: 18mg
Sodium: 40mg
Potassium: 10mg
Carbohydrates: 3g
Sugar: 2g
Vitamin A: 190%
Calcium: 8%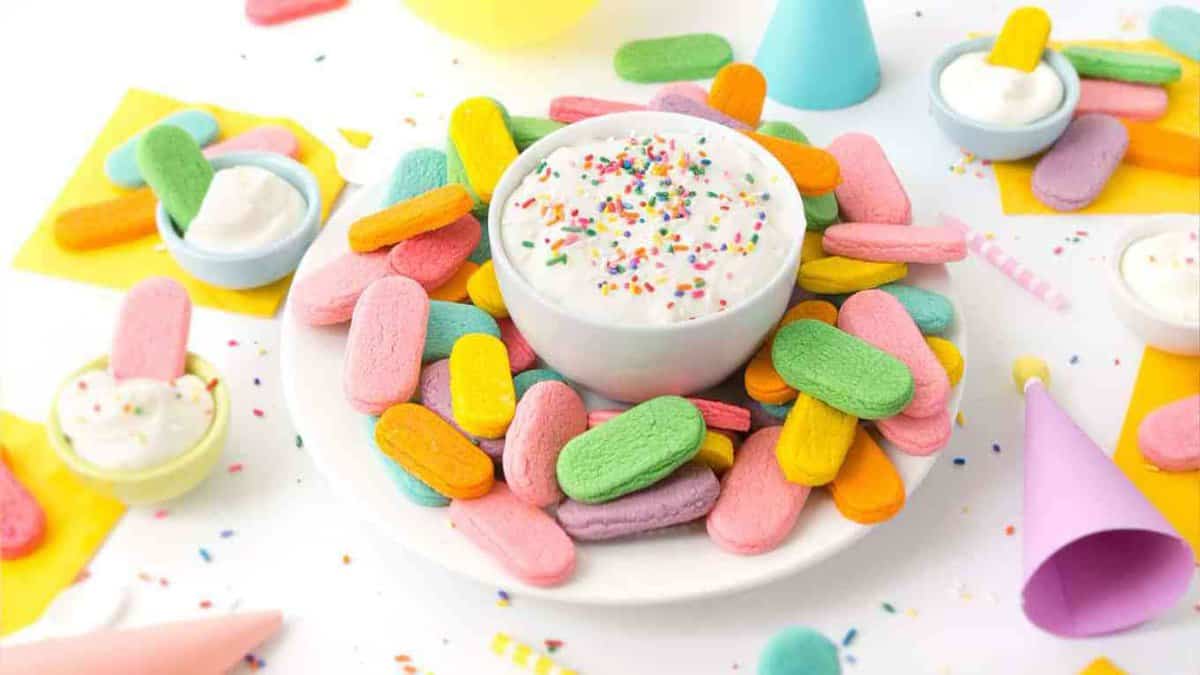 Fun, huh? This might be my favorite project this year, but that's not surprising considering my obsession with sprinkles.