Birthday parties don't have to cost a fortune! Download these fun & colorful printable birthday gift tags and attach them to treat bags for an easy party favor idea!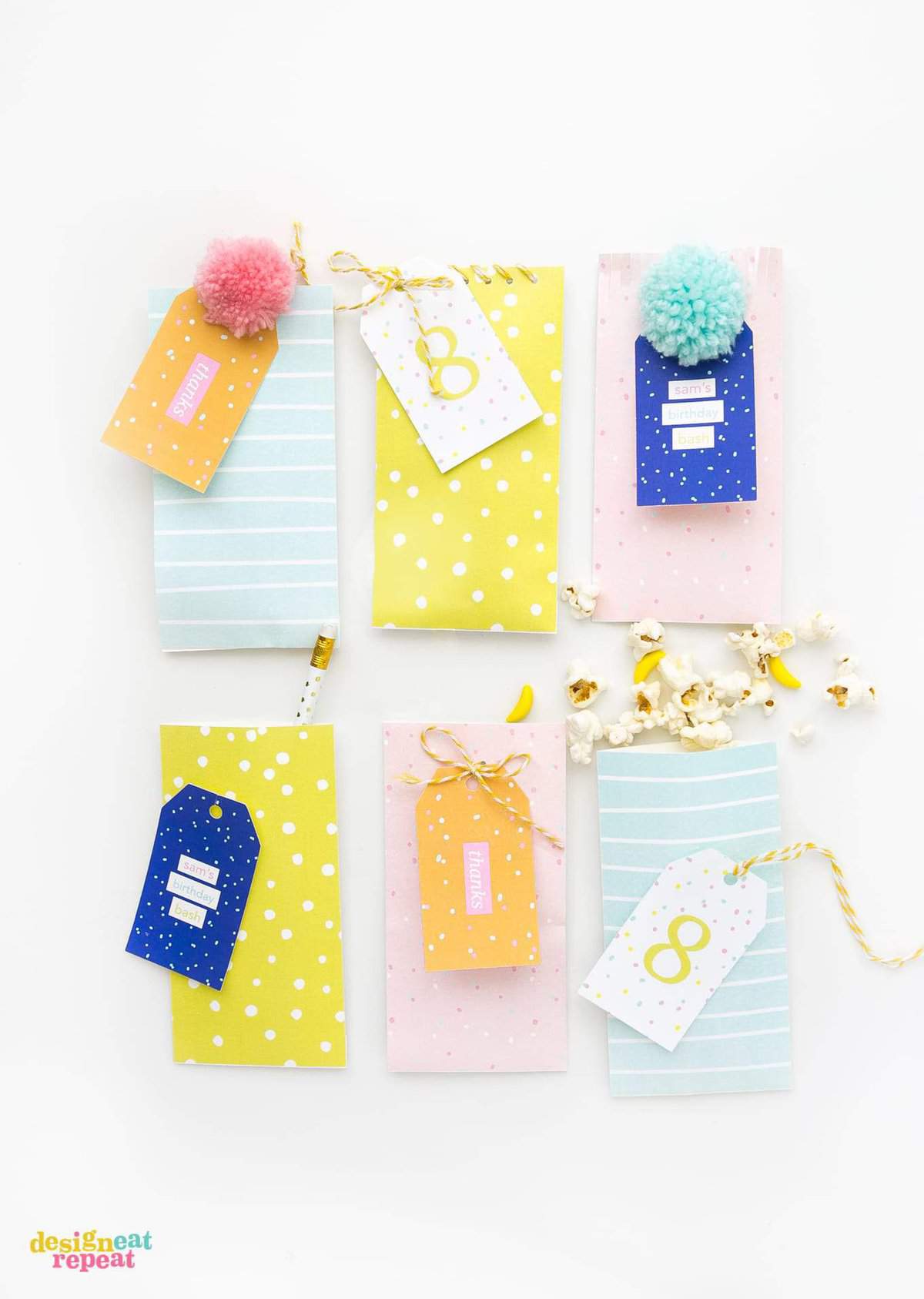 When it comes to birthday parties, I will admit that I'm a last-minute gift wrangler and planner. As much as I'd like to say that I plan weeks ahead, I just don't. I'm usually digging in my drawer or DIY'ing a card the day before (or day of) the party. So if you're like me and need another printable to add to your last-minute stash, then you'll want to bookmark today's project!
Lately, I've been having fun designing new paper patterns so today I thought I'd share some of them with you in the form of printable birthday gift tags! Perfect for attaching to party favors or gifts!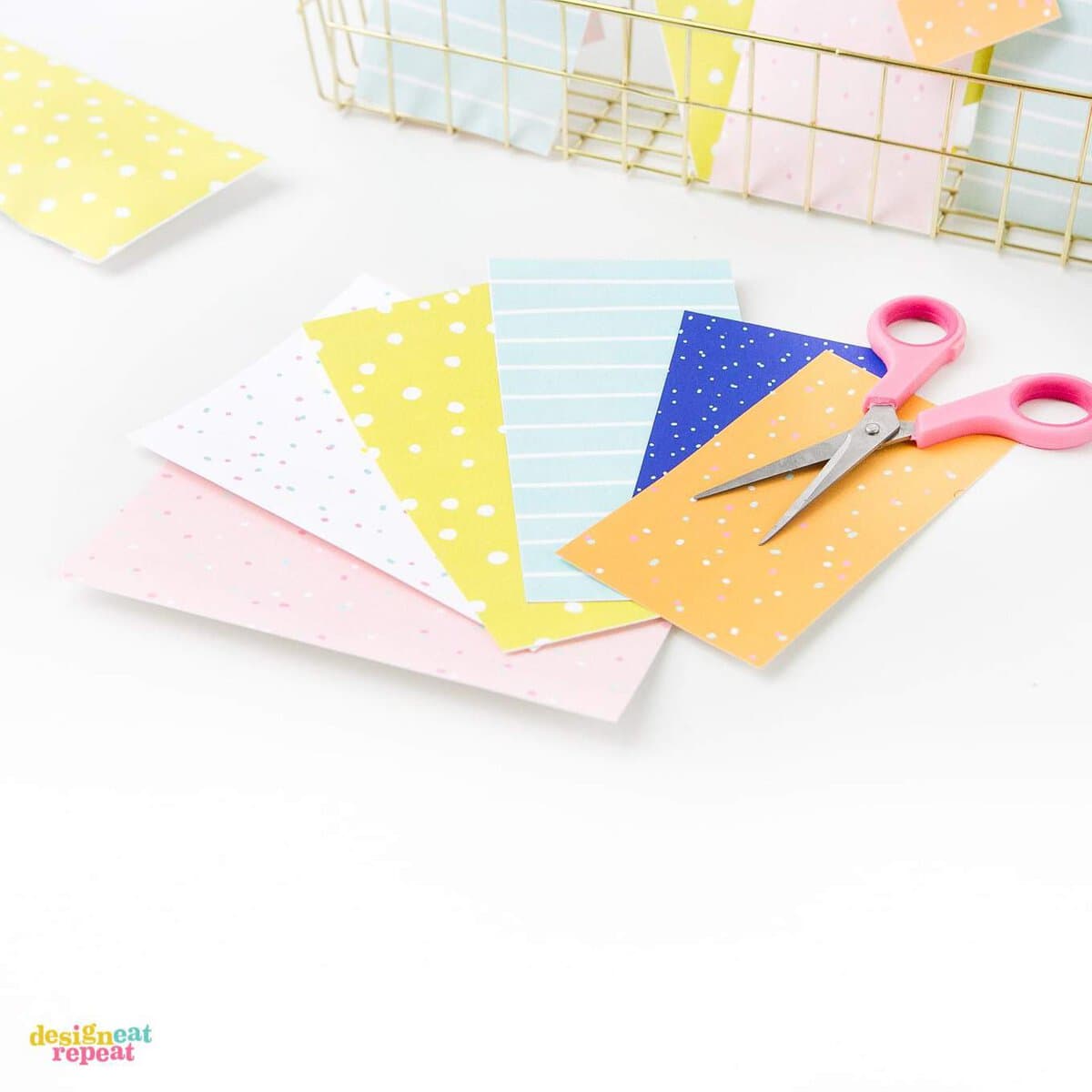 What You Need to Make Printable Birthday Gift Tags
Avery Printable Tags (#22802), Avery Template (Click here to download), baker's twine, matching treat bags.
Materials
Avery Tags (#22802)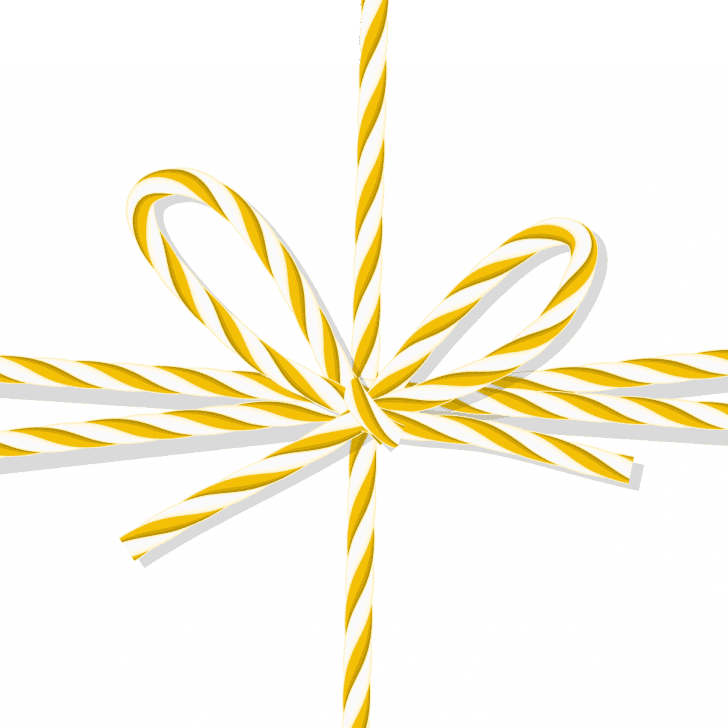 Baker's Twine (Yellow)
Confetti Treat Bags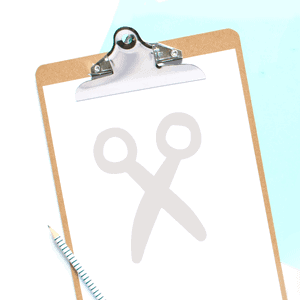 Printable Template
I'm a firm believer that you can whip up an adorable party the night before with the help of your printer, paper, and a little assembly line of crafters (aka. your kids). I mean, why drop $50 at the party store when you can make adorable party favors at home? Besides solid colored wrapping paper, my secret for crafting something cute last-minute is always keeping bakers twine and Avery Printable Tags on hand. Instead of spending $1/each for specialty gift tags at the party store, I can keep a pack of printable tags on hand and whip up as many as 100 (personalized!) gift tags for around $0.20/each.
And any time I need one for a party, I print off a few at a time so that they're ready to go for the next time. And lucky for you, I spend the time designing them so all you have to do is customize & print!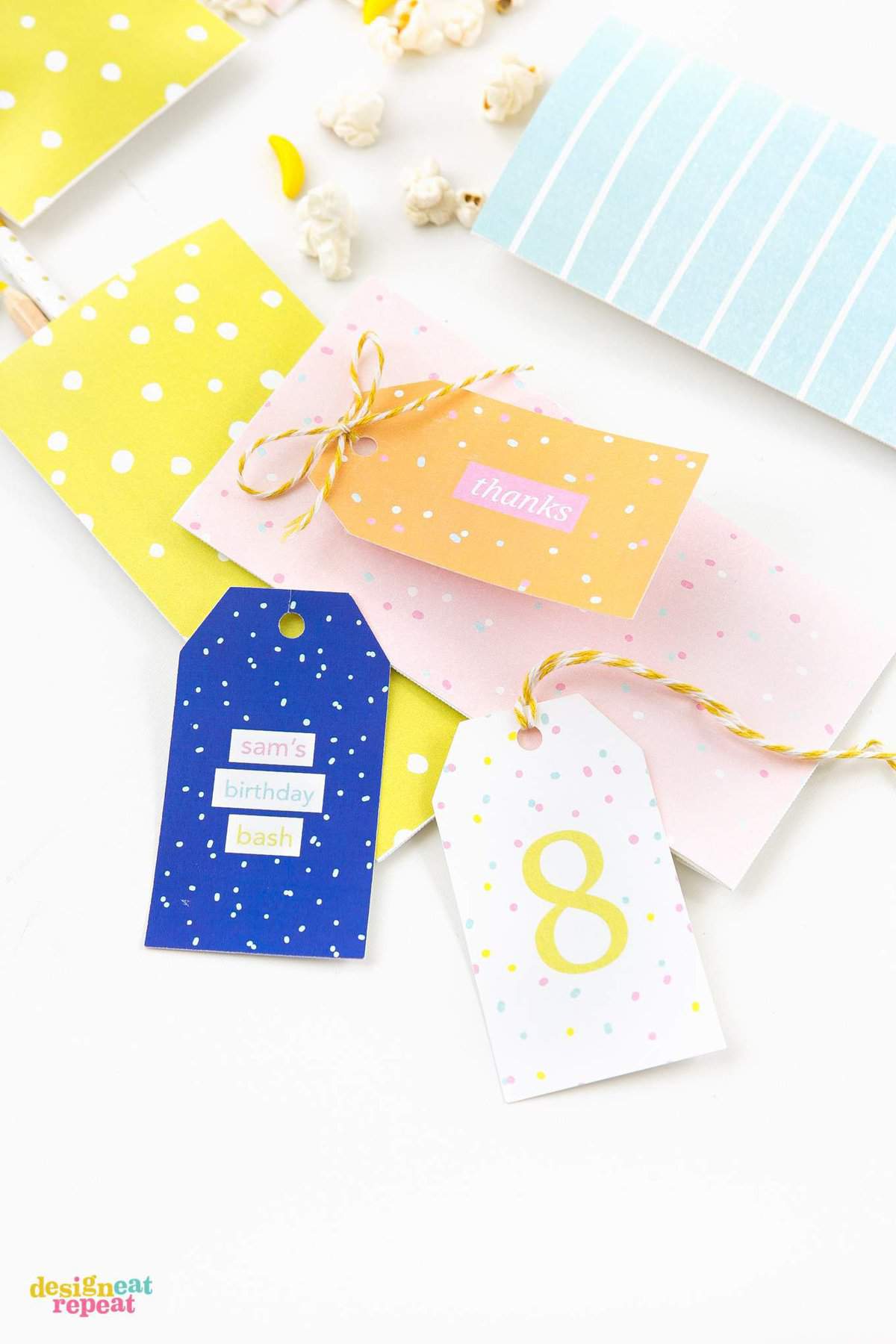 How to Print & Make Birthday Gift Tags:
Step 1: Upload File to Avery Design & Print Online
Download & save the Avery Template to your computer. Print and customize the tags through the Avery Design & Print Online software by:
Go to the Avery website and click "Open A Saved Project: From Your Computer" on the right side of the screen.
Upload the file you just downloaded. Note that there are 3 sheets in this file with the 3 different designs, so make sure you flip through the pages on the right-hand side of the screen.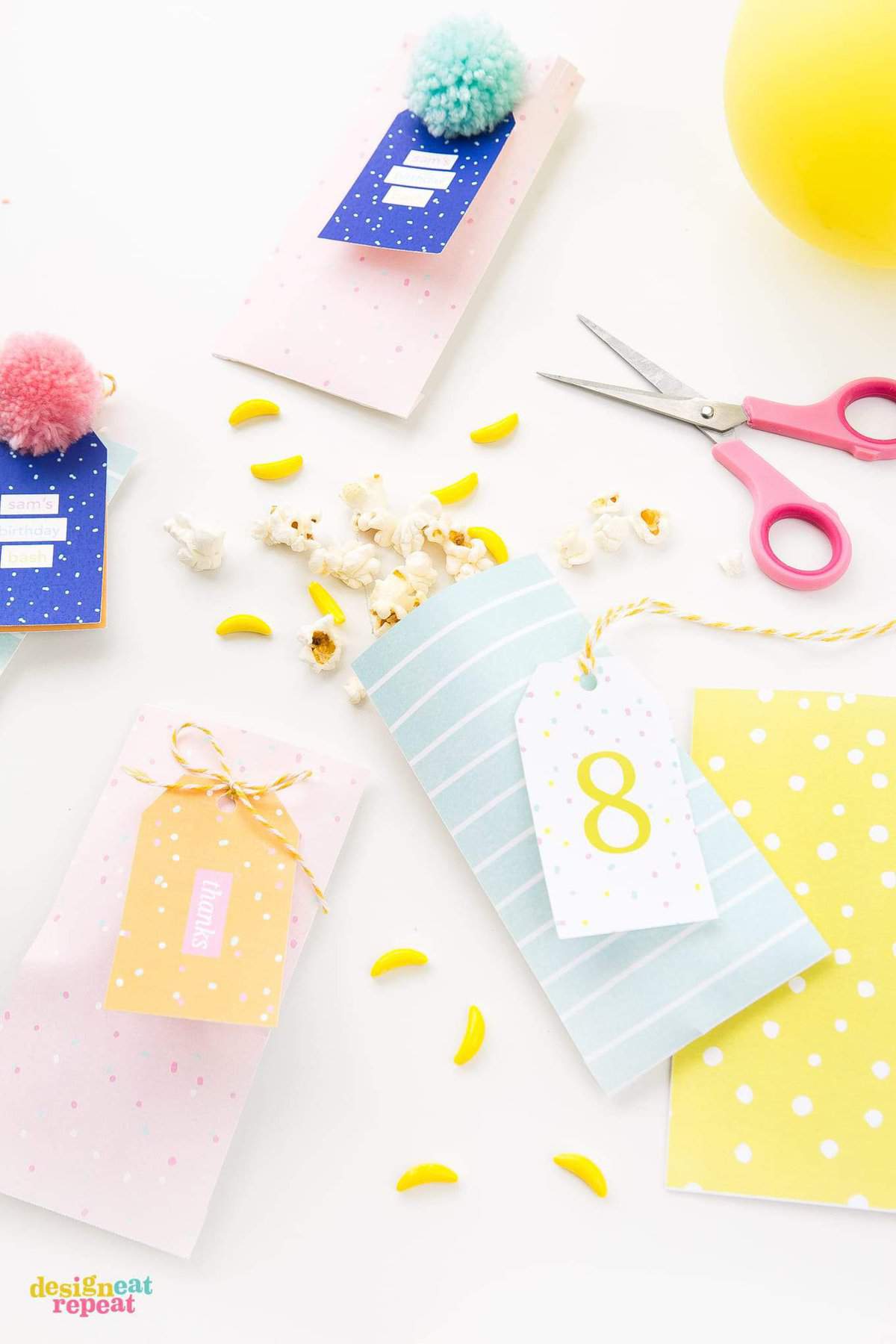 Step 2: Print & Attach
Print on Avery Printable Tags (#22802), tear away from sheet, and gift away!
Tip: Pair with my free printable confetti treat bags to complete the party favor!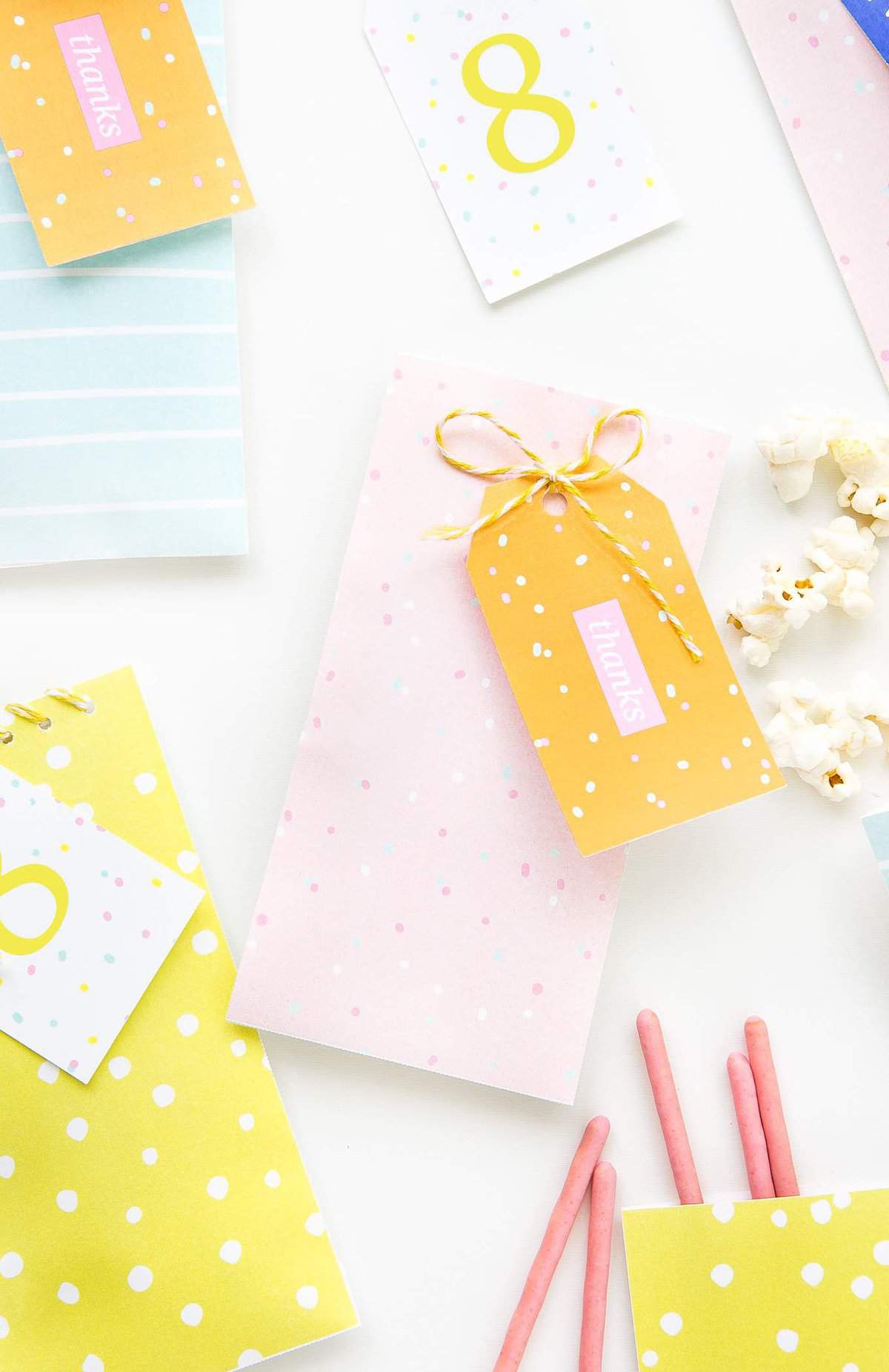 This particular set was designed with 3 things in mind:
"Thanks" – perfect for attaching to treat bags and handing out as little "thanks for coming" party favors. Or just as a general thank you gift tag.
The "Number" design is meant to be customized to the child's age. Attach to treat bags as party favors or add to a gift you are giving. These would also be fun if you're giving multiple gifts and want to number them to indicate which order to open them in!
"____ Birthday Bash" – Just like with all of these tags, you don't have to keep any of this text the same but I thought this was a fun phrase to attach to party favors. Because the Avery Design & Print Online is fully editable, you could switch out the text to say "Happy Birthday Sam" or even add or take away the white boxes for shorter or longer phrases.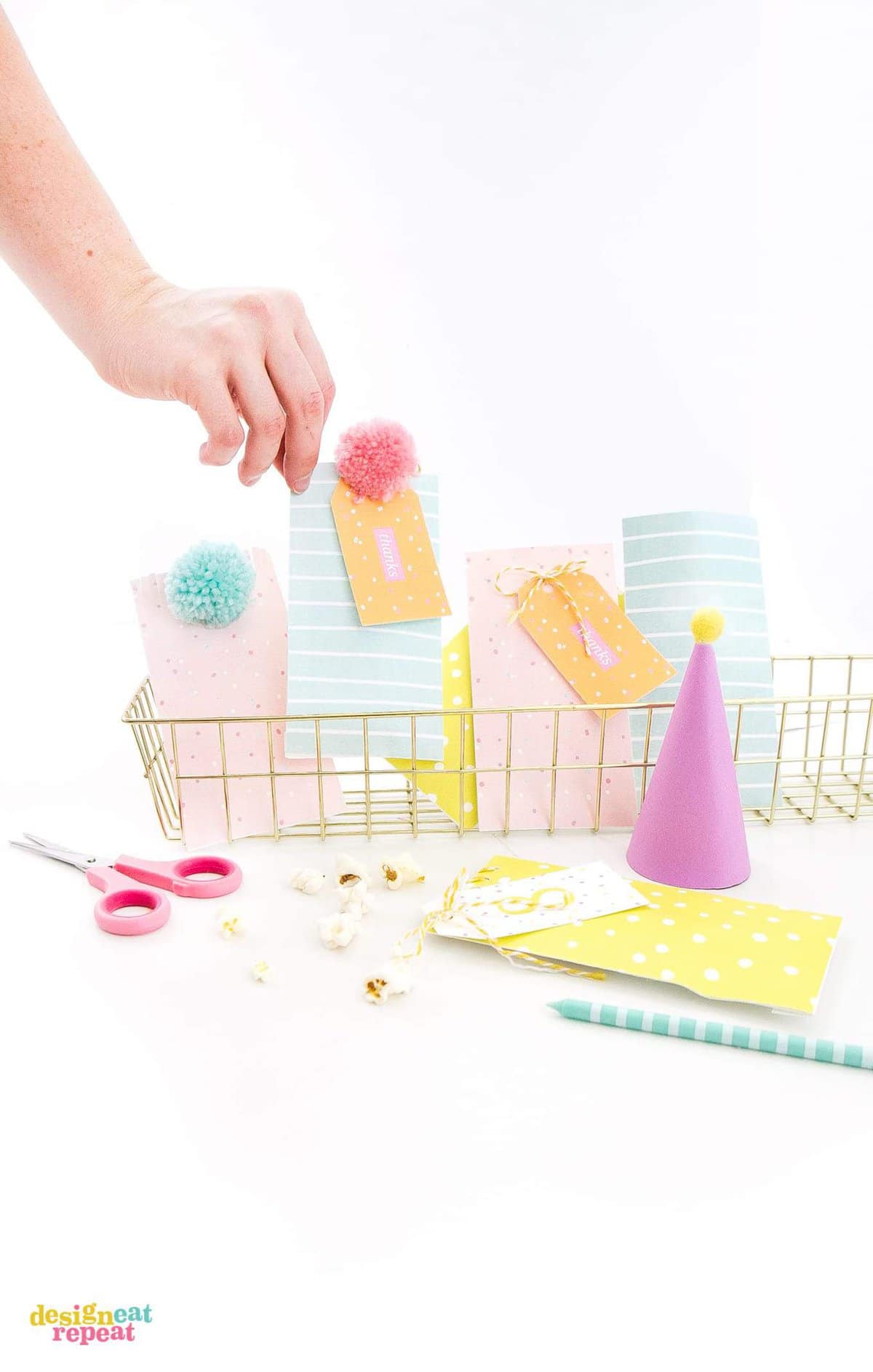 Once personalized & printed, attach to your treat boxes or bags and set them in a cute basket for guests to snag on their way out.
Ideas for Filling the Party Favor Treat Bags:
Some of my favorite things to fill party favor bags are:
Candy (obviously)
Popcorn
Mini sketchpads
Cute pencils
lip balm
other small trinkets that the kids will actually use instead of forgetting about in 10 minutes. Am I right?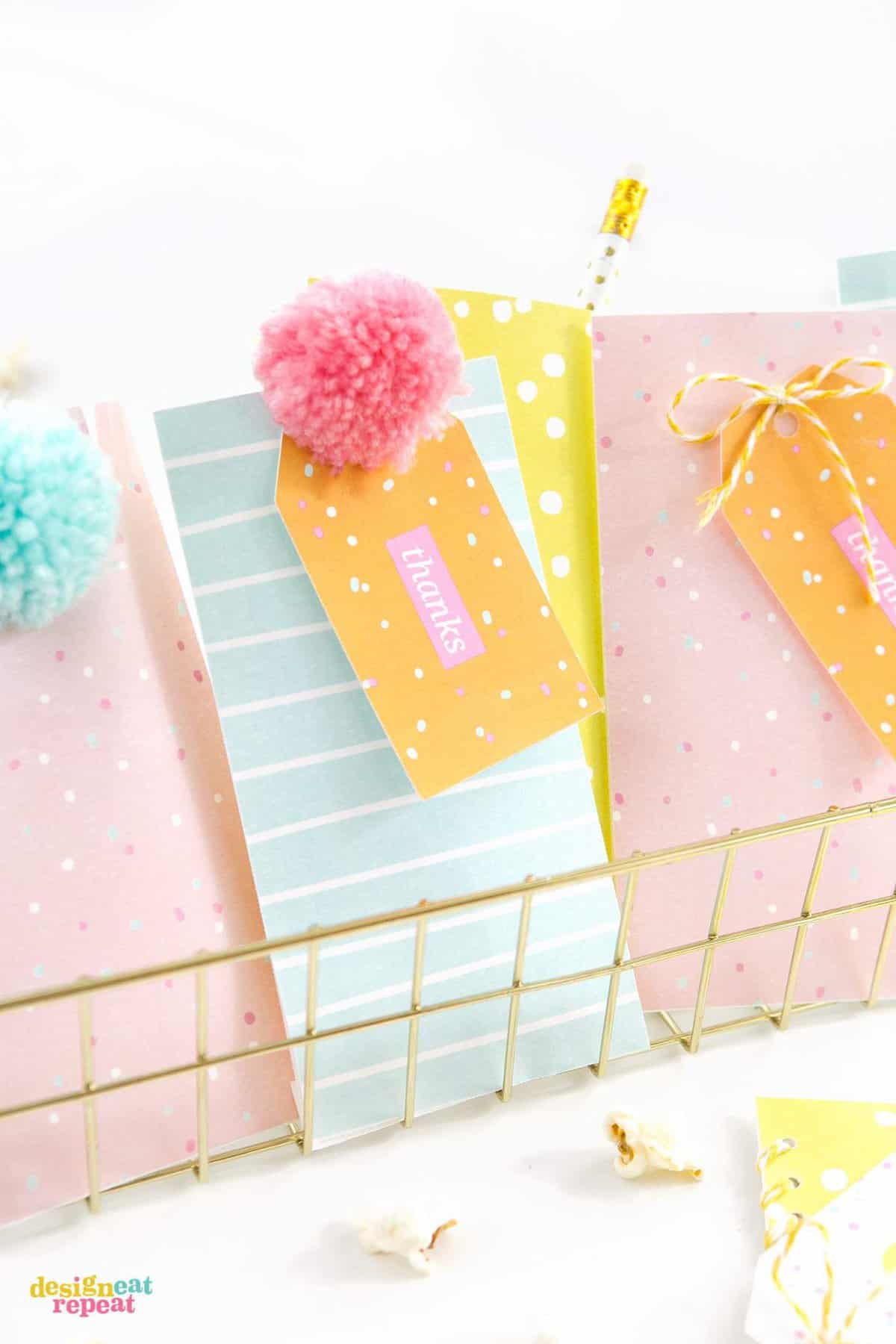 Please note that these files are for personal use only and redistribution or reselling for commercial use is strictly prohibited. If you would like to spread the word about this printable, you are free to do so but (A) must link directly back to this post for download (please do not link directly to the printable download file) and (B) may only use one image from the post. Thank you for your cooperation!