Whip up these easy Zombie Halloween Rice Krispie Treats for a fun & cute party idea! With just a few ingredients, you can make these cute little gremlins for the kids to gobble up.
I'll admit it right here, right now. I'm the biggest scaredy-cat when it comes to scary movies. Whether they're filled with zombies or any form of violence, I'd much rather just be spending my time baking or crafting. It's the reason I'll likely answer 'no' to any sentence that starts with, 'have you seen that movie where…?' and also why I'm the lamest person to talk about any type of current events in hollywood movies.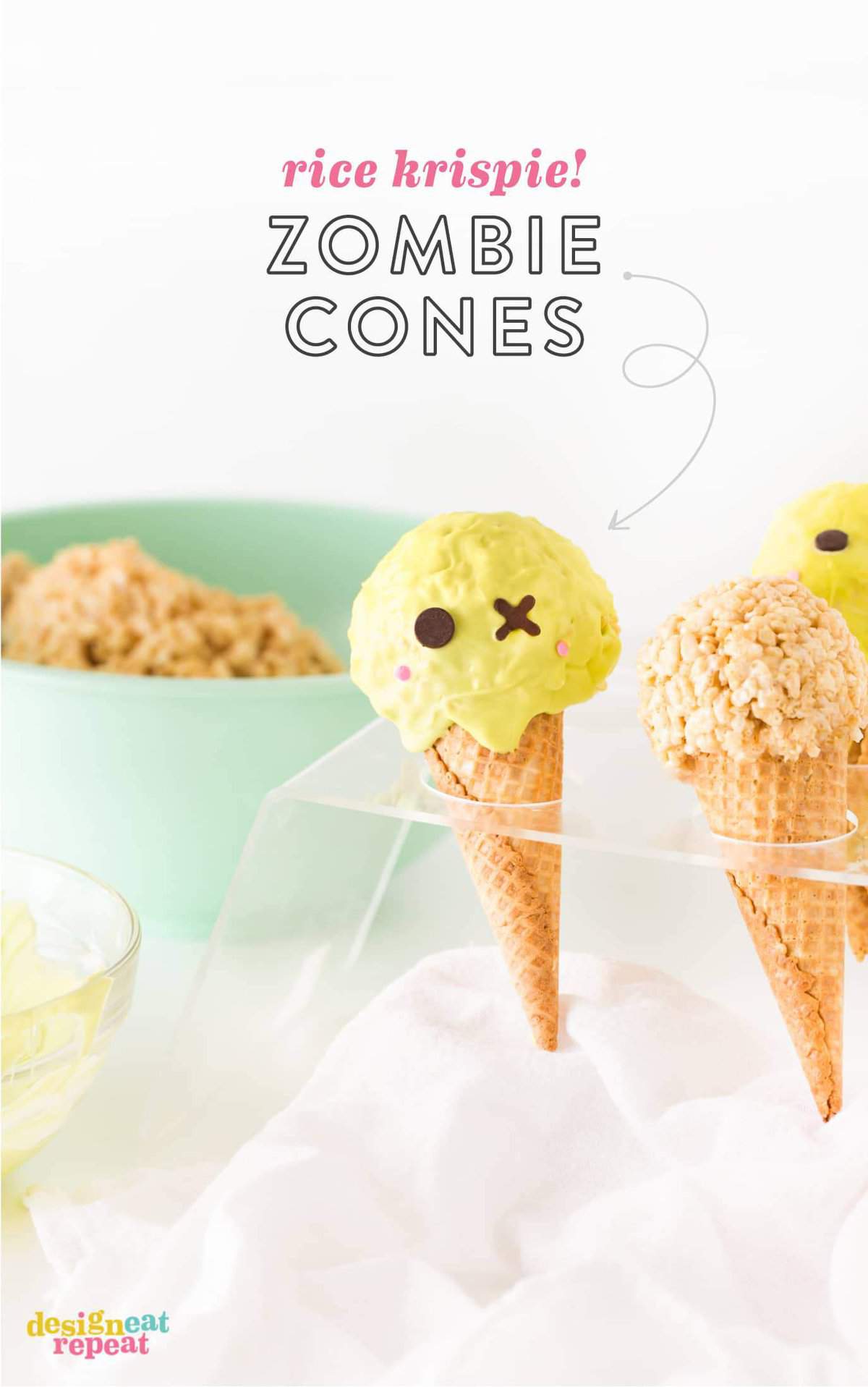 So while it might be surprising that Halloween is my one of my favorite holidays, I can assure you that my love for this supposed-to-be-scary holiday does not revolve around scary movies or haunted houses (my second least favorite activity). My love stems from being able to make a bunch of CUTE and non-scary treats and crafts.
So today I'm officially kicking off Halloween crafting here on the blog with these cute little zombie halloween rice krispie treats! With just a few basic ingredients, you can whip up these easy cones for your upcoming Halloween party or just as a fun activity for the kids.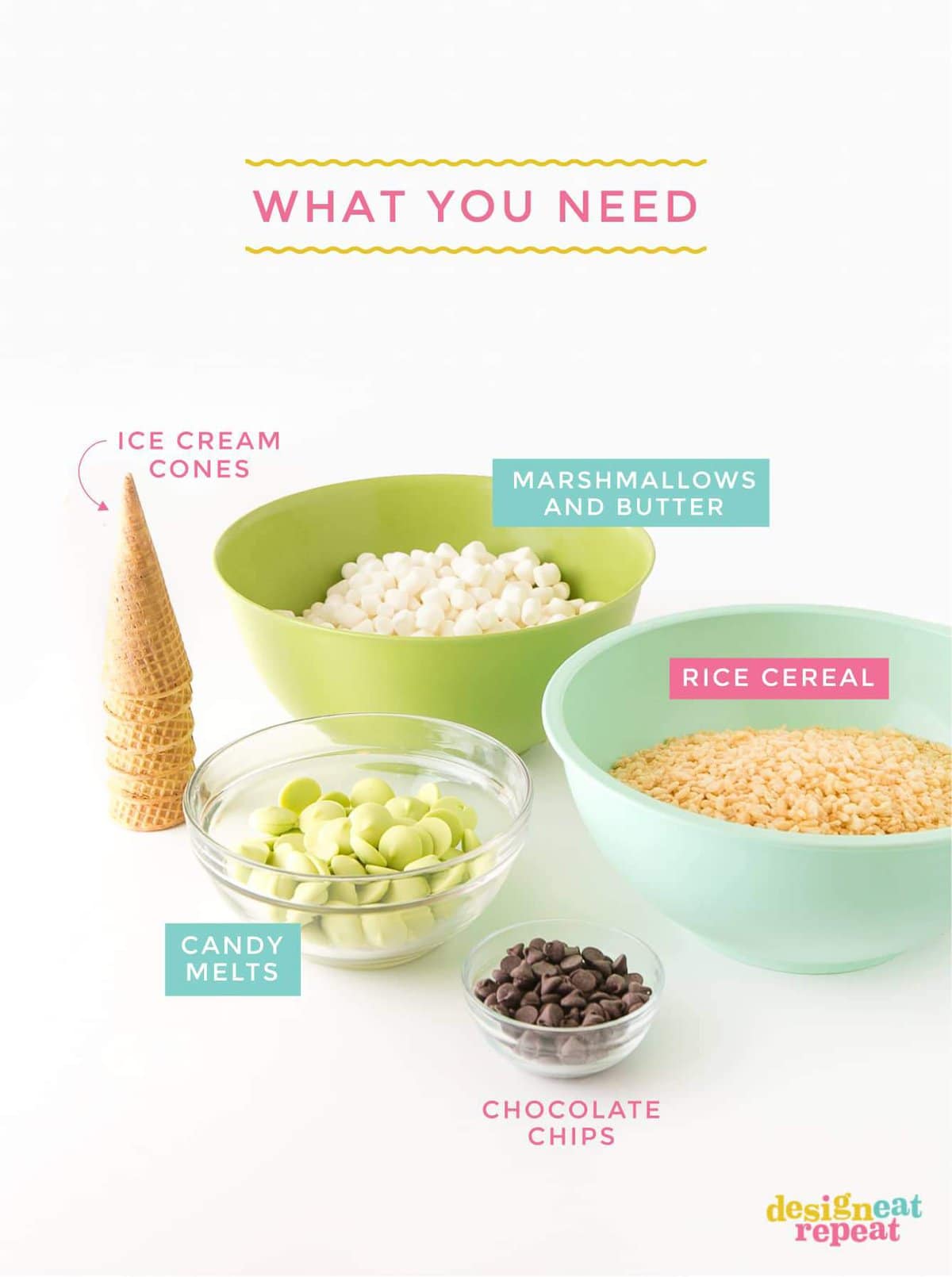 What You Need for Zombie Halloween Rice Krispie Treats
Rice Krispie Treat Recipe (see below)
8-10 Ice Cream Cones
12 Semi-Sweet Chocolate Chips + 3 more tablespoons to melt for "X" eyes
12 oz. bag of Green Candy Melts
Optional: Round Pink Sprinkles For Cheeks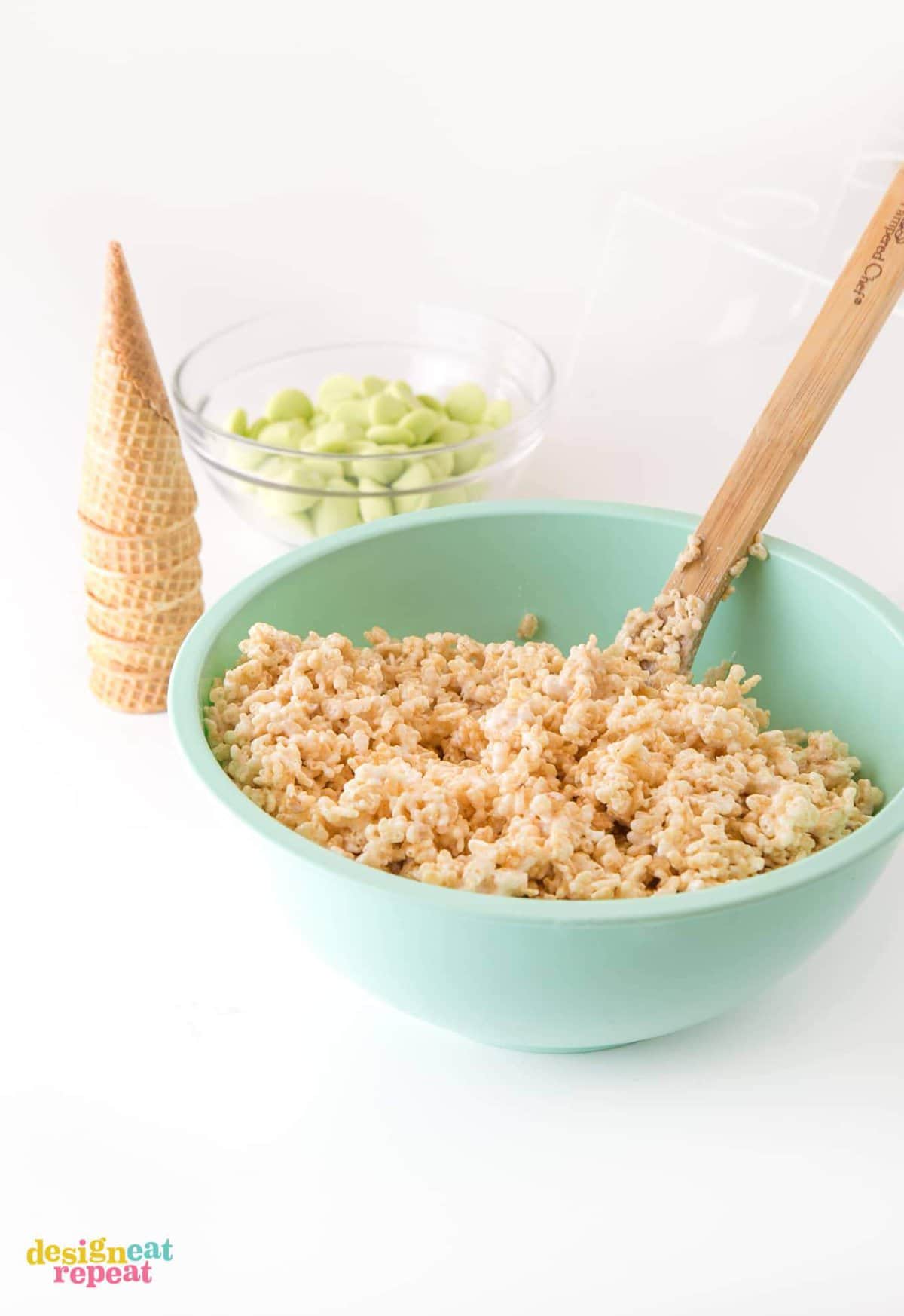 How to Make Zombie Halloween Rice Krispie Treats:
After making rice krispie treats (recipe below) and allowing mixture to cool, gently press a about 1 tablespoon of the mixture inside each ice cream cone to "fill" the cone.
Scoop remaining mixture into compact, pressed 3-inch sized balls and press onto each cone. Let cool completely for 15-20 minutes.
While cones are cooling, line a baking sheet with parchment or wax paper.
Melt 3 tablespoons of chocolate in microwave at 50% power. Stir until smooth then scoop chocolate into a plastic bag, snipping off a small piece of one corner. Pipe small "X's" for the eyeballs directly on the parchment and allow to harden.
Once rice krispie cones are completely cool, spoon melted candy melts over each rice krispie cone and smooth with knife.
Immediately after (while candy melts are still wet), press a chocolate chip, "X" eyeball, and the sprinkle cheeks into each one to create the face.
Serve them on a plate or individually wrap each one in a plastic bag and finish off with a cute printable Halloween gift tag!
Yield: Makes 8-10 zombie cones, depending on how much "filling" you use for each one.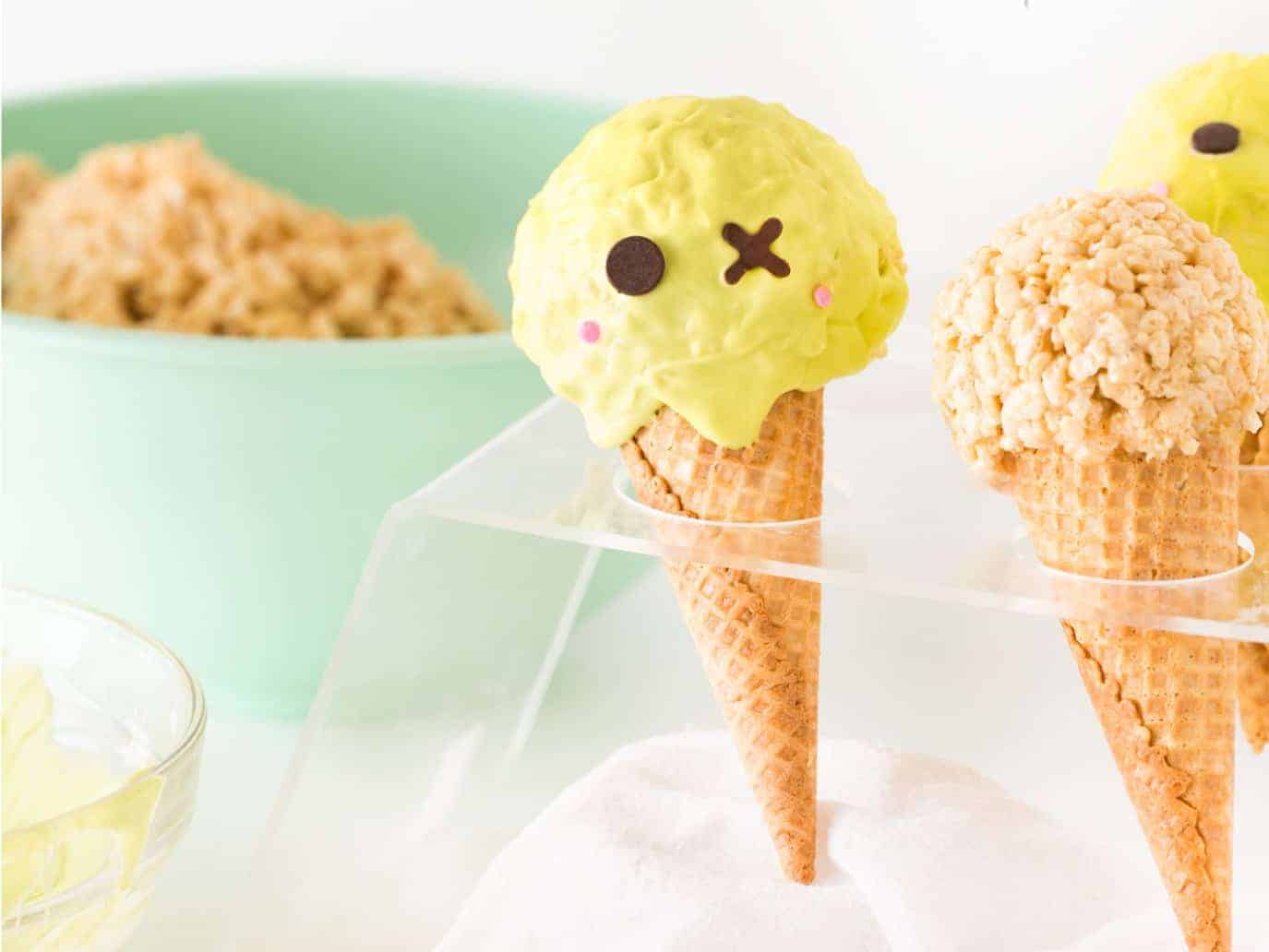 Cute Zombie Halloween Rice Krispie Treats
Whip up these easy Zombie Halloween Rice Krispie Treats for a fun & cute party idea! With just a few ingredients, you can make these cute little gremlins for the kids to gobble up.
Prep Time: 15 minutes
Cook Time: 15 minutes
Total Time: 30 minutes
Course: Dessert
Category: Kids Treats
Servings: 10
Ingredients
10 ounce bag mini marshmallows about 4 cups
1/4 cup unsalted butter not margarine
6 cups Rice Krispies cereal
Green Candy Wafers or white wafers + green food coloring
Chocolate chips for eyes
Optional: Round pink sprinkles for cheeks
Instructions
In a large saucepan, melt butter over low heat.

Add marshmallows and stir until completely melted. Remove from heat.

Add rice krispies cereal and stir until all the cereal is coated.

Pour mixture into a large heat-resistant bowl and let cool for 15-20 minutes before rolling into balls. If you try to shape them while they're still hot, you'll have a hard time shaping them. Just don't let them sit too long or they'll turn hard.

Follow the instructions in the post above for instructions to make zombie Halloween rice krispie treats.
Nutrition
Calories: 194kcal
Fat: 5g
Saturated fat: 3g
Cholesterol: 12mg
Sodium: 111mg
Potassium: 21mg
Carbohydrates: 37g
Sugar: 17g
Protein: 1g
Vitamin A: 1260%
Vitamin C: 10.6%
Calcium: 1%
Iron: 5.2%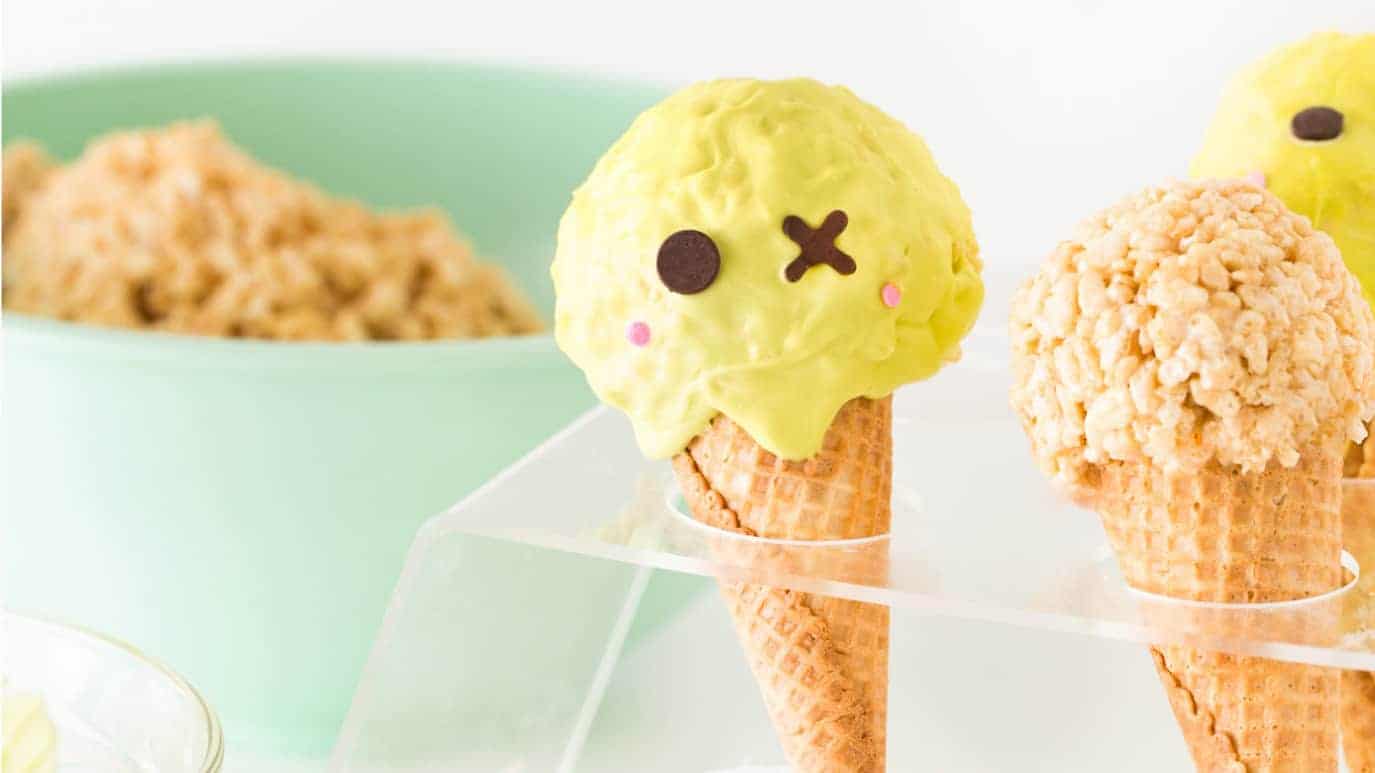 So tell me in the comments below, are you a scary or cute type of Halloween decorator?