There's no such guilt like walking past a group of 10 year olds selling girl scout cookies at the grocery store doors and not stopping at the table. It's like crushing entrepreneurial dreams at such a young age. I don't care how many dollars those dang boxes skyrocketed upwards over the years, I just can't bring myself to do it. I mean, it shouldn't be so hard to walk away from. It's not like they're even selling anything I *want.
*Lies. Give me all the thin mints.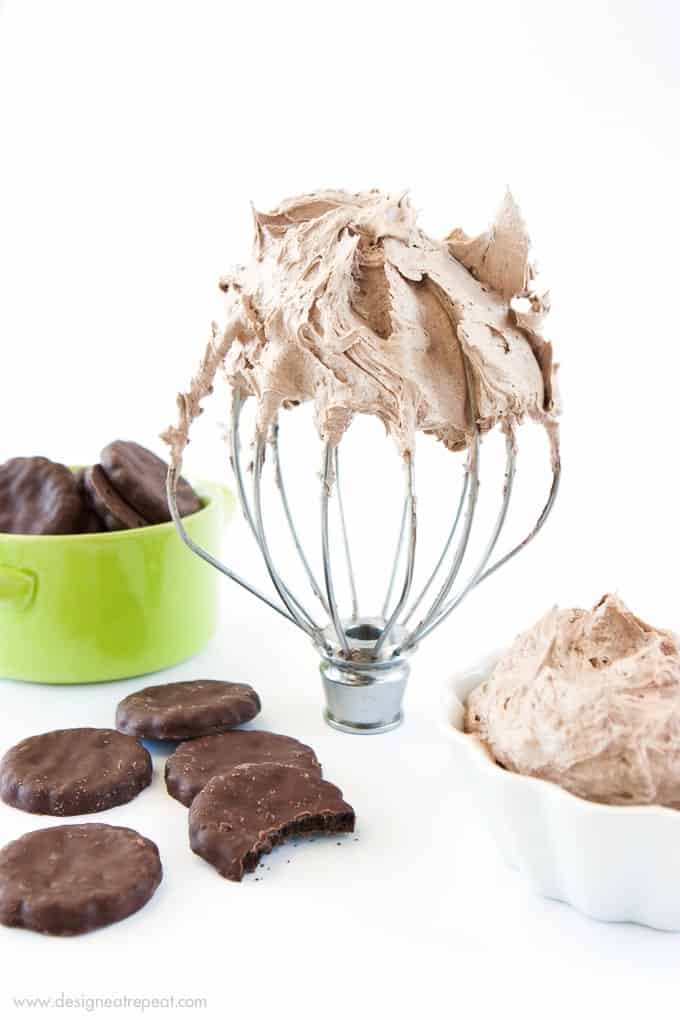 I never really understood why all of us Girl Scouts had to sell cookies, but now I know exactly why they enlist the most adorable children to sell the world's most sinful cookies. You literally cannot turn them down. When I was at the store the other day, one of them said something to the effect of, "Would you like to buy some Girl Scout Cookies? Thin Mints and Caramel Delights are our best sellers." (What young little sales people.) Little did they know that no selling tactics really have to be used on me or probably 95% of this population. Girls, no need to convince me. I already know what your best sellers are. And I'll take every box you own one box.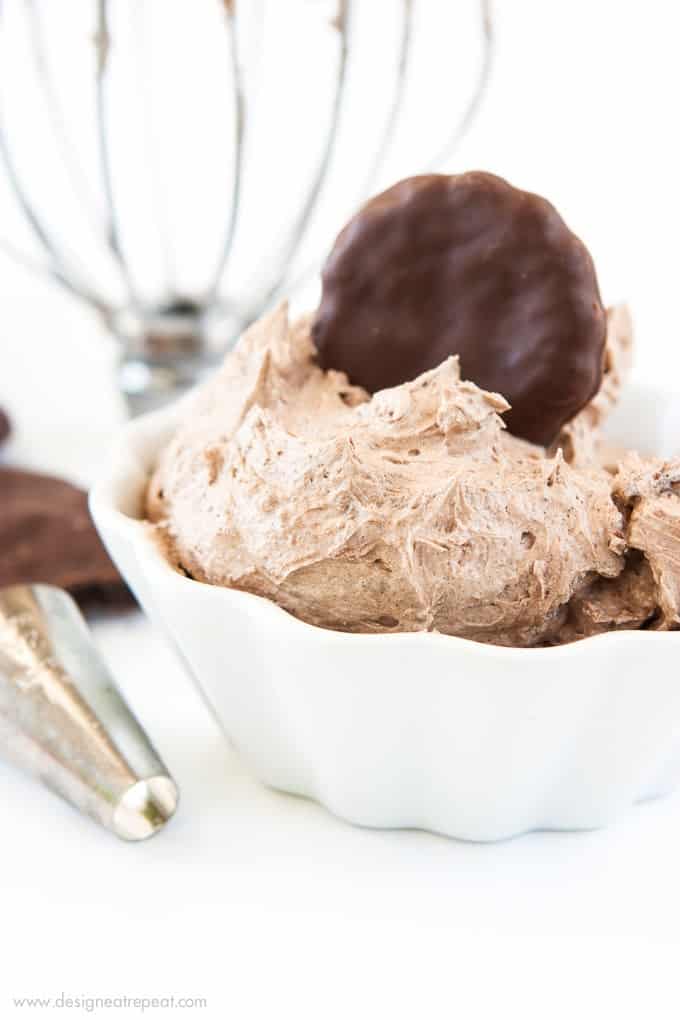 But here's the plot twist. I wouldn't dare crush up a box of $4.00 cookies so I used the next best thing to make this mint buttercream frosting. Have you guys seen those copy cat thin mints at the store before? Well, they're like half the price, taste the same (to me anyways), and available all year round – so that's what I used. I don't know who they hired from Keebler to sneak in and steal the recipe from innocent children, but I suppose it's one ransack I can stand behind because they really do taste the same as their overpriced counterparts.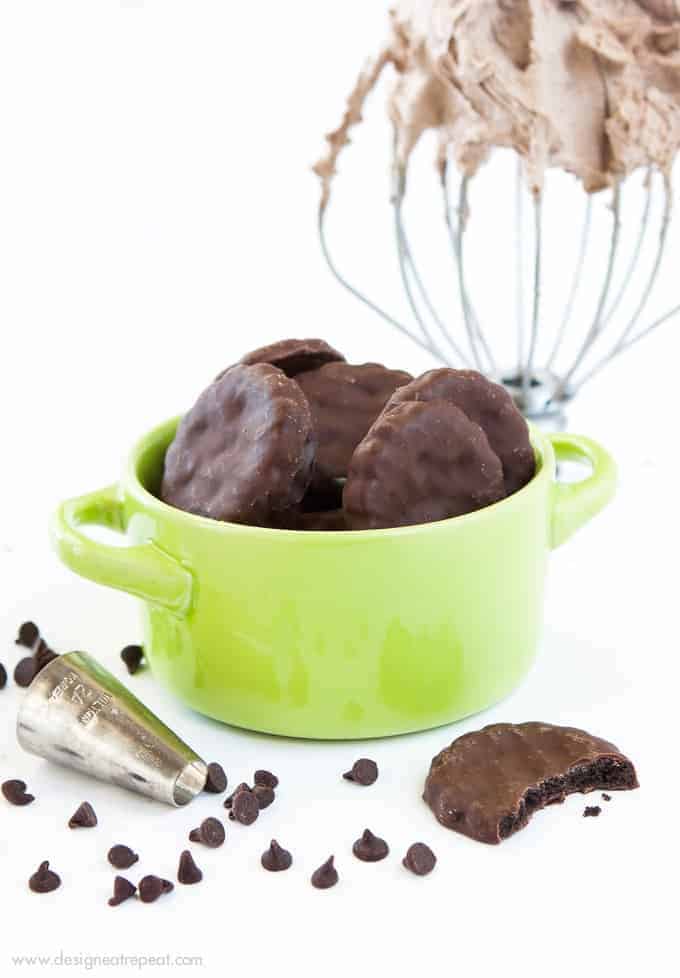 I've recently become hooked on experimenting with different buttercream recipes, so I figured a girl scout thin mint inspired one was in order considering St. Patrick's Day is just around the corner and mint-everything seems to take over the interwebs this time of year. It's easy to make, super *light and creamy, and makes an irresistible topping to your favorite homemade or boxed mix cakes and cupcakes. I've never been able to master a good homemade chocolate cupcake recipe, so boxed cake mixes usually win in pretty much all the rating departments. But despite me cheating on the actual cake part, I do like making homemade buttercreams to give it a semi-homemade taste. Pipe this thin mint buttercream frosting on a rich chocolate cupcake, top with crushed or whole thin mints, and watch your peeps fall in love with you.
* Light as in texture, not exactly calories ;)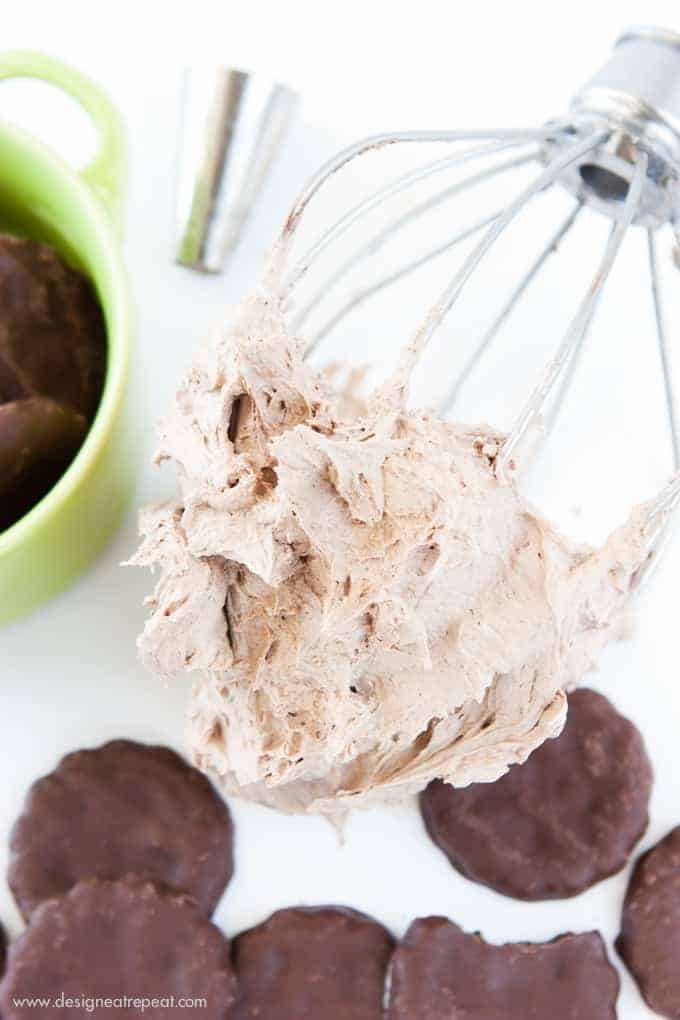 Thin Mint Buttercream
It's easy to make, super *light and creamy, and makes an irresistible topping to your favorite homemade or boxed mix cakes and cupcakes.
Prep Time: 10 minutes
Total Time: 10 minutes
Course: Dessert
Category: Cake
Servings: 1 cup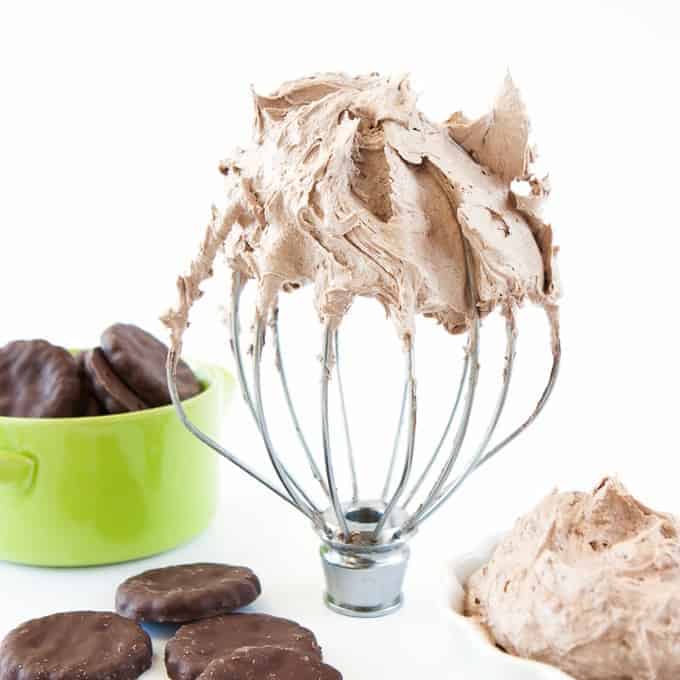 Ingredients
1/2 cup unsalted butter room temperature
1 1/2 cup powdered sugar
1/2 cup semi-sweet chocolate chips
1/4 cup heavy cream
1 teaspoon vanilla
1/2 teaspoon mint extract
10 thin mint cookies crushed into a powder
Instructions
Melt chocolate chips in the microwave or in a small saucepan on low heat, stirring frequently. Once melted, remove from heat, stir until smooth, and then set aside. Allow to cool at least 5 minutes before proceeding.

In a separate large bowl, beat the butter on medium speed using a hand or stand mixer (with paddle attachment) for 2-3 minutes (until creamy).

Slowly add in powdered sugar, followed by the melted chocolate, heavy cream, vanilla, and mint extract and continue mixing on high speed for 2 minutes. Add crushed thin mint cookies. Once everything is added, slowly turn the mixer up to high speed and beat for 3-4 minutes.
Recipe Notes
If frosting is too thin, feel free to add more powdered sugar until it is your desired consistency. If frosting is too thick, you may add more heavy cream.
Nutrition
Calories: 2517kcal
Fat: 157g
Saturated fat: 94g
Cholesterol: 332mg
Sodium: 462mg
Potassium: 680mg
Carbohydrates: 272g
Fiber: 9g
Sugar: 227g
Protein: 11g
Vitamin A: 3710%
Calcium: 140%
Iron: 8.1%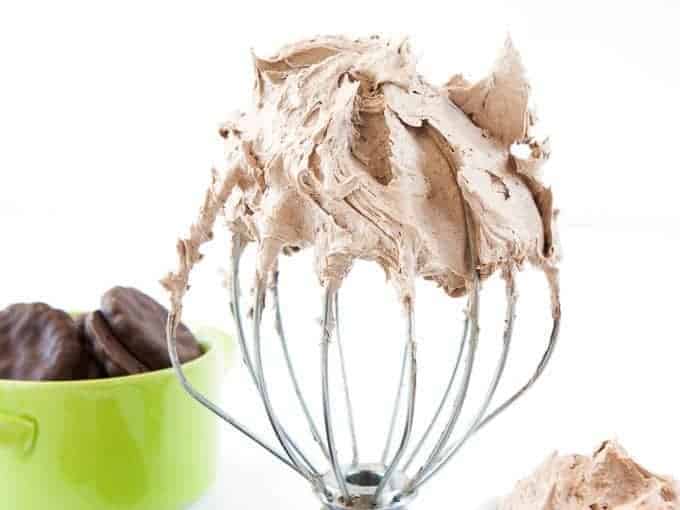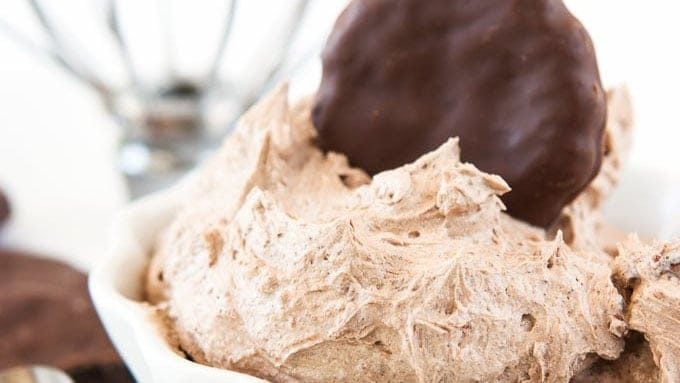 I've got anther buttercream frosting planned for next week (hint, hint), but in the meantime, what is your favorite Girl Scout cookie? I'm a even tie between Thin Mints and Caramel Delights (aka. Samoas in some places), and really have no interest in the other ones. I mean, maybe if they started some kind of ex-girl scout discount program I'd be more interested (sidenote: why don't they have that?! Don't all those nights in tents during tornado warnings count for something?). But until then, I'll just stick with the basics and continue hiding the box (from myself) in the back of my freezer hoping that the cold temps freeze away some of those calories before I remember they're in there.