Homemade caramel and I have always had a love/hate relationship. Love as in ohmygoshyum. Hate as in it's a hit or miss type of thing in terms of getting it just right. I'm not going to go into detail about it because I've already talked about it before and quite frankly, it's exhausting to mentally revisit all those caramel mishaps. Homemade caramel is just one of those things that you can hope for the best, but just have to prepare for the worst. Sometimes it turns out as smooth as butter, and then other times it's hard enough that you could pave every highway in America with it and it wouldn't crack for 100 years.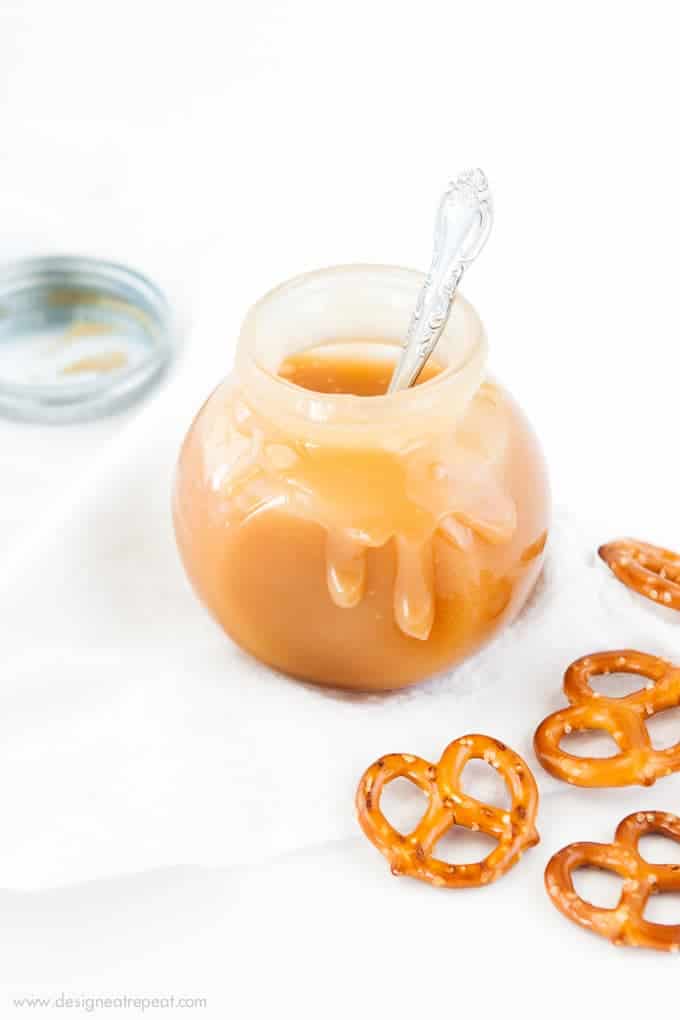 So when I started seeing all these recipes online for microwave caramel sauce, I was skeptical. You're telling me that I can make liquid gold in under 5 minutes without a candy thermometer? In. the. microwave? I wasn't about to believe these too-good-to-be-true infomercial-ish type claims. I needed to test this one out myself. I had some leftover heavy cream on hand so I figured I'd give it a shot. What was the worst that could happen? I burn a cup of sugar? Ehhh, I've had worse kitchen fails in my day.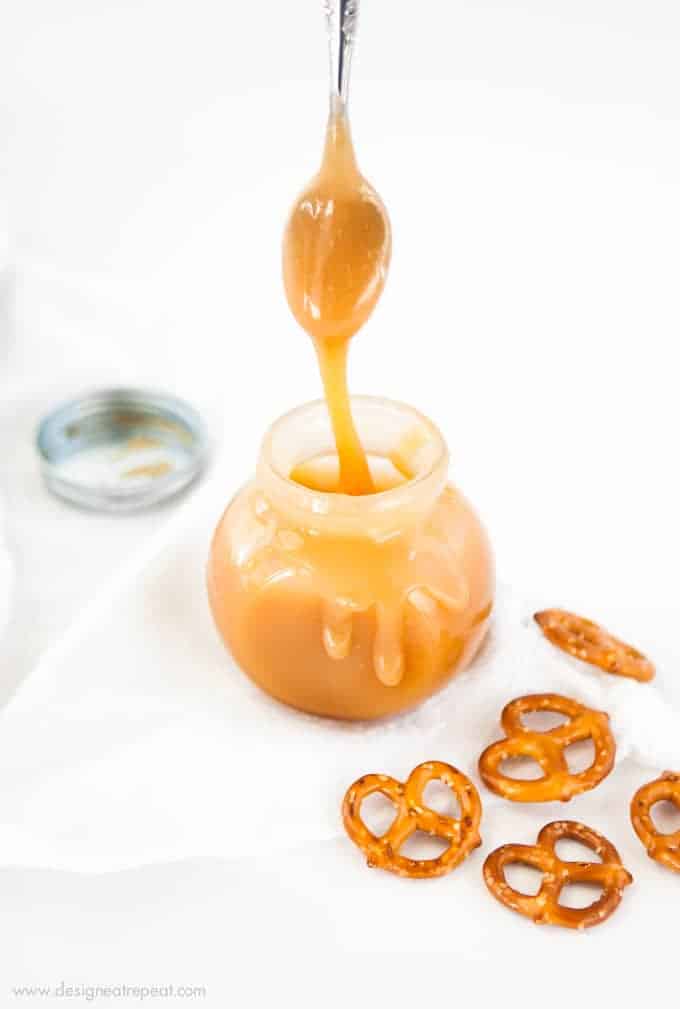 So I scooped that sugar into the glass measuring cup, added a few other things I already had in my cupboard, and set it loose in the microwave. And after 4 1/2 minutes of anxiously watching that turntable spin, I pulled out that boiling sugar, added in the cream, butter, and vanilla and gave it a little stir. And what awaited me was not a hard chunk of sugar. It was a golden, creamy, cup of liquid gold that came straight out of my own kitchen. IT WAS A MIRACLE. It took everything I had not to dip my finger right into that boiling cup of temptation.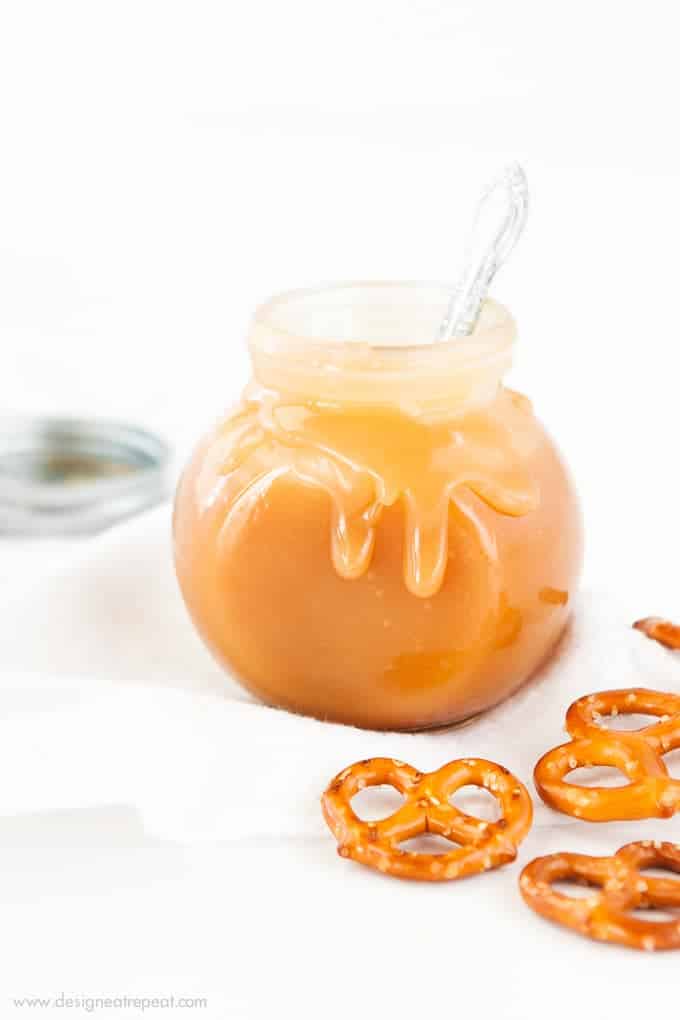 After the initial excitement of a caramel success and the gold actually cooled down a bit, I gave it a little test by dipping in some pretzels. Yes, yum. And then tried it on a scoop of ice cream. Double yes and double yum. I realize about 3% of the population will probably know what I'm talking about on this, but: How many of you have heard of Schwans? (Like the truck that comes to your house and sells you amazing, overpriced ice cream and other frozen goods? I only ask because I don't know if it's a country-wide thing, or just certain states). Well, they have this heavenly dulce de leche ice cream (or they used to at least), and this caramel poured on some vanilla ice cream tastes exactly like it. I haven't had it since probably high school, but it only took 5 minutes of pondering this flavor to realize I had just created something equivalent to that childhood love. Probably one of my greatest life successes to date.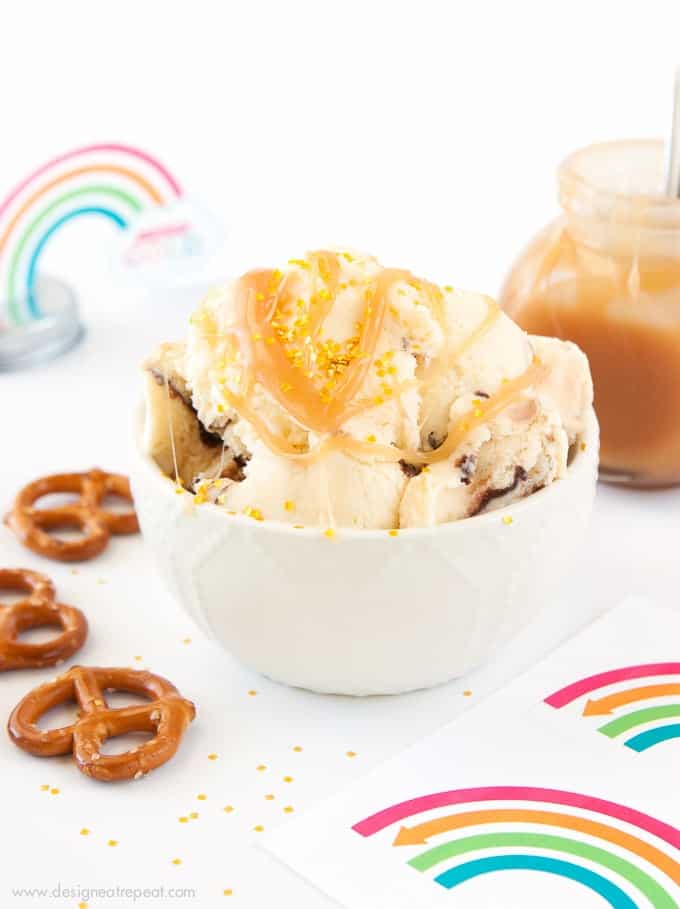 Microwave Salted Caramel Sauce
An easy microwave caramel sauce to use as a topping on ice cream, brownies, or inside fudge.
Adapted from Cooks Illustrated
Prep Time: 10 minutes
Cook Time: 10 minutes
Total Time: 20 minutes
Course: Dessert
Category: Ice Cream
Servings: 16
Ingredients
1 cup sugar
2 tablespoons light corn syrup (I recommend Karo brand)
2 tablespoons water
1/8 teaspoon freshly squeezed lemon juice
1/2 cup hot heavy cream
1 tablespoon butter
1/2 teaspoon vanilla extract
1/4 teaspoon salt
Before you begin! If you make this, will you do me a huge favor and leave a review and rating letting me know how you liked this recipe? This helps my small business thrive so I can continue providing free recipes and high-quality content for you.
Instructions
Stir together sugar, corn syrup, water and lemon juice together in a 2-cup microwave-safe measuring cup or medium glass bowl.

Microwave for 4-5 minutes until the mixture starts to become a pale amber color. You will need to watch it very closely, and remove it from the microwave (using a hot pad) as soon as it starts to turn a pale amber color. (All microwaves vary, but mine took 4.5 minutes). If you leave it in too long, it will burn. Allow the mixture to sit undisturbed on the counter for about 1 minute, allowing it to continue to cook & turn slightly darker (the long you let it sit, the darker it will get).

Very slowly add in the hot heavy cream 2 tablespoons at a time and stir between each addition. The mixture will vigorously bubble with the addition of the hot cream, so do not pour the entire 1/2 cup in at one time.

Once all the cream is added, stir in the butter, vanilla, and salt. Continue stirring until creamy. Allow to cool 30-60 minutes before serving.

If not serving immediately, pour into glass jar and store in refrigerator for up 2-3 weeks. Caramel will become stiffer in the fridge, so you can gently reheat it when you want to use it.
Last Step! Please leave a review and rating letting me know how you liked this recipe! This helps my small business thrive so I can continue providing free recipes and high-quality content for you.
Recipe Notes
Makes 1 cup of caramel sauce (nutrition facts based on serving size of 1 tablespoon).
Nutrition
Calories: 88kcal
Fat: 3g
Saturated fat: 2g
Cholesterol: 12mg
Sodium: 47mg
Potassium: 5mg
Carbohydrates: 14g
Sugar: 14g
Vitamin A: 130%
Calcium: 5%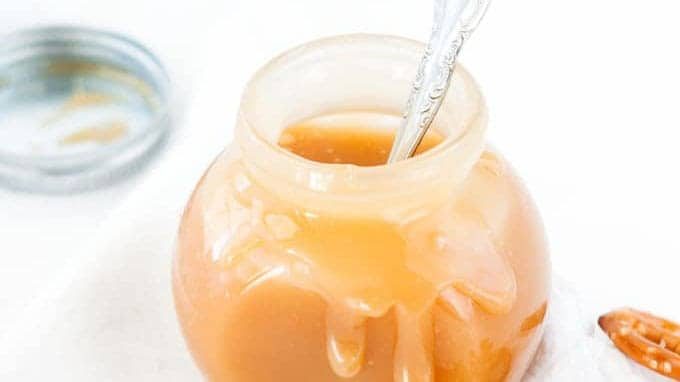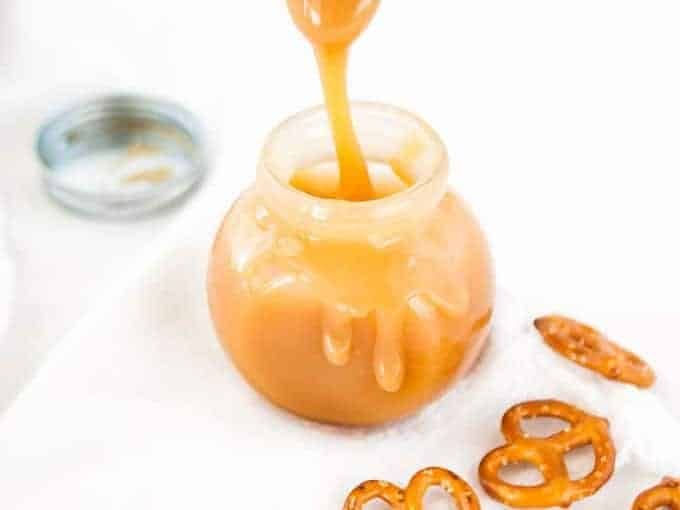 Have you tried making homemade caramel sauce before? If not, you need to give it a try! So much better than the premade jars from the store, and it really isn't hard to make! Because all microwaves cook at different heat levels, you may need to sacrifice a batch before getting the timing just right, but it will be all worth it when you taste the sweet, sweet glory.
I'll be posting a free printable to help you gift these jars of liquid gold for St. Patrick's Day, so be sure to stop back in tomorrow to snag that up! Finally putting all these tiny Target dollar section jars to use!