Caramel, caramel. Oh' sweet, Caramel. There's not much to tell you, other than the fact that I love you. Sometimes. You see, caramel and I go way back. Way back to my junior high days when I actually discovered how to make caramel. It was a revolutionary moment to say the least. I brought a bag of it to a football game, and it's safe to say that I was begged to bring it to every game there after. Who needs nachos, popcorn, and pizza when you have a sticky bag of caramel to munch on during a football game? Not us fourteen year olds, that's for sure. I'm sure our parents didn't appreciate the increasing dental bill, but heck. You only live once, right? (Cue dentures by 30 here.)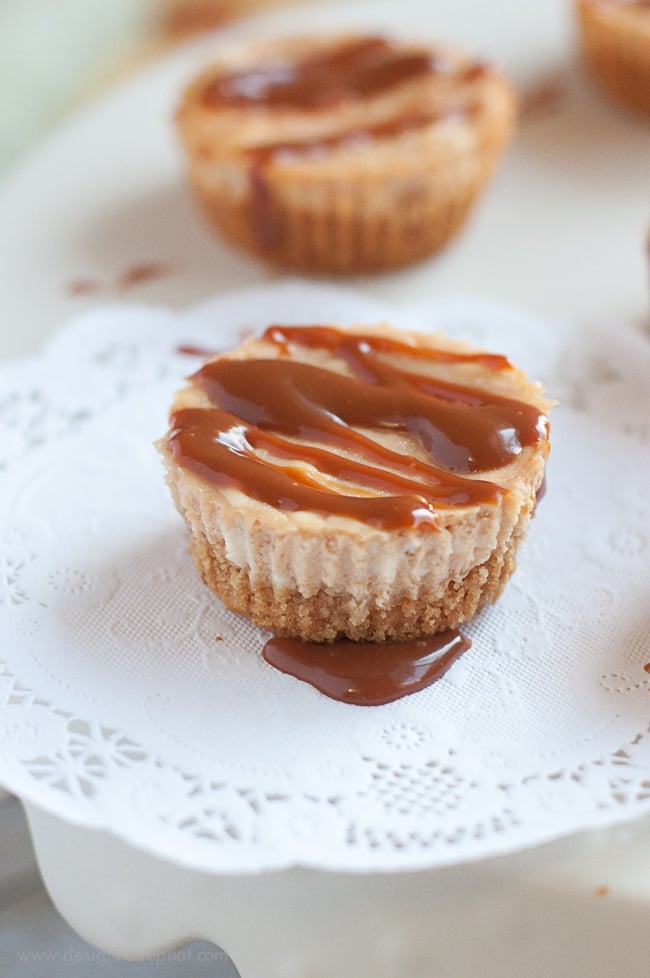 After high school, I lost my magic touch with caramel. It was the strangest thing. I literally could not get one batch to not turn rock solid. I'd like to think it was a faulty candy thermometer, but that might be stretching the story a bit. So as my caramel trials failed, so did my pride (I might tend to be overly dramatic when telling stories). It took me almost 4 years to try to make homemade caramel again. And when I did…three batches burnt in one day. You would have thought I would have stopped at the first batch, but no. Oh no. I was determined to make those caramel apples for a little Halloween party were throwing in Italy, and I was not about to stop at failure. Until the third batch, and then at that point failure was my only option. Let's just say that we had a nice big bowl of apples to get that party started.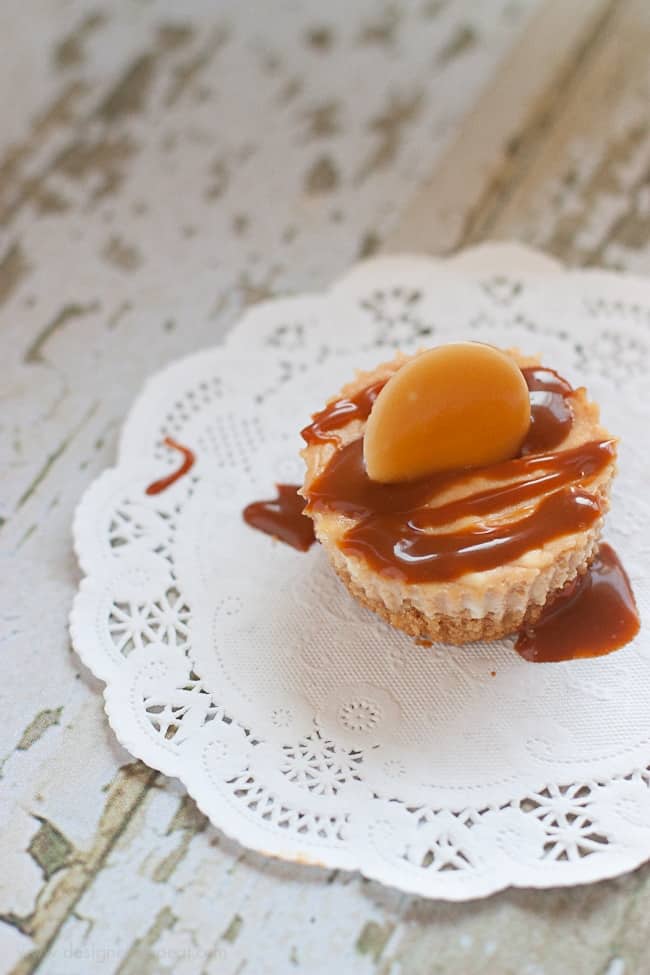 So at this point, you are probably thinking I'm about to turn this story around and start telling you about my recent caramel success. But today, I left it up to the pros from Fat Toad Farm to do all the dirty work for the caramel used in these mini caramel cheesecake bites. I had contacted this family-run farm a while back seeing if they would be interested in having me develop a recipe using their Goat's Milk Caramel. Why? Because A.) I had never tried anything with goat's milk, and I was a curious cat. And B.) It looked like heaven in a jar. Which to me are two good reasons for this unadventurous taster to try something new.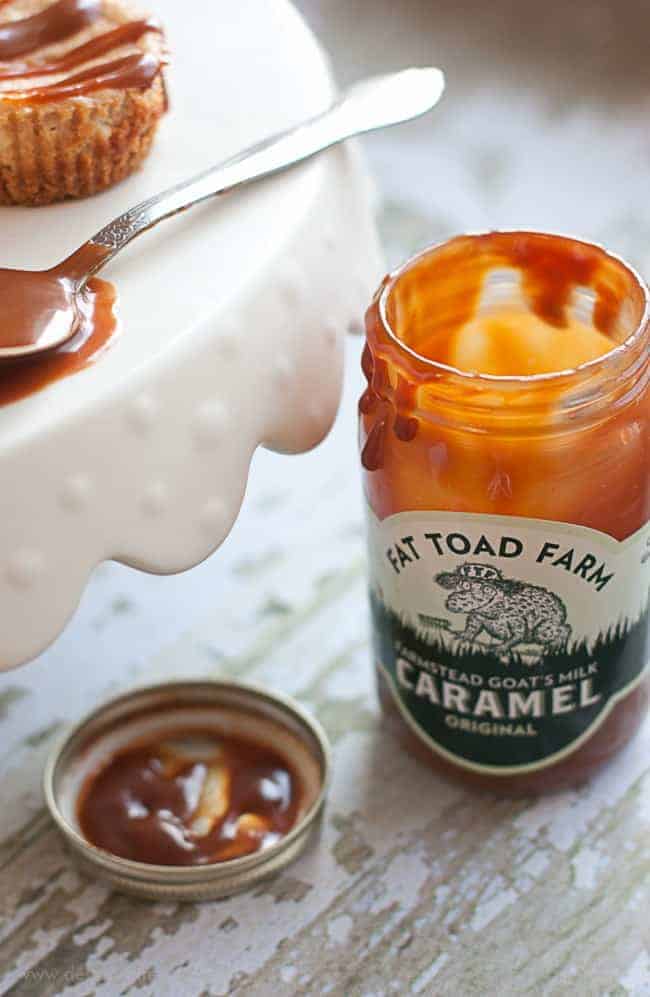 The verdict? Heaven in liquid form. Like I said before, I was a bit hesitant at first because the words "goat milk" makes me a little leery. I don't like regular milk, so basically, anything with the word milk gives me second thoughts. Unless it's milk chocolate, and then in that case, pour it on me. The original caramel jar I used gave the cheesecake bites a more tangy taste than the caramel I was used to making (or tried to make). It was a nice switch up from what I was used to, and the bites were a hit. Can you really go wrong with cheesecake bites smothered with thick & creamy caramel? Didn't think so.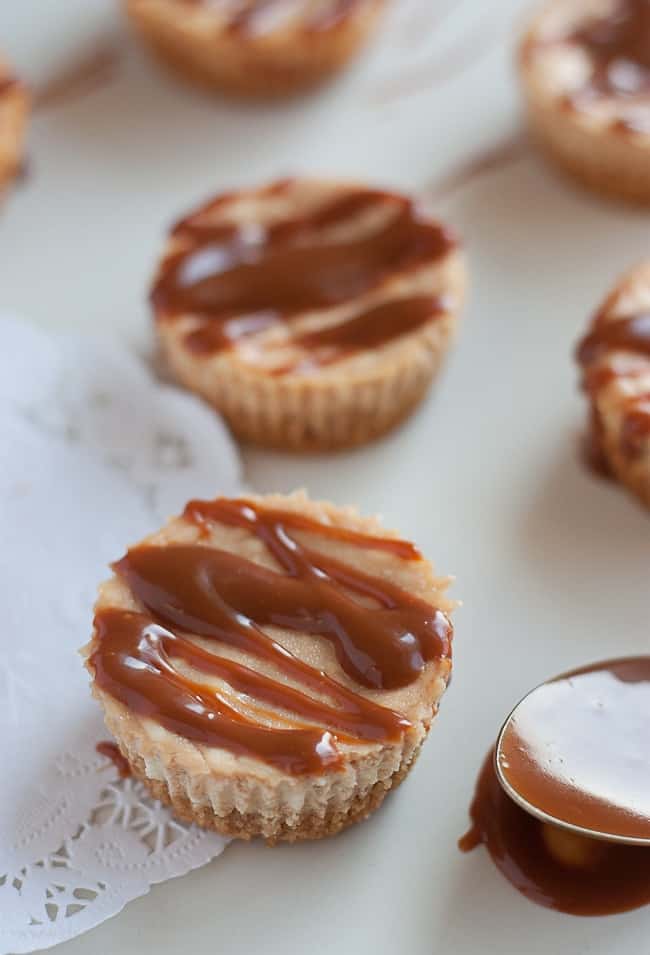 Mini Caramel Cheesecake Bites
Easy mini cheesecake bites perfect for party finger foods or just to serve as mini desserts.
Prep Time: 10 minutes
Cook Time: 15 minutes
Total Time: 25 minutes
Course: Dessert
Category: Easy Snack
Servings: 24 bites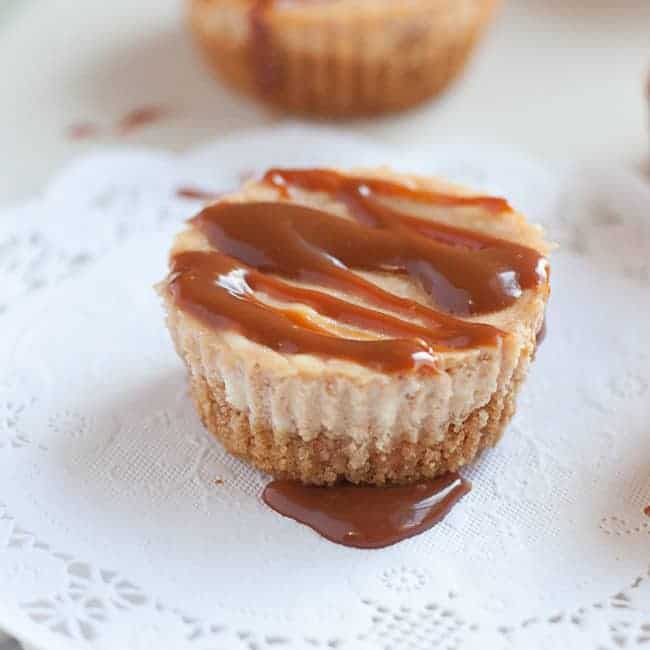 Ingredients
8 oz cream cheese, softened
1 egg
1 teaspoon vanilla
1/4 cup sugar
1/4 cup Caramel topping
1 cup graham cracker crumbs
2 tablespoons brown sugar
1/2 stick butter melted
1/4 cup Caramel topping
Before you begin! If you make this, will you do me a huge favor and leave a review and rating letting me know how you liked this recipe? This helps my small business thrive so I can continue providing free recipes and high-quality content for you.
Instructions
In a small bowl, combine graham cracker crumbs, brown sugar, and melted butter. Stir until combined and evenly distribute mixture between 12 lined

mini muffin tin

. Press down with hands until each is firmly packed down.

In another large bowl, beat together cream cheese, egg, vanilla, and sugar with an electric mixer for 30 seconds. Once combined, fold in caramel.

Spoon or pipe mixture into each muffin tin. Each muffin tin should be 1/2 to 3/4 full.

Bake at 375 degrees for 13-15 minutes. Remove from oven and allow them to cool before topping with caramel. I prefer to refrigerate cheesecake before serving, so you can wait to top with caramel until after refrigeration.
Last Step! Please leave a review and rating letting me know how you liked this recipe! This helps my small business thrive so I can continue providing free recipes and high-quality content for you.
Nutrition
Calories: 148kcal
Fat: 7g
Saturated fat: 3g
Cholesterol: 34mg
Sodium: 145mg
Potassium: 51mg
Carbohydrates: 18g
Sugar: 8g
Protein: 2g
Vitamin A: 280%
Calcium: 33%
Iron: 0.4%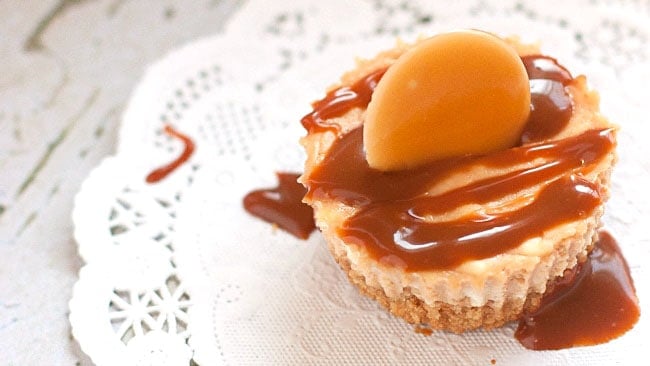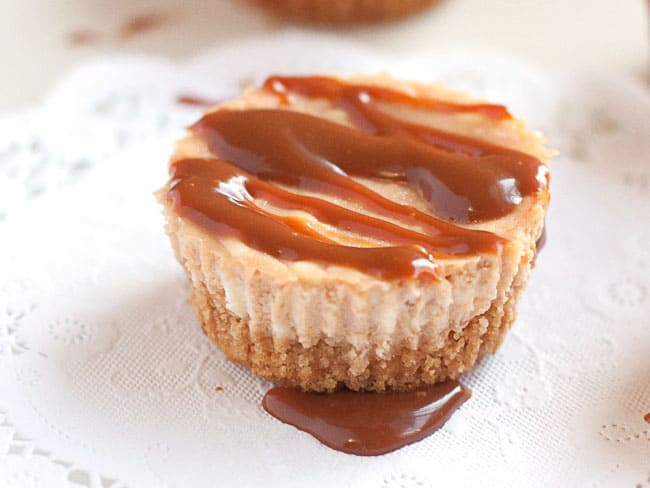 Have you ever tried making homemade caramel? Was it a good experience? Or traumatizing-never-do-it-again experience?