This lemon cookie cake is soft, chewy, and slices perfectly for a crowd! Topped with a lemony buttercream frosting, this bright, citrusy cookie cake tastes like a sweet sip of lemonade.
Why You'll Love This Lemon Cookie Cake
Soft, but sliceable! Based on my family's favorite lemon sugar cookie bars, this lemon cookie cake has that perfect, soft, chewy, and a slightly dense texture that slices like a dream!
Tried and true! This lemon cookie cake is based on my popular sugar cookie cake, but it's brightened up with fresh lemon flavor.
Perfect for a summer birthday! Easier than an icebox cake, more fun than a traditional birthday cake, and way more delicious than Betty Crocker, it's soft, sliceable, and it practically melts in your mouth.
Tastes like Chick-Fil-A frosted lemonade in cookie form! If that doesn't convince you, I don't know what will!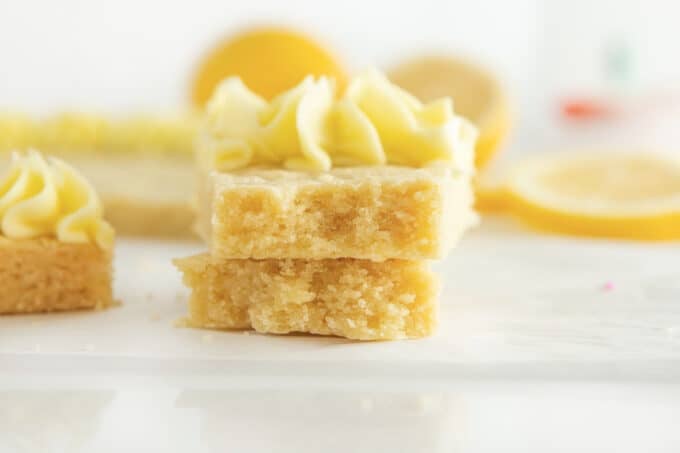 Ingredient Notes & Substitutions
Butter: I always bake with unsalted butter but salted is fine here too. I do not recommend using margarine or butter substitutes as it will alter the texture.
Lemon Extract: this is crucial for a pronounced lemon flavor. I just use the $3 Kroger brand but you can use whatever brand you have on hand.
Fresh Lemon Juice: While not required for the recipe to work, I highly recommend grabbing a lemon & adding a splash of fresh lemon juice to the frosting. It gives it such a delicious lemonade flavor.
All-Purpose Flour: I haven't tested this recipe with flour substitutions but I do find that gluten-free flour typically is dry in my sugar cookie recipe (on which this recipe is based off). If you do try it, be sure to leave me and comment & let me know!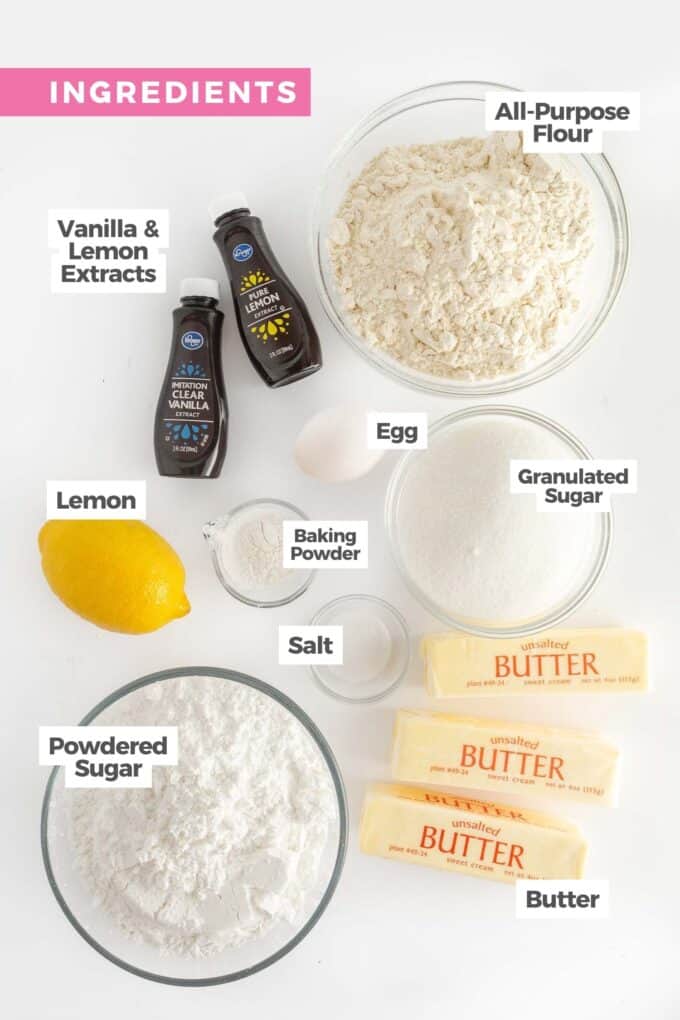 Tips for Success & Variations
Line the pan with parchment! If you don't do this, the cookie cake is likely to stick when you slice it.
Don't overbake! Only bake the sugar cookie cake until it's very lightly browned around the edges. Overbaking will result in a drier, more crumbly cookie.
Make it a lemon birthday cake! Looking for lemon birthday cake ideas? Decorate this cookie cake with the free number stencils from my birthday cookie cake post to turn it into a giant sugar cookie pizza!
Let it cool completely! If you pipe buttercream onto a warm dessert pizza, it will melt.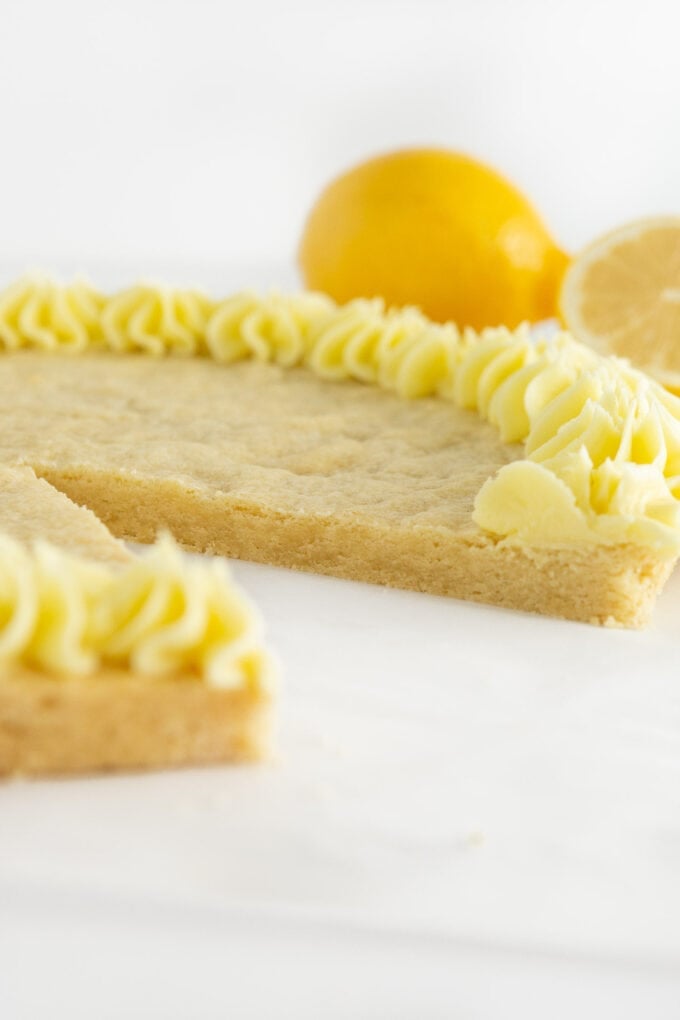 Topping Ideas:
Add berries! Make a fruit sugar cookie pizza by frosting the entire lemon cookie cake and layering on your choice of fresh fruit. Add fresh blueberries for a lemon blueberry cookie cake, or raspberries for lemon raspberry cookie cake. See my sugar cookie fruit pizza for inspiration.
Drizzle with white chocolate! Drizzle melted white chocolate over the top for a more elegant dessert.
Double the frosting! If you want to cover the entire surface and add a border, double the frosting recipe.
Add more lemon! Amp up the lemon flavor by topping your lemon cookie cake with lemon curd or lemon zest.
Top with sprinkles! After frosting, add sprinkles for a fun lemon celebration cake!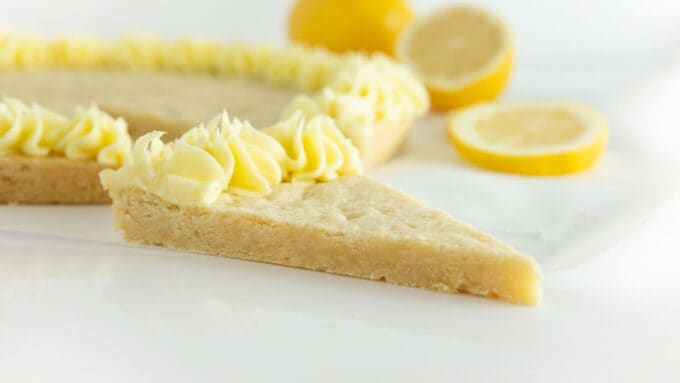 How to Make Lemon Sugar Cookie Cake
Step 1: Make Dough
Preheat the oven to 350 degrees. Use the instructions in the recipe card below to mix the dough. While I do recommend using a hand or stand mixer for this recipe, you don't want to over-mix this dough or beat the butter for more than 30 seconds. Our goal is to get a denser dough, rather than light and fluffy.
Tip: Lemon extract is key to lemon desserts like this one. The juice alone doesn't have the same bright, citrusy flavor!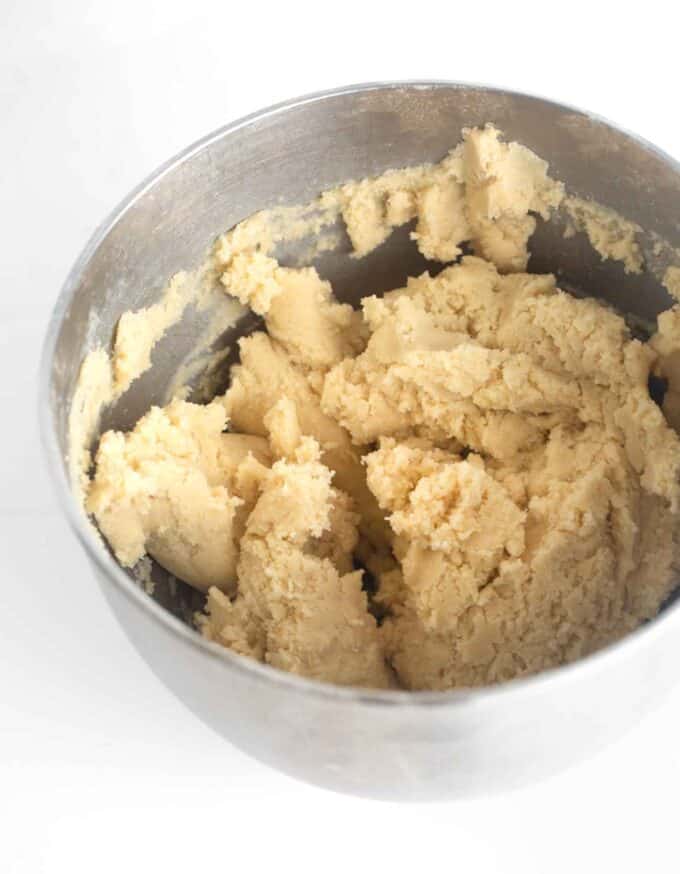 Step 2: Press into Pan & Bake
Drop tablespoons of dough into the greased cookie cake pan, then use your hands to flatten it, making sure it's evenly distributed. Bake according to the cookie pizza recipe instructions below. If you don't have a cookie cake pan, use this DIY cookie cake pan hack to make one from aluminum foil and bake it for a bit longer.
Tip: If you plan to remove the cookie cake from the pan for serving (i.e. onto a tray), I recommend also lining the bottom of the pan with parchment paper.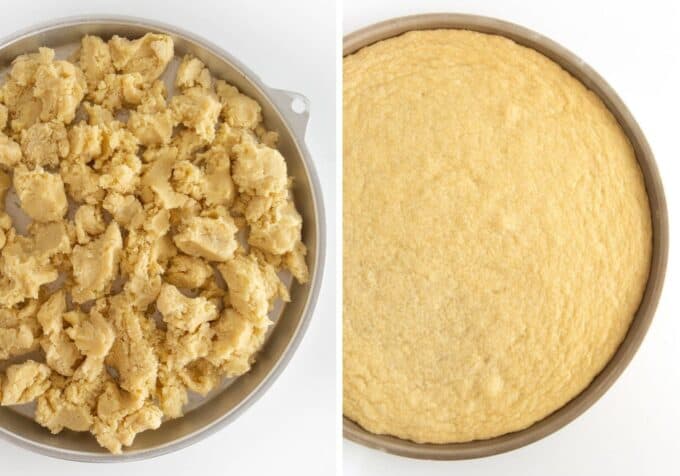 Step 3: Make Frosting
While the cookie cake cools, whip up the lemon buttercream ingredients into a creamy, dreamy frosting! This frosting is a nice, pipeable consistency but you can adjust it as needed (add a bit more lemon juice or milk to thin it out) or add more powdered sugar if your frosting isn't stiff enough to pipe.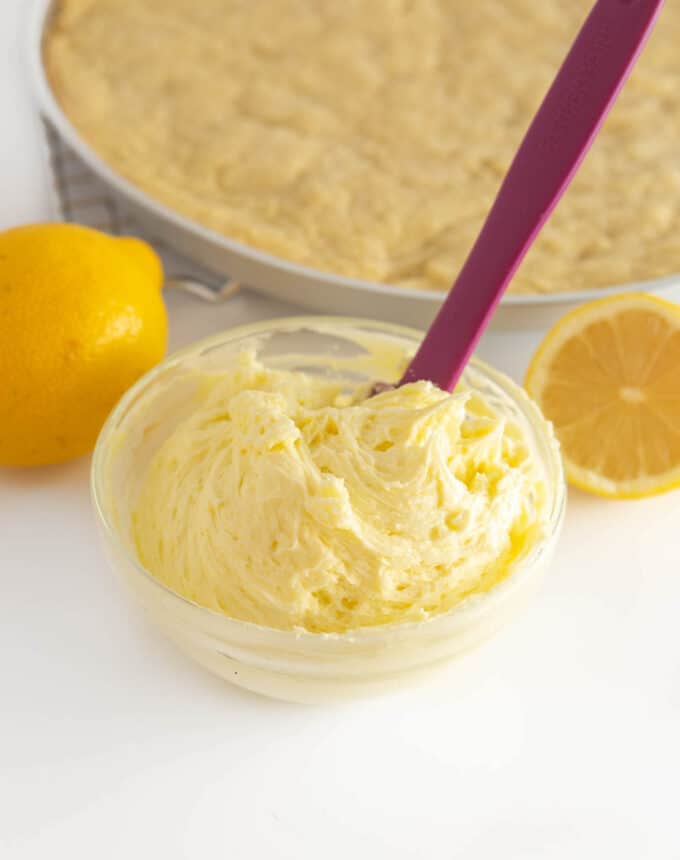 Step 4: Frost & Decorate
Use a ziploc bag or large star tip to pipe a border around the edges. Top it with lemon zest, sprinkles, or pipe on a birthday number using my number stencils!
For those of you using this recipe to make a giant pizza sugar cookie, you can skip the border and frost the entire cookie cake, then layer on fresh fruit and other toppings.
Storage & Freezing
Storage: Because the frosting doesn't use milk products, you don't need to refrigerate the finished cake. Store it in an airtight container or wrap it with plastic wrap. Store for up to 3 days for best texture.
Freezing: Lemon sugar cookie cake will last for 1 to 2 months in the freezer, although I think it's best enjoyed fresh (the freezer can tend to dry it out and absorb flavors). If you do need to freeze it, I recommend freezing it unfrosted, thaw, then decorate.
---
Frequently Asked Questions:
Can I omit the lemon extract and/or lemon juice?
The lemon extract is crucial for a strong lemon flavor. If you only use fresh juice, the flavor won't be strong. If you do only use lemon juice and like a subtle flavor, feel free to just add it to the frosting.
Can I use a different sized pan?
If you don't have a cookie cake pan, you can still make this! Using a different sized pan will change the baking time, so you'll need to keep a close eye on your lemon cookie cake rather than relying on the times listed in the recipe. A smaller pan will increase the baking time because the cookie will be thicker, while a large pan will be ready sooner.
If you use my foil DIY cookie cake pan trick, you will need to bake it for a few extra minutes since you don't have the heat of a metal pan helping it to bake.
Can I top with fruit?
Absolutely! This recipe is a great base for sugar cookie pizzas, which are basically giant fresh fruit cookies. I personally love strawberries on this cookie cake, but raspberries or blueberries would also work!
Can I make this recipe into regular cookies?
If you want to make regular-sized cookies, I suggest trying my recipe for easy peasy lemon cookies instead: Soft & Thick Lemon Sugar Cookies.
Lemon Sugar Cookie cake
Soft, sliceable, and delightfully citrusy, this giant sugar cookie cake is perfect for lemon lovers!
Prep Time: 15 minutes
Cook Time: 16 minutes
Total Time: 1 hour
Course: Dessert
Category: Cookies
Keyword: lemon cookie cake, lemon sugar cookie cake
Servings: 16 slices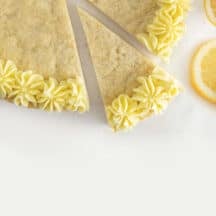 Ingredients
Cookie Cake
1 cup unsalted butter (2 sticks) softened
1 cup granulated sugar
1 large egg
2 teaspoons vanilla extract
1 tablespoon lemon extract tablespoon, not teaspoon!
1 ½ teaspoons baking powder
½ teaspoon salt omit if using salted butter
2 ¼ cups all-purpose flour
Lemon Buttercream Frosting
½ cup unsalted butter (1 stick) softened
1 teaspoon vanilla extract
1 ½ teaspoon lemon extract
2 cups powdered sugar
1 tablespoon fresh lemon juice optional, but makes it so good! If omitting, replace with milk to help thin frosting.
Pinch of salt
Drop of yellow food coloring
Before you begin! If you make this, will you do me a huge favor and leave a review and rating letting me know how you liked this recipe? This helps my small business thrive so I can continue providing free recipes and high-quality content for you.
Instructions
Preheat oven to 350°F. 

If butter hasn't been softened you can place in microwave for 10 seconds to *slightly* soften it.

In a large bowl, cream together butter and sugar on medium speed for 20-30 seconds; do not overbeat. While mixer is still on medium speed, add in egg, vanilla extract and lemon extract. (frof

Once mixed, add in baking powder, salt, and flour (1/2 cup at a time). Be sure to measure your flour properly using the spoon & level method, as adding too much can result in a dry cookie cake. Mix until all flour disappears, typically 20-30 seconds.

Spray a round metal 12" cookie cake pan with cooking spray, then line the bottom with parchment paper (having the grease underneath the paper will help the paper stay down).

If you don't have a cookie cake pan, bake in a 9×13 pan for 14-16 minutes or use this DIY cookie cake pan hack to make one from aluminum foil and bake it for a bit longer.

Spread dough into an even layer in pan. If the dough is sticky, you can place another piece of parchment paper on top and continue pressing down.

Bake cookie cake at 350°F for 16-18 minutes until edges are lightly browned. The trick to a soft sugar cookie cake is to take it out right when you see the TINIEST amount of brown around the edges. The center may look underdone and this is okay; the cake will continue to bake in the hot pan when cooling.

Allow to cool completely before frosting (you can put the pan in the fridge on a cooling rack to speed this up).
To Make Frosting:
In a large bowl, beat butter on medium speed using a hand or stand mixer (with paddle attachment) for 1-2 minutes (until light and creamy).

Keeping the mixer on medium speed, slowly add in vanilla extract, lemon extract, and powdered sugar. Once incorporated, turn mixer to high speed and beat for 2 minutes until light and fluffy. Add the lemon juice and beat for 30 seconds. Add an additional tablespoon of juice if frosting seems too thick to spread.

If using sprinkles, add them immediately after frosting. If you wait too long, the frosting will set and the sprinkles won't stick.

Storage: If not eating same day, cover with plastic wrap and store in refrigerator for 2-3 days. This sugar cookie cake is also amazing frozen for 1-2 months (any longer and it tends to dry out).
Last Step! Please leave a review and rating letting me know how you liked this recipe! This helps my small business thrive so I can continue providing free recipes and high-quality content for you.
Recipe Notes
Storage: If not eating same day or within 3-4 hours, cover with plastic wrap and store in the refrigerator for 2-3 days. This sugar cookie cake is also amazing frozen for 1-2 months (any longer and it tends to dry out).
Baking Pan: If you don't have a round cookie cake pan (which is around $10 and the best investment!), you can bake this in a 9×13 pan for 14-16 minutes or even create a DIY cookie cake pan! 
Layering/Removal: If you don't plan to serve the cookie cake in the pan (i.e., you want to put it on a platter), or you plan to create multiple layers, I highly recommend lining the bottom with parchment paper to guarantee it comes out clean. Be sure to spray the pan in addition to the parchment & only remove the cake when fully cooled to reduce chances of breaking.
Frosting: This recipe makes enough frosting for a border and a small message inside.
Nutrition
Calories: 221kcal
Fat: 12g
Saturated fat: 7g
Cholesterol: 37mg
Sodium: 54mg
Potassium: 43mg
Carbohydrates: 28g
Fiber: 1g
Sugar: 18g
Protein: 2g
Vitamin A: 364%
Calcium: 18%
Iron: 1%
If you make this lemon cookie cake, be sure to leave a comment below and tag me on Instagram @designeatrepeat. I LOVE seeing what you made!