Welcome summertime with these delicious Soft & Thick Lemon Sugar Cookies. They are easy to make and are infused with a refreshing, light lemon flavor! Watch the video below to see how quick & simple they are.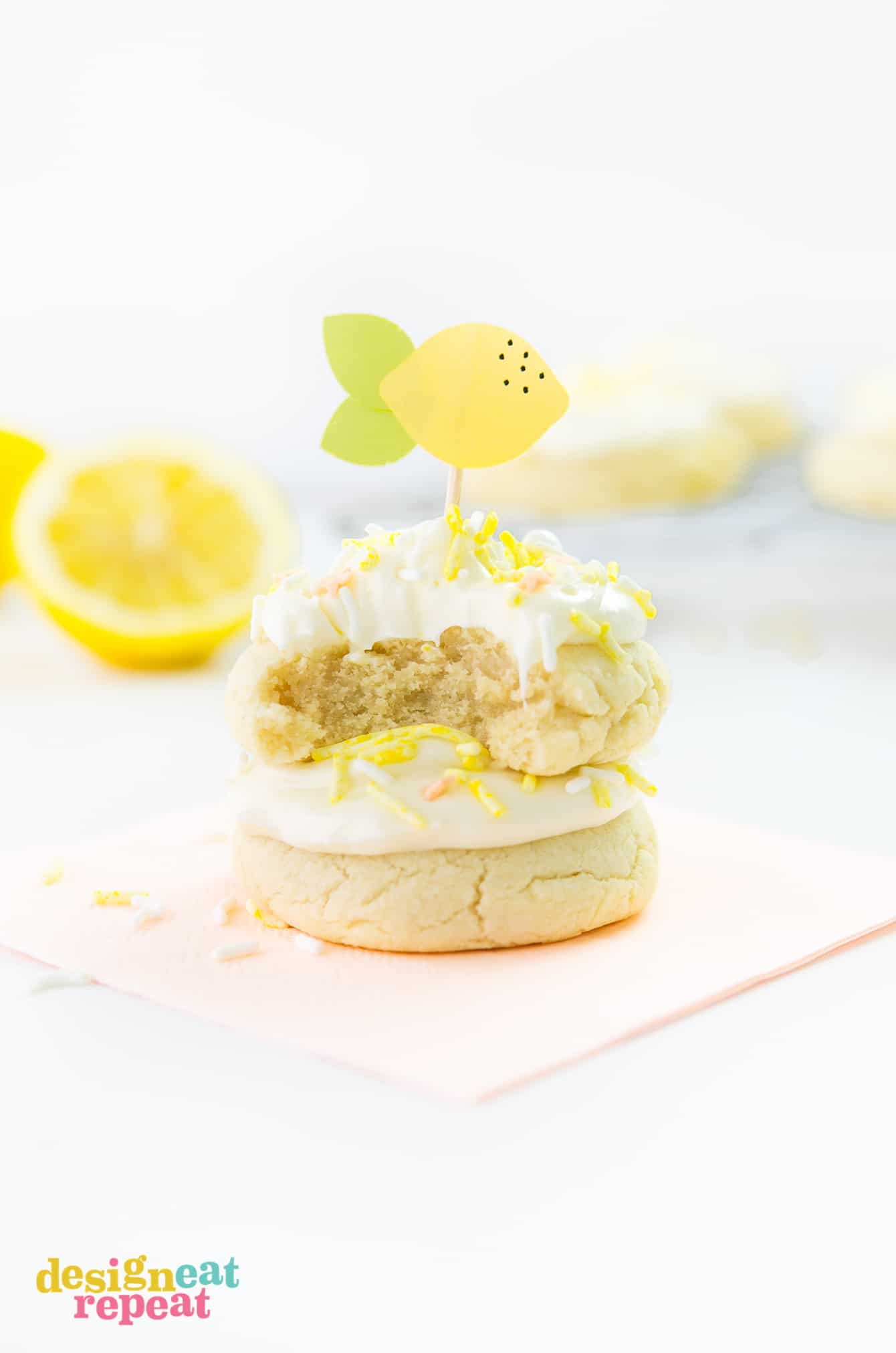 Ask me 6 months ago if I'd rather have a chocolate or fruit-flavored cookie and I would have hands-down said chocolate. In fact, it wouldn't have even taken 0.001 to decide. Fast forward to today and I'm not sure if my taste buds have matured or if I'm more open-minded in my old age, but I'm starting to actually like citrusy baked goods. I think it has something to do with the fact that my favorite local cookie bakery has killer orange & lemon cookies, so I have them to thank for this conversion.
These cookies are not only thick, but they have the perfect combination of melt-in-your mouth softness with a touch of denseness. I developed this recipe back in 2015 before Crumbl existed and it turns out the texture is similar to their cookies, which lead me to turn these into Frosted Birthday Cake Cookies, as well!

What You Need To Make Thick Lemon Sugar Cookies
Unsalted Butter
Granulated Sugar & Powdered Sugar
Vanilla Extract & Lemon Extract
Eggs
Baking Soda & Baking Powder
Salt
All-purpose flour
For Frosting: Butter, Cream Cheese, Lemon Extract, Lemon Juice Vanilla Extract, Powdered Sugar
How to Make Thick Lemon Sugar Cookies
Step 1: Mix Cookie Dough
Follow the instructions in the recipe card below to make the sugar cookie dough.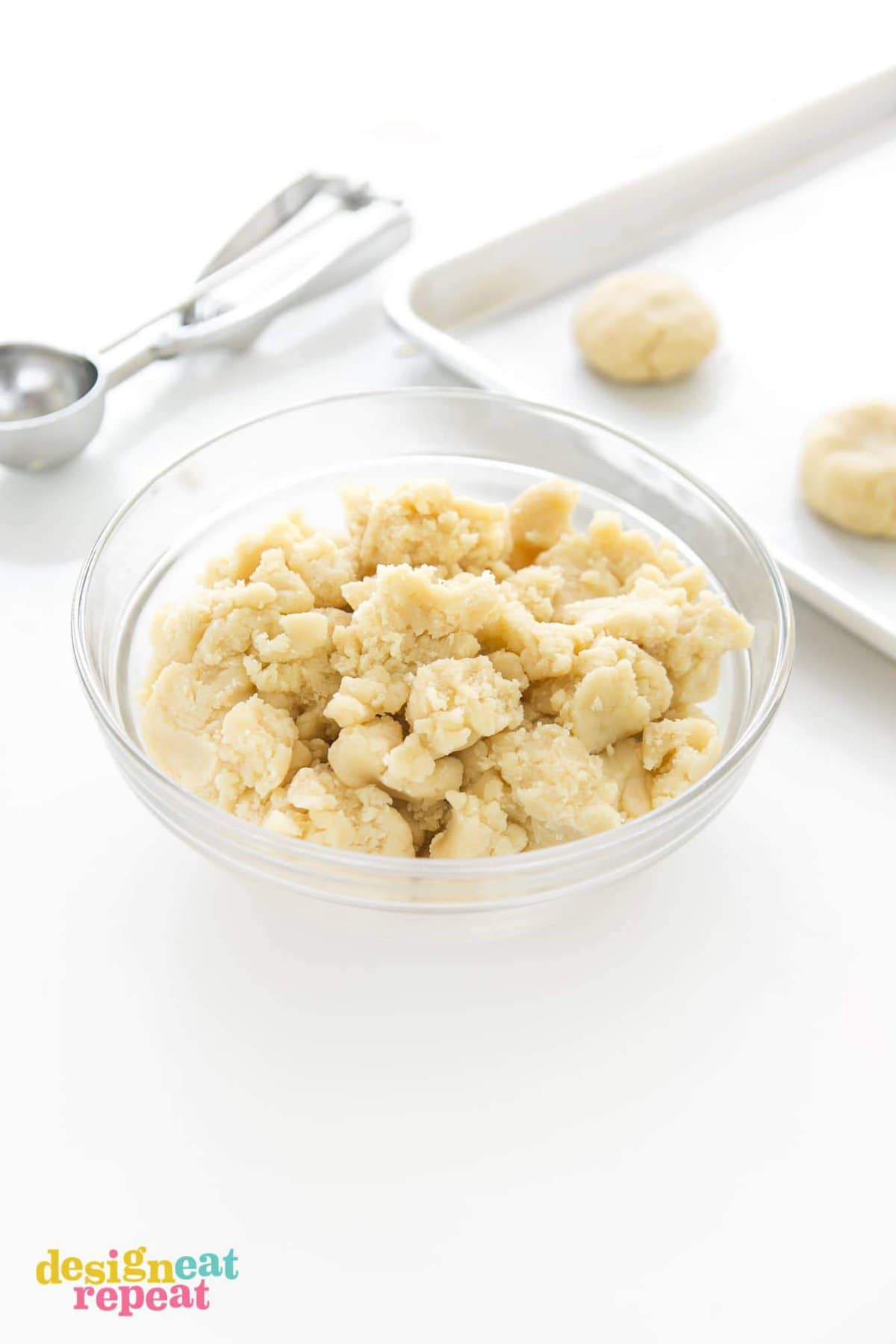 Step 2: Scoop, Roll, and Bake
After scooping the dough into 3 tablespoon-sized balls, use your hands to roll into balls and then flatten the tops a bit to look like thick discs (see below). This helps them bake into a nice even cookie without having dome tops.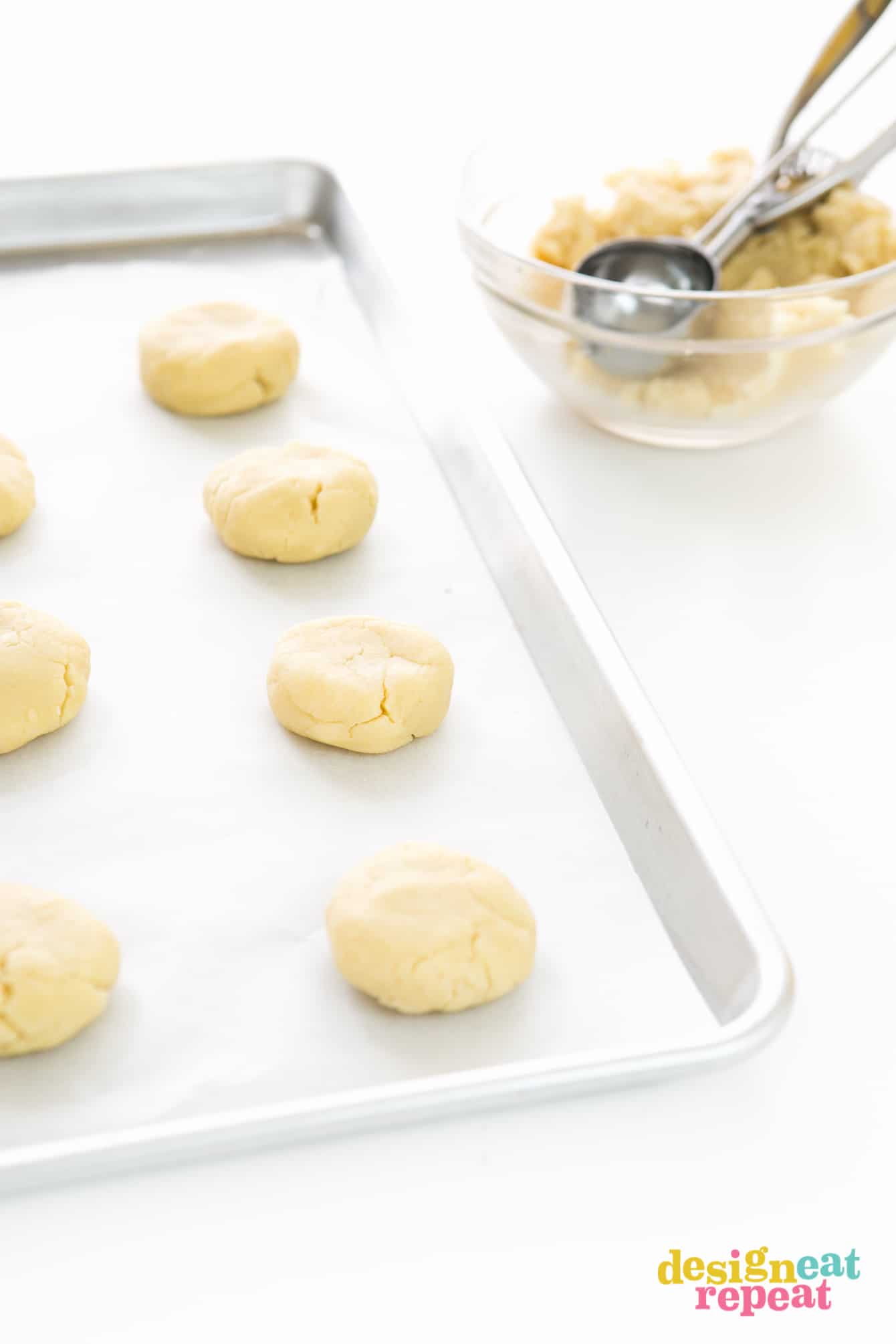 Step 3: Make Frosting
After baking & allowing the cookies to cool, whip up a batch of the Lemon Cream Cheese frosting and pipe it on top. This frosting is super creamy, has a light refreshing lemon flavor, and is the perfect consistency for piping basic swirls or spreading with a knife.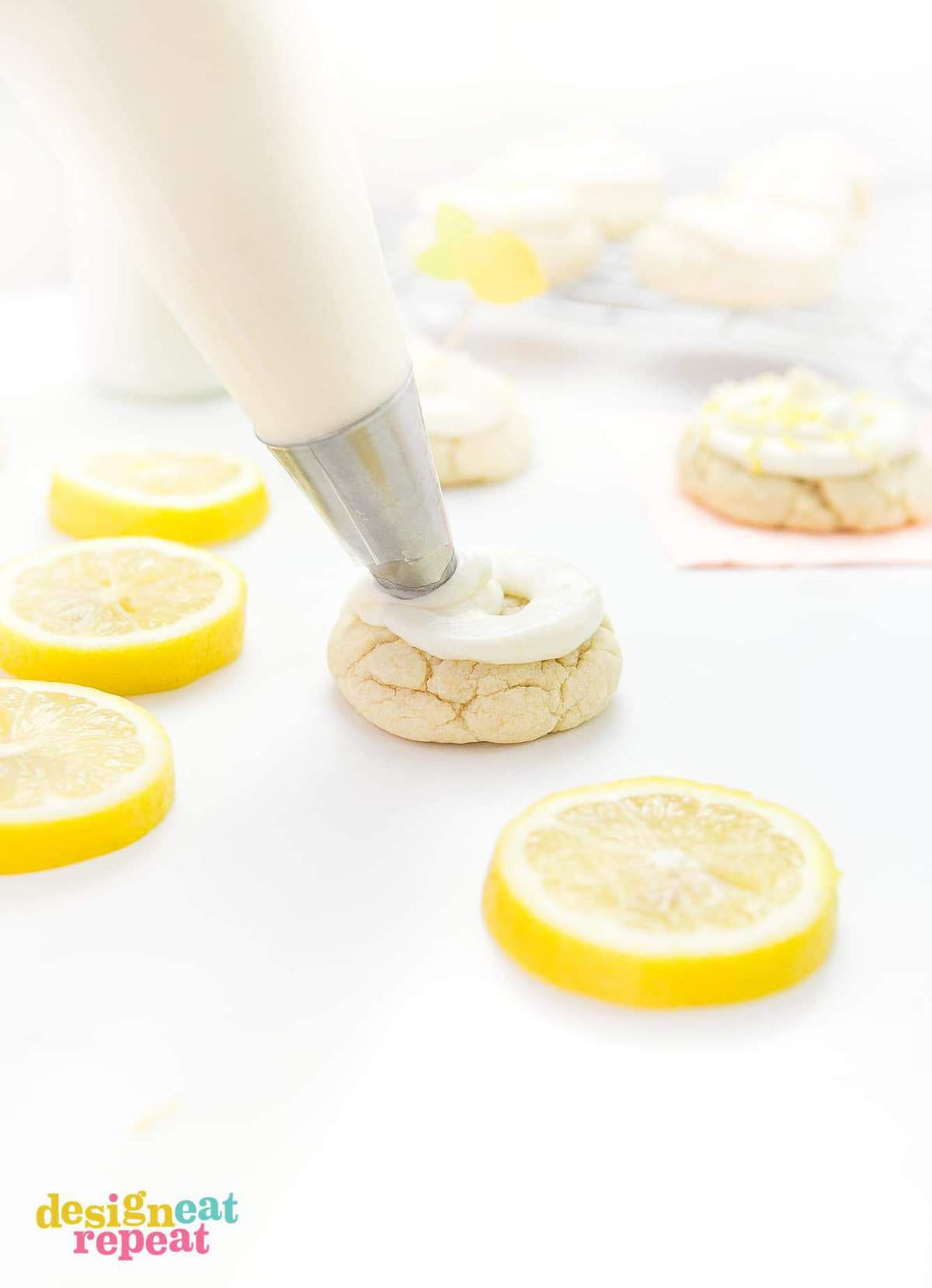 Step 4: Decorate
Top each cookie with sprinkles and fun paper toppers (links to SVG files bel0w) and you're ready for all the lemonade stands and summer barbecues coming your way!
Materials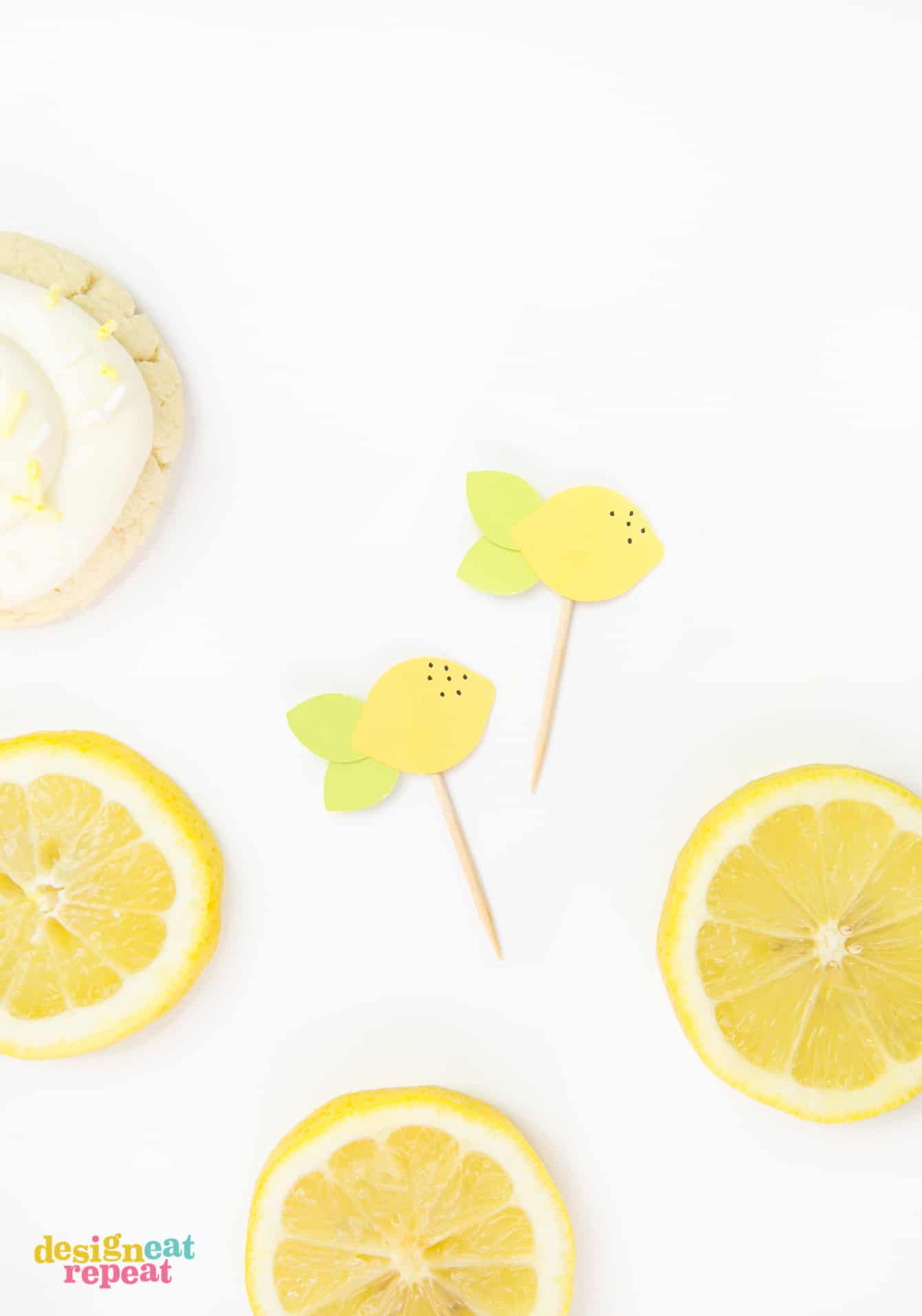 Soft & Thick Lemon Sugar Cookies
These delicious Soft & Thick Lemon Sugar Cookies are easy to make, infused with a refreshing, light lemon flavor, and topped with thick cream cheese frosting!
Prep Time: 10 minutes
Cook Time: 10 minutes
Total Time: 20 minutes
Course: Dessert
Category: Cookie
Servings: 12 Large Cookies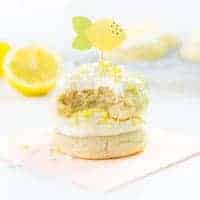 Ingredients
3/4 cup 1.5 sticks unsalted butter
1/2 cup granulated sugar
1/2 cup powdered sugar
2 teaspoons vanilla extract
1/2 teaspoon lemon extract
1 large egg
1 egg yolk (you will be using 1 whole egg + 1 extra egg yolk)
1 1/2 teaspoons baking powder
1/2 teaspoon baking soda
1/4 teaspoon salt
2 1/2 cups all-purpose flour
Lemon Cream Cheese Frosting
4 tablespoons unsalted butter room temperature
4 oz cream cheese chilled (ie. straight from the fridge)
1 teaspoon vanilla extract
1 tablespoon fresh lemon juice
1/2 teaspoon lemon extract
1 1/4 cups powdered sugar
Before you begin! If you make this, will you do me a huge favor and leave a review and rating letting me know how you liked this recipe? This helps my small business thrive so I can continue providing free recipes and high-quality content for you.
Instructions
Preheat oven to 350 degrees. Line baking sheet with parchment paper.

In a small glass bowl, microwave butter until melted. Pour into large mixing bowl. Add in white sugar and powdered sugar and mix for 10 seconds.

Add eggs, vanilla, and lemon extract and mix on medium speed for 20 seconds.


Turn mixer to low speed, and add baking powder, baking soda and salt. Mix for 10 seconds. Half cup at a time, add flour and mix until flour is just incorporate (about 10-20 seconds). Do not overmix.

Immediately after mixing, scoop dough into (3 tablespoon sized) balls. Lightly flatten each ball before placing on cookie sheet. (Because this has melted butter, do not let the dough sit out before rolling into balls & baking, or your dough will become dry and crumbly.)

Bake at 350 degrees for 8-10 minutes. (The magic number in my oven is 9 minutes) They may look underdone, but they will finish baking on the hot cookie sheet after you take it out of the oven. (Of course, because ovens bake differently use your best judgement to keep them in a minute longer if they look severely underbaked.)

After removing from oven, allow the cookies to cool on the hot baking sheet for 10 minutes before removing them from cookie sheet.
To make frosting:
In a large bowl, beat the butter and cream cheese on medium speed using a hand or stand mixer (with paddle attachment) for 2-3 minutes (until light and creamy).

Keeping the mixer on medium speed, slowly add in vanilla extract, lemon juice, lemon extract, and powdered sugar. Once incorporated, turn mixer to high speed and beat for 2 minutes.

Spread or pipe frosting on cooled cookies and top with sprinkles!
Last Step! Please leave a review and rating letting me know how you liked this recipe! This helps my small business thrive so I can continue providing free recipes and high-quality content for you.
Nutrition
Calories: 338kcal
Fat: 15g
Saturated fat: 9g
Cholesterol: 55mg
Sodium: 132mg
Potassium: 99mg
Carbohydrates: 46g
Sugar: 25g
Protein: 3g
Vitamin A: 500%
Calcium: 40%
Iron: 1.4%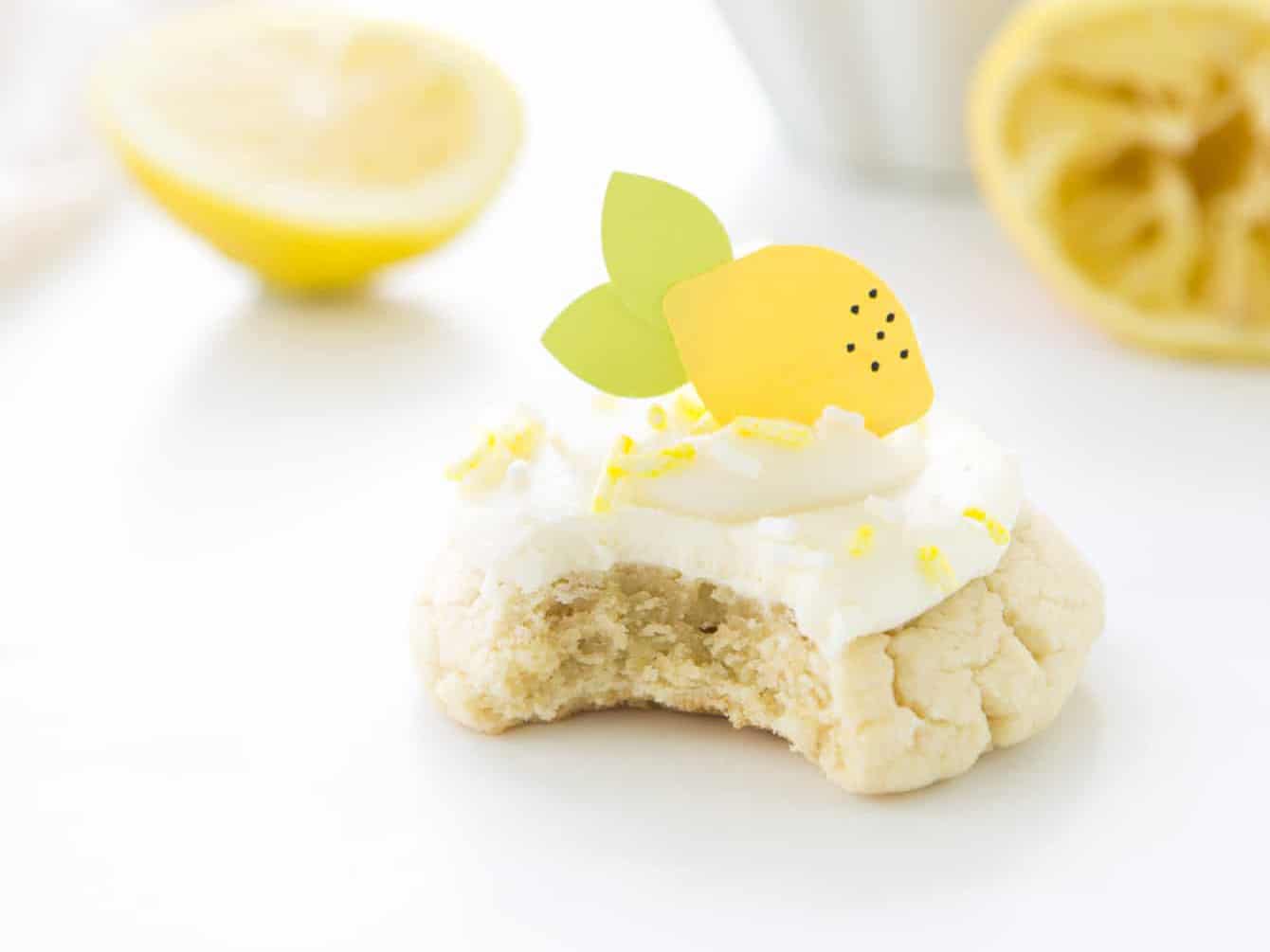 So now I'm curious: If you had to choose between chocolate or a citrus cookie, which would you choose?