Happy October, everyone! I'm still chipping away at my summer DIY checklist, so you'll have to bare with me that today's post is a little more summery than it is Fall…but if I waited until next summer to post these I'm 99% sure they would fall into oblivion. So let's say one last hoorah to summer and bask in a pool full of chocolate chips, sprinkles, marshmallows, and ice cream before it becomes too cold for these types of things! Besides, you can repurpose these ice cream topping capsules for Halloween treats and you'll become the best candy-passer-outer in the neighborhood!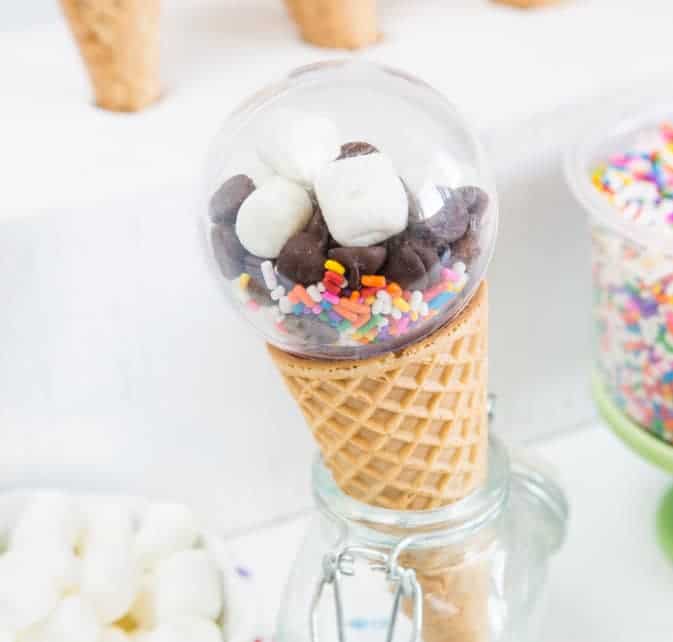 These couldn't be easier to put together, as you simply fill plastic balls with your favorite ice cream toppings. Display them on ice cream cones on a party table for an A+ presentation and allow each guest to open and sprinkle them on their bowls of ice cream. And if you're feeling extra fun, have them pre-filled for guest to take one home or allow them to refill them before leaving for a fun take-home treat. I mean seriously, if I went to a party and got to take home a capsule full of ice cream toppings you would become my favorite person for life. Although I couldn't guarantee the contents wouldn't disappear on the drive home…
To assemble, I picked up these 3″ plastic balls from Michaels this past summer but you could also also use plastic ornaments online (like these). The ones I purchased said they were safe for candy, but you'll want to check the package for food safe materials.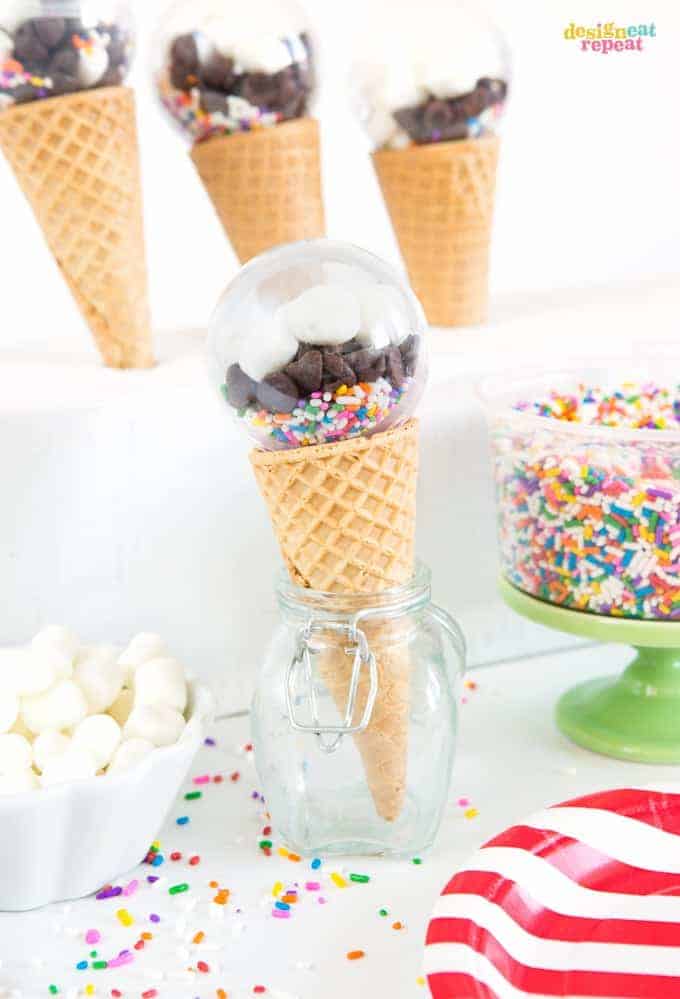 Materials to Make Ice Cream Party Favors:
Plastic Balls  //  Chocolate Chips
Rainbow Sprinkles  //  Mini Marshmallows  //  OtherToppings of Choice!
I mean, does it get any more fun than that? A ball full of sprinkles, chocolate, and marshmallows is the perfect way to say goodbye to summer and hello to themed parties full of candy! These would also be fun with Halloween colored sprinkles, so have fun with them and be sure to tag me on Instagram with a snap of your creation so I can be sure to share!