This baseball cookie cake is super easy to decorate with frosting and candy, and so much cheaper than a custom birthday cookie cake! It's sure to be a home run with the little slugger in your life!
PS. I also have an Easy Basketball Cookie Cake if you're throwing a sports-themed party!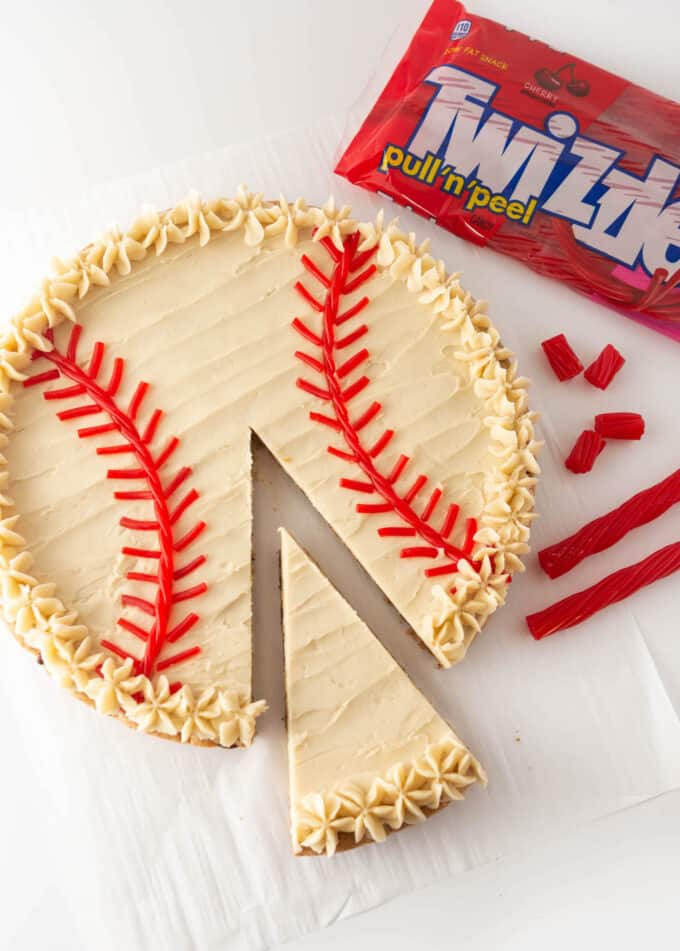 Why I Love This Baseball Cookie Cake
It's oh-so-easy: Don't have the cake decorating skills to decorate a cookie cake with a piping bag? No worries! You only need licorice strings or M&Ms to make this baseball cookie cake.
Cheaper than store-bought: Custom birthday cookie cakes are crazy expensive, but you probably have most of the ingredients needed to make this cookie cake in your kitchen already. Skip the store-bought Walmart cookie cakes and make your own!
No pan needed: While we used a cookie cake pan (which are cheap!), you can make these with my DIY cookie cake pan.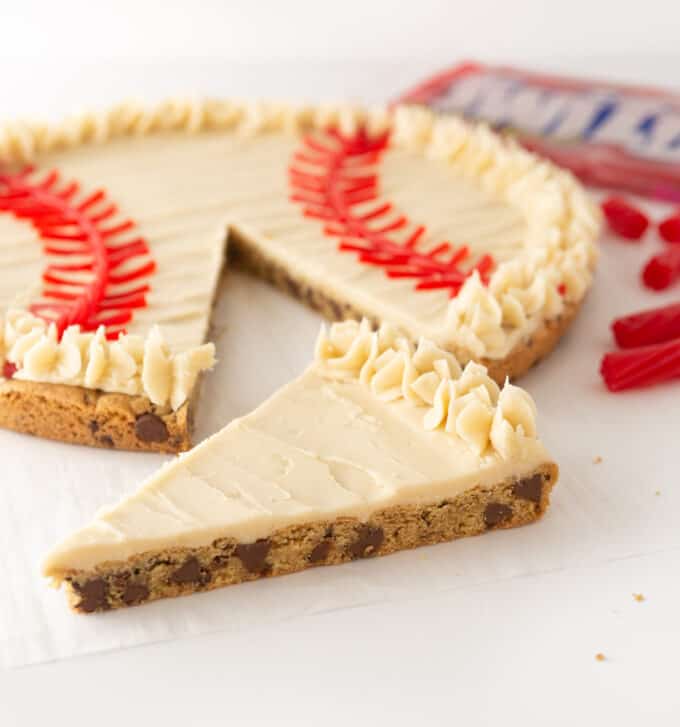 What You Need
This is just an overview, click here to jump down to the full recipe card for the recipe amounts and condensed recipe instructions.
Cookie cake & white frosting (recipe below!)
Pull-and-peel licorice or red M&M's
Make it gluten-free! Use your favorite gluten-free flour when you're making the cookie cake to make this baseball cookie cake gluten-free! My favorite brand is Bob's Red Mill Gluten Free 1-to-1 Baking Flour.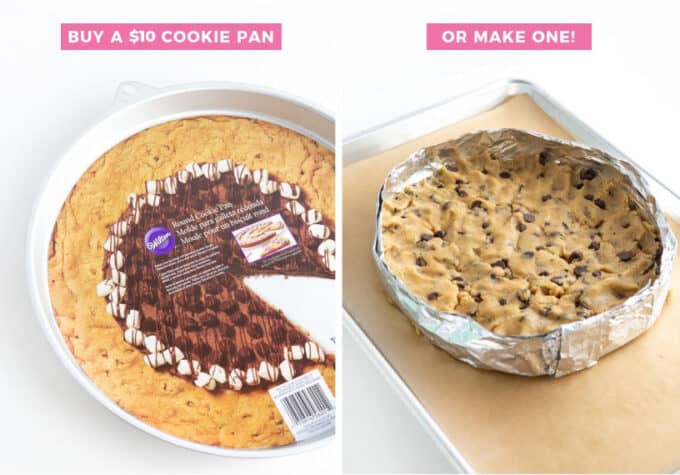 How to Make a Baseball Birthday Cake Cookie:
This is just an overview showing step-by-step photos, click here to jump down to full recipe card with exact instructions.
Method 1: Licorice
Bake the cookie cake as directed in the instructions below.
Once it's cool, spread half of the frosting on top.
Freehand or use plate to lightly create half circles, like on a baseball.
Twist two sets of two licorice "strings" and press them onto cake where you marked.
Cut full pull-and-peels into 1-inch pieces, then pull them apart to create the stitches.
Add a border with large star tip, if desired.
Tip: If you need to reposition the licorice strings, you can use tweezers to move them without getting the icing on your fingers.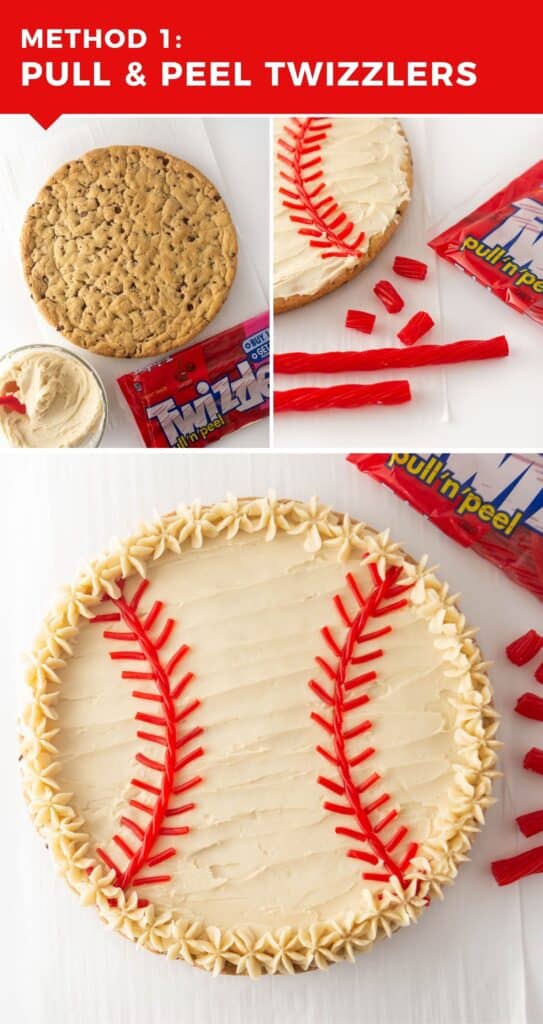 Method 2: M&M Candy
Bake the cookie cake as directed in the instructions below.
Once it's cool, spread half of the frosting on top.
Freehand or use plate to lightly create half circles, like on a baseball.
Press the red M&Ms on their sides down the curved lines.
Press additional M&Ms in a v-pattern to create upward stitches.
Add a border with large star tip, if desired.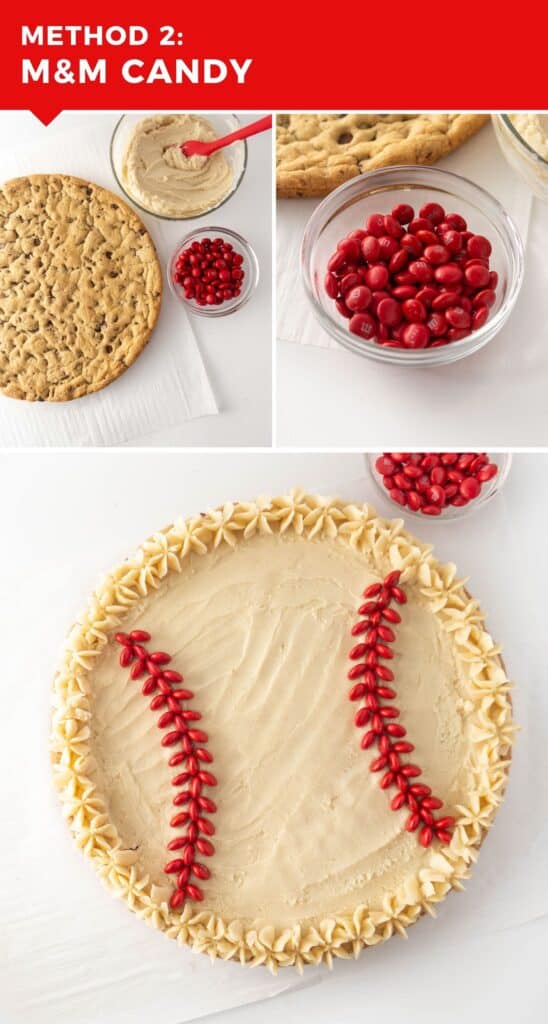 Storage & Freezing
Storing: Cover the cookie cake with plastic wrap and refrigerate it for 2 to 3 days.
Freezing: Freeze for 1 to 2 months wrapped tightly in a few layers of plastic wrap.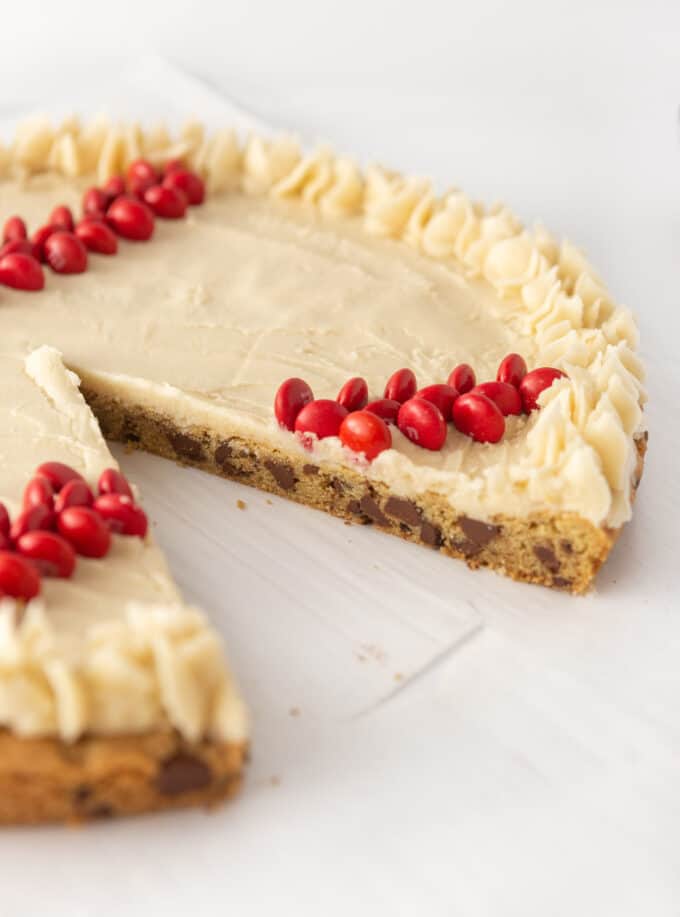 Frequently Asked Questions:
Can I use this idea to make regular baseball-themed cookies?
Yes, you can use this method to make baseball-themed cookies on a smaller scale. Simply make circle sugar cookies, frost with white frosting, decorate as instructed above, and you've got easy baseball sugar cookies! (Depending on the size of your cookies, you may want to use mini M&Ms here.)
Does this taste like Publix or Kroger cookie cake?
Kroger cookie cakes and Publix cookie cakes are great, but I love that my cookie cake recipe still has that chewy texture & is cheaper than storebought! But don't take my word for it—here's what a reader said about my Homemade Cookie Cake Recipe, which is the base of this recipe:
"This was a HUGE hit! Perfect mixture of crunchy edges/top, and soft chewy middle. Will never use another recipe for cookie cakes! Delicious! Thanks for sharing!!!"
Can I make this a sugar cookie baseball cookie cake?
Yes! Just swap the chocolate chip cookie cake for my Frosted Sugar Cookie Cake. Other baseball cookie cake ideas include Peanut Butter Cookie Cake or Triple Chocolate Cookie Cake. The overall cake design remains the same—make the buttercream frosting and decorate with licorice strings or red M&Ms. I also have a Easy Basketball Cookie Cake!
Easy Baseball Cookie Cake
Whether you're making this for a baseball fan or a softball star, this baseball themed cake is sure to be a hit! It's a chewy, delicious giant cookie made for a sports fan.
Prep Time: 15 minutes
Cook Time: 15 minutes
Total Time: 30 minutes
Course: Dessert
Category: Cookies
Keyword: baseball cookie cake ideas, giant cookie
Servings: 12 slices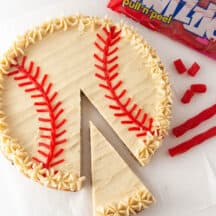 Ingredients
Cookie Cake:
½ cup unsalted butter (1 stick) you will be melting this
½ cup light brown sugar
¼ cup granulated sugar
1 large egg
1 ½ teaspoons vanilla extract
½ teaspoon baking soda
¼ teaspoon baking powder omit if using salted butter
¼ teaspoon salt
1 ½ cups all-purpose flour
1 cup semi-sweet chocolate chips you'll be chopping 1/2 cup and adding the remaining 1/2 cup whole
Buttercream Frosting:
¾ cups unsalted butter (1 ½ sticks) softened
3 ¾ cups powdered sugar
2 ¼ teaspoons vanilla extract
1 pinch salt
3–6 tablespoons milk
For Decorating:
Red Pull-and-Peel Twizzlers or M&Ms
Before you begin! If you make this, will you do me a huge favor and leave a review and rating letting me know how you liked this recipe? This helps my small business thrive so I can continue providing free recipes and high-quality content for you.
Instructions
Chop ½ cup of the chocolate chips. The goal here is to have a mixture of tiny chocolate flakes throughout the dough, while still have the whole chunks in there for texture. Set aside.

In a small microwave-safe bowl, melt the butter for 30-60 seconds until JUST melted. 

Add in granulated sugar and brown sugar and use a spatula to stir until combined (* do not use a mixer!). Add in egg and vanilla extract, then mix. Next, add in baking soda, baking powder, and salt and mix again. Add in flour and mix until all the flour disappears into the dough.

Add the ½ cup of chopped chocolate chips and ½ cup of whole chocolate chips into the dough and mix. Immediately proceed to pressing into pan (you don't want the dough sitting out or it will set too much with the melted butter).

Grease a 11.5" metal cookie cake pan (don't have one? See notes below). Although this cookie removes cleanly, if you are worried about it sticking, line the bottom and sides of the pan with parchment paper first. Using a spoon or your clean hands, drop the dough into small chunks in the pan. This will help disperse everything so that you can easily smooth it out. Once all dough as been added, use a spatula or your hands to press down the dough into a smooth layer (being sure to get all the corners).

Tip: If you notice 2-3 chocolate chips are stuck together, separate them before baking. This will allow the chocolate to be evenly dispersed and prevent the cookie from having a giant clump of chocolate in one spot (which could cause it to more easily break while cutting).

Bake at 350°F degrees for 12-14 minutes – do NOT overbake or your chocolate chip cookie cake will not be soft. You want the cookie cake to be slightly brown on the top and look slightly underbaked (my oven was perfect at 12 minutes). Remove from oven and place entire pan on a cooling rack. Allow the cookie cake to cool completely before removing.

Tip: To remove from pan, use a knife to go around the edges, place a flat platter on top, then flip over the pan to remove. If you used parchment paper, this should come out rather smoothly. After flipping over the cookie cake, flip it over again on the final decorate plate or platter.
To Make Frosting:
In a large bowl, beat butter on medium speed using a hand or stand mixer (with paddle attachment) for 1-2 minutes (until light and creamy).

Keeping the mixer on medium speed, slowly add in vanilla extract, almond extract and powdered sugar. Once incorporated, turn mixer to high speed and beat for 2 minutes until light and fluffy. Add milk and beat for 30 seconds. Add an additional 1 tablespoon of milk if frosting seems too thick to spread.

Spread half of the frosting on top of the cake.

Add the licorice strings or red M&Ms to create the baseball design immediately after frosting, before it begins to harden. You can use a thin-rimmed plate and skewer to create indentations to use as a guide.

Add a border around the cake with a large star tip.

This frosting recipe will make just enough frosting to cover the top of the cookie cake and create a border.
Storage:
If not eating same day, cover with plastic wrap and store in refrigerator for 2-3 days. This sugar cookie cake is also amazing frozen for 1-2 months (any longer and it tends to dry out).
Last Step! Please leave a review and rating letting me know how you liked this recipe! This helps my small business thrive so I can continue providing free recipes and high-quality content for you.
Recipe Notes
Baking Pan: If you don't have a round cookie cake pan (which is only $8 and the best investment!), you can create a DIY cookie cake pan using foil! 
Storage/Make Ahead: This homemade buttercream will start developing a crust, which makes it a great frosting to make a day ahead. Because of the sugar content, you don't need to refrigerate the frosted cookie cake if you plan to enjoy it within 1 day. If you are making ahead earlier, I'd suggest waiting to frost until day of OR gently wrap the frosted cookie after the frosting sets and place in the fridge.
Frosting Amount: If you just want to spread the frosting and omit the piped border, use 1/2 cup butter, 2.5 c. powdered sugar, 1.5 teaspoons vanilla, 1/8 teaspoon salt, 2-3 tablespoons milk.
Red M&Ms: You can get a bag of red-only M&Ms at a party store or on Amazon, but it's usually cheaper just to buy two regular bags of M&Ms and pick out the red ones.
Gluten-Free: For those asking, I turned this popular recipe into the best Chewy Gluten-Free Cookie Cake!
Nutrition information is just an estimate but based on 12 servings and the m&m option.
Nutrition
Calories: 546kcal
Fat: 27g
Saturated fat: 16g
Trans fat: 1g
Polyunsaturated fat: 1g
Monounsaturated fat: 7g
Cholesterol: 71mg
Sodium: 128mg
Potassium: 203mg
Carbohydrates: 73g
Fiber: 2g
Sugar: 58g
Protein: 5g
Vitamin A: 691%
Calcium: 87%
Iron: 2%