This gluten-free cookie cake is the BEST I've tried—and I've tried a lot of them! The combination of almond flour & GF all-purpose flour makes it perfectly chewy, oh-so-chocolaty, and super easy to make.
---
Don't have a round cookie cake pan? Snag one on Amazon for $10, make a DIY foil cookie cake pan, or bake in a 9×13 pan (will be a bit thinner).
What makes this the BEST gluten-free cookie cake?
Tried-and-true! I based this recipe on my mega popular homemade cookie cake. This version delivers everything you love about the original, without the gluten!
No forks needed! This cookie cake is chewy and soft, but you can still serve it as a handheld dessert. For the best durable slices, be sure to refrigerate it before cutting.
More affordable than store-bought! You'll pay double—if not more—for a gluten-free cookie cake from your favorite bakery.
No-fuss recipe! You don't need a mixer and the cookie dough is all made in a single bowl. If you don't have a cookie cake pan, a 9×13-inch pan will work instead!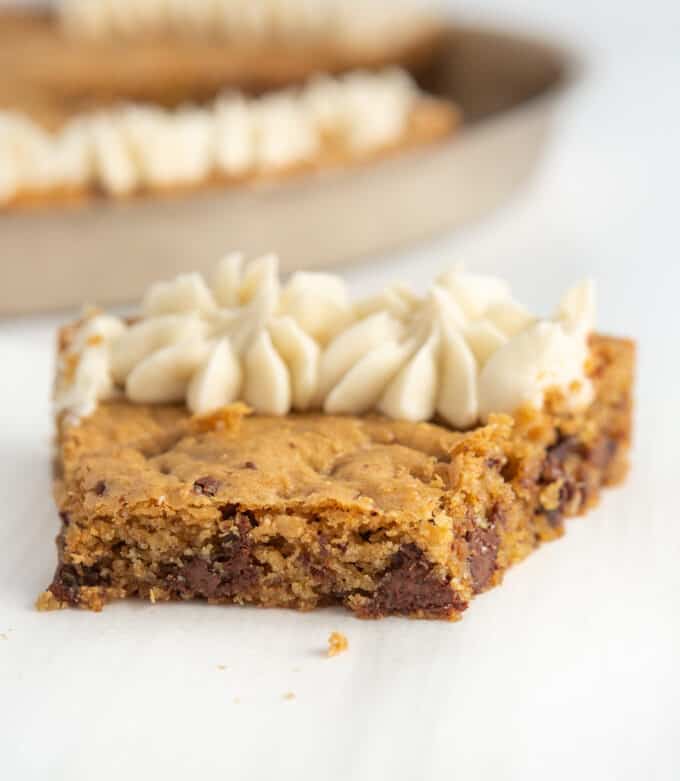 Tips for Success
I recommend decorating & serving this cookie cake in the pan but if you want to serve it on a platter, you need to generously grease the pan and line the bottom with parchment paper. If you only grease it, it will stick and be hard to invert.
After allowing the cookie cake to cool, refrigerate it (in the pan) for 30-60 minutes before slicing. This is essential for a sturdy, chewy cookie. If you skip this step, the cookie will fall apart much easier.
If you don't have a round cookie cake pan you can make a DIY foil cookie cake pan or snag one on Amazon for $10.
What You Need to Make a Gluten-Free Chocolate Chip Cookie Cake
For the gluten-free cookie cake recipe:
Unsalted butter
Brown sugar
Granulated sugar
Egg
Vanilla extract
Baking soda
Baking powder
Salt
Gluten-free all-purpose flour – I tested this recipe using Bob's Red Mill 1-to-1 gluten-free all-purpose flour, so that's what I recommend using.
Almond flour – this gives it that iconic chewy texture!
Semi-sweet chocolate chips
Almond flour is the secret to nailing that chewy chocolate chip cookie texture we all know and love. When I tested this recipe with the gluten-free all-purpose flour alone, the recipe worked, but it was a bit dry and wasn't quite what I wanted.
I thought back to my gluten-free peanut butter cookie recipe and how the almond flour gave the cookies just the right amount of chewiness, so I tried this cookie cake again with half gluten-free all-purpose flour and half almond flour. It was perfect!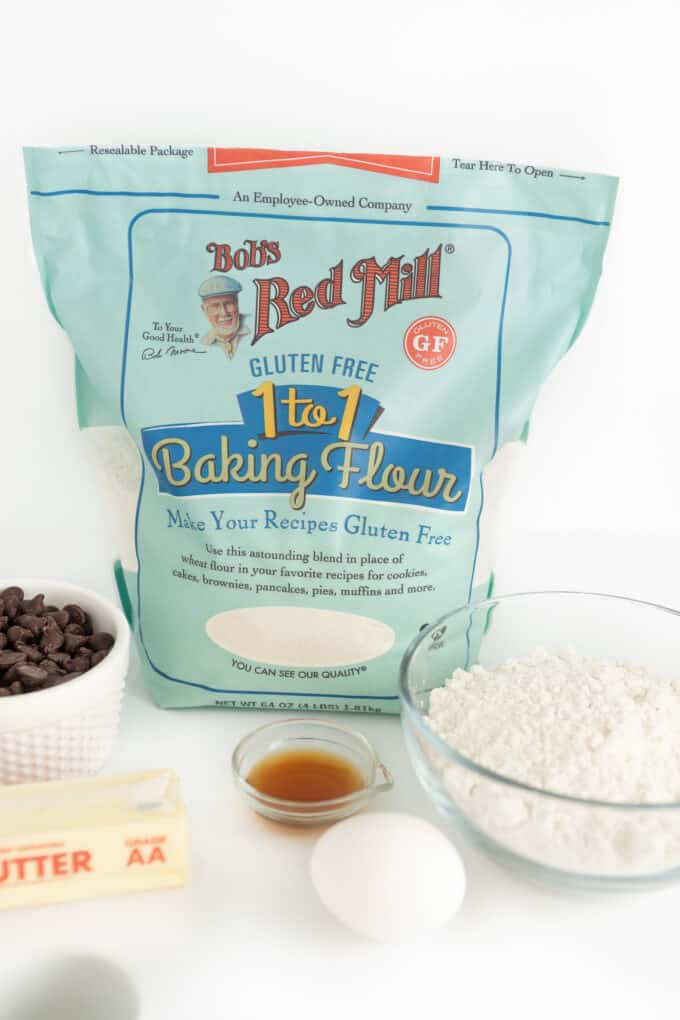 For the vanilla buttercream frosting recipe:
Unsalted butter – Let this sit on the counter while you make the cookie recipe; it needs to be pretty soft so it can whip up smoothly.
Powdered sugar – This is often labeled as confectioners' sugar.
Vanilla extract
Pinch of salt
Milk – I recommend using whole milk for a richer frosting but any milk will work.
Piping Bag & Tips (optional) – Large star piping tip (for border)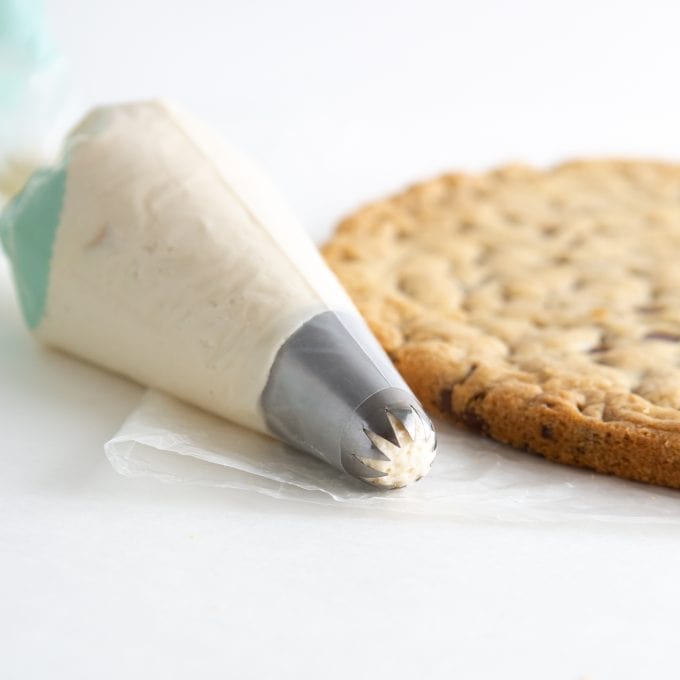 How to Make Gluten-Free Cookie Cake:
Step 1: Crush Half of the Chocolate Chips
By crushing half of the chocolate chips, you get the perfect combination of chocolate-in-every-bite and BIG chocolate chunks in your gluten-free cookie cake. Put 1/2 cup of the chocolate chips in a zip-top plastic bag, then use a rolling pin to smash them a bit. (Try not to completely pulverize them—you don't want powdered chocolate chips here, just smaller pieces!)
Tip: You can use a mallet or meat tenderizer to crush the chocolate chips, but be careful when you pick the bag up afterwards because this method can make small holes in the plastic!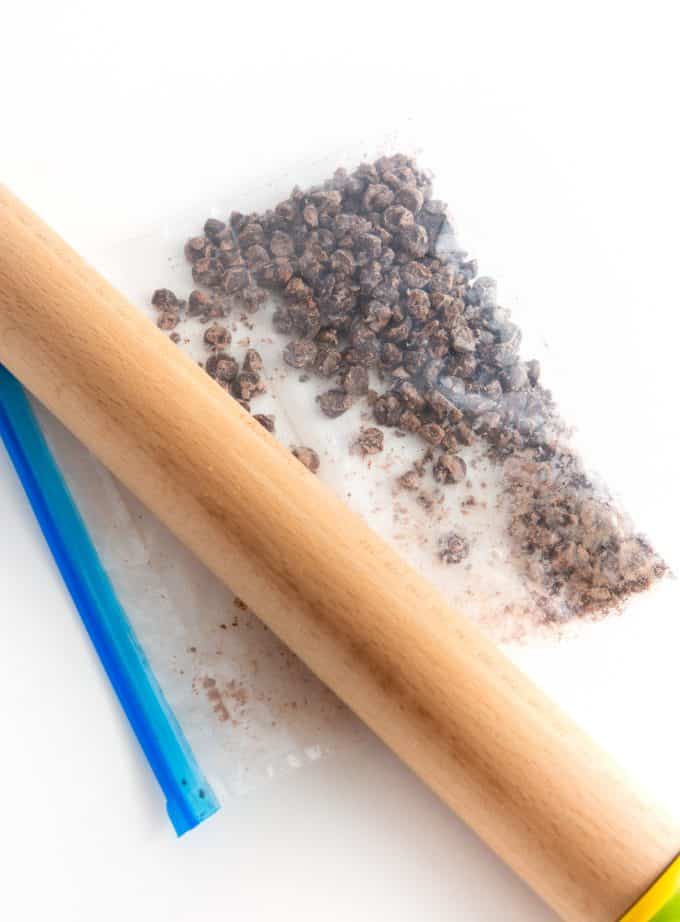 ---
Step 2: Make the Dough
Warm the butter in a microwave-safe bowl or saucepan until it's just melted. Combine the butter with the brown sugar and granulated sugar in a mixing bowl and use a wooden spoon or spatula to stir them together.
Next, stir in the egg, followed by the baking soda, baking powder, and salt. Add both of the flours and the chocolate chips, then stir the dough until well-combined.
Tip: With gluten-free flour, you don't have to worry about over-mixing because there's no gluten to make your baked goods tough. In fact, you should mix your dough a little bit more than you usually would, which helps the dough develop more structure.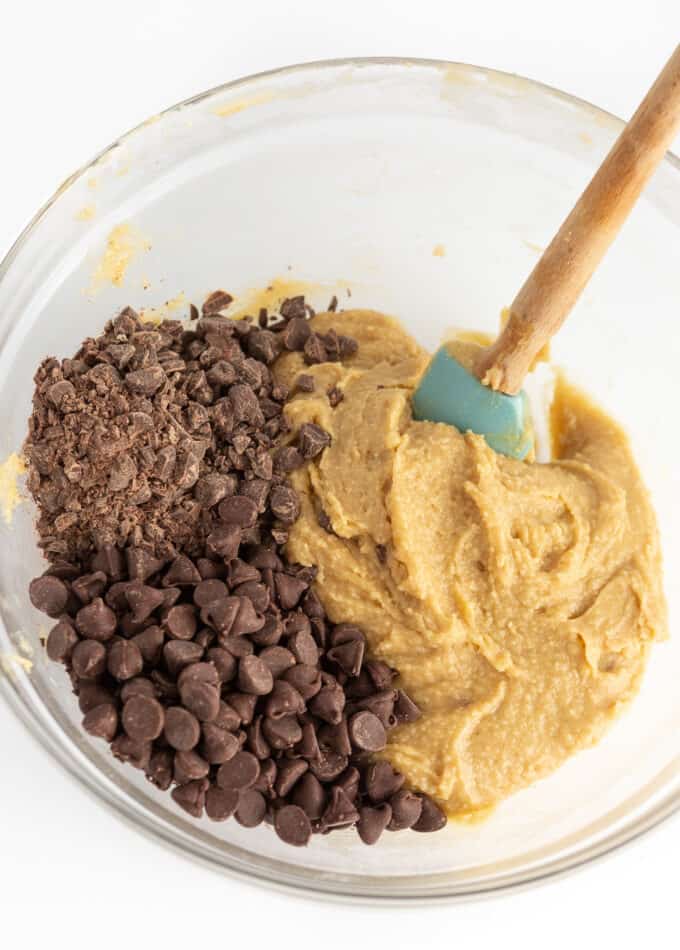 ---
Step 3: Press the Dough into the Pan
Gluten-free cookies have a tendency to stick more when baking, so you'll need to grease your cookie cake pan well (make sure you get all the edges!) or line the bottom with parchment paper (still grease the edges). If you plan to invert the cake onto a tray, I highly recommend using parchment paper in order for the cookie cake to invert out of the pan easily.
Use a spoon or clean hands to drop small pieces of dough all over the pan. Then, use your hands or a spatula to press the dough down, forming your cookie cake.
Make sure the chocolate chips are evenly distributed—if there are two or more stuck together, pull them apart. Big clumps of chocolate chips are delicious, but they create weak spots in your cookie cake!
Tip: This is a "wet" sticky dough. If you're having trouble spreading it, grease your hands to help press the dough down.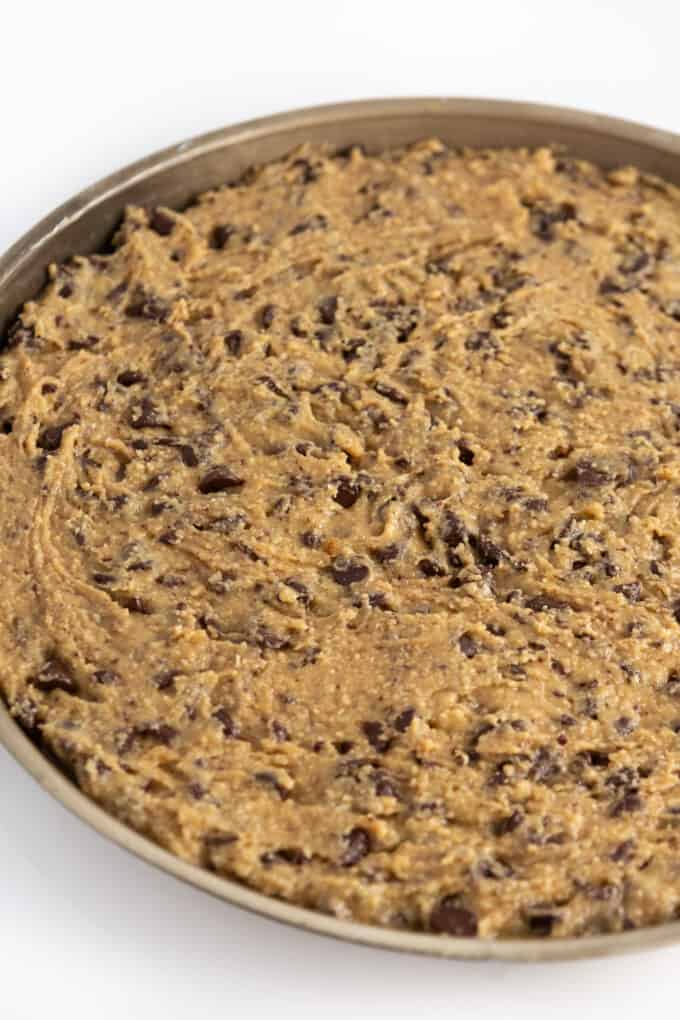 ---
Step 4: Bake
Place the cookie cake in an oven preheated to 350ºF and bake it for 12 to 14 minutes. It might look a little under-baked, but the residual heat from the pan will continue to bake the cookie even after you take it out of the oven.
Tip: It's important to not over-bake a GF cookie cake! If it's crispy instead of chewy, it won't cut into nice, clean slices.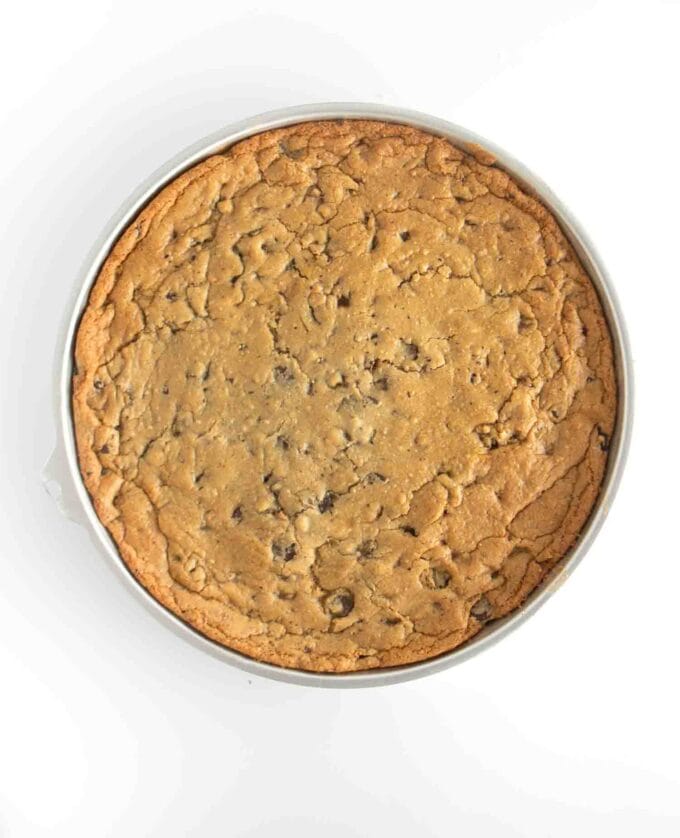 ---
Step 5: Cool & Refrigerate
If you plan to invert & remove your cookie cake from the pan, it needs to be cooled completely and refrigerated before attempting this. Since this is a softer cookie, I personally prefer keeping it in the pan for serving. While you're waiting for the cake to cool, you can make the buttercream.
To remove: When the gluten-free cookie cake is cool to the touch, place it in the fridge for 30-60 minutes (this is necessary for sturdy slices!). After chilling, run a butterknife along the edges of the pan to help loosen it. Then, place a flat platter or cutting board on top of the pan and quickly flip it over to release the cookie cake. Put your serving platter over the cookie cake and flip it again. Now you're ready to decorate!
Tip: I use these cute paper serving platters—the largest one in the pack is perfect size for a gluten-free chocolate chip cookie cake.
---
Step 6: Decorate
When it comes to decorating, you can use the vanilla buttercream recipe I share below, or you can use your favorite store-bought frosting in a can or tube.
How to Decorate Cookie Cake
I used a piping bag and large star tip to create a simple vanilla buttercream border on my gluten-free cookie cake. You can scatter sprinkles over the border before it dries (see my sugar cookie cake for inspiration!), or keep it as-is.
If you're making a gluten-free birthday cake, use the large number stencils linked in my Giant Birthday Cookie Cake post to pipe a number in the center or use a letter board kit to write "Happy Birthday."
More Decorating Ideas:
Make a gluten-free cookie ice cream cake by baking the cookie in a springform pan (you'll need to adjust the baking time by adding a few extra minutes), then top it with a layer of ice cream.
Want a cookie cake that looks like it came from Mrs. Field's or Great American Cookie? Skip having it shipped or delivered and use a variety of frosting colors to decorate it, or make vanilla buttercream and chocolate frosting and alternate them to create the border.
If you've ever had brownie pizza before, you can do something similar with this gluten-free cookie cake recipe! Bake a brownie mix in the pan, invert it and then layer this baked cookie cake on top. (Who wouldn't want a double layered pizza-style cake instead of a plain gluten-free birthday cake?! Gluten-free cookie pizza for the win!)
Tip: If you don't have piping bags, a zip-top bag will work instead. Just snip off a corner and fit it with a piping tip.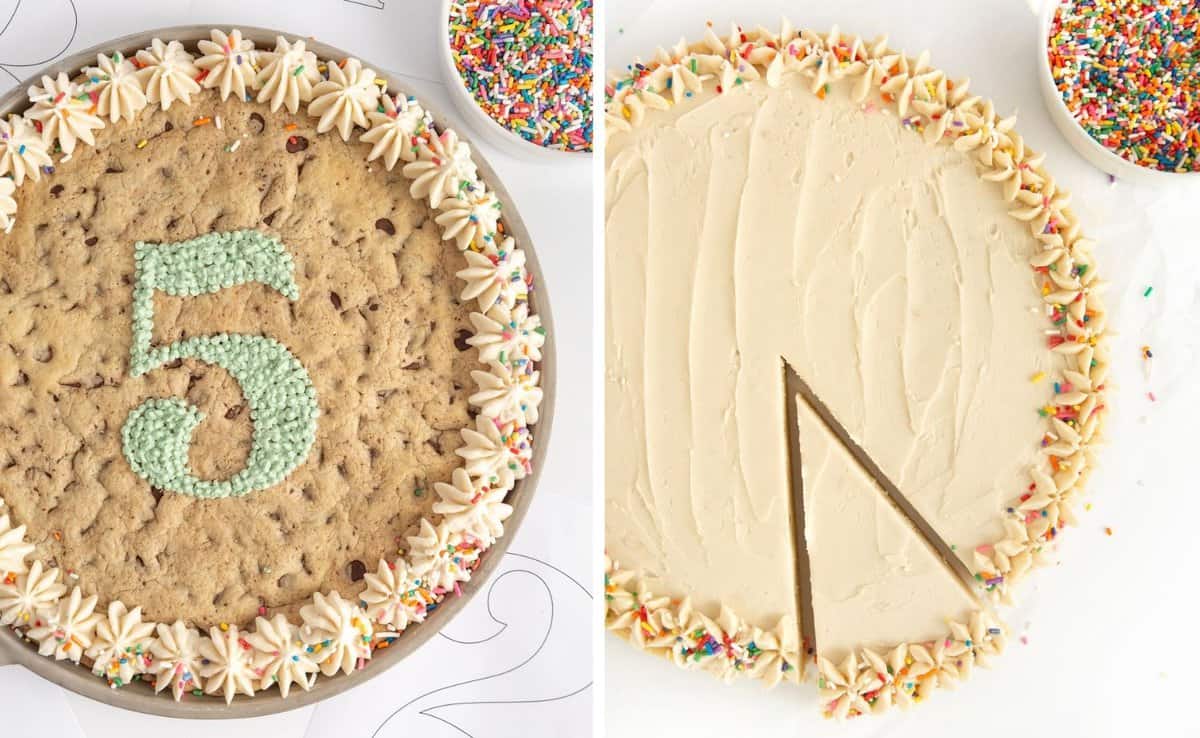 ---
Step 7: Cut and Serve
It's time to cut your gluten-free cookie cake and give it a try! (The worst part about baking is the waiting, right?!) Use a sharp chef's knife to slice it into wedges or cut it into smaller squares if you're serving a large crowd.
Tip: The appeal of a cookie cake is that it's basically a handheld gluten-free dessert cake, but if you want a next-level treat, you can serve it on a plate with a scoop of ice cream, a drizzle of caramel or chocolate sauce (or both!), and some mini chocolate chips scattered over the top. So good.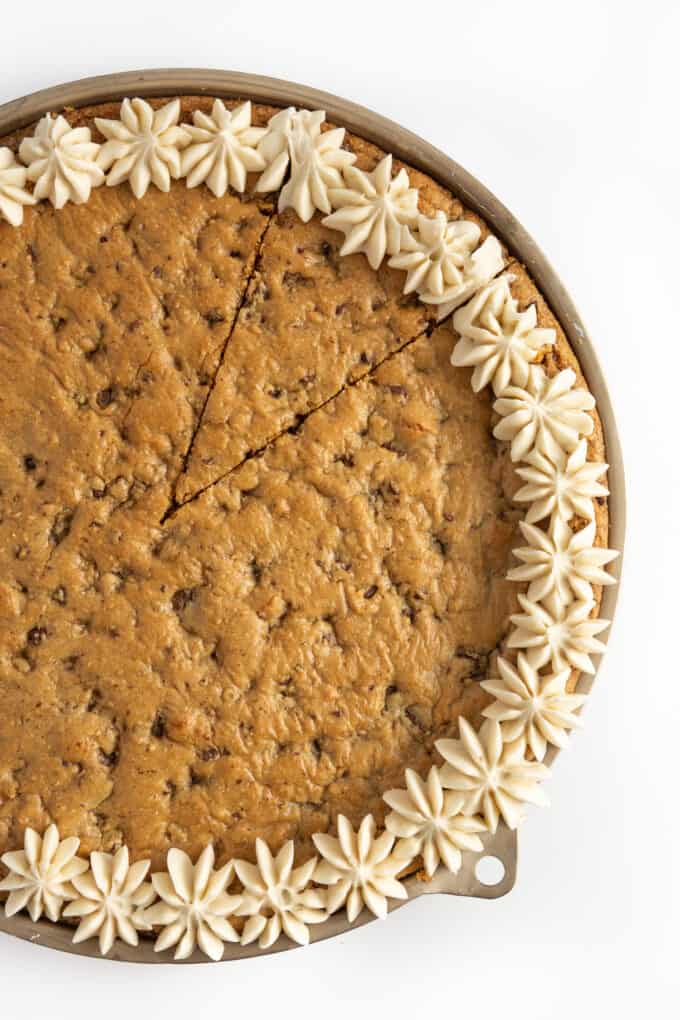 ---
Frequently Asked Questions:
Is this the best gluten-free cookie cake recipe?
Not to toot my own horn, but I did a lot of testing to get this recipe perfect, and it's definitely the best gluten-free cookie cake recipe I've tried! I tested a lot of combinations of different flours but found the mix of almond flour & GF all-purpose flour resulted in the best, chewiest texture.
If you've wondered where to buy gluten-free cookie cake, let me tell you: there's no need to go out and buy it when it's this easy to make at home.
How do you store gluten-free cookie cake?
Gluten-free cookie cake is best stored on the counter at room temperature, but once it's frosted, it will need to be refrigerated after a day since the buttercream contains milk (and I prefer it chilled as it's even chewier!). If you want to make a giant cookie cake in advance, I recommend baking the GF cookie cake first, then frosting it the day you plan on serving it.
This cookie cake is best eaten within 2 days. I find gluten free baked goods dry out a bit faster, so it's best to eat fresh!
What if I don't have a cookie cake pan? Can I use a round pizza pan?
If you don't have a 11.5-inch metal cookie cake pan, use a 9×13-inch metal pan for a rectangular cookie cake; this will result in a thinner cake, so it will finish baking a bit earlier. You can also follow the instructions for making a DIY cookie cake pan in my homemade cookie cake post. A round pizza pan won't work, as it's larger than we want for this recipe (and the cookie would be flat).
How can I make a vegan gluten-free cookie cake?
You can swap the egg for a flax egg, the dairy butter for vegan butter, and the chocolate chips with a vegan variety to make a vegan gluten-free cookie cake. If you want to add the buttercream too, you'll need to use vegan butter and a plant-based milk.
---
Chewy Gluten-Free Cookie Cake
Whether it's for a birthday, special occasion, or just because, this gluten-free cookie cake is sure to be a hit! It's rich, chewy, and so easy to make!
Prep Time: 10 minutes
Cook Time: 12 minutes
Total Time: 22 minutes
Course: Dessert
Category: Cookie
Servings: 12 slices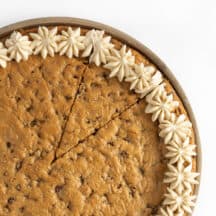 Ingredients
Cookie Cake Recipe
1/2 cup unsalted butter You will be melting this
1/2 cup brown sugar
1/4 cup granulated sugar
1 large egg
1.5 teaspoon vanilla extract
1/2 teaspoon baking soda
1/4 teaspoon baking powder
1/4 teaspoon salt
3/4 cup gluten-free all-purpose flour
3/4 cup almond flour
1 cup semi-sweet chocolate chips (You'll be chopping 1/2 cup and adding the remaining 1/2 cup whole).
Vanilla Buttercream Frosting
1/4 cup unsalted butter softened to room temperature
1 1/4 cups powdered sugar
3/4 teaspoons vanilla extract
Pinch of Salt
1-2 tablespoons milk
Instructions
Preheat oven to 350 degrees.

Chop 1/2 cup of the chocolate chips into small pieces (set the other 1/2 cup of unchopped chocolate chips aside). Set aside.

In a small microwave-safe bowl, melt the butter for 20-30 seconds until JUST melted.


Add in white sugar and brown sugar and use a spatula to stir until combined (* do not use a mixer!). Add in egg and vanilla, then mix. Next, add in baking soda, baking powder, and salt and mix again. Add in both flours and mix until all the flour disappears into the dough.

Lastly, mix in both the 1/2 cup of chopped chocolate chips and 1/2 cup of whole chocolate chips.

Grease a 11.5" metal cookie cake pan (don't have one? See notes section below). If you plan to invert the cake from the pan, you must line the bottom with parchemnt paper and grease the edges of the pan in order for it to release cleanly. Spread dough into a even layer.

Bake at 350 degrees for 12-14 minutes – do NOT overbake or your chocolate chip cookie cake will not be soft. You want the cookie cake to be slightly brown on the top and look slightly underbaked (my oven was perfect at 12 minutes). Remove from oven and place entire pan on a cooling rack. Allow the cookie cake to cool completely before removing. Once cooled, refrigerate the cookie cake for 30-60 minutes. This is essential for a chewy cake that slices cleanly.

Tip: To remove from pan, use a knife to go around the edges, place a flat platter on top, then flip over the pan to remove. If you used parchment paper, this should come out rather smoothly. After flipping over the cookie cake, flip it over again on the final decorate plate or platter.

Once fully cooled, using a large star piping tip, pipe around the edges then immediately add sprinkles (the frosting will start hardening quick, so add sprinkles right away!).
To Make Frosting:
Beat the softened butter, vanilla, and salt on medium-high speed for 1 minute until smooth. Turn the mixer to low speed then add the powdered sugar 1/4 cup at a time. You may need to stop and scrape down sides. One tablespoon at a time, add milk. Beat on high for 2-3 minutes until creamy and the frosting is at a good consistency to pipe. If it looks too runny, add more powdered sugar. If it looks too stiff, add a tiny bit of milk until you get to the desired consistency.

This will make just enough frosting to pipe a border along the edges. If you would like more frosting to cover the top or to write words on top, simply double the frosting recipe!
Last Step! Please leave a review and rating letting me know how you liked this recipe! This helps my small business thrive so I can continue providing free recipes and high-quality content for you.
Recipe Notes
Don't have a round cookie cake pan?
You can bake in a 9×13 pan (they'll be a little thinner) OR
Create a DIY cookie cake pan using a large mixing bowl (that is about 10″ in diameter) with aluminum foil (see instructions in FAQ section here). Because you don't have as much heat from a real metal pan, these typically take an extra 4-6 minutes to bake.
I'm confused on the size of the Wilton cookie cake pan you linked to – is it 10″ or 12″? On Amazon, they list the dimensions at 10.5″ since that's the bottom diameter but packaging on the actual pan list it at 11.5″. So it is often referred to as a 10″ or 12″ pan.
Storing: Because of the sugar content, you don't need to refrigerate the frosted cookie cake if you plan to enjoy it within 1 day. If you are making ahead earlier, I'd suggest waiting to frost until day of OR gently wrap the frosted cookie after the frosting sets and place in the fridge.
Freezing/Make Ahead Tip: I don't typically like freezing chocolate chip cookies because I feel like they get dry and not as chewy in the freezer. If you do need to make this in advance, you could wrap the baked, unfrosted cookie in plastic wrap and when you're ready to eat it, let it thaw to room temperature then frost.
Decorating Tip: If you're feeling fancy, you can double the frosting recipe to have enough to pipe phrases like "Happy Birthday" on the top. Or use this fool-proof letterboard cake topper kit (these are made from plastic so you can wash and reuse for years!).
Can I double this recipe? You can, but you still want to make sure the dough is only 1/2″ thick once spread in the pan (so you would need a larger pan than the 11.5″). Note that thicker dough will require longer baking times and won't be as much like the traditional, chewy cookie cake recipe you may be used to.
Nutrition information is just an estimate but based on 12 servings.
Nutrition
Calories: 361kcal
Fat: 21g
Saturated fat: 11g
Trans fat: 1g
Polyunsaturated fat: 1g
Monounsaturated fat: 5g
Cholesterol: 45mg
Sodium: 106mg
Potassium: 117mg
Carbohydrates: 41g
Fiber: 3g
Sugar: 31g
Protein: 4g
Vitamin A: 384%
Calcium: 47%
Iron: 2%
If you make these gluten-free cookie cake, be sure to leave a comment below and tag me on Instagram @designeatrepeat. I LOVE seeing what you made!