The only thing better than a soft, chewy chocolate chip cookie is a GIANT chocolate chip cookie! This easy one-bowl recipe gives you one chocolate chip cookie that's perfect for sharing (or not).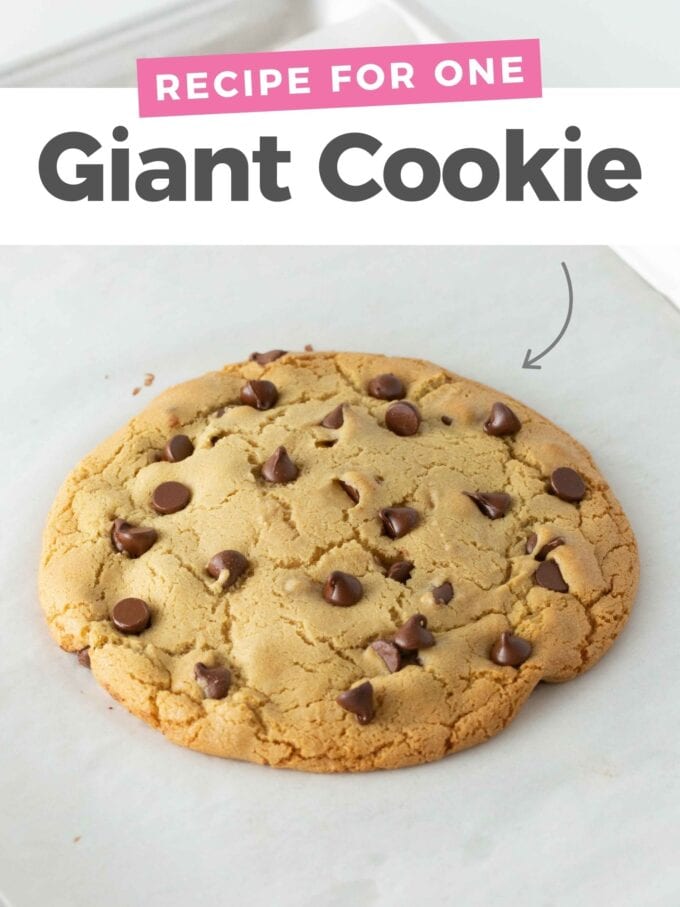 Soft. Chewy. Full of chocolate. There's so much to love about chocolate chip cookies, and this one giant chocolate chip cookie has them all. If you're looking craving a cookie but can't be trusted with having 2 dozen in the house, you can't do any better than this jumbo cookie recipe.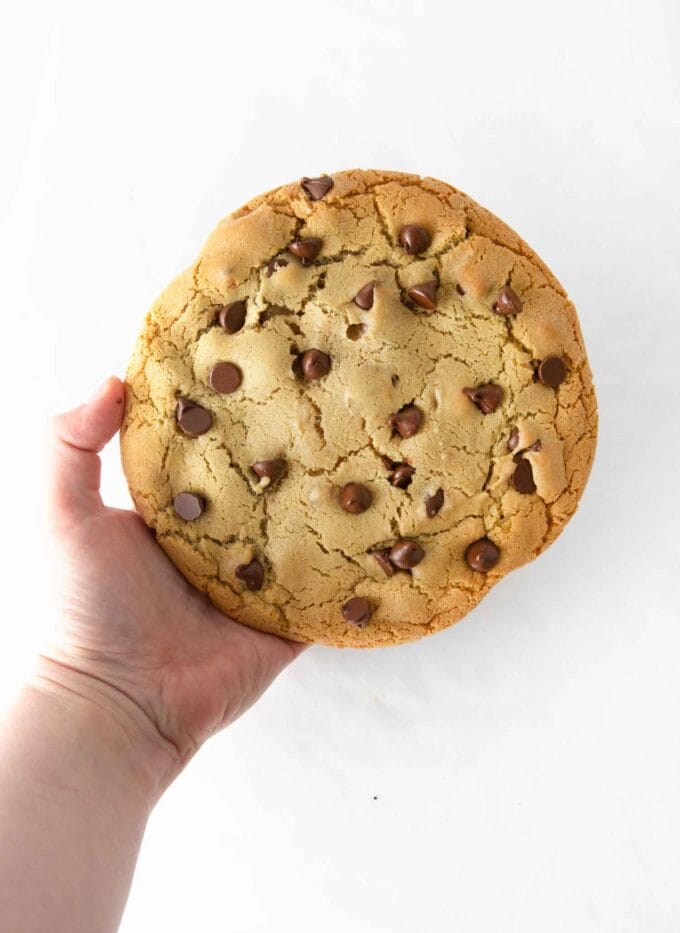 Why This Is the Best Giant Chocolate Chip Cookie Recipe
Super quick & easy: this single chocolate chip cookie recipe is a small batch recipe that's mixed in one bowl, and because it uses melted butter, you don't even need an electric mixer to cream the butter and sugar together!
Uses everyday ingredients: you probably have most of them in your kitchen already!
Versatile: It can make a GIANT chocolate chip cookie, or two huge chocolate chip cookies if you divide the dough in half.
You don't need a cookie cake pan: while you can still slice this up like a cookie cake, it really is just one big chocolate chip cookie placed on a baking sheet.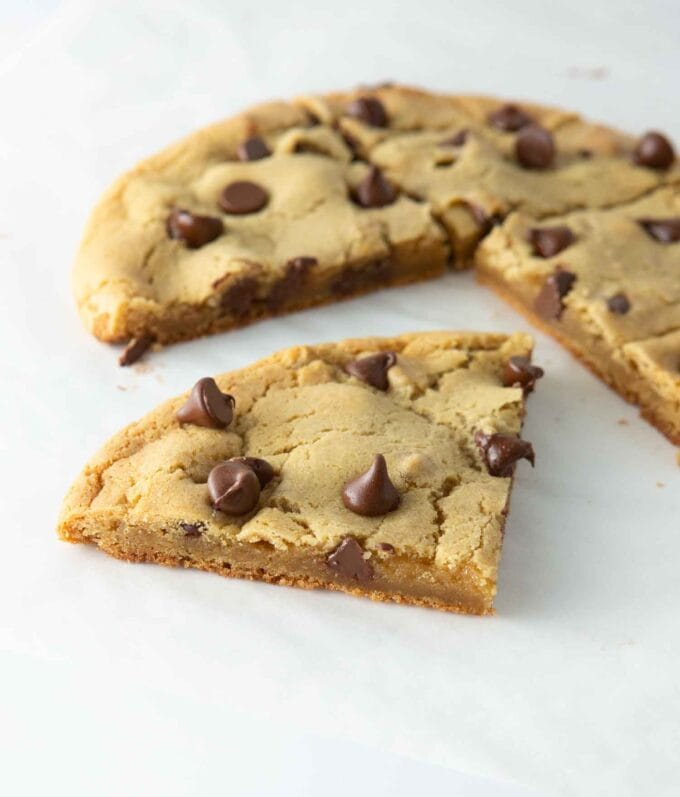 Ingredient Notes & Tips
Egg yolk: We're only using the egg yolk here; not the full egg!
Chocolate Chips: You can use regular semi-sweet chocolate chips, a chopped chocolate bar, or Hu Chocolate Gems (which melt into puddles and create a flatter cookie, as shown below). If you use Hu Chocolate Gems, I also recommend skipping the added salt since they are on the saltier side.
Measure accurately: Since this is a small batch, it's important to measure accurately since you don't have as much room for error when using such small amounts of ingredients.
Make it gluten-free! Use 1/4 cup gluten-free 1-to-1 all-purpose flour and 1/4 cup almond flour to make your single-serve chocolate chip cookie gluten-free. The almond flour helps keeps it chewy!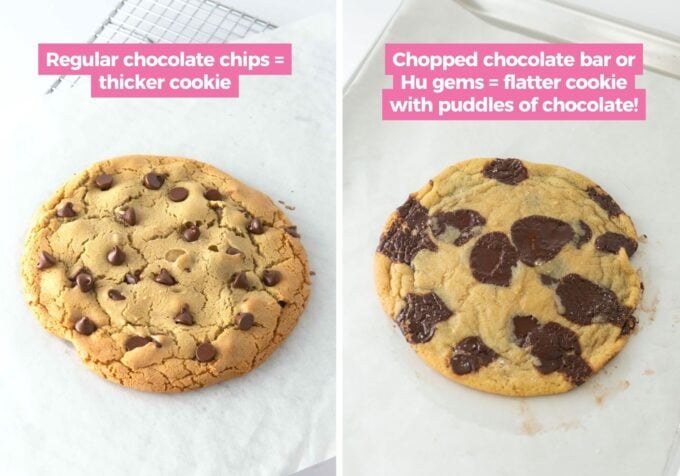 How to Make Jumbo Chocolate Chip Cookies:
This is just an overview showing step-by-step photos, click here to jump down to full recipe card with exact instructions.
Step 1: Make the Cookie Dough
Melt 3 tablespoons unsalted butter in a microwave-safe mixing bowl, then stir in 4 tablespoons brown sugar and 2 teaspoons granulated sugar. Once the sugars are incorporated, stir in the egg yolk, followed by 1/2 teaspoon vanilla extract, 1/4 teaspoon baking soda, and 1/4 teaspoon salt. Mix in 1/2 cup all-purpose flour and stir until combined. Fold in 1/4 cup chocolate chips.
Tip: Don't over-mix! If you stir too much, you'll end up with a tough single-serving cookie.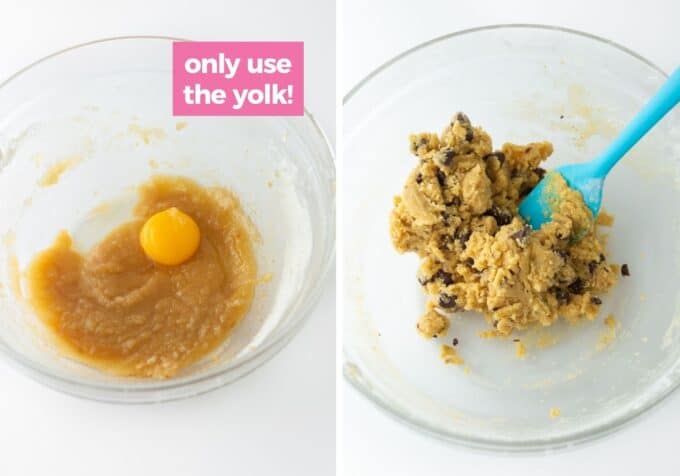 Step 2: Form a Big Single Chocolate Chip Cookie
Use your hands to shape the dough into a ball. You can press more chocolate chips into the top of the cookies if you'd like!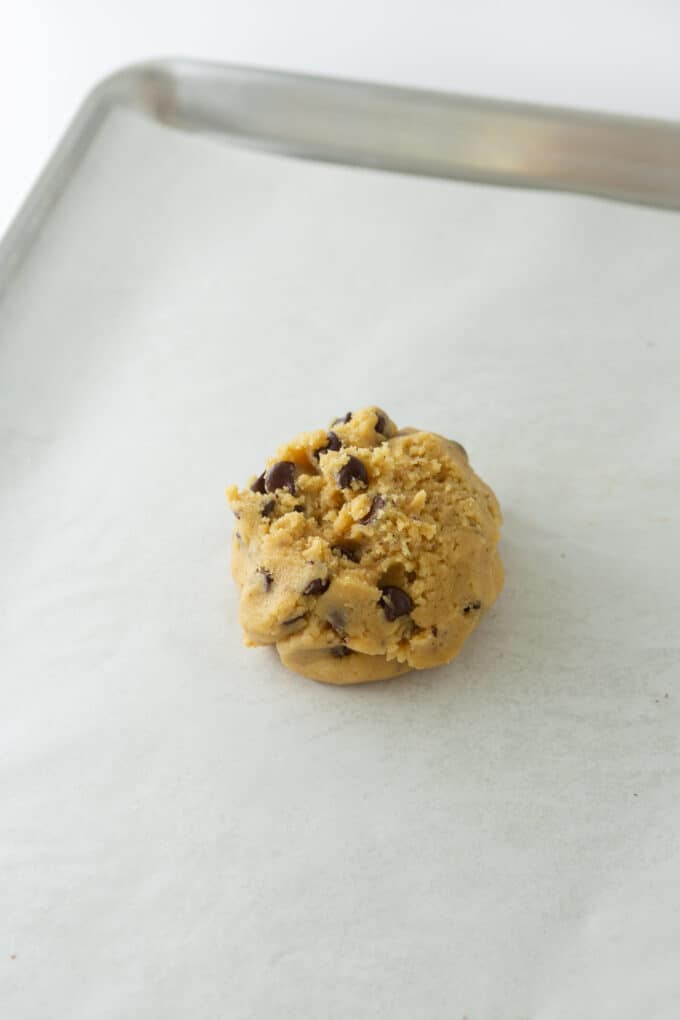 Step 3: Bake
Place the baking sheet in the oven and bake your giant chocolate chip cookie at 350°F for 14 to 16 minutes or until the edges and top are lightly brown. I like my cookies on the gooey side, so I baked mine for exactly 15 minutes.
Tip: Don't panic if your cookie doesn't look done when you pull it out of the oven. The goal here is to slightly under-bake it, then let it finish baking from the residual heat on the pan. This is what gives your big chocolate chip cookie the perfect chewy texture!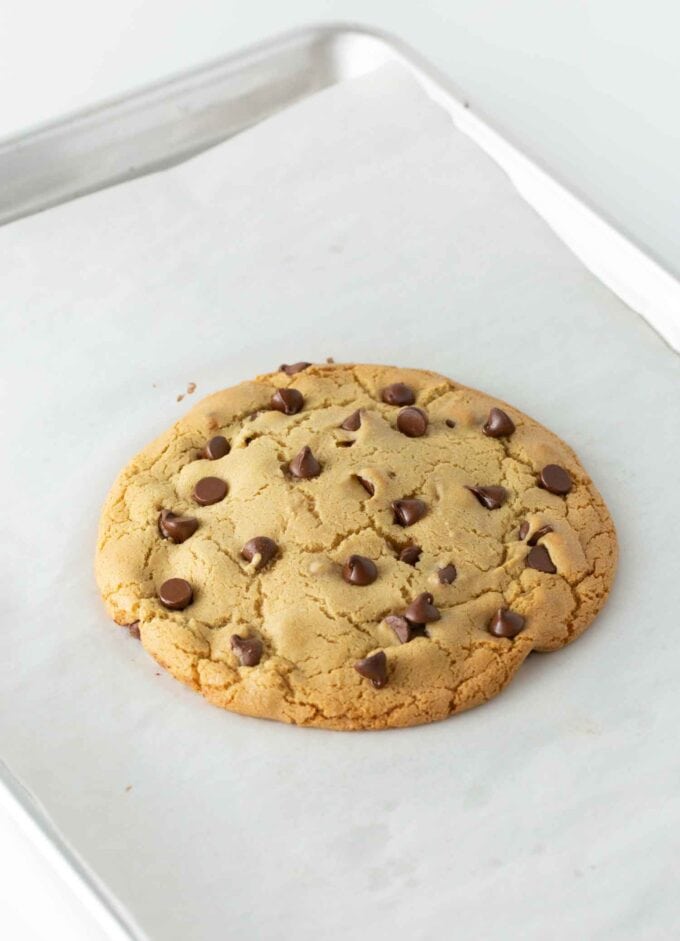 Step 4: Enjoy!
Let the cookie cool, then eat it as a single-serve jumbo chocolate chip cookie, or cut it into wedges and share with friends!
Tip: The inside will be doughy until the cookie fully cools.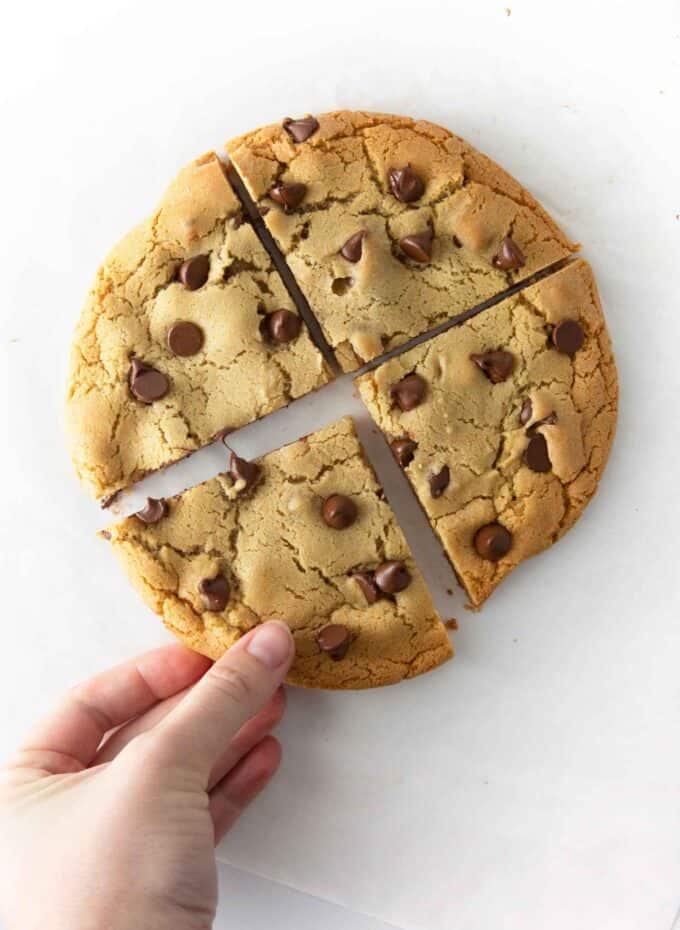 Storage & Freezing
Storing: You can store your giant chocolate chip cookie wrapped in plastic wrap or in an airtight container at room temperature for 3 to 4 days.
Freezing: Whether you're freezing one chocolate chip cookie or a whole batch, you can pop them in the freezer for up to 3 months. Let them thaw at room temperature, or warm them up in the microwave.
---
Frequently Asked Questions:
How do you know when a giant cookie is cooked?
Because we want to slightly under-bake this cookie, the center won't be totally set when it's done. Instead, look at the edges of the cookie—if they feel firm and dry, and they're just beginning to turn golden brown, your giant cookie is done.
Can I make this giant chocolate chip cookie recipe into a giant cookie cake?
You might consider these big chocolate chip cookies to be mini cookie cakes! They can still be sliced and shared with a few people, but they're not big enough to feed a crowd. If you want to make a giant chocolate chip cookie cake, try one of these big cookie recipes: homemade cookie cake recipe, double layer cookie cake, or sheet pan cookie cake.
Which brown sugar is better for cookies?
You can use either light brown sugar or dark brown sugar in this recipe. Dark brown sugar will yield darker cookies, with a more pronounced brown sugar flavor and chewier texture.
For more small batch recipes…
Giant Chocolate Chip Cookie
This recipe makes one big, soft, chewy chocolate chip cookie to satisfy all your cookie cravings!
Prep Time: 10 minutes
Cook Time: 16 minutes
Total Time: 26 minutes
Course: Dessert
Category: American
Keyword: giant chocolate chip cookie, jumbo cookie recipe, single chocolate chip cookie recipe
Servings: 1 cookie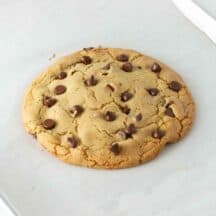 Ingredients
3 tablespoons unsalted butter
¼ cup light brown sugar (4 tablespoons)
2 teaspoons granulated sugar
1 large egg yolk
½ teaspoon vanilla extract
¼ teaspoon baking soda
¼ teaspoon salt omit if you're using salted butter, a salted chocolate bar or Hu chocolate gems
½ cup all-purpose flour
¼ cup semi-sweet chocolate chips
Before you begin! If you make this, will you do me a huge favor and leave a review and rating letting me know how you liked this recipe? This helps my small business thrive so I can continue providing free recipes and high-quality content for you.
Instructions
Preheat your oven to 350ºF.

Melt butter in a microwave-safe mixing bowl. Stir in the granulated sugar and brown sugar, followed by the egg yolk, vanilla extract, baking soda, and salt. Add the flour and stir until just incorporated. Fold in the chocolate chips.

Use your hands to form the dough into a giant ball.

Bake for 14-16 minutes, or until the edges are set, but the center looks under-baked. The cookie will continue to bake from the residual heat on the pan after you remove it from the oven.
Last Step! Please leave a review and rating letting me know how you liked this recipe! This helps my small business thrive so I can continue providing free recipes and high-quality content for you.
Recipe Notes
If you use chopped chocolate bars or Hu chocolate gems or chopped chocolate, your cookies will flatten out more than if you use regular chocolate chips. Aka: the chocolate will melt into puddles, as shown in the image above!
Nutrition auto calculated and based on the entire giant cookie.
Recipe Video
Nutrition
Calories: 1128kcal
Fat: 57g
Saturated fat: 33g
Trans fat: 1g
Polyunsaturated fat: 3g
Monounsaturated fat: 16g
Cholesterol: 287mg
Sodium: 1153mg
Potassium: 419mg
Carbohydrates: 143g
Fiber: 5g
Sugar: 88g
Protein: 12g
Vitamin A: 1332%
Calcium: 111%
Iron: 7%