Bring back the nostalgia of the pre-internet days with these free printable recipe cards! Use to store your favorite recipes or customize and gift to friends & family.
I can hardly believe it's been 4 years since I first shared printable recipe cards so I figured it was time to do another round! This time, with a few ideas on how to turn the printable recipe cards into a full blown baking gift box! Because when I'm in doubt on what to for a last-minute gift, some kind of baking tools are always in order.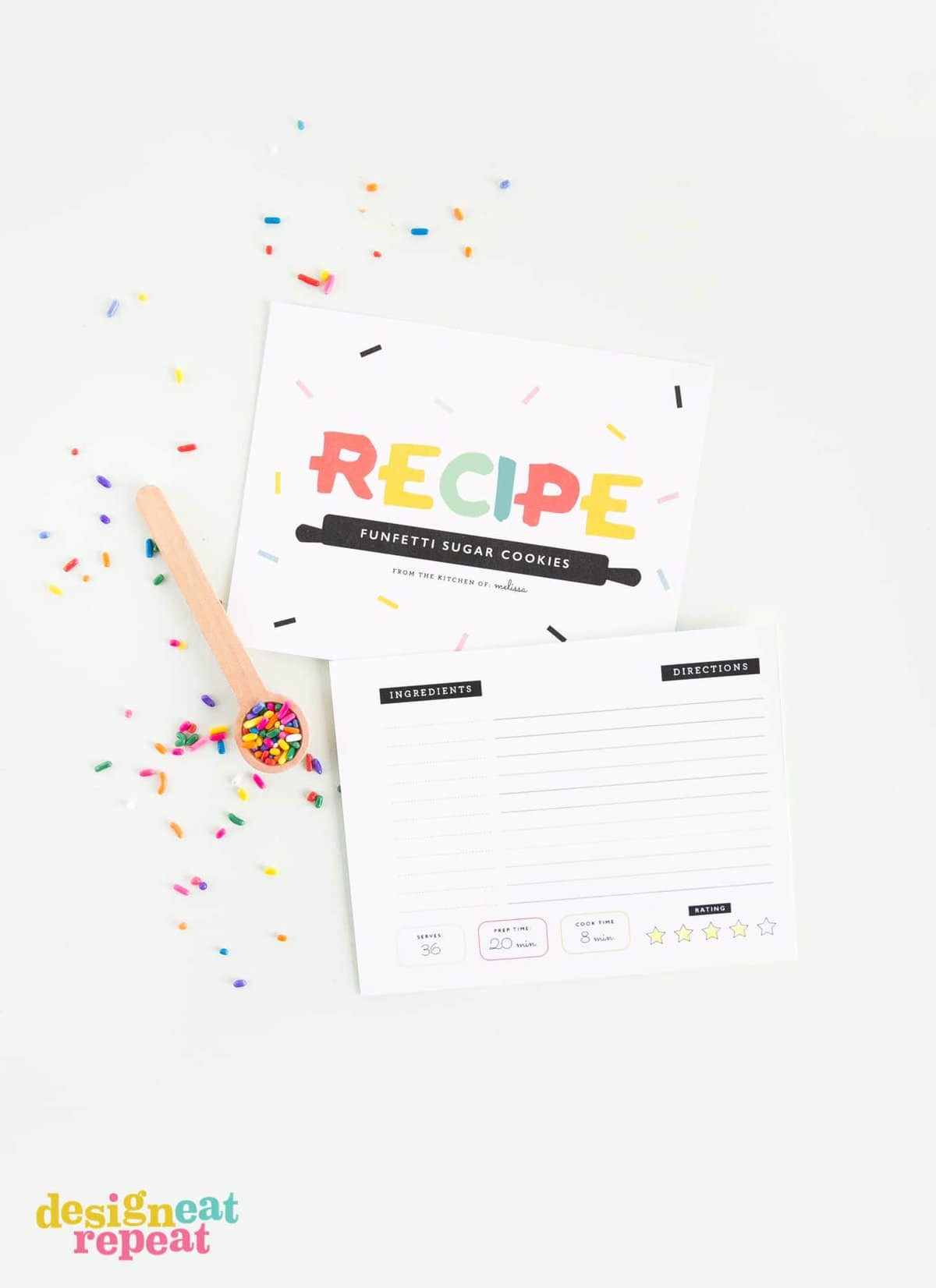 I wanted to share these fun & colorful printable recipe cards to hopefully inspire you to write down or print off some of your favorite recipes and stick them in a book or give them to friends and family.
What You Need for Printable Recipe Cards & Baker Gift Box:
All you need a printer & white cardstock to print off the printable recipe cards. To add them to a baker's gift box, simply write your favorite recipes on these cards and pair with some sprinkles (duh), a cute whisk, and cookie cutters and you're set.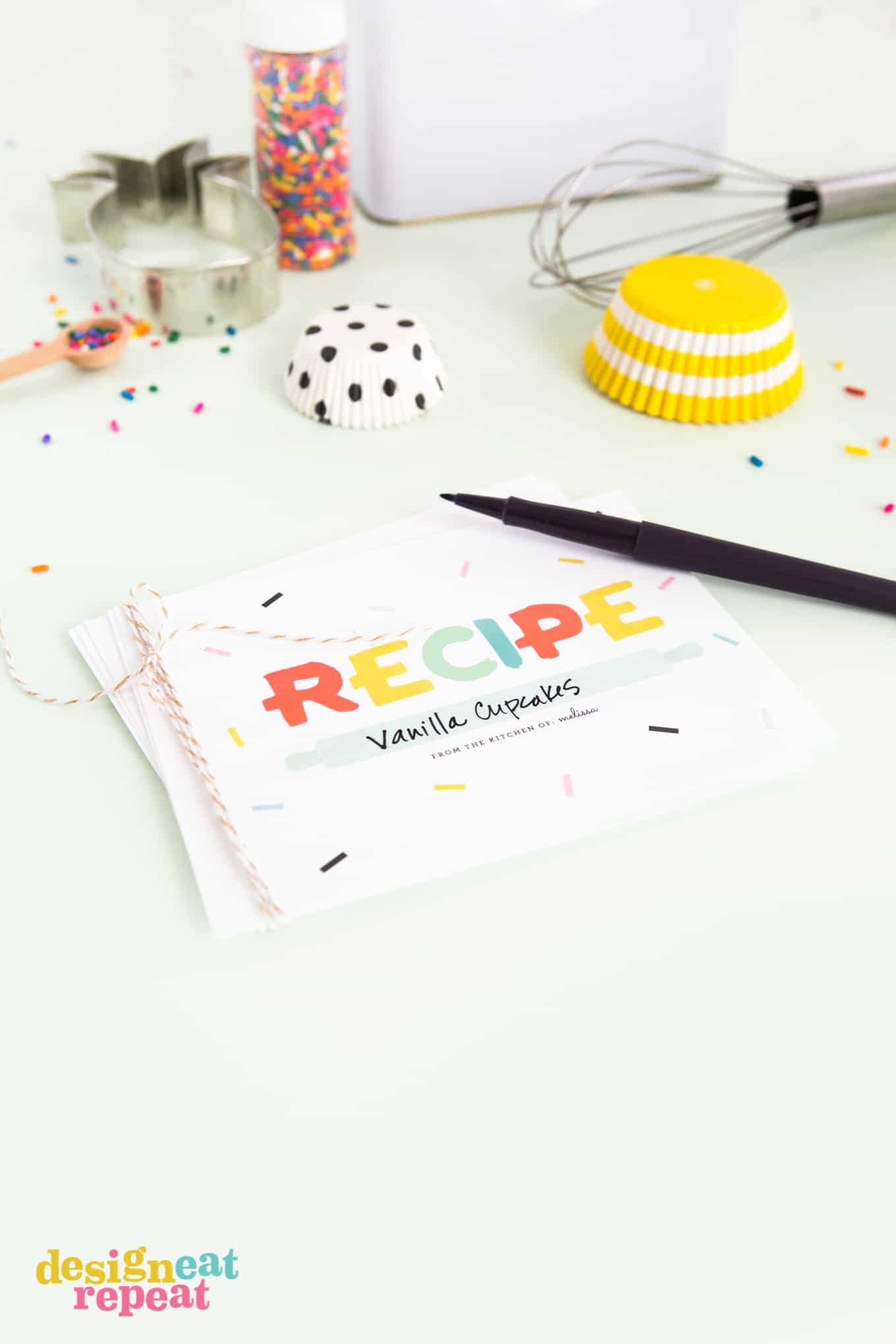 How to Download, Customize, and Print the Recipe Cards:
Download the printable PDF.
Print on 8.5 x 11″ cardstock.
Fill out & enjoy!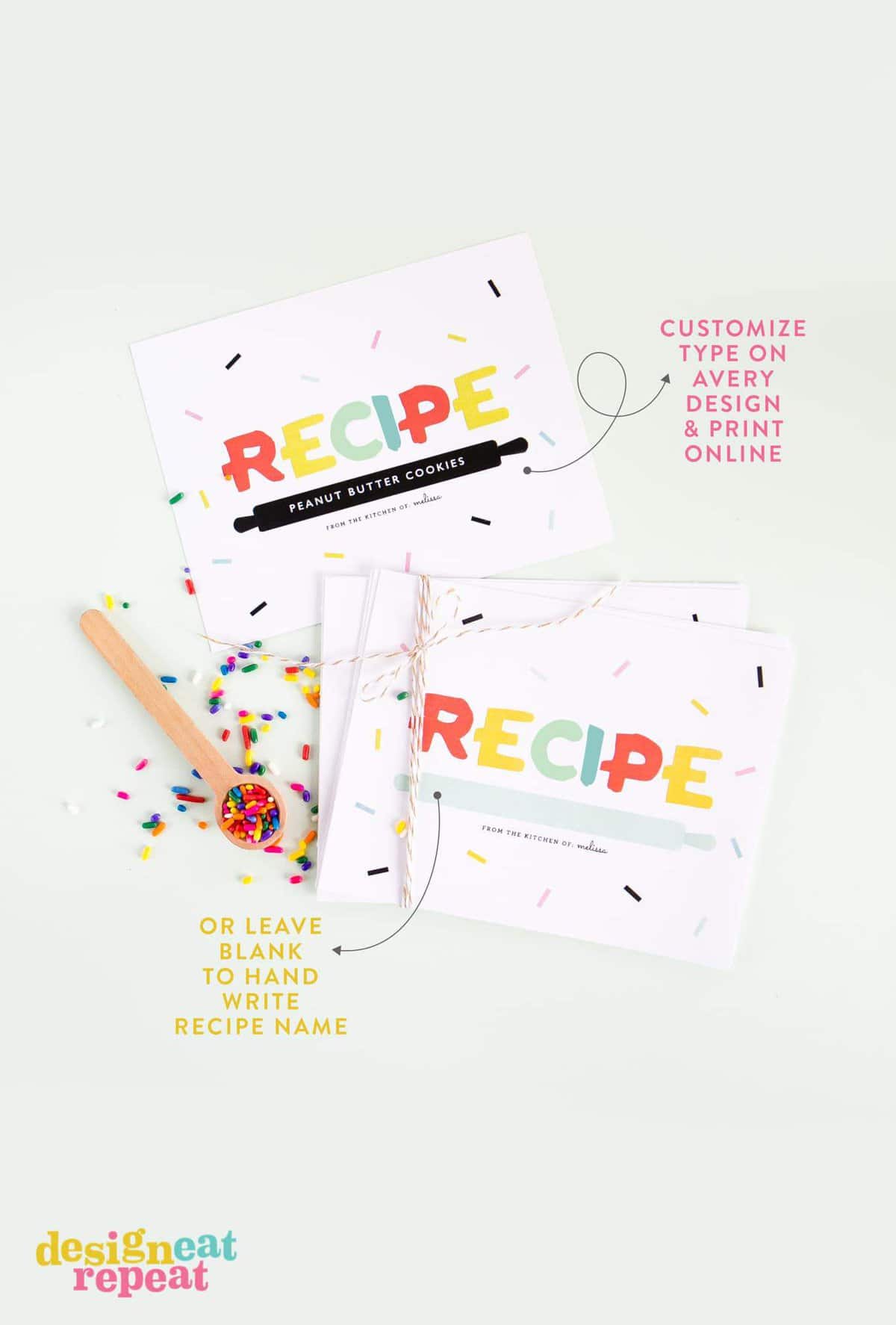 The great thing about being able to type in your own recipe is that you can print off as many copies as you need so you don't have to spend an hour hand writing 5 copies of that in-demand cookie recipe all your friends are asking you for.
Idea to Gift Printable Recipe Cards:
I find that recipe cards are not only great for just for jotting down recipes to keep in your own binder, but they also make a great gift for the baker's in your life! Instead of spending $20 on a custom set of recipe cards, you can use this template to customize with the names of your friends & family. How fun would it be for Sally to get a pack of recipe cards that already has her name listed in the "From the Kitchen Of: Sally" section that she could then use to hand write HER own recipes to give out to people?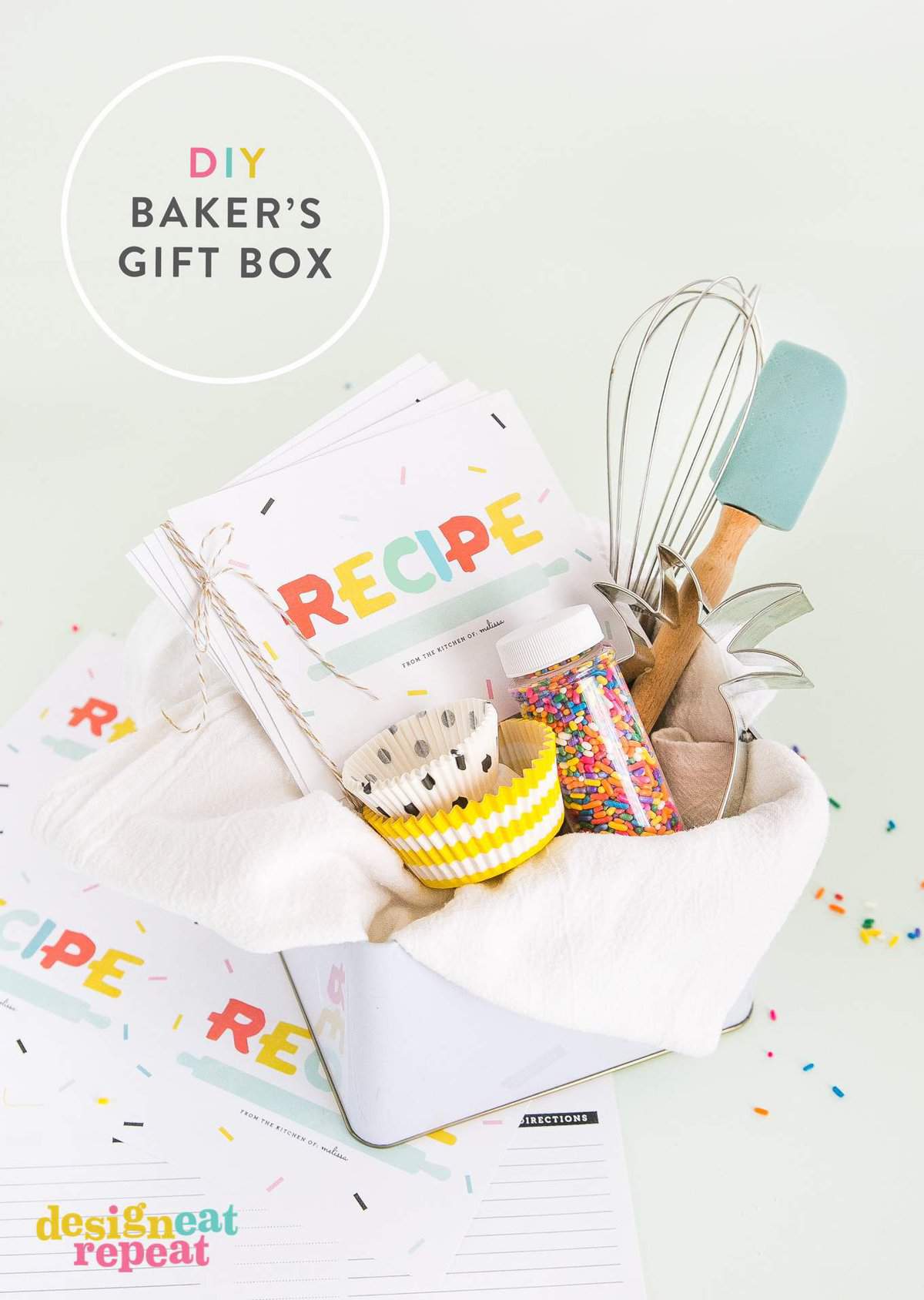 Pair them with a set of measuring spoons or slip them into a DIY baker's gift box and you suddenly have a custom gift that would be great for birthdays, bridal showers, or baking parties. I included a whisk, spatula, cookie cutter, sprinkles, and cupcake liners alongside the printable recipe cards but the options are really endless.
And because it wouldn't be 2017 without a internet recipe rating system, I threw on some stars to color in. But really, you wouldn't give someone a recipe card that was rated 1 star so I guess their purpose is pretty much just for fun. Which I'm not against.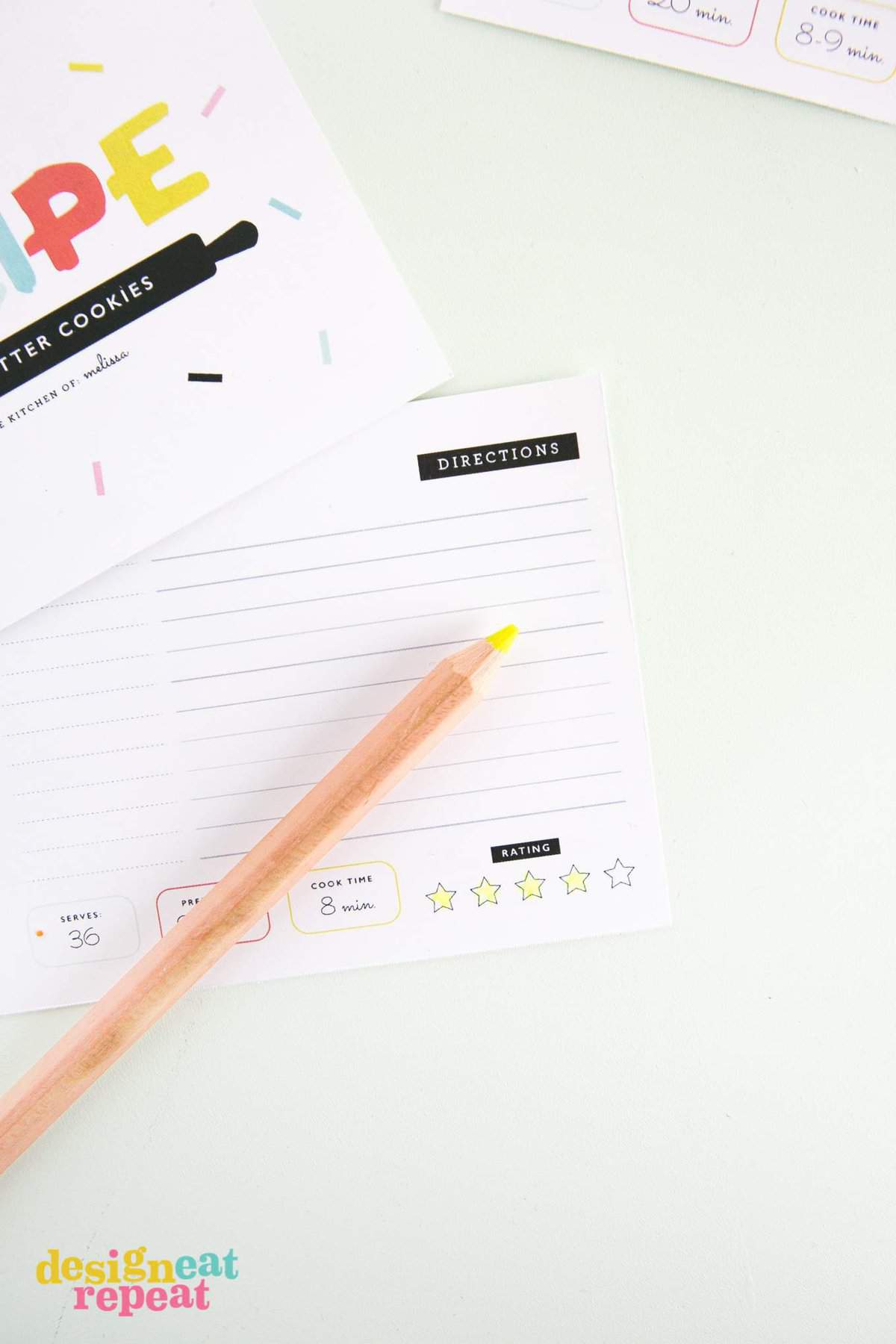 Frequently Asked Questions:
What size are these printable recipe cards?
The design measures a little under 4.25 x 5.25″.
What occasion could I use these?
These would be perfect printable recipe cards for bridal showers, Christmas gifts, or housewarming gifts. Write your favorite recipes on the cards then gift with other baking goodies like oven mitts, whisks, spatulas, aprons, or recipe card boxes.
Do you have other designs for printable recipe cards?
I sure do! Check out the original pastel striped printable recipe cards or for a full-blown gift idea, check out my free printable recipe binder kit.
So what do you say?! Who wants to start a recipe card revolution? I've got about 5 minutes a week to devote to campaigning, but it might be worth a shot… ;)
Please note that these files are for personal use only and redistribution or reselling for commercial use is strictly prohibited. If you would like to spread the word about this printable, you are free to do so but (A) must link directly back to this post for download (please do not link directly to the printable download file) and (B) may only use one image from the post. Thank you for your cooperation!