Now that St. Patrick's Day is over, it's time to jump the gun on the Easter bunny and get these pastels a'hoppin! St. Patrick's Day is one holiday every year that I have grand plans to craft for but before I know it, it's March and my prop shelves have already been taken over by mini cadbury eggs and all hope is lost. But hey, in the famous wise words of my sister, "you win some, you lose some". She usually says that phrase when I ask her to get me a glass of water & she declines, but that's besides the point.
I'm not going to go on and on about these easter egg cookies today, because they are essentially the same thing as the Mega M&M cookies from last month – just with peanut butter m&m eggs instead. Same cookies, different shape.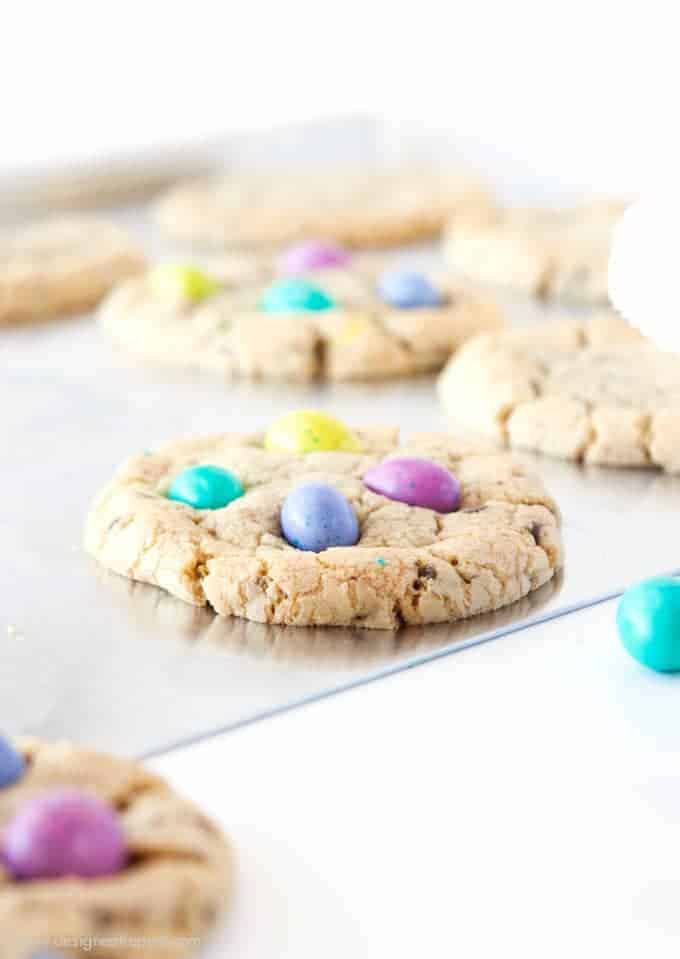 Most people probably think that sugar cookies are the only cookies that can be cut in fun shapes, but these are here to prove that wrong. After scooping the dough, I simply pressed each ball of dough into a egg shaped cookie cutter, flattened out the top, and then popped it right out. No rolling or sticky surfaces, just a little improvising to turn the cookie cutter into more of a mold. And bam, we've got Easter egg cookies!
The cookies will expand quite a bit while baking, so I used a 3″ tall egg cookie cutter to shape the dough. I found this size to work well to still create a big, yet thick cookie.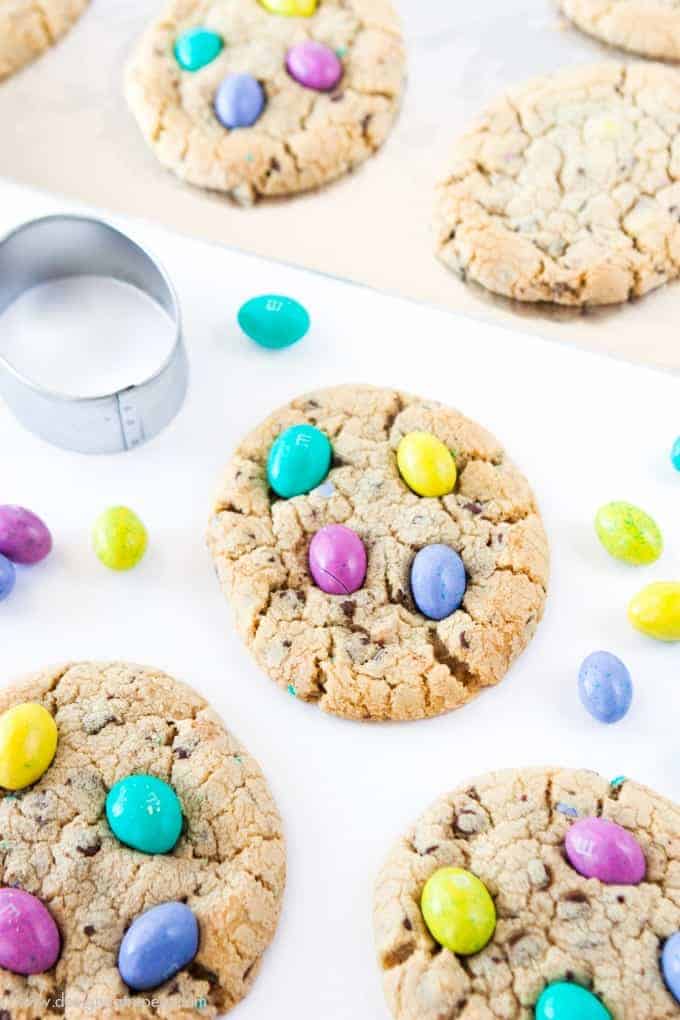 Once fresh out of the oven, I popped on a few candy eggs (shown here are Easter themed peanut butter m&ms) to give the cookies some color. Aren't these neon colors of m&m's fun? Turquoise? Yes, please and thank you.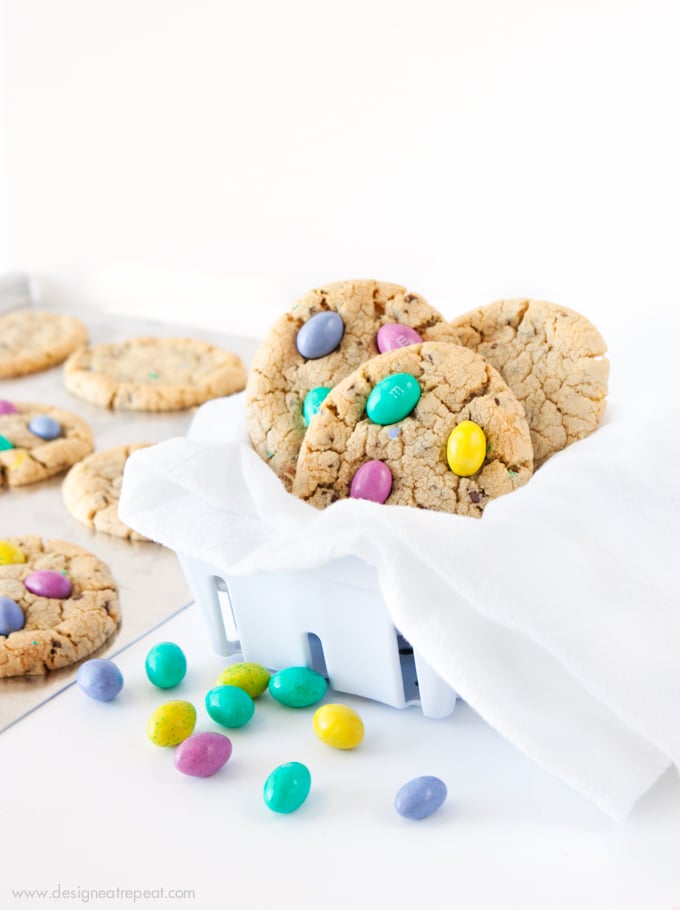 These cookies are best served warm with milk, but you can also make them ahead of time and pop them into the freezer. I honestly can't decide what is better – hot cookies or half-frozen cookies. So different, yet so good.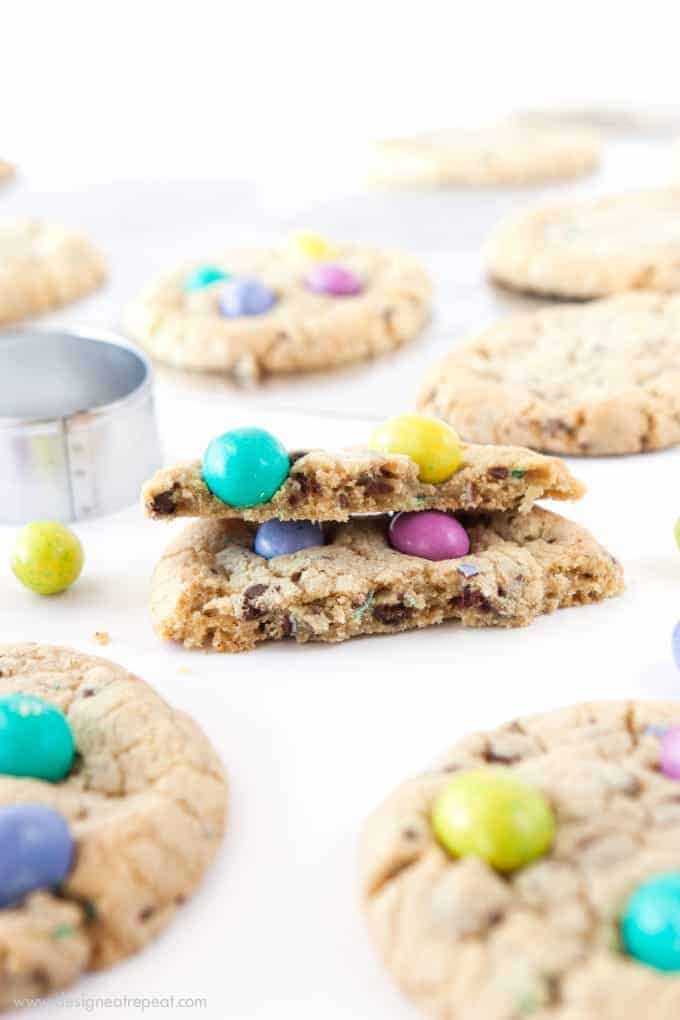 Chocolate Chip M&M Easter Egg Cookies
An easy way to achieve shaped egg cookies without needing to roll out dough!
Prep Time: 10 minutes
Cook Time: 10 minutes
Total Time: 20 minutes
Course: Dessert
Category: Cookie
Servings: 14 Cookies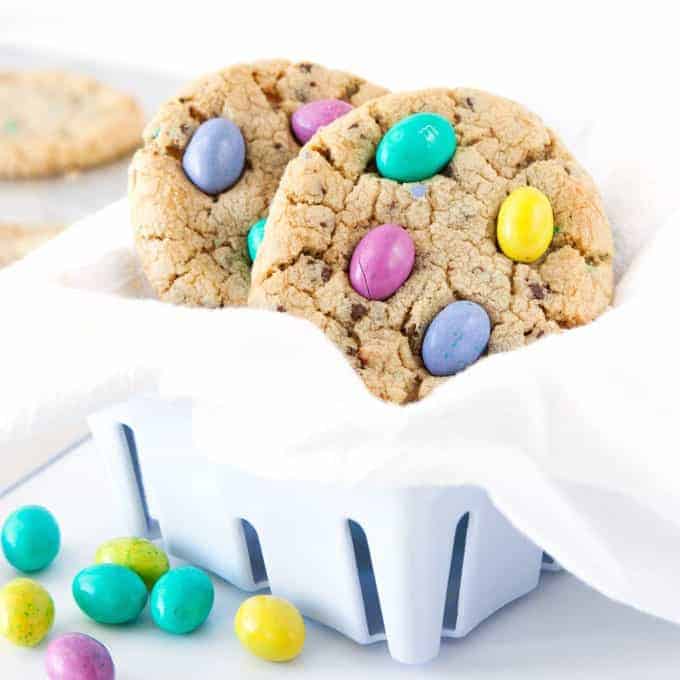 Ingredients
3/4 cup unsalted butter softened
1/2 cup white sugar
1/2 brown sugar
1 large egg
3/4 teaspoon vanilla extract
1 3.5oz. packet instant vanilla pudding mix (not sugar-free or cook & serve)
3/4 teaspoon baking soda
1 1/2 cups all-purpose flour
1/2 cup crushed peanut butter egg M&M's
1/2 cup whole peanut butter egg M&M's
1/2 cup mini semi-sweet chocolate chips
Before you begin! If you make this, will you do me a huge favor and leave a review and rating letting me know how you liked this recipe? This helps my small business thrive so I can continue providing free recipes and high-quality content for you.
Instructions
In a large mixing bowl, cream together butter, sugar, and brown sugar with electric mixer for 30 seconds. Add egg and stir until combined.

On low speed, add in vanilla and pudding mix. Add baking soda and stir for 10 seconds. Slowly add in flour and mix for 30 seconds, or until dough is combined. On low speed, add in crushed M&M's and mini chocolate chips and mix until incorporated.

Scoop and roll into 3-tablespoon sized balls and place on a parchment-covered baking sheet. Press each dough ball into a 3" egg shaped cookie cutter, flattening out the tops of each cookie so they look like smooth, thick dough eggs. Place pan in the refrigerator for 1 hour to chill.

Bake at 350 degrees for 10-12 minutes or until edges start to brown (mine took about 12 minutes, but you will want to watch your oven for doneness).

Immediately after removing from the oven, press whole peanut butter m&m eggs into the tops of each one. Allow for the cookies to continue to cool on baking sheet for 5-10 minutes until removing cookies from the baking sheet.
Last Step! Please leave a review and rating letting me know how you liked this recipe! This helps my small business thrive so I can continue providing free recipes and high-quality content for you.
Nutrition
Calories: 292kcal
Fat: 17g
Saturated fat: 10g
Cholesterol: 40mg
Sodium: 76mg
Potassium: 69mg
Carbohydrates: 32g
Fiber: 1g
Sugar: 19g
Protein: 3g
Vitamin A: 360%
Calcium: 29%
Iron: 1.4%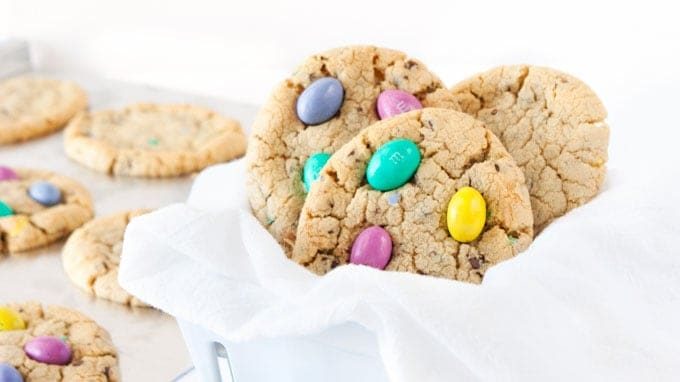 I'm not sure how the cookie cutter trick would work with other shapes (I'd imagine not very well with the spreading), but it sure works good for creating round-ish easter egg cookies. I'm about half-way through the cookie decorating course I mentioned a few posts back, so don't be surprised if sugar cookies start popping up around here soon. I'm not sure how pretty they'll look, but if I have to spend a weekend in the kitchen fighting with royal icing, I'll do it. Operation: Cookies has begun and there's no turning back now.