Guys. Traveling takes a lot out of ya. I meant to post this recipe last week after I got back from NYC but then my inbox swallowed me whole…and now it's Monday and I have no idea where last week went. And I still haven't fully unpacked, my legs are still recovering from pretty much walking across the country (okay fine, just around NYC), but I have a pretty killer cookie recipe for you today so I've got something in check, right? Priorities here, people. Priorities. But before I get too far, let's talk about my recent discovery of mega-sized M&M's. I found these little guys at Walgreens a few weeks ago (at least that's where I think I bought them?) and couldn't pass them up. (I mean, how long have these been for sale without me knowing? Who dropped the ball in telling me this?) So the only proper thing to do after such a discovery was to make the largest cookies I could think of.
The first great thing about making humongous cookies is that you don't have to roll out a million cookie dough balls. For me, making cookies always sounds like a great idea until 3 hours* have passed and I'm still slaving away over a mixing bowl scooping out every last bit of dough. So that's the first win for these. Bigger Cookies = Less Scooping = More time to do other things. (Like make more cookies.)
*slight exaggeration on the timing.
The next great thing about these cookies is of course their size. You see that Oreo above? Guys, that's a normal size oreo next to the colossal king of all cookies. And you see those M&M's in the corner that look super mini? Well, those aren't the mini M&M's, those are normal sized next to the mega sized. Is your mind blown yet? One of the only memories I have from middle school is someone telling me once in gym class that it takes running the length of a football field to burn off one M&M. So naturally, the only thing I could think of while making these was how far it would take to burn off a mega m&m. But don't worry, I didn't get too far in that thinking process because I prefer not to think about such negativity. Oh and hey, these monsters make pretty good plates too.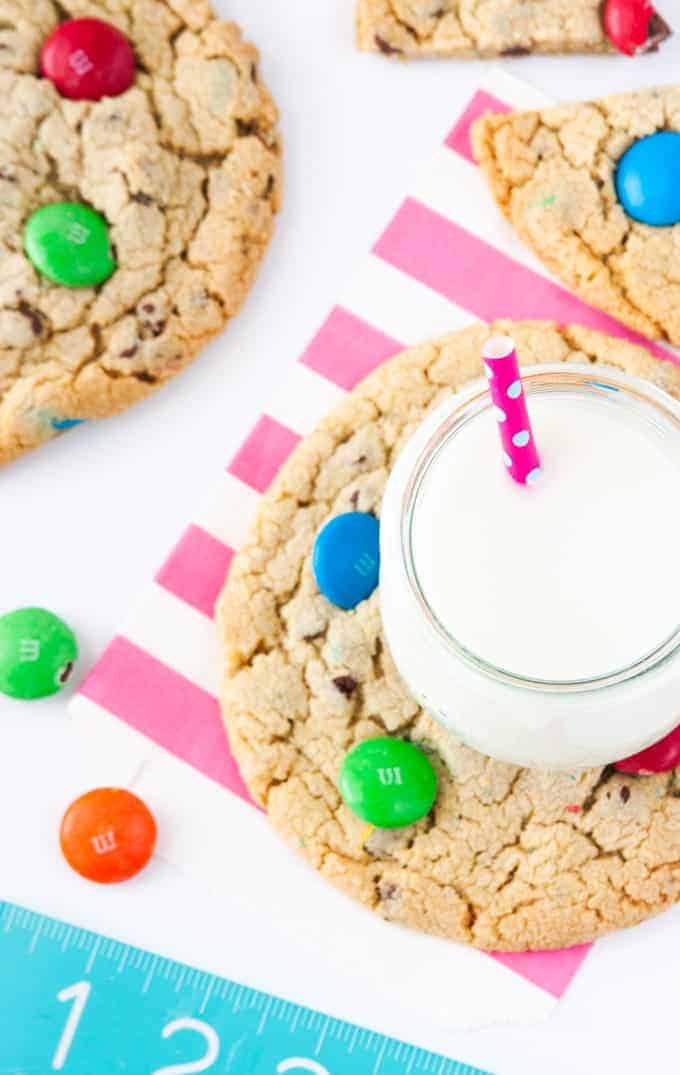 Annndddd just one last hand shot for good measure. I consider it a success anytime you can cut a cookie in fourths and still have a slice big enough for one person. But don't worry, I don't really expect you to share.
Mega Sized Chocolate Chip M&M Cookies
Giant chocolate chip and M&M cookies, perfect for gifting as party favors!
Prep Time: 10 minutes
Cook Time: 15 minutes
Total Time: 25 minutes
Course: Dessert
Category: Cookie
Servings: 7 Cookies
Ingredients
3/4 cup unsalted butter softened
1/2 cup white sugar
1/2 brown sugar
1 large egg
3/4 teaspoon vanilla extract
1 3.5oz. packet instant vanilla pudding mix (not sugar-free or cook & serve)
3/4 teaspoon baking soda
1 1/2 cups all-purpose flour
1/2 cup crushed mega M&M's
1/2 cup whole mega M&M's
1/2 cup mini semi-sweet chocolate chips
Before you begin! If you make this, will you do me a huge favor and leave a review and rating letting me know how you liked this recipe? This helps my small business thrive so I can continue providing free recipes and high-quality content for you.
Instructions
In a large mixing bowl, cream together butter, sugar, and brown sugar with electric mixer for 30 seconds. Add egg and stir until combined.

On low speed, add in vanilla and pudding mix. Add baking soda and stir for 10 seconds. Slowly add in flour and mix for 30 seconds, or until dough is combined. On low speed, add in crushed M&M's and mini chocolate chips and mix until incorporated.

Scoop and roll into 6-tablespoon sized balls and place on a parchment-covered baking sheet. Lightly flatten the tops of each cookie so they are more like thick discs. This will help them bake more evenly. Place pan in the refrigerator for 1 hour to chill.

Bake at 350 degrees for 12-15 minutes or until edges start to brown (mine took about 14 minutes, but you will want to watch your oven for doneness).

Immediately after removing from the oven, press whole mega M&M's into the tops of each one. Allow for the cookies to continue to cool on baking sheet for 5-10 minutes until removing cookies from the baking sheet.
Last Step! Please leave a review and rating letting me know how you liked this recipe! This helps my small business thrive so I can continue providing free recipes and high-quality content for you.
Nutrition
Calories: 585kcal
Fat: 34g
Saturated fat: 20g
Cholesterol: 81mg
Sodium: 152mg
Potassium: 138mg
Carbohydrates: 64g
Fiber: 2g
Sugar: 39g
Protein: 6g
Vitamin A: 715%
Calcium: 58%
Iron: 2.8%
So this may be the most scatterbrained post I've written in a while, but it's getting late (it's Sunday night when I'm writing this) and my brain is borderline mush from watching 3 hours of the Bachelor. But hey, when a national show visits my city I had no choice to watch. So if you don't hear from me in a while, I'm probably on a trek to go find that mural downtown. (If you didn't watch, I realize this will make no sense.)