Thank you Werther's Original Sugar-Free Candy for sponsoring this post on how to make easy Sugar-free ice cream sauce.
As a little kid, I can specifically remember going to my Grandma's house and always seeing a jar of golden wrapped candy on her coffee table. Always. Now you would think that a lonesome jar of candy would get devoured in .29 seconds with a bunch of kids around. But no, for some reason unknown to me, we had in our little crazy heads that we didn't like them. For the longest time, I thought they were some type of mysterious coffee candy. Fast forward to now, and Werther's hard candies are one of my favorite candies of. all. time. As of recently, it's more of an obsession. I could eat them like potato chips, I swear. So when they asked me to try out their new sugar-free products & come up with a recipe using them, I was more than excited to give them a go.
Not going to lie, I was a bit skeptical. Sugarfree? Umm…yeah, I usually pass on that one. Most things I try that are sugar-free are just not my thing. Most people have a sugar tooth, I have sugar teeth. 32 to be exact. I mean, my extent of sugarfree usage dwindles down solely to gum. So a sugarfree version of one of my favorite candies was going to be a tough sell.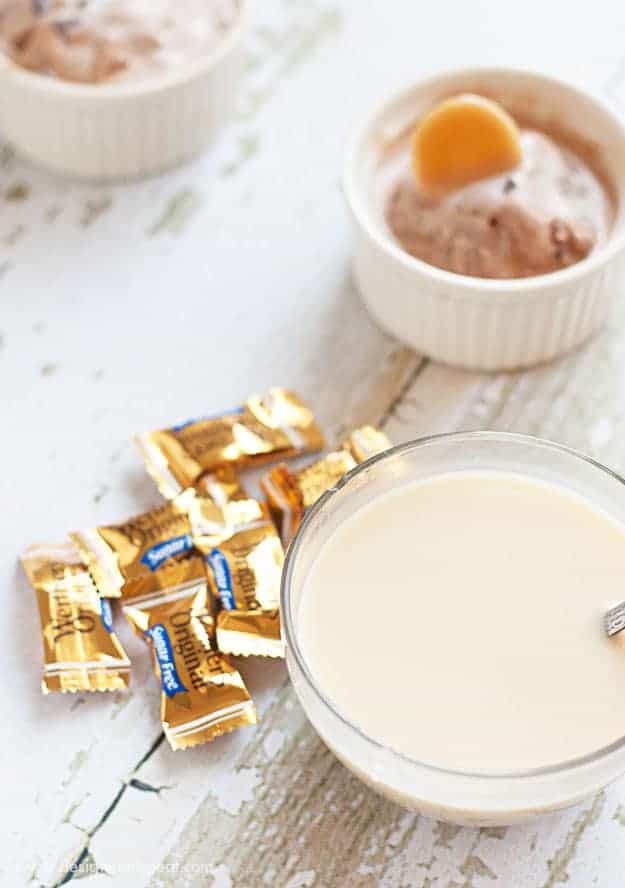 I was literally munching on my sugar-filled Werther's & getting carried away with a current blog design when the box of sugar-free samples came to my door. Not only did a few bags of the original caramel flavor show up, but also samples of the new caramel coffee, caramel cinnamon, and caramel apple. All sugar-free. Say wha? Those things exist? Apparently, they do.
So, I opened up that box and popped em' in. First up? The original flavor. This was going to be a tough sell, especially since I had just been eating the real version minutes before. My first reaction was that the sugar-free version was a tad bit smaller & had a lot more of a butterscotch taste than the original (sugar) version. It was less "straight up caramel-y butter tasting" and more of that of a butterscotch candy. It was good but different. Not better and not worse than the kind I grew to love, but dang good for not having any sugar inside. Next up to try was the Caramel Apple. So good. Tasted like those caramel apple suckers. Then there was the Caramel Cinnamon flavor. I was a little nervous to try this one since I'm not a big cinnamon candy fan, to begin with. But it was actually pretty good & tasted a lot like Big Red gum. Last up was the Caramel Coffee flavor. Since I despise the taste of coffee (yeah, yeah, yeah, judge away), I gave this to a friend to rate. I didn't tell them it was sugar-free and they said they liked it. So, for whatever that's worth, I'd say it's worth a try! Out of all the flavors, I'd personally rank them Original #1, Caramel Apple #2, Caramel Cinnamon #3, and Caramel Coffee #4. So, with the ranking out of the way, I then started brainstorming what to make with them.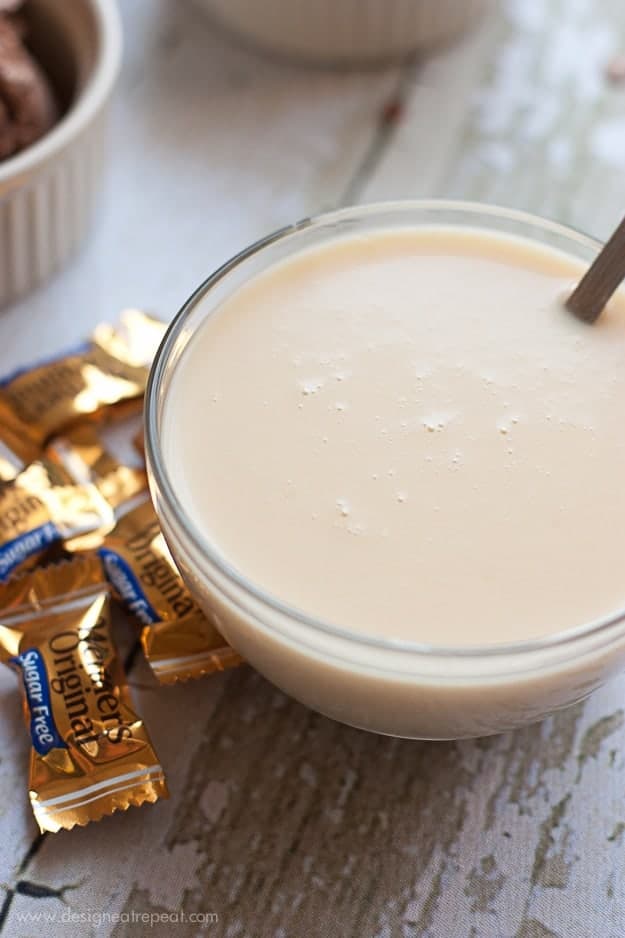 The idea to create an ice cream sauce came to me after wishing I could just liquify Werther's and drink it up. It would probably save a few chipped teeth, and I could get my fix in much faster. Wouldn't that be just heavenly? So, I set off to find a solution. What it turned out to be was a simple combo of hot cream & crushed candies to get the job done. Pour it over some ice cream and you instantly have a sugarfree caramel butterscotch ice cream glaze.
My favorite part is that it's not one of those corn syrup-y thick sauces you usually find at the store. In fact, I would actually call it more of a cream glaze, since it's not thick and gooey. I poured it over some chocolate ice cream, and it gave it a subtle butterscotch taste. Not too sweet like many of the corn syrup caramel sauces out there. It was Werther's perfection, and the possibilities of what else I could use it in came rushing to my head. Pour it on cakes or whip it into buttercream frosting were just a few of my ideas. Or drink it straight from the bowl. Not like that thought crossed my mind or anything…
Whatever I end up concocting with it next is a mystery. But what I do know, is that sugar-free has never tasted so good. And with it being so easy to make, I feel like it's only a matter of time before you see another Werther's recipe pop up in these parts. And after stalking comments on the Werther's Facebook page, I realized I'm not the only one who is a converted sugar-free fan. Suga' suga'.
Werther's Sugar-Free Caramel Butterscotch Ice Cream Sauce
An easy sugar-free sauce made with melted Werther's Hard Candies and cream.
Prep Time: 5 minutes
Cook Time: 10 minutes
Total Time: 15 minutes
Course: Dessert
Category: Ice Cream
Servings: 16
Ingredients
1 2.75 oz. bag crushed Sugar-Free Werther's Hard Candies (I used the Original flavor, but feel free to experiment using the other flavors. i.e. Caramel Coffee, Caramel Apple, Caramel Cinnamon)
1 cup heavy whipping cream
Before you begin! If you make this, will you do me a huge favor and leave a review and rating letting me know how you liked this recipe? This helps my small business thrive so I can continue providing free recipes and high-quality content for you.
Instructions
Pour whipping cream in small saucepan. On medium/low heat, heat whipping cream for 5-7 minutes. Once visibly hot, add in crushed pieces of Werther's candies. Using a whisk, stir until all candy is melted. (If mixture begins to lightly boil, turn down heat and continue to stir.) Once all candy is melted and mixture is smooth, remove from heat. Cool in pan for 10-15 minutes. Once cooled, pour into glass bowl and refrigerate until cooled.

Pour over icecream and enjoy!
Last Step! Please leave a review and rating letting me know how you liked this recipe! This helps my small business thrive so I can continue providing free recipes and high-quality content for you.
Nutrition
Calories: 66kcal
Fat: 5g
Saturated fat: 3g
Cholesterol: 20mg
Sodium: 5mg
Potassium: 11mg
Carbohydrates: 4g
Vitamin A: 220%
Vitamin C: 0.1%
Calcium: 10%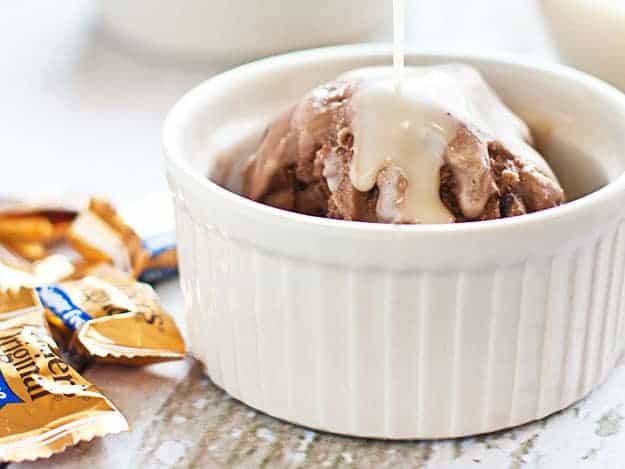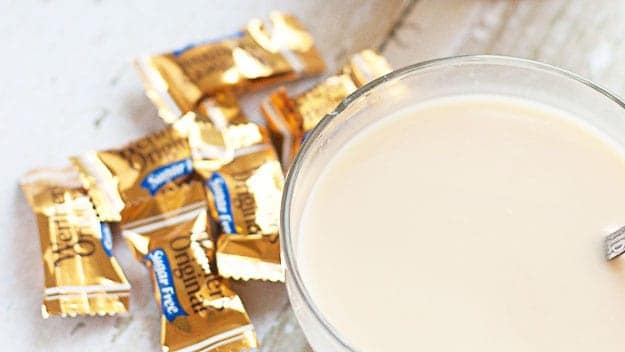 Come back on Wednesday for another one of my favorite candies worked into a recipe! Hint: It will leave you feeling sour.
I was selected for this opportunity as a member of Clever Girls Collective, and the content and opinions expressed here are all my own.