Back in June, I posted one of my family's favorite punch drinks. So today, it's time to reinvent it for Halloween fiestas. With just a few substitutions, this Halloween drink is sure to quench the thirst of all the gremlins in your house. This recipe was inspired by a sour watermelon candy I tried recently, so it was only a matter of time before I would attempt to liquify this sweet treat.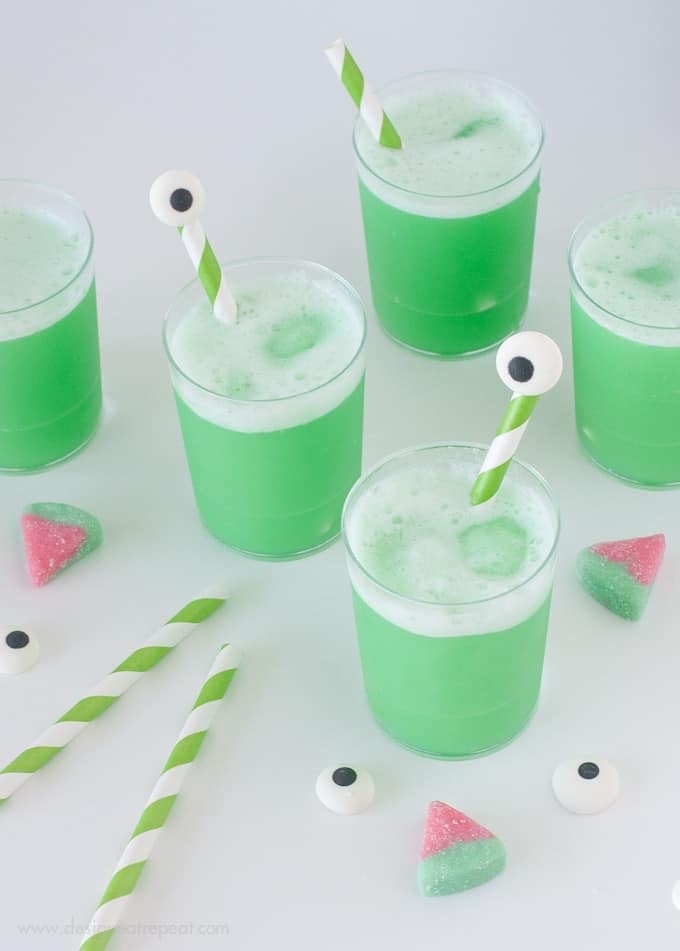 This punch is the combination of 3 liquids. Raspberry Flavored Water (carbonated), a Watermelon fruit juice, and lime sherbet. You can literally dump it all into bowl, stir up, and serve.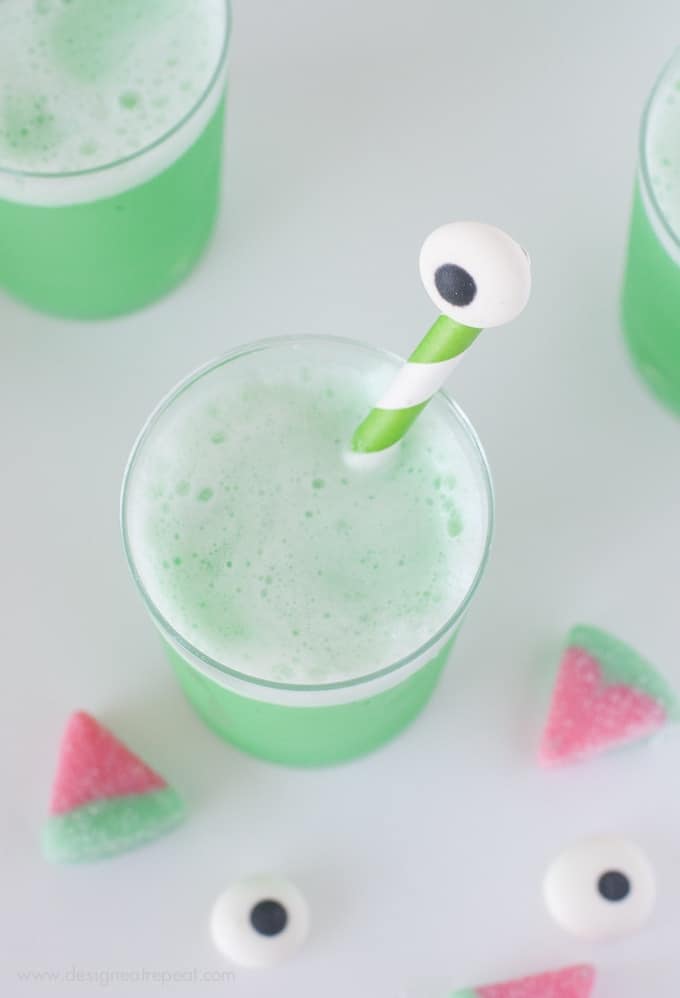 And because I just love paper straws, I made these Halloween drink stirrers to go along with this haunted Halloween drink. I used a little dab of frosting to attach a royal icing eyeball to the top of each straw, and popped one into each drink.
Halloween Drink Stirrer Materials:
Paper Straws  //  Royal Icing Eyeballs  // Dab of Frosting for Adhesion
Watermelon Punch Halloween Drink
This punch is a combination of 3 liquids that you can literally dump into a bowl, stir up, and serve.
Prep Time: 10 minutes
Total Time: 10 minutes
Course: Drinks
Category: Easy Snack
Servings: 6 cups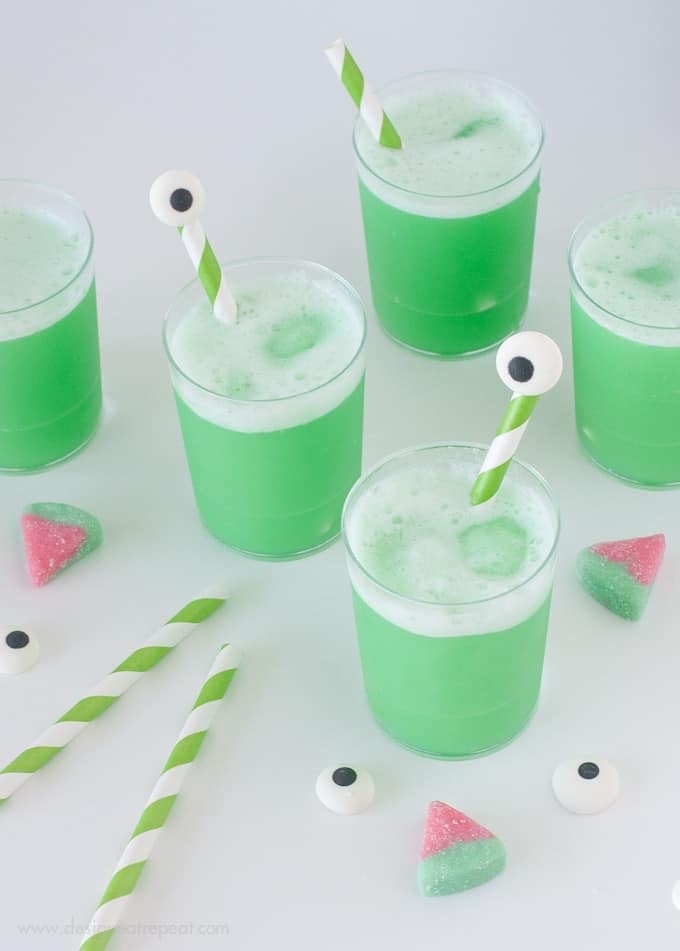 Ingredients
2 cups Lime Sherbet
2 cups Raspberry Flavored Water Carbonated
2 cups Watermelon Fruit Juice I used "Welchs Watermelon Chiller"
Instructions
In a large punch bowl, add together softened lime sherbet, raspberry water, and watermelon fruit juice. Stir punch for a few minutes until sherbet starts to combine with liquid mixture. Once combined, it's ready to serve!

Like many drink recipes, have fun with the amounts of each ingredient you add. If you like a more Watermelon flavor, add less raspberry water. And vice versa. For this recipe, you can simply expand the recipe by using equal parts of each ingredient. (i.e. 3 cups of each will deliver 9 cups of drink.)
Nutrition
Calories: 107kcal
Fat: 1g
Sodium: 59mg
Potassium: 127mg
Carbohydrates: 23g
Sugar: 19g
Vitamin A: 25%
Vitamin C: 1.8%
Calcium: 41%
Iron: 0.2%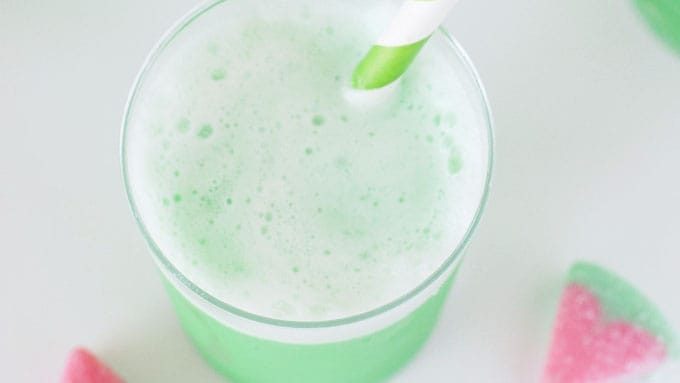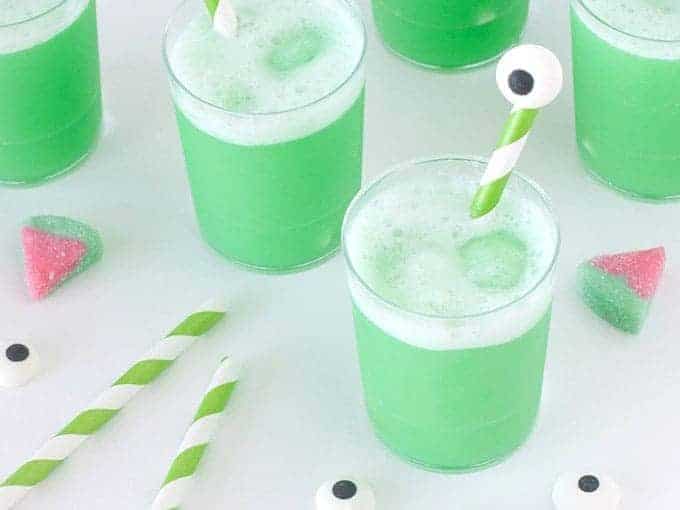 Do you have a favorite Halloween drink recipe?