If you're a fan of Starbuck's Vanilla Bean Frappuccino, then you'll want to try this strawberry recreation! Made with frozen strawberries and vanilla simple syrup, this strawberry frappuccino is the perfect summer treat and can be made at home.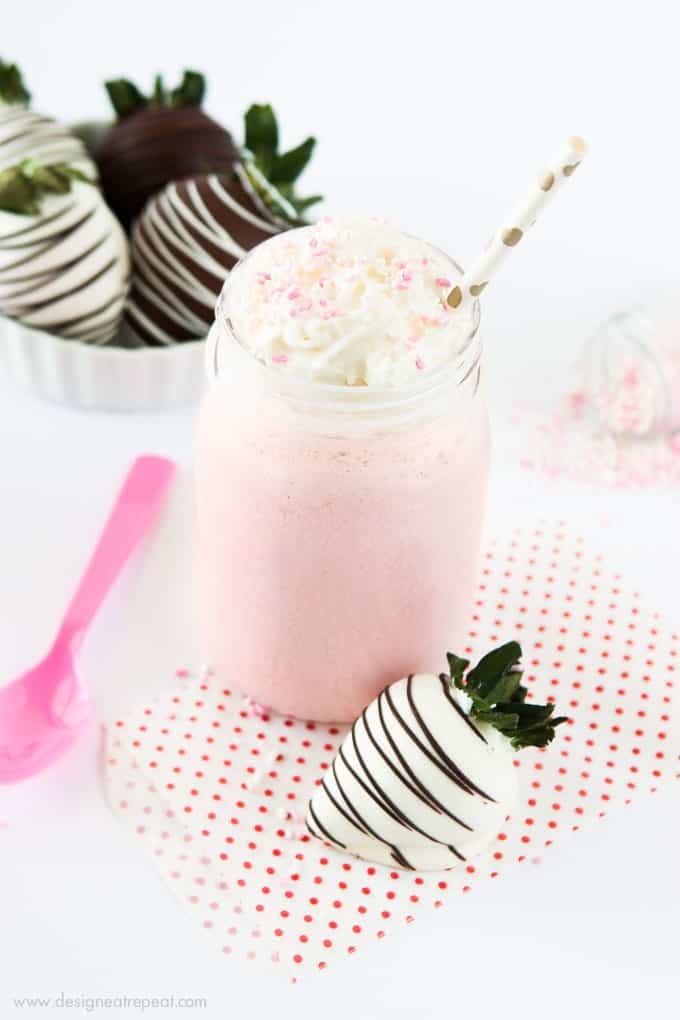 What You Need to Make Strawberry Vanilla Bean Frappucinos
Milk
Heavy Whipping Cream (this is optional, but will give it a creamier, smoother texture)
Frozen Strawberries
Vanilla Bean Simple Syrup & Vanilla Extract (linked the brands I use)
Sugar
Ice
Whipped Cream (Optional, For Topping)
It wasn't until college until I tried Starbucks for the first time and even then, it was never something I got hooked on. I'm not a big coffee drinker, so I'd get the occasional shaken iced tea and call it day.
That is, however, until someone introduced me to the glories of the Starbucks vanilla bean frappuccino and since that day, I've never looked back. Up until about a year ago, I thought frappuccinos were purely coffee flavored so you can imagine the excitement when little sheltered me realized that was not the case. I tried recreating these this summer with no luck, until I came across a new vanilla simple syrup that gave me high hopes of succeeding.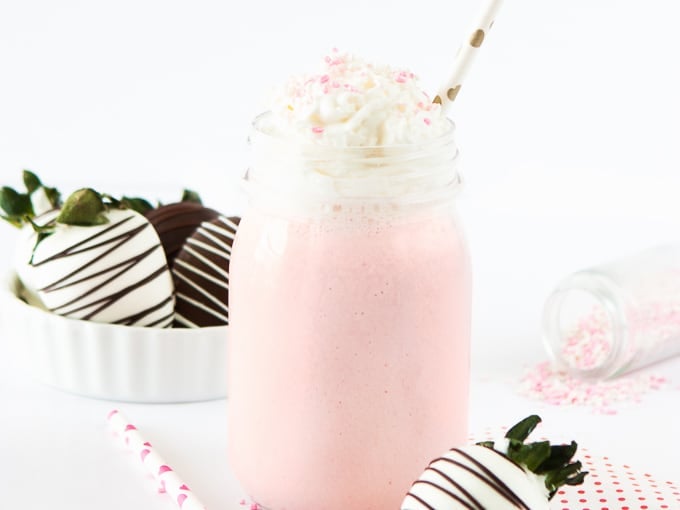 At first, I created them to be purely vanilla bean without the strawberries. And it was a success. But I wasn't about to stop the successful recipe testing just yet, so I threw in some strawberries to give it that Valentine's Day look. And the result? Even tastier than the first. Pretty much tastes like a strawberry Creamsaver candy. So I figured it was my civil duty to share with you how to make a vanilla bean frappucino at home.
Frequently Asked Questions:
What Frappucino Syrup Do You use?
For this recipe I used a blend of Vanilla Bean simple syrup and vanilla bean crushed extracts. However, you can use a standard vanilla extract and Starbucks/Target even now sells a branded Vanilla Syrup. When I first attempted to make these this summer I was using a vanilla flavored coffee creamer and it was real bad. The amount of creamer I had to add to even get them to taste vaguely vanilla was enough to set your caloric intake through the roofs, and enough to get my gag reflexes churning. (Okay, so that's slightly dramatic but they were no bueno and definitely not blog worthy.)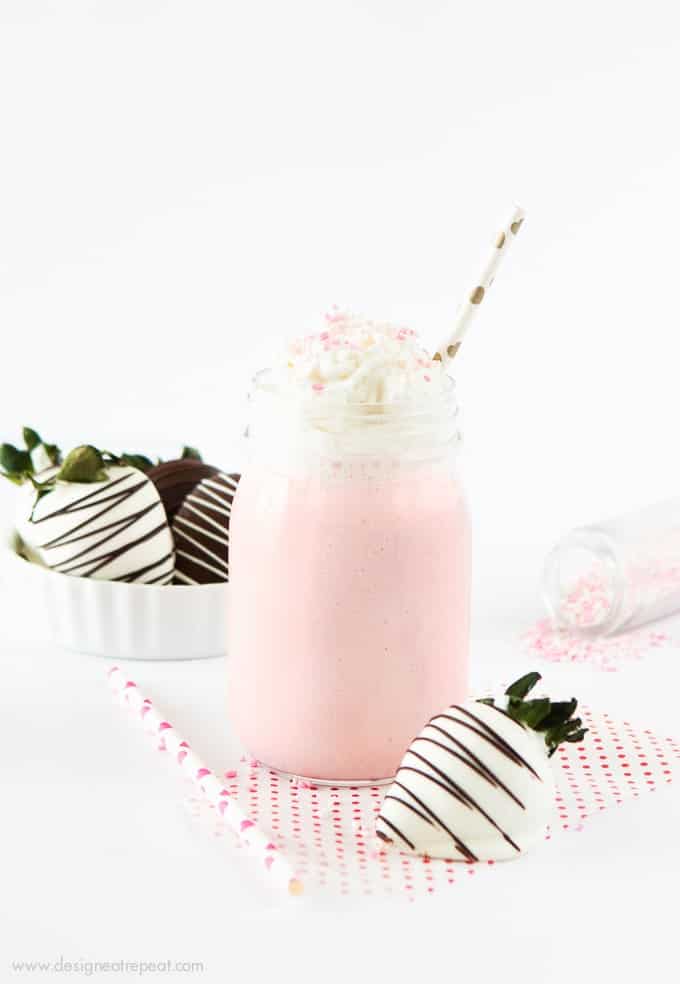 Using my handy dandy Nutri Bullet, I added in the ingredients and whipped up this homemade strawberry vanilla bean frappuccino faster than I could dash to the nearest Starbucks across the street. It has that creamy, yet slightly icy texture like the famous ones at Starbucks, while having a hint of strawberry to give it that taste of freshness.
Strawberry Cream Vanilla Bean Frappuccino
This strawberry cream vanilla bean frappuccino has a creamy, yet slightly icy texture like the famous ones at Starbucks, while having a hint of strawberry to give it that taste of freshness.
Prep Time: 10 minutes
Total Time: 10 minutes
Course: Drinks
Category: Ice Cream
Servings: 1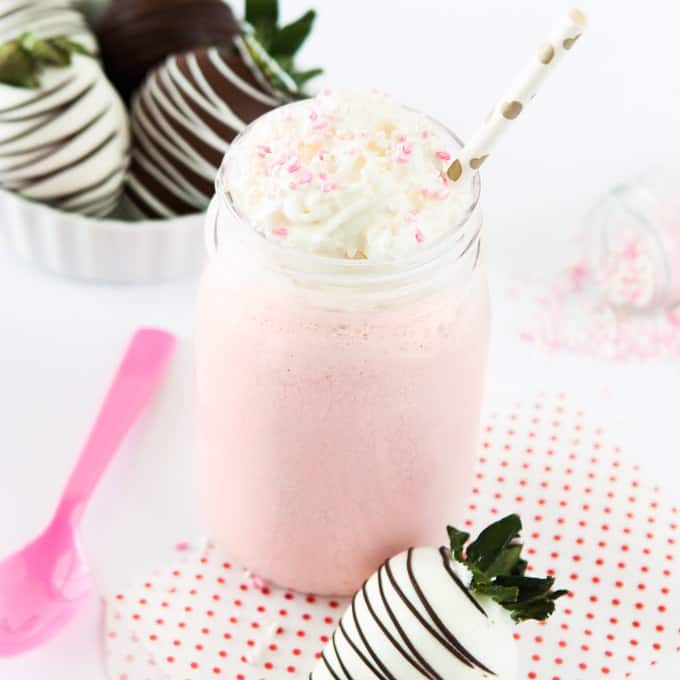 Ingredients
2/3 cup milk (I used 1%)
2 tablespoons Vanilla Bean Simple Syrup
1 tablespoon heavy whipping cream (this is different than whipped topping and can be found by the milk at the store)
1/4 teaspoon vanilla extract
1/2 cup frozen whole strawberries
1 1/2 tablespoon sugar
1 1/4 cup ice
Whipped Cream for topping (optional)
Instructions
Combine all ingredients in a blender (I use my single serve NutriBullet) and blend for 20-30 seconds until ice is crushed and mixture is incorporated. You may need to stop the blender and stir the mixture to help it incorporate. If mixture is more than runny that you like, add more ice and blend until it is the consistency you like. If mixture is not runny enough, add milk until it reaches the consistency you like.

Pour in glass cup and serve immediately for best consistency. (Mixture will lose the frappuccino texture the longer it sits and turn into more of a creamy drink, so I recommend enjoying right away!)

Recipe makes 1 serving, but you may double, triple, or quadruple the recipe to serve more people.
Nutrition
Calories: 341kcal
Fat: 11g
Saturated fat: 6g
Cholesterol: 36mg
Sodium: 89mg
Potassium: 324mg
Carbohydrates: 59g
Fiber: 1g
Sugar: 57g
Protein: 5g
Vitamin A: 485%
Vitamin C: 83.6%
Calcium: 195%
Iron: 1%
Just writing about it makes me want one all over again, so I'm off to make another. I'm pretty excited that I finally managed to replicate this famous concoction, and even more excited to try other variations of it in the coming months. Anyone else out there a fan of these frapps or have suggestions for other non-coffee drinks at Starbucks? I haven't been brave enough to branch out from these since, but would love to hear your suggestions!
More Frappucino & Frozen Drink Recipes