It's that time of year when the aisles at the store literally become aisles of diet-ruining temptation because Reeses pumpkins are in the house! It doesn't matter what holiday it is or what month it is, holiday Reeses are my downfall. Whether it's the Reeses eggs or the giant Reeses pumpkins, I can't resist on-sale candy when I see it. Now you may be thinking, "this sounds like a sponsored post based on how many times she just wrote the word Reeses is the first three sentences," but let me reassure you that I'm just a crazy blogger who has a problem with buying Reeses. But I mean, if they wanted to send me free candy then I most certainly wouldn't turn it down.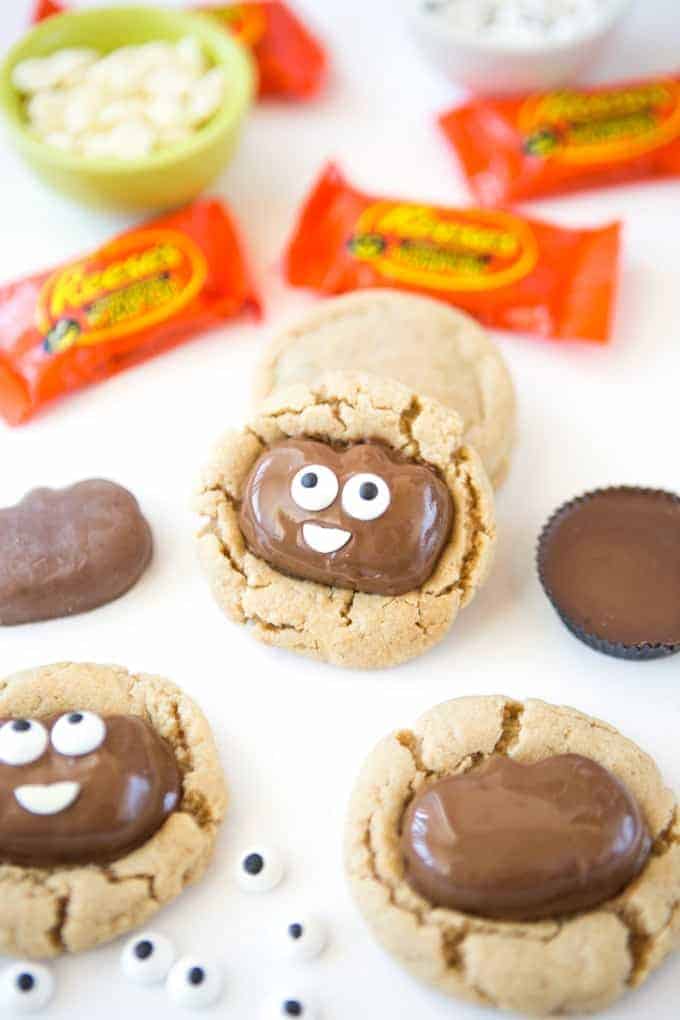 So if unintentionally writing "Reeses" 6 times in the paragraph isn't enough SEO juice for one day, let's just talk about these suckers a little more. To make these morsels of peanut butter goodness, you'll first need to whip up a batch of my favorite soft peanut butter cookies. (I'm using the same recipe I used for these cookies, but I must say that these toppings have me a little more excited.) After having to physically tie your hands behind your back to prevent yourself from eating every single Reeses pumpkin you unwrap, you'll gently press one in each cookie as soon as it comes out of the oven (keep the cookies on the hot cookies sheet) and then finish off with two candy eyeballs (I used this size) and a sliver of a white chocolate chip to create the mouth.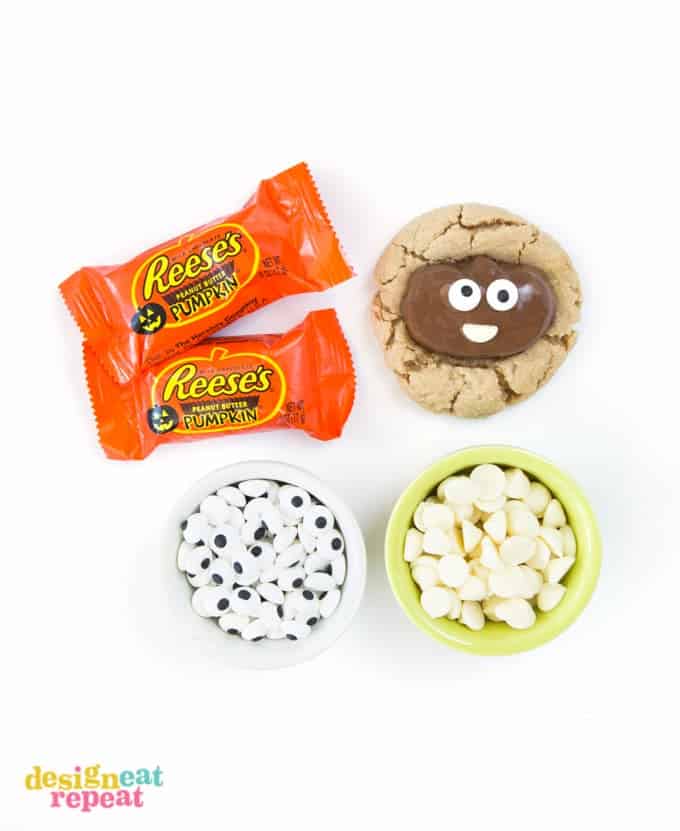 You'll want to wait 3-5 minutes after pushing the Reeses pumpkin in the cookie to start placing the face, as it takes a few minutes for the chocolate to slightly melt. The heat of the hot pan will slightly melt the pumpkin exterior and will allow the toppings to stick on the pumpkin. I like to keep the cookies on the pan until they're completely cooled and the chocolate sets (you can pop the tray into the fridge), but you can also carefully remove them from the pan after finishing placing the eyes/mouth. You'll just want to be careful, as these can be quite soft when warm and can easily tear in half. But then again, "broken" cookies are a bakers best friend.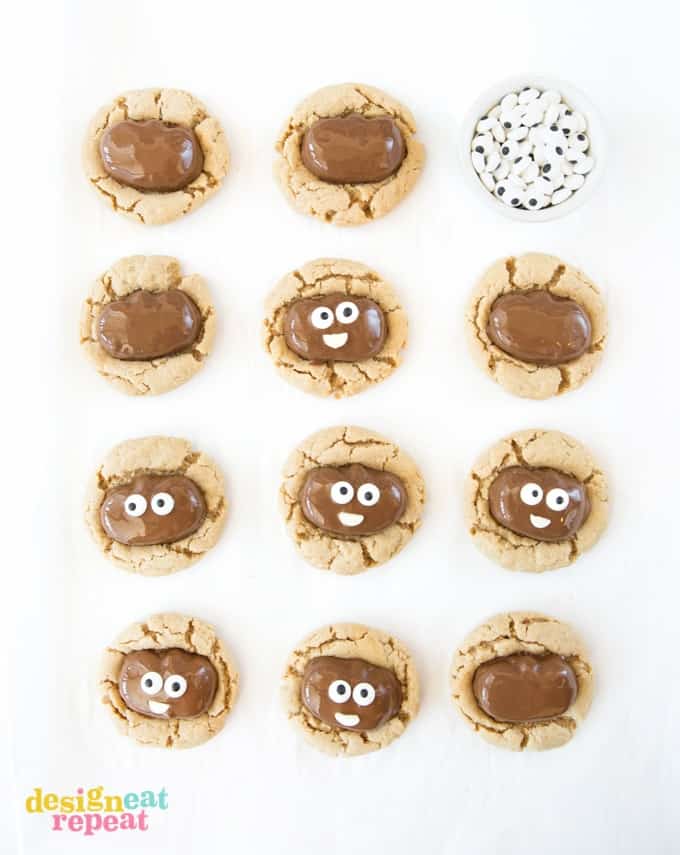 Can we just sit here and stare at these cute little guys for a minute? Candy eyeballs make everything better, hands down. Not like my archive of Halloween projects allude to that or anything…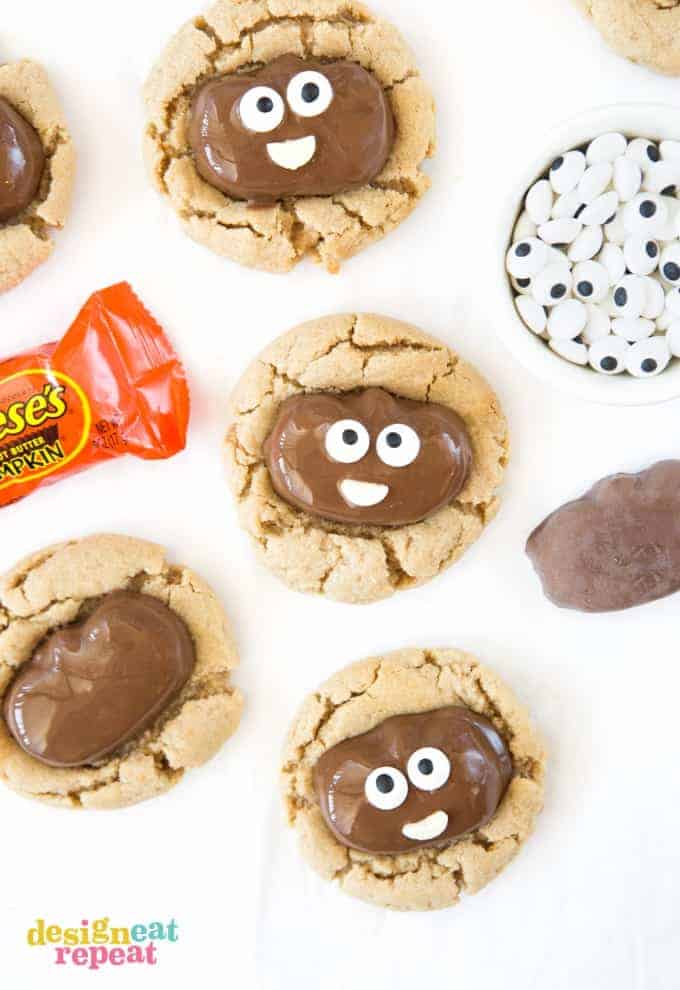 Reeses Pumpkin Peanut Butter Cookies
These easy Halloween cookies are the perfect kid-friendly activity!
Prep Time: 15 minutes
Cook Time: 10 minutes
Total Time: 25 minutes
Course: Dessert
Category: Cookie
Servings: 18 cookies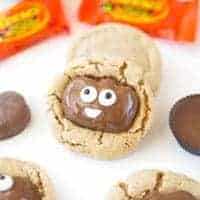 Ingredients
1/2 cup unsalted butter slightly softened
3/4 cup light brown sugar
1/4 cup granulated sugar
1/2 cup creamy peanut butter
1 large egg
1 teaspoon vanilla extract
1/4 teaspoon salt
1/2 teaspoon baking soda
1 1/2 cups all purpose flour
Topping:
Reeses Peanut Butter Pumpkins
Candy Eyes
White Chocolate Chips Cut in Half for Mouth
Before you begin! If you make this, will you do me a huge favor and leave a review and rating letting me know how you liked this recipe? This helps my small business thrive so I can continue providing free recipes and high-quality content for you.
Instructions
In a large mixing bowl, cream together butter, brown sugar, granulated sugar, and peanut butter with electric mixer for 30 seconds. Add egg and stir until combined.

On low speed, add in vanilla and salt. Add baking soda and stir for 10 seconds. Slowly add in flour and mix for 30 seconds, or until dough is combined.

Scoop and roll into 2-tablespoon sized balls and place on a parchment-covered baking sheet. Lightly flatten the tops of each cookie so they are more like thick discs. This will help them bake more evenly.

Bake at 350 degrees for 8-10 minutes.

Immediately after removing from the oven, press a Reeses pumpkin into the center of each one. Once the chocolate starts to melt (3-5 minutes), press two candy eyeballs and a half of a white chocolate chip to create the mouth. Allow for the cookies to continue to cool on baking sheet for 5-10 minutes until removing cookies from the baking sheet. To harden chocolate, place in refrigerator for 15-30 minutes.
Last Step! Please leave a review and rating letting me know how you liked this recipe! This helps my small business thrive so I can continue providing free recipes and high-quality content for you.
Nutrition
Calories: 234kcal
Fat: 12g
Saturated fat: 7g
Cholesterol: 21mg
Sodium: 53mg
Potassium: 119mg
Carbohydrates: 29g
Fiber: 1g
Sugar: 19g
Protein: 2g
Vitamin A: 225%
Calcium: 35%
Iron: 1.4%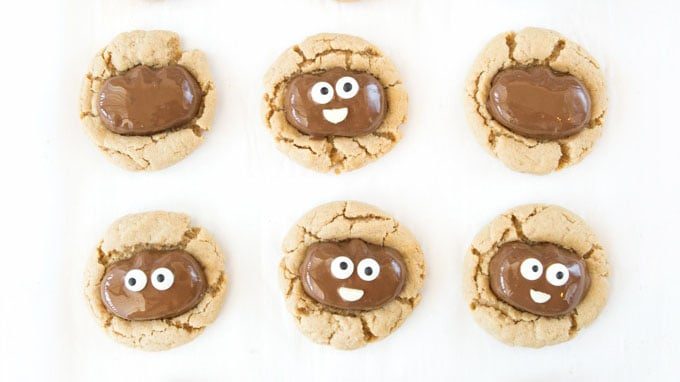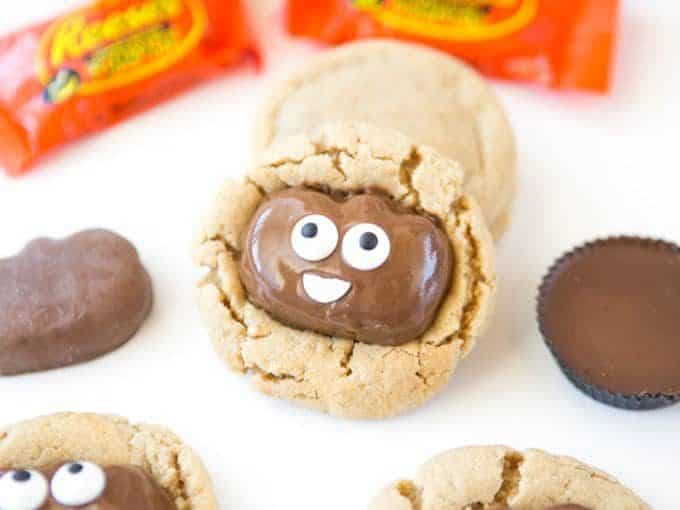 So there ya have it. Only 7 days til Halloween and 8 days until clearance Halloween candy hits the shelves. Part of me is hoping everyone snags the Reeses pumpkins up before I get to the store, as I'm pretty sure there's a limit on how many of them you should buy in one month and I most definitely already surpassed that.