Even though it's only been three weeks, it seems like it's been forever since I baked something. So as several feet of snow were being dumped on us this weekend, I took to my kitchen to create some tasty peanut butter cookies! They started as just regular cookies, and then turned into these heart themed treats when I discovered the bag of white chocolates & heart sprinkles crying out my name in the corner of my cupboard. And if you know anything about my values, you'll know that I would never neglect a crying & distressed bottle of sprinkles.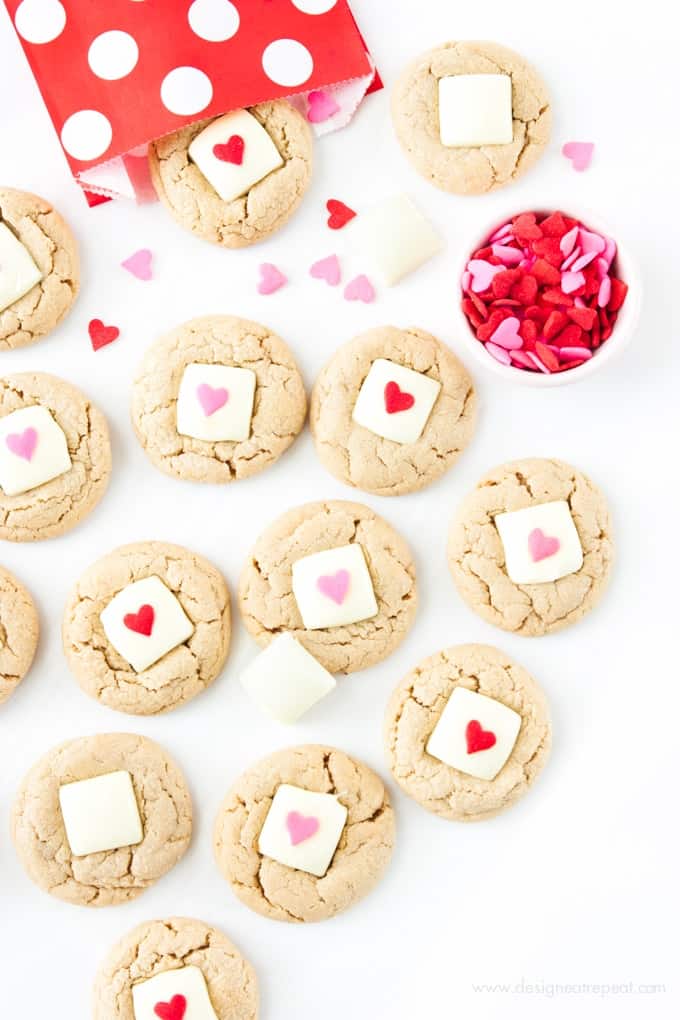 I don't like making these statements like this in writing, BUT these may be some of the best peanut butter cookies I've ever made. They are soft, yet chewy making them irresistible to dunk into a big glass of milk. And considering I don't even like milk, that should say something about their amazing little selves. They are softer & chewier than these and may even have these beat on their level of peanut buttery flavor.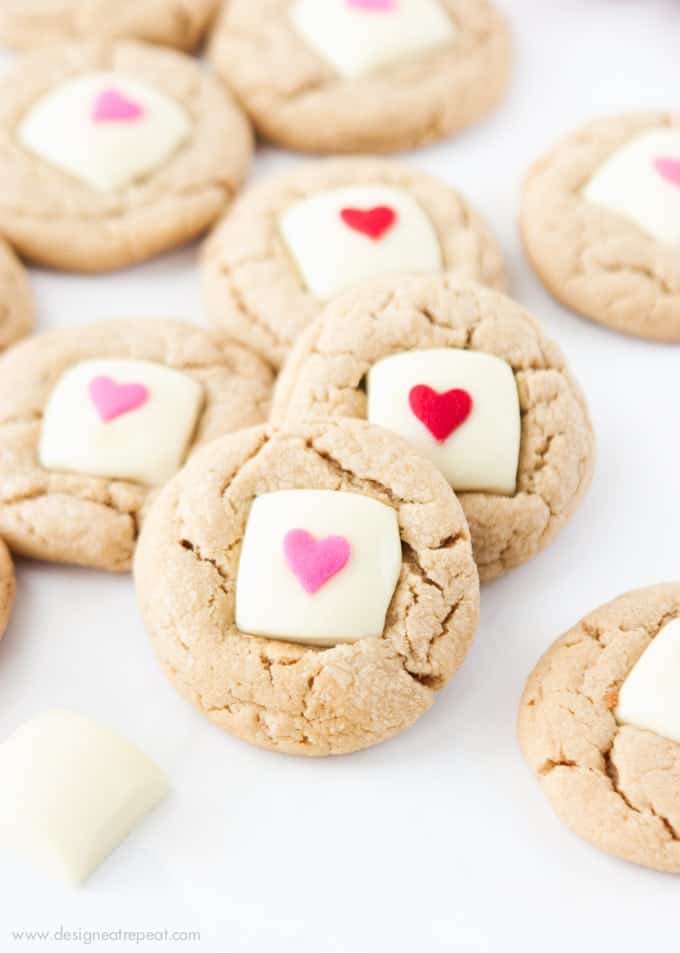 After baking, I popped on a Hershey's white chocolate square to each one. Once the heat of the cookies started to melt the chocolate, I carefully pressed a heart sprinkle into the center of each square. And wah-lah! In just an instant, you turned a boring brown cookie into a cheerful heart themed morsel of love.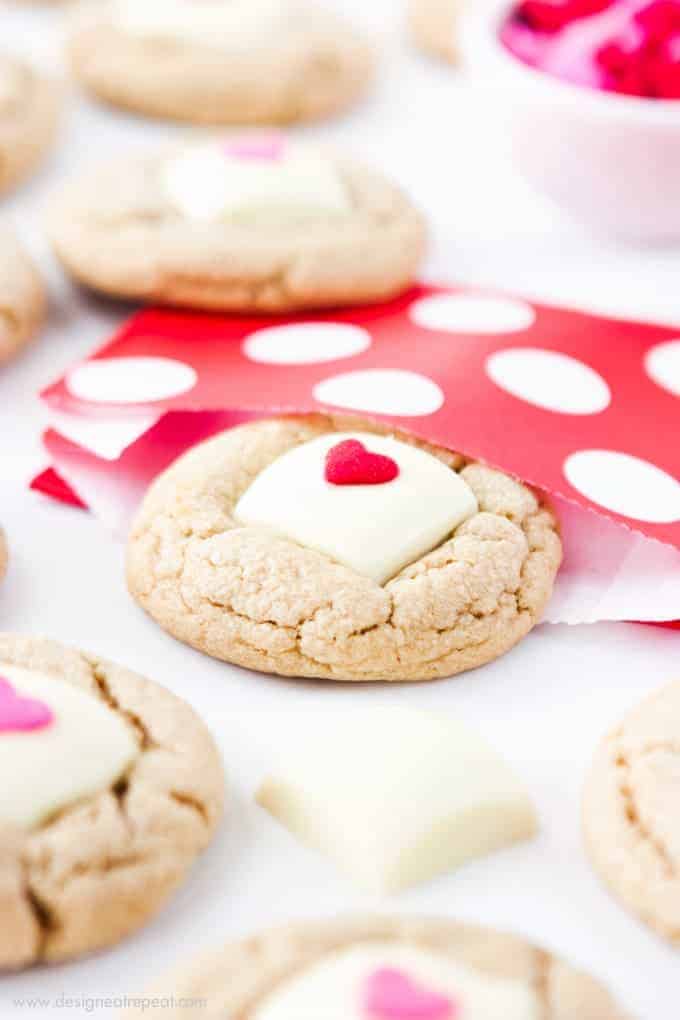 Valentine's Day White Chocolate Peanut Butter Cookies
A soft and thick peanut butter cookie topped with a white chocolate square and sprinkle heart.
Prep Time: 10 minutes
Cook Time: 10 minutes
Total Time: 20 minutes
Course: Dessert
Category: Cookie
Servings: 24 cookies
Ingredients
1/2 cup butter slightly softened
3/4 cup brown sugar
1/4 cup white sugar
1/2 cup peanut butter
1 large egg
1 1/4 tsp vanilla extract
1/4 teaspoon salt
1/2 teaspoon baking soda
1 1/2 cups all purpose flour
Topping:
24 white chocolate candy squares
Heart shaped sprinkles
Instructions
In a large mixing bowl, cream together butter, brown sugar, white sugar, and peanut butter with electric mixer for 30 seconds. Add egg and stir until combined.

On low speed, add in vanilla and salt. Add baking soda and stir for 10 seconds. Slowly add in flour and mix for 30 seconds, or until dough is combined.

Scoop and roll into 2-tablespoon sized balls and place on a parchment-covered baking sheet. Lightly flatten the tops of each cookie so they are more like thick discs. This will help them bake more evenly.

Bake at 350 degrees for 8-10 minutes.

Immediately after removing from the oven, press a white chocolate square into the center of each one. Once the chocolate starts to melt (3-5 minutes), press a heart sprinkle into the center of each square. Allow for the cookies to continue to cool on baking sheet for 5-10 minutes until removing cookies from the baking sheet.
Nutrition
Calories: 136kcal
Fat: 7g
Saturated fat: 3g
Cholesterol: 17mg
Sodium: 111mg
Potassium: 57mg
Carbohydrates: 16g
Sugar: 9g
Protein: 2g
Vitamin A: 130%
Calcium: 13%
Iron: 0.5%
This may be one of the last Valentine's Day projects (one more on Monday!) before packing up all the red & pink! For more Valentine's Day projects, printables, and recipes, hop on over to the growing Valentine's Day Archives!