Learn to make your own rainbow homemade sprinkles using just a few ingredients! Customize the colors for any occasion and sprinkle them over your favorite baked treats. Perfect for turning a rainy-day activity into blue skies & rainbows!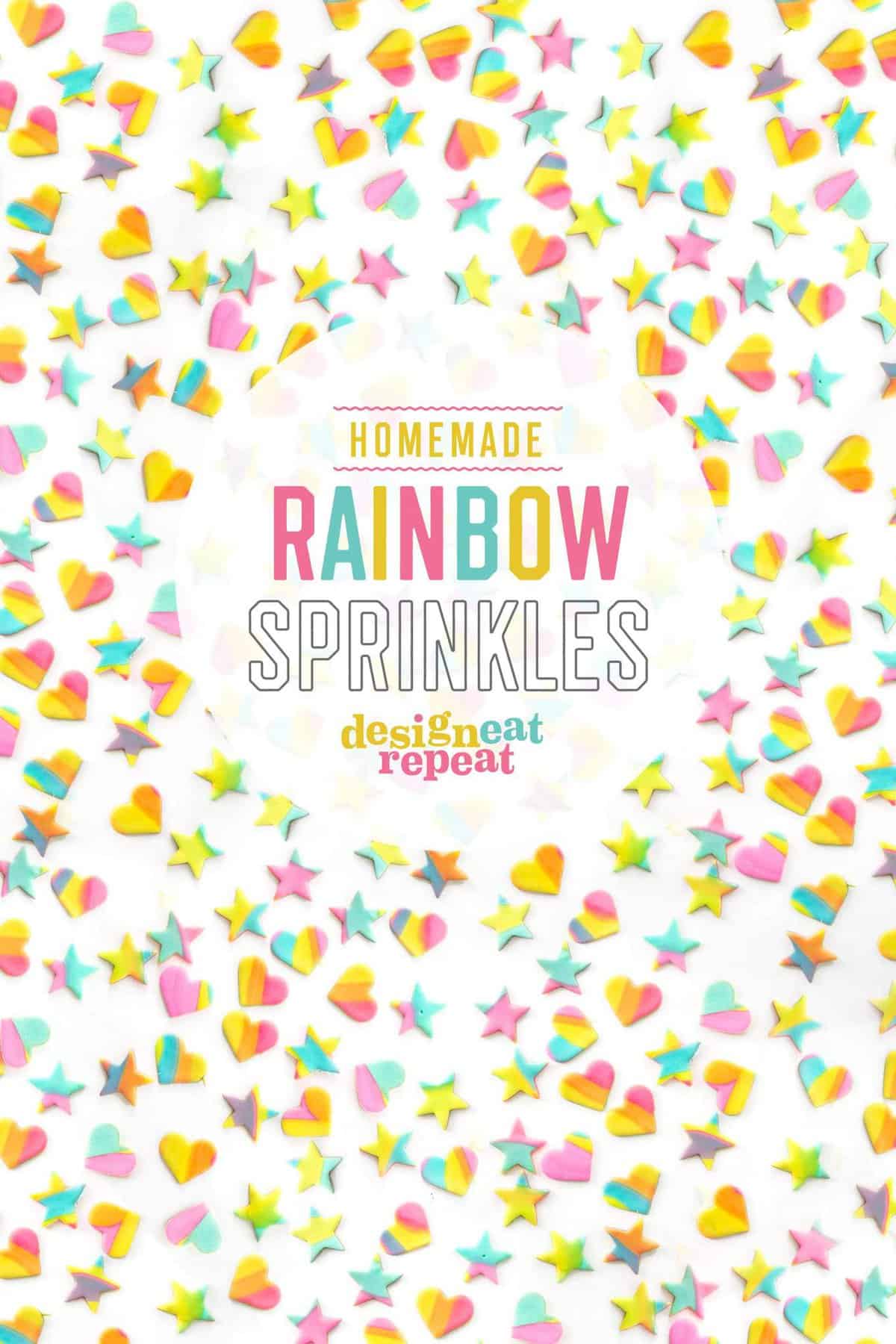 Before we get started, can we briefly talk about what constitutes as a sprinkle? To me, basically anything less than 1 inch is a sprinkle because sprinkles come in all shapes, sizes, colors. So in many ways sprinkles are like humans. Would you say one 5 foot tall human is any less of a human than a 6 foot tall human? Of course not. So you can imagine my argument when my little sister told me these shouldn't be called sprinkles because they're too big and they are basically just fondant cupcake toppers. BLASPHMEY. Except not completely, because that's basically what they are. But sprinkles sounds more fun and until there's a law restricting what I name my creations, then I will name them sprinkles. Jumbo sprinkles to be more specific.
Okay? Okay. I'm done now. Let's get started in making these rainbow homemade SPRINKLES!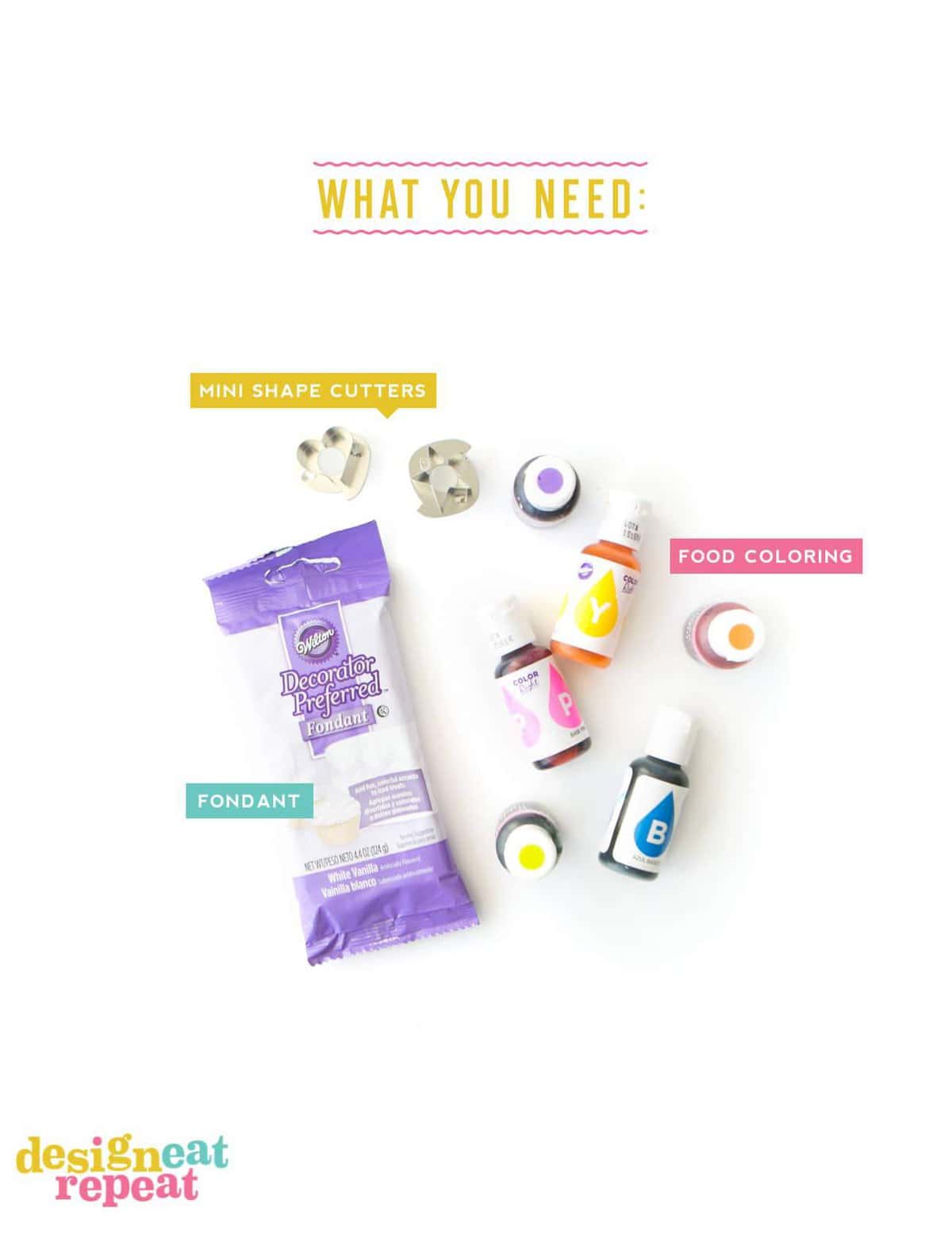 What you'll need is some pre-made white fondant, food coloring, mini cookie cutters, and rubber gloves (if you don't want your hands to turn into a explosive unicorn mess).  Did you guys know that Wilton now sells MINI pouches of pre-made fondant? I found some at Walmart for $3 and that was the day I decided to give fondant a chance. I had never purchased it before because I had no business buying a $10 tub, but these mini pouches? Life changing! This isn't to say I'm going to go cover my cakes in it quite yet, but it's so reasonable for little projects like this!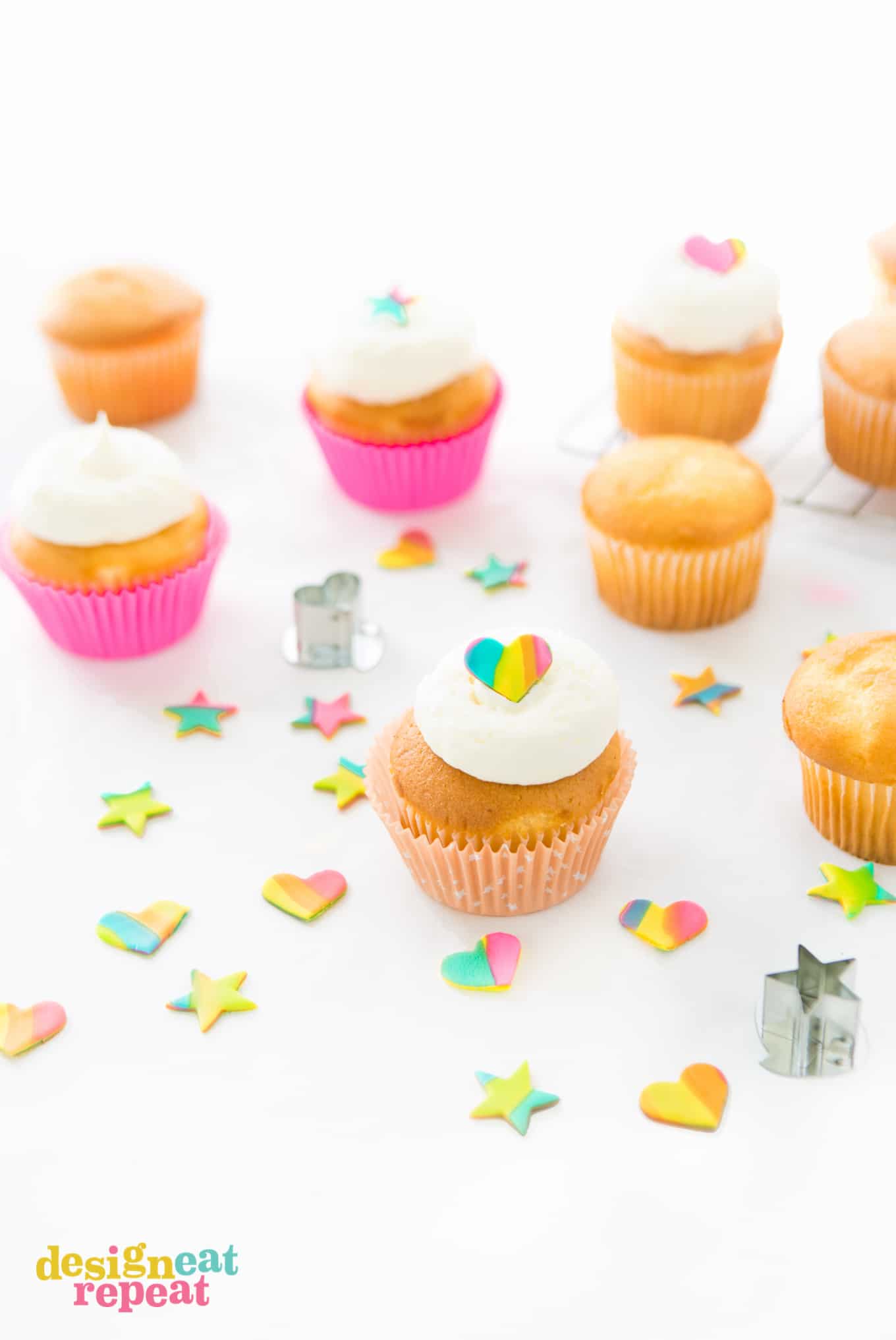 After dying all the fondant different colors and marbling it together (see video here!), I used these mini shaped cutters to create the hearts & stars. They're about 1″ in size and make the perfect little cupcake toppers. (They'd also be so fun plastering around the side of a white frosted cake.) My next order of business is to find some cutters that are SUPER tiny (like 1/8-1/4″), so if you know of any send them my way!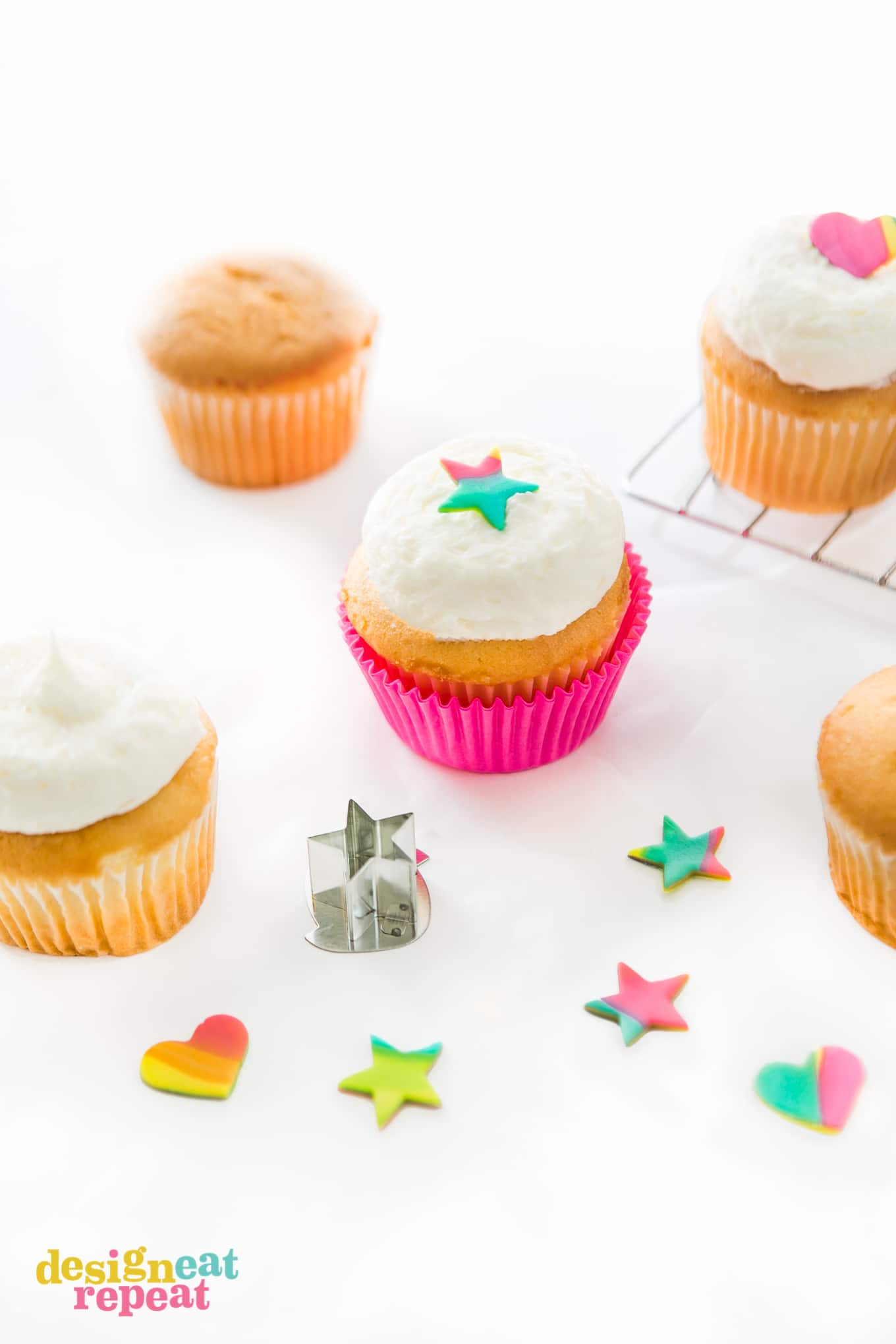 My favorite thing about these homemade sprinkles is that you can customize them to the colors you want. So although I dyed them unicorn-fairy-princess-ish, you could also customize them to a party's color scheme, school colors, or holidays.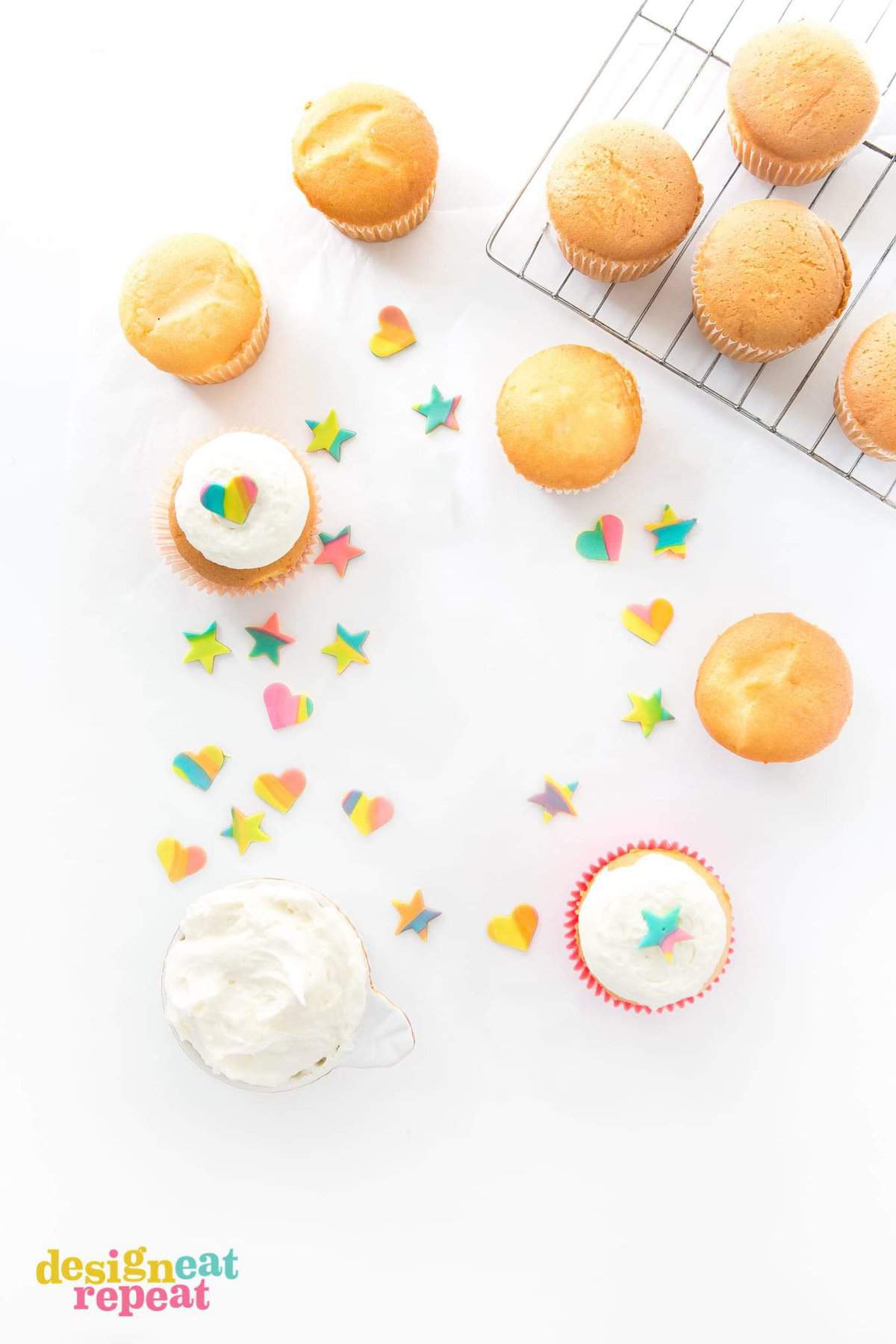 Okay actually, another favorite thing is that because they're made from fondant, you don't necessarily have to wait for them to dry or set. I like leaving them out for a few days to slightly harden before using (so that they don't easily bend & break), but that's not a must for these to be ready to pop onto a cupcake. (Even leaving these out for several days to dry won't turn them crunchy since the fondant doesn't completely harden).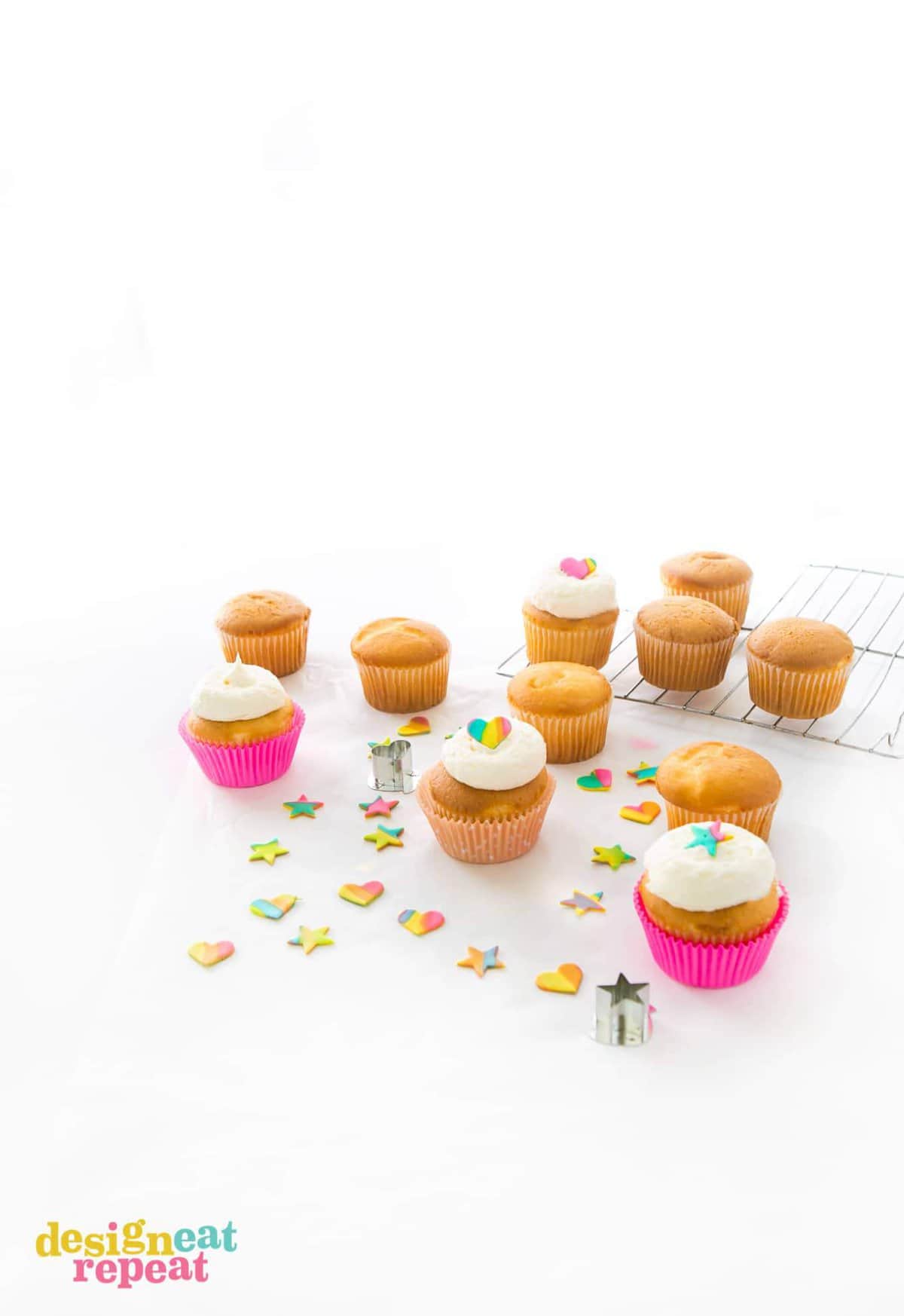 Rainbow Homemade Sprinkles
Ingredients
White Fondant

Gel Food Coloring

Mini Shaped Cutters

I used these
Instructions
Seperate fondant into even chunks (one chunk for each color you plan to do).

Add 1 drop of food coloring gel to each chunk and mix until incorporated. Add more drops for more vibrant colors.

Once dyed, roll each chunk into a long snake-like piece.

Lay each colored piece next to each other and gently press together.

Twist combined piece into a even larger snake-like piece.

Wrap piece into a spiral and place on a piece of parchment paper.

Use a rolling pin to flatten into 1/16" thickness.

Use shaped cutters to cut. Gently peel away excess and carefully transfer cut shapes to another piece of parchment to dry.

After cutting the first round, be careful in kneading the scraps back together. You want to gently combine them together and roll out again, to prevent the colors from becoming muddy.
Recipe Notes
Watch a short video demo making these
here
!
Magical, huh? With all the rainbow craze happening lately, I knew I had to bring these to life! So tell me, whose weekend plans are now making 500 million sprinkles?