The BEST super moist and flavorful banana muffins using just ONE banana! Adapted from my popular super moist banana bread recipe!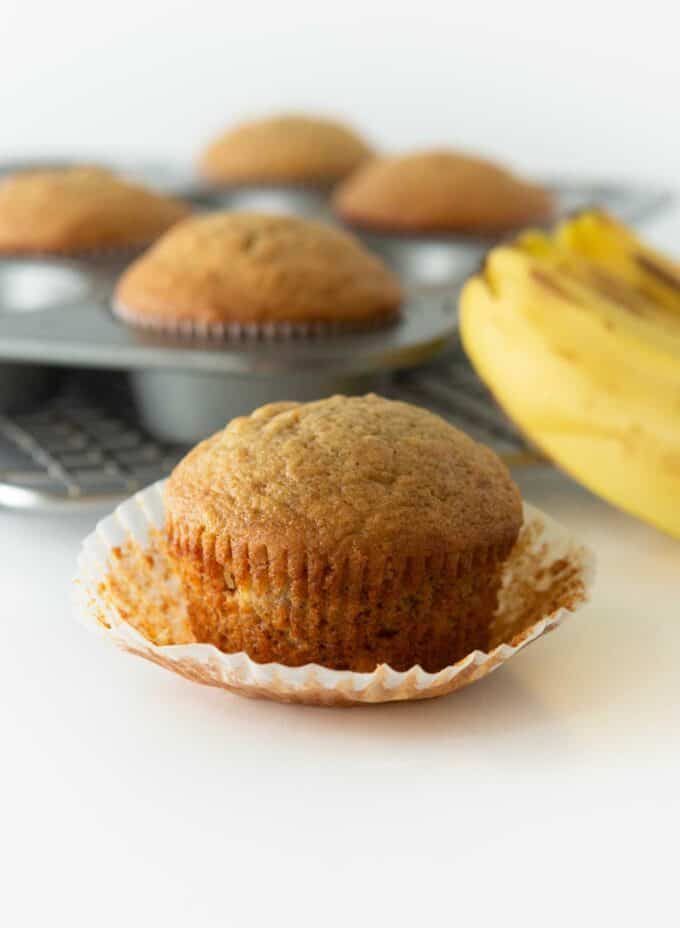 One Banana Muffins (super moist!)
Prep Time: 10 minutes
Cook Time: 22 minutes
Total Time: 1 hour 30 minutes
Course: Breakfast
Category: American
Keyword: banana muffins, one banana muffins
Servings: 7 muffins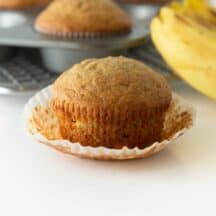 Ingredients
1 large ripe banana should measure out to be about ½ cup
¼ cup unsalted butter (i.e. ½ stick) you will be melting this
¼ cup light brown sugar
¼ cup granulated sugar
1 large egg
¼ cup sour cream or plain greek yogurt
1 teaspoon vanilla extract
½ teaspoon baking soda
¼ teaspoon baking powder
¼ teaspoon cinnamon
¼ teaspoon salt
½ tablespoon cornstarch optional
¾ cup all-purpose flour spooned and leveled
Before you begin! If you make this, will you do me a huge favor and leave a review and rating letting me know how you liked this recipe? This helps my small business thrive so I can continue providing free recipes and high-quality content for you.
Instructions
In a medium-sized, heat-safe mixing bowl, melt unsalted butter (¼ cup; i.e. ½ stick) in microwave for 20-40 seconds, or until fully melted.

I recommend placing a paper towel on top of the bowl to prevent splatter.

Add the ripe banana (1 large banana; i.e. ½ cup) to the bowl of melted butter nad mash with a fork until broken up. You want to make sure you break up any large pieces or you will have chunks banana in your bread and it can cause it to bake weirdly.

Add in light brown sugar (¼ cup), and granulated sugar (¼ cup), then stir until combined. 

NOTE: To achieve the dense and moist texture we're going for you MUST mix by hand! Using an electric mixer will whip too much air into the bread and affect the texture.

Add in the egg (1 large), sour cream (¼ cup), and vanilla extract (1 teaspoon), then stir until just combined. Once mixed, add in the baking soda (½ teaspoon), baking powder (¼ teaspoon), and cinnamon (¼ teaspoon), and salt (¼ teaspoon), then mix until just combined.

Lastly, mix in cornstarch (½ tablespoon), and all-purpose flour (¾ cup) and stir until just combined. You do not want to mix this for any longer than it takes for the flour to disappear or it will become dense and chewy. Do not overmix!

Line a standard-sized cupcake pan with 7 muffin liners (stagger them every other vs. putting them all on one side; this will help the air flow.

Divide batter amongst the muffin liners (max 4 tablespoons of batter each).

Bake at 350°F for 22-24 minutes, or until a toothpick comes out clean.

Allow to cool, then enjoy!

If not eating right away, place fully-cooled muffins in an airtight container or plastic bag with a paper towel to help absorb excess moisture. Wrapping them in plastic while they're still warm will trap the steam and could make your muffins mushy.
Last Step! Please leave a review and rating letting me know how you liked this recipe! This helps my small business thrive so I can continue providing free recipes and high-quality content for you.
Recipe Notes
Can I substitute sour cream with something else? If you don't have sour cream you can substitute in plain greek yogurt. Just be sure to mix your yogurt well before measuring to prevent all the liquid juices from being too much in the batter.
Oven Placement Tip: You do not want it too close to the top or the top will brown faster than the inside can cook.
Storage Tips: wrap in plastic wrap or place in a gallon-sized ziploc bag. Storing it in plastic will ultimately make it stay moist longer.
Freezing Tips: To freeze, wrap the fully-cooled muffins individually in plastic wrap then place in a freezer bag or container. This will keep the muffins moist and can be frozen for up to 3 months. When ready to eat, remove from freezer and allow to thaw at room temperature (still wrapped).
Better on Day 2! I will say that these banana muffins are even better Day 3 after all the flavors meld together.
Ripen Bananas Quick! Don't have bananas on hand or don't want to wait for to ripen? Did you know you can ripen bananas in the oven (and without a paper bag!). Simply place bananas (with their peel still on) on a rimmed baking sheet for about 15 minutes at 350 degrees. The bananas will turn black and all the gooey insides will caramelize. Hooray for quick ripe bananas!
Nutrition
Calories: 211kcal
Fat: 9g
Saturated fat: 5g
Trans fat: 0.3g
Polyunsaturated fat: 1g
Monounsaturated fat: 2g
Cholesterol: 46mg
Sodium: 177mg
Potassium: 131mg
Carbohydrates: 31g
Fiber: 1g
Sugar: 18g
Protein: 3g
Vitamin A: 300%
Vitamin C: 2%
Calcium: 30%
Iron: 1%