Give the gift of relaxation with these printable ice cream bath bomb gift boxes and "chill out" gift tags!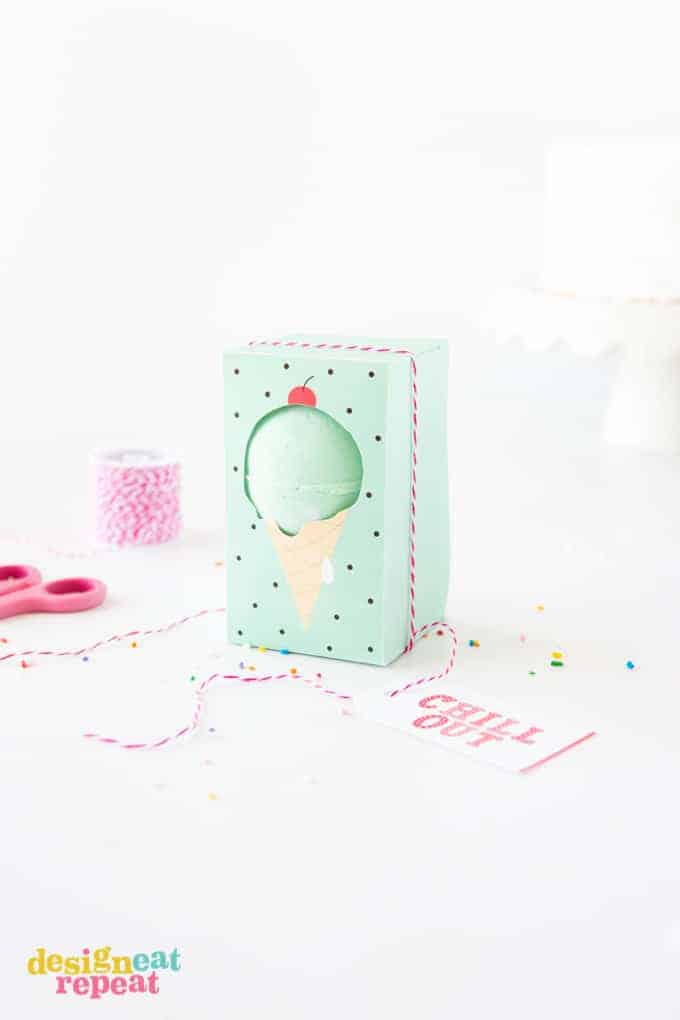 Ever since I moved to Utah where there are multiple Lush shops within a dangerous 30-mile radius, I have developed a unhealthy/healthy addiction to this store of wondrous glory. Unhealthy as in it sucks up muchos dollars…healthy in that it's the greatest thing to happen to my skin since 90's watermelon roll-on glitter (don't tell me you didn't have this).
I won't get into the depths of this obsession, but let's just say that I may or may not participate in a group Google Doc review sheet of all the Lush products we have tried thus far. Between the bath bombs, face masks, and scented bars of citrus heaven…the love runs deep and we take things very seriously around here. (And although it would be magical, I am not affiliated with Lush. Just true love speaking.)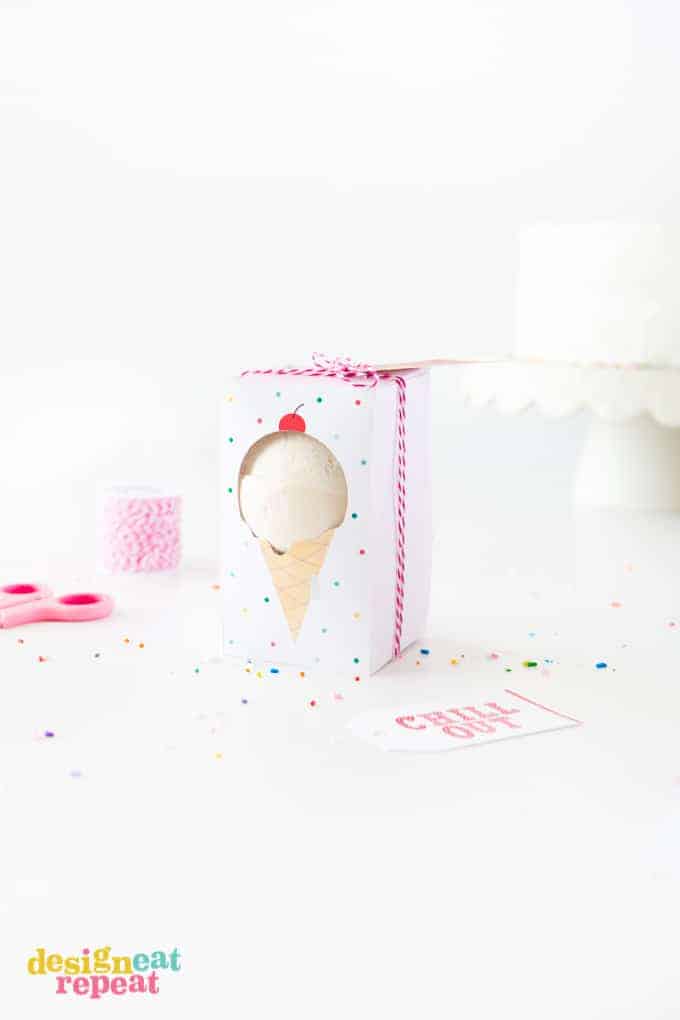 So I figured it was about time to channel this love elsewhere and create a fun printable box to help others gift these delicious bath bombs. Life is full of stress and relaxation and it never hurts to remind yourself or friends that it's okay to CHILL OUT once in a while.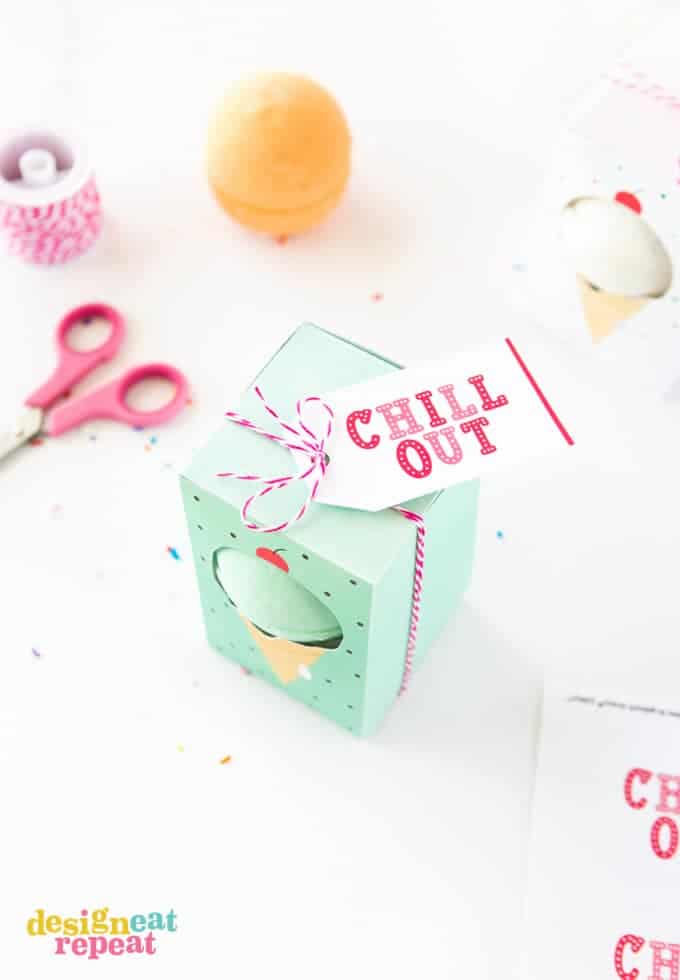 I designed two color variations for these boxes – one meant for green bath bombs (to resemble mint chip ice cream!) and the other meant to be more versatile for any other fun colors of bath bombs you may find.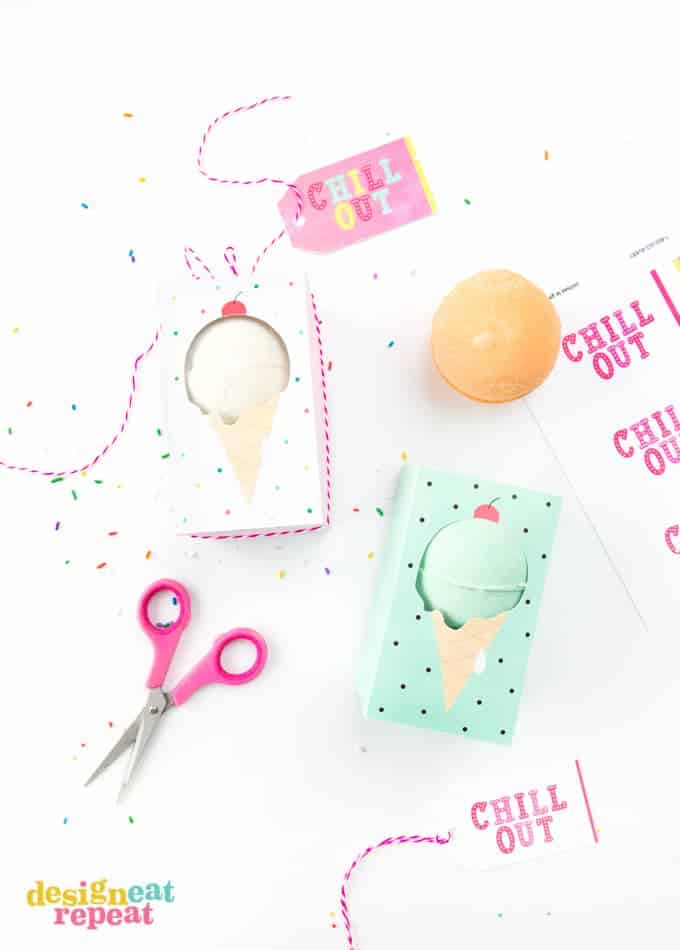 After assembling the box, stuff the bottom of the box with tissue paper until it's built up enough to hold the bath bomb level with the circle window. Depending on the size of the bath bomb (these were designed for the Lush size), you'll likely need to stuff more tissue around the back of the bath bomb to hold it snug against the window so it doesn't roll back.
NEW! Purchase the mint bath bomb box SVG file to cut on your home die-cutting machine.
Once complete, I wrapped some baker's twine around the box and then topped it off with a gift tag that I printed with a sheet of Avery gift tags. What I love about these pre-made tag sheets is that they're already pre-cut, so I can simply print them off and tear them apart. I've included the link to the Avery download below so you can easily print them off through Avery Design & Print Online. Besides, it's all about getting our chill on today so I tried to make these giftables as stress-free (yet fun!) as possible.
To Download & Print "CHILL OUT" Gift Tags:
A. Download & save the Avery Template to your computer.
B. Print and customize the tags through the Avery Design & Print Online software by:
1. Go to the Avery website and click "Open A Saved Project: From Your Computer" on the right side of the screen.
2. Upload the file you just downloaded.
3. Print and attach to gift boxes!
NEW! Purchase the mint bath bomb box SVG file to cut on your home die-cutting machine.
So be honest – anyone else obsessed with bath bombs? I never thought I'd be the type to be obsessed with a soap shop, but alas here I am. Hooked and pretty much willing to sacrifice clothes shopping for dissolvable goods. Which when I put it that way seems like a real issue…
Please note that these files are for personal use only and redistribution or reselling for commercial use is strictly prohibited. If you would like to spread the word about this printable, you are free to do so but (A) must link directly back to this post for download (please do not link directly to the printable download file) and (B) may only use one image from the post. Thank you for your cooperation!