This creamy, dreamy homemade peanut butter gelato is the perfect summer activity and treat! Churn it in your ice cream maker and serve in bowls with sprinkles on top!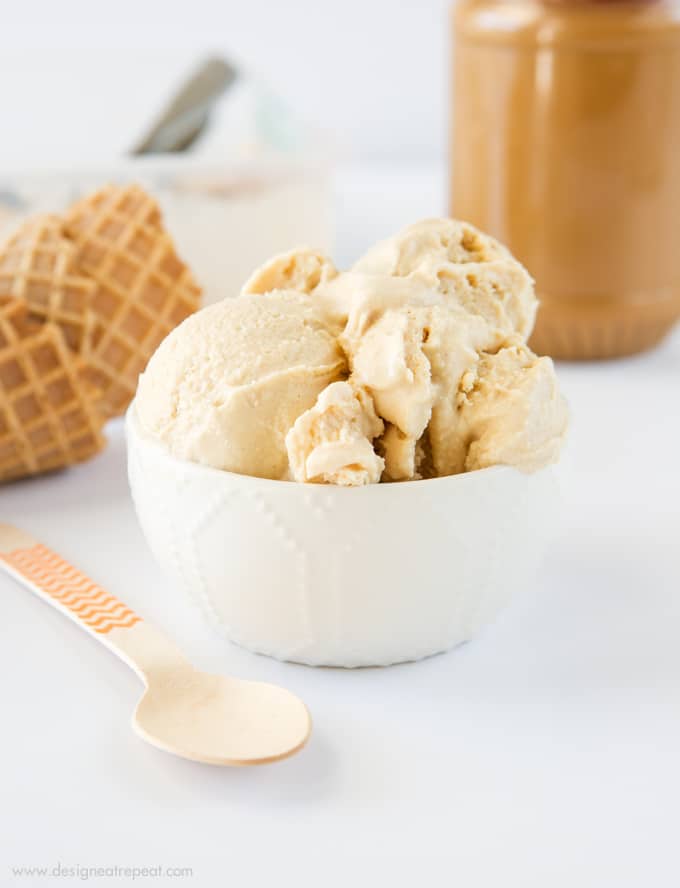 When I studied abroad in Italy a few years back it didn't take us long to realize the peanut butter wasn't a common grocery store item (literal gasp). We had heard a rumor that there was a international grocery store somewhere in Rome and we were determined to find it. And when we did, they had $10 Betty Crocker cake mixes (like literally the $1 ones you can get at Walmart) and a out of stock supply of peanut butter.
So one day in the spirit of desperation, we left for class early in hopes of finding the golden peanut butter store and living happily ever after. I'm pretty sure it was raining that day, we were lost in whoknowswhere street, and our iPods (cause we didn't have phones for the semester) let us know that we were not exactly early for class. And if you've ever been to Rome, you know that the streets are literally mazes and finding your way to a hole in the wall shop is near impossible – especially for a directionally challenged GPS dependent college student like me.
So we eventually gave up, tried to find our way back to studio, and when the time came to tell the professor why we were 20 minutes late and dripping wet (probably half rain/half sweat), we really had no choice but to tell him we were on a mad peanut butter hunt and came up empty. Some are late for class from oversleeping, or missing the bus, but a peanut butter treasure hunt? Worth it.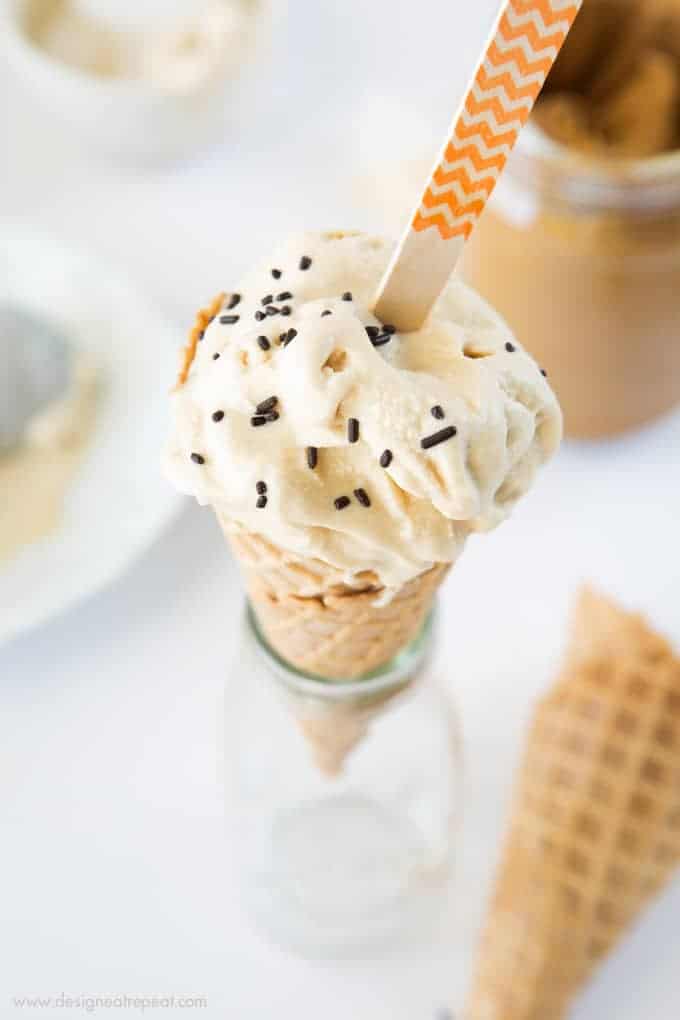 I don't remember how we ever got our hands on an actual jar of peanut butter, but we eventually did. And from there on out, our studio snacks consisted of peanut butter saltines and pocky sticks. It's okay to judge, we judged ourselves too.
And despite having to ration out that $10 jar of overly processed peanut butter over the rest of the semester, we lived to see another day. Gelato was another thing we got heavily addicted to while living in Italy, and the day we came across a gelato shop that had PEANUT BUTTER gelato, we were hooked. No candy mixins or chocolate toppings, just straight up peanut butter gelato. It may have taken me a few years to recreate, but it's here. And it's stupefacente. Which means amazing in Italian, but I totally had to google that cause my Italian skills are basically non-existent.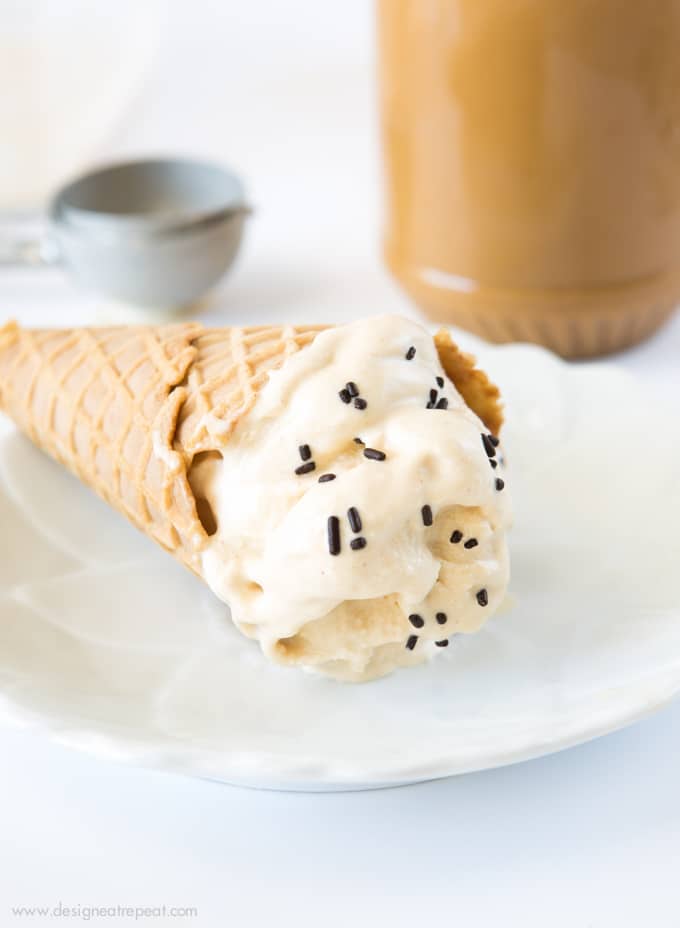 Creamy Peanut Butter Gelato
A sweet & slightly salty homemade peanut gelato sure to please the crowds on a hot summer day.
Prep Time: 3 hours 20 minutes
Cook Time: 10 minutes
Total Time: 3 hours 30 minutes
Course: Dessert
Category: Ice Cream
Servings: 4 Cones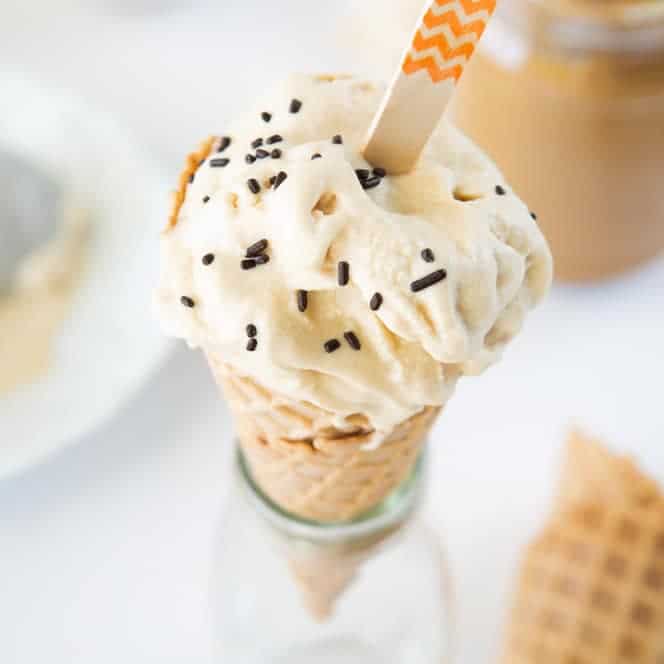 Ingredients
1/2 cup sugar
2 eggs lightly beaten
1 cup milk
1 1/2 cup heavy whipping cream
1/2 cup creamy peanut butter
1 teaspoon vanilla
Before you begin! If you make this, will you do me a huge favor and leave a review and rating letting me know how you liked this recipe? This helps my small business thrive so I can continue providing free recipes and high-quality content for you.
Instructions
In a saucepan combine sugar and milk. Whisk in eggs and place over medium heat until steaming (6-8 minutes), while stirring constantly.

Once steaming, remove from heat and stir in cream, peanut butter, and vanilla.

Place mixture in glass bowl and cover with saran wrap. Place in refrigerator for 3-4 hours until thoroughly cooled.

Pour mixture in

ice cream maker

and churn until gelato becomes a soft-serve consistency. (Because gelato is egg-based, it will not crystallize or get as hard as much as normal ice cream.)
Last Step! Please leave a review and rating letting me know how you liked this recipe! This helps my small business thrive so I can continue providing free recipes and high-quality content for you.
Recipe Notes
Although best served fresh, you may store gelato in airtight container placed a plastic ziplic bag.
Nutrition
Calories: 665kcal
Fat: 53g
Saturated fat: 25g
Cholesterol: 210mg
Sodium: 239mg
Potassium: 387mg
Carbohydrates: 37g
Fiber: 1g
Sugar: 31g
Protein: 14g
Vitamin A: 1530%
Vitamin C: 0.6%
Calcium: 153%
Iron: 1%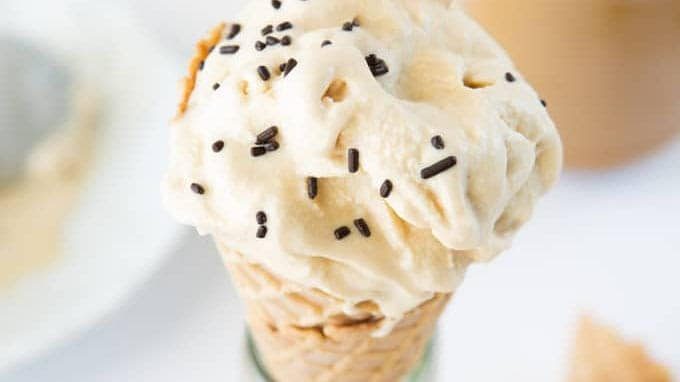 So pretty much the moral of the story is that if you ever go to Rome, please email me so I can direct to you the PB gelato shop. And the mozzarella ball restaurant. And the red pepper flake tomato pizza shop. And then send me a postcard, otherwise I'll probably stalk your Instagram and cry myself to sleep that I'm not there with you.
Mmkkay? Thanks.