Growing up, one of our favorite things to do was go to the gas station up the street and get ICEES. The problem being, was that us kids were poor and once our piggy banks were cleaned out we were left hot and icee-less in the scorching summer months. So what did we do? We literally hunted the house for any spare change we could find. And we would ride our bikes (heavy pockets and all) and hit up the local 7-Eleven. It truly was heaven at that 7-Eleven.
And even to this day, I still love ICEES. Some people might think slushies are considered kid-food. But not me. That's blasphemous. That's just how I roll. Like it or leave it. I will be 80 years old and still be slurping on slushies. Who knows, I might not have any teeth at this point and slushies could be the only thing left I can have. You just never know.
So as a way to live up this childhood addiction, I decided to experiment making my own. Although they didn't taste exactly like the gas station kind (or the one's a BK), they were still pretty dang tasty. I mean, can you really go wrong with fruity, sugary concoctions? Didn't think so.
Blue Raspberry Slushies
The perfect & easy blue raspberry drink for hot summers!
Prep Time: 10 minutes
Total Time: 10 minutes
Course: Drinks
Category: Slushie
Servings: 2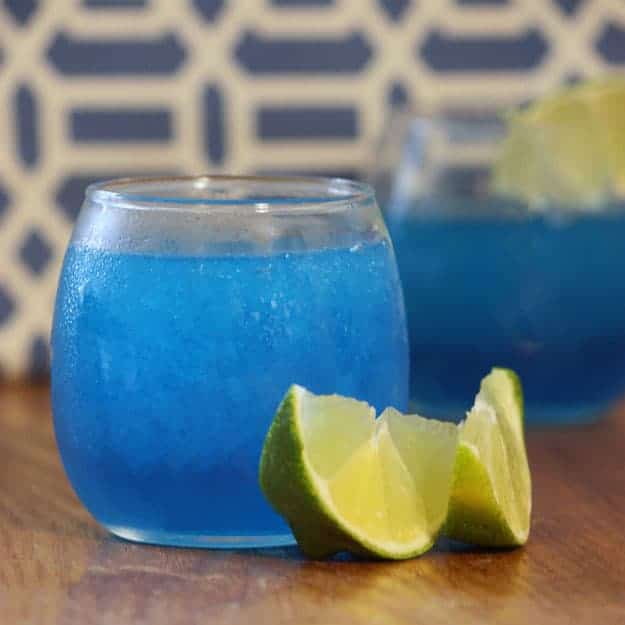 Ingredients
1/2 cup. Blue Curacao syrup They sell non-alcoholic versions of this if you're wondering.
1/2 cup simple syrup equal parts dissolved sugar and water
1/2 cup water
Lime juice from 2 small limes
1-2 cups of ice add more if drink is too watery
Instructions
Add to blender and blend until smooth. Serve with slices of lime.
Nutrition
Calories: 377kcal
Sodium: 49mg
Potassium: 53mg
Carbohydrates: 76g
Sugar: 72g
Calcium: 11%
Iron: 3%
This is the perfect drink for a hot summer day! Plus, it doesn't require hunting for loose change OR riding my bike in 90 degree weather to get one of these bad boys. I'd consider that a success. And what better way to ring in the 4th than a blue glass of goodness?