I don't think I've ever had a real pina colada, but if I did, this is what I'd imagine it to taste like. Today's recipe doesn't have a trace of pineapple, so in an essence, it probably cannot even be compared to a pina colada but the coconut flavor in this light drink is overwhelming refreshing with this onset of warm weather.  I'm not even sure what to call this. A smoothie, a milkshake, or a mocktail. But whatever you want to call it, it's good enough to drink any time of the day, any time of the year (besides winter if you live in a tundra).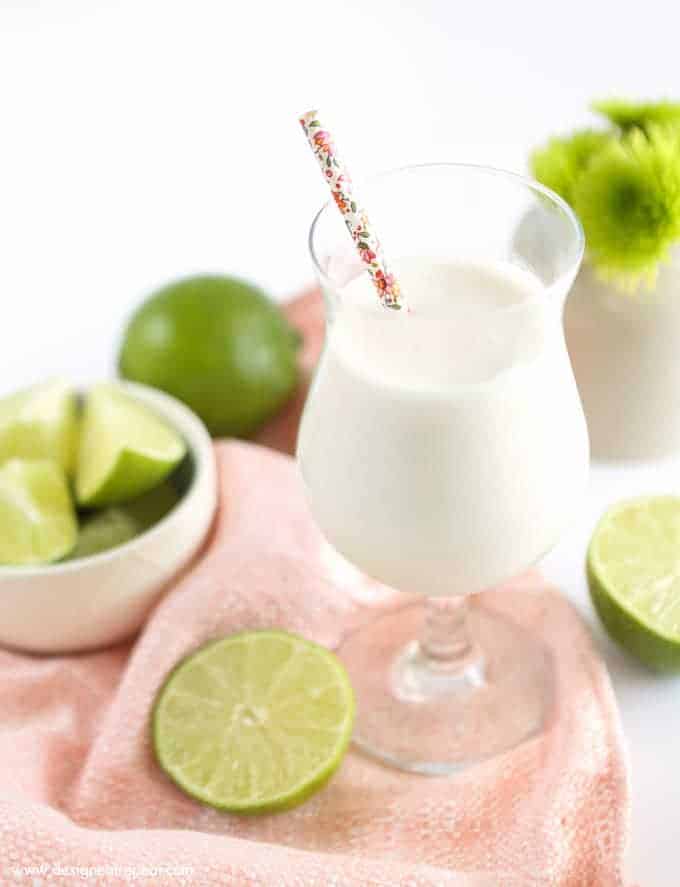 Made with light vanilla yogurt and creamy coconut sorbet, this drink is packed with vanilla flavor – while still being light in texture and coconut taste.
When recipe testing, I thought for one second to go buy a real coconut to try out in this recipe and then I realized whoamIkidding, no one actually wants to pry open a coconut to make a single serving drink. Nor did I want to go hunt down a coconut opener. So I opted to infuse the coconut flavor using some other tactics, which led me to Bai Bubbles and coconut ice cream. Rather than bogging this drink down with coconut flavored extracts, heavy syrups, or calorie-ridden rum, I cracked open a can of Bai Bubble's Waikiki Coconut and tossed it right in. (Sidenote: has anyone else tried Bai before?!) I don't drink soda very often, but sometimes crave a carbonated drink. And these natural sparkling infusions come in tons of flavors (I've pretty much tried them all!) and each can only has 5 calories, 1 gram of sugar, are packed with antioxidants derived from the coffee fruit, and even have the same amount of antioxidants as a bowl of blueberries. It's so hard to decide what exotic flavors to order once my current supply runs out, because I want. them. all.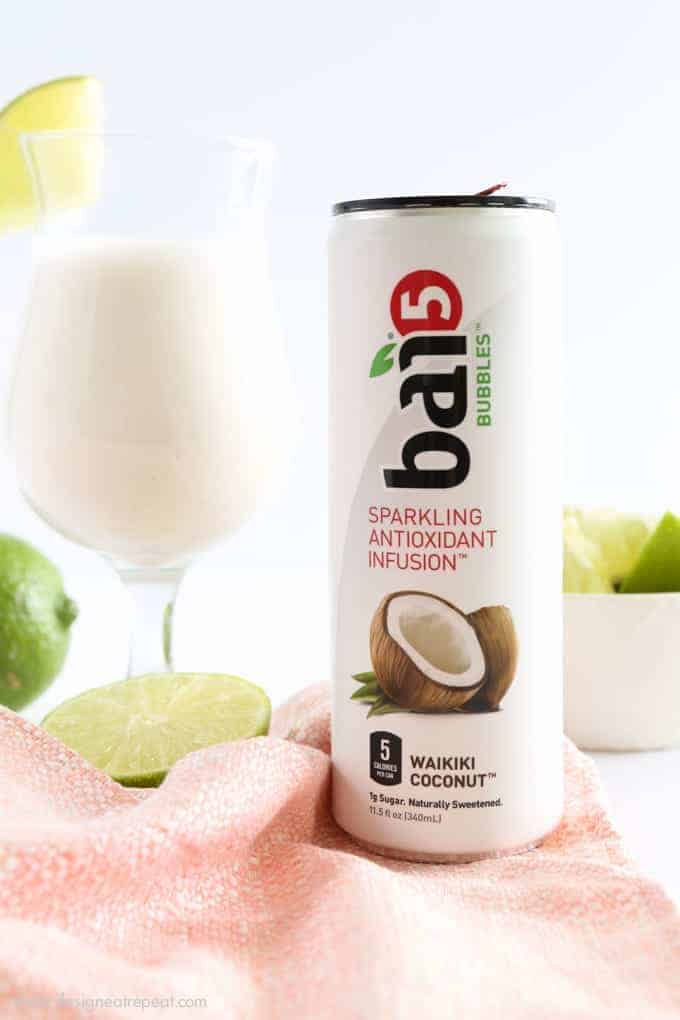 This recipe makes a single serving and can be whipped right up in the blender or nutribullet. The key to these being so good is to make sure you blend the ice really well. Is there anything worse in the frozen drink world than finding a chunk of ice in your drink? Aww nah there really isn't.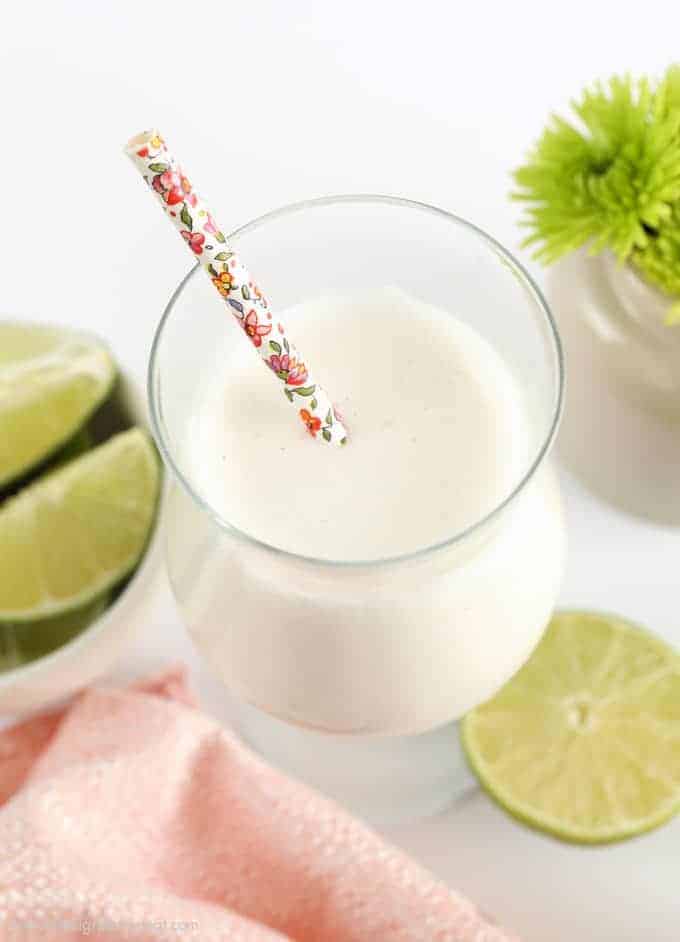 Frozen Vanilla Coconut Lime Refresher
A light and refreshing coconut & lime drink, perfect for hot summer days.
Prep Time: 10 minutes
Total Time: 10 minutes
Course: Drinks
Category: Smoothie
Servings: 1 Serving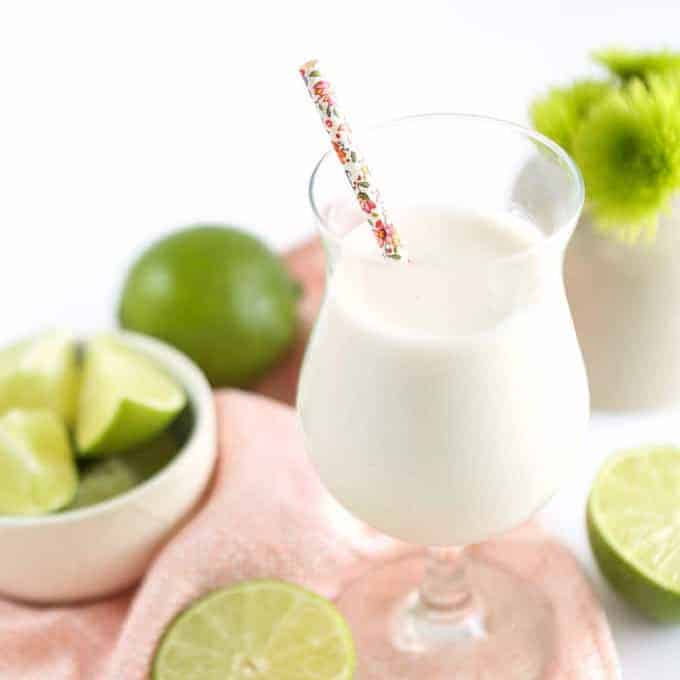 Ingredients
1/4 cup light vanilla yogurt
1/2 tablespoons fresh lime juice
1/2 cup Waikiki Coconut Bai Bubbles
1 cup coconut milk ice cream I used the brand So Delicious Coconut Milk Vanilla Bean Frozen Dessert
1/2 cup ice
Optional: 1/2-1 shot of coconut flavored rum
Instructions
In a blender, add all the ingredients and process until smooth. If smoothie is thinner than you prefer, add more ice until desired consistency. Pour into a chilled glass and serve immediately.
Nutrition
Calories: 293kcal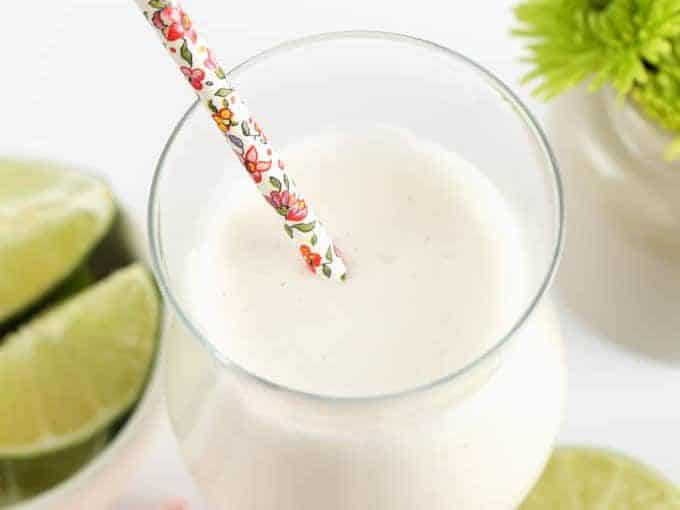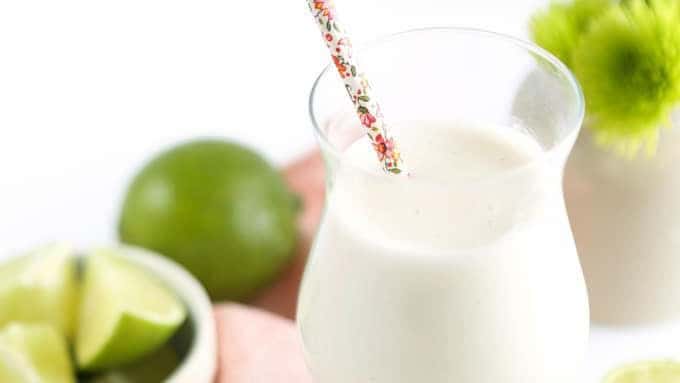 So much Spring happening around here, I can hardly take it. The floral straws, the coconutty frozen drinks, the open windows. If the Midwest could be like this all year round, I might actually think about staying here for a few more years. But considering a zombie apocalypse is more likely to happen than nice weather year round, I'll still be over here looking for beach rentals to flee to as soon as my current lease runs out.