Turn a old school treat into candy coated Rice Krispies Snow Cones! Easy to make and a fun recipe to make with kids!
Happy National Cereal Day tomorrow! I don't know who made that up but I saw it on Instagram, so it must be real. One of my new years resolutions is to simplify the projects I share on this site while still adding innovation, so although rice krispie treats are OLD SCHOOL, today we're turning them into something new! Rice Krispies Snow Cones! I've had this in my idea book for awhile, so I decided I finally had to make it happen on this Cereal Day Eve.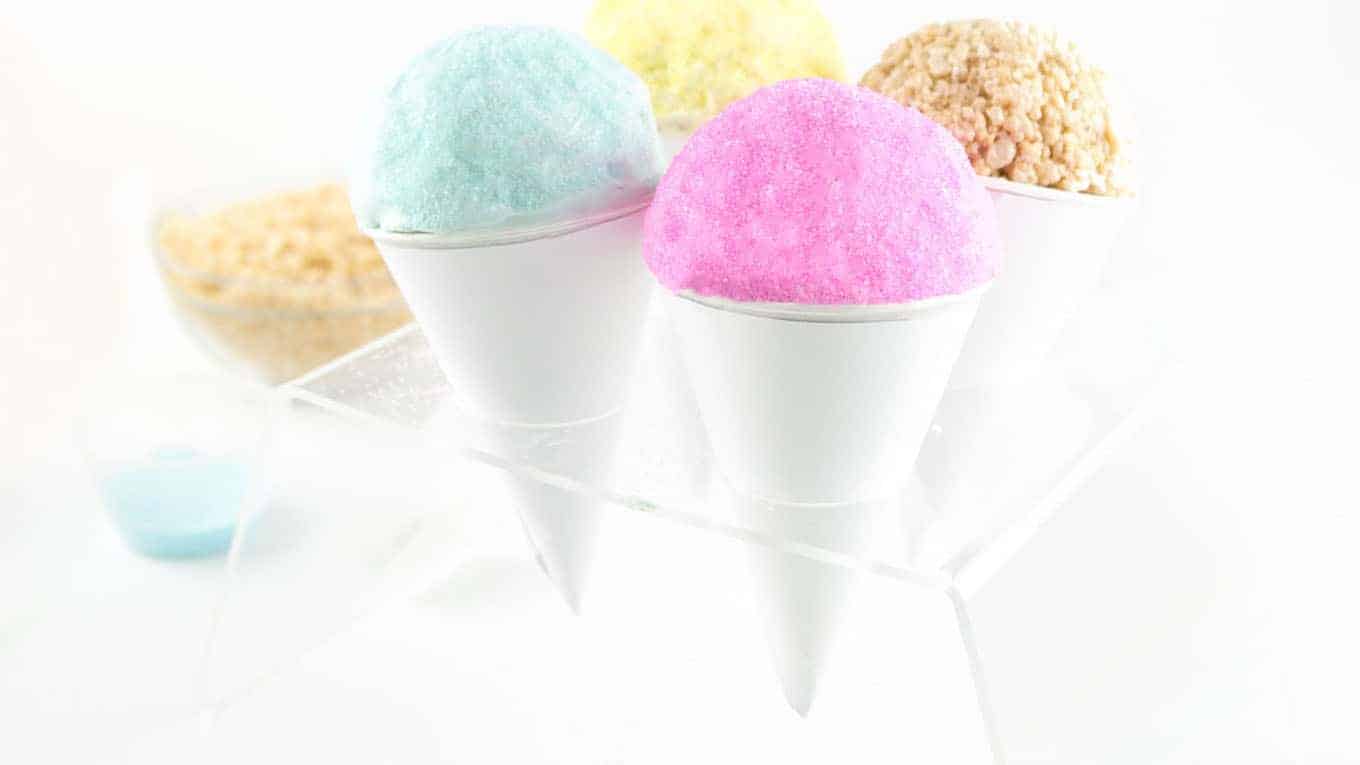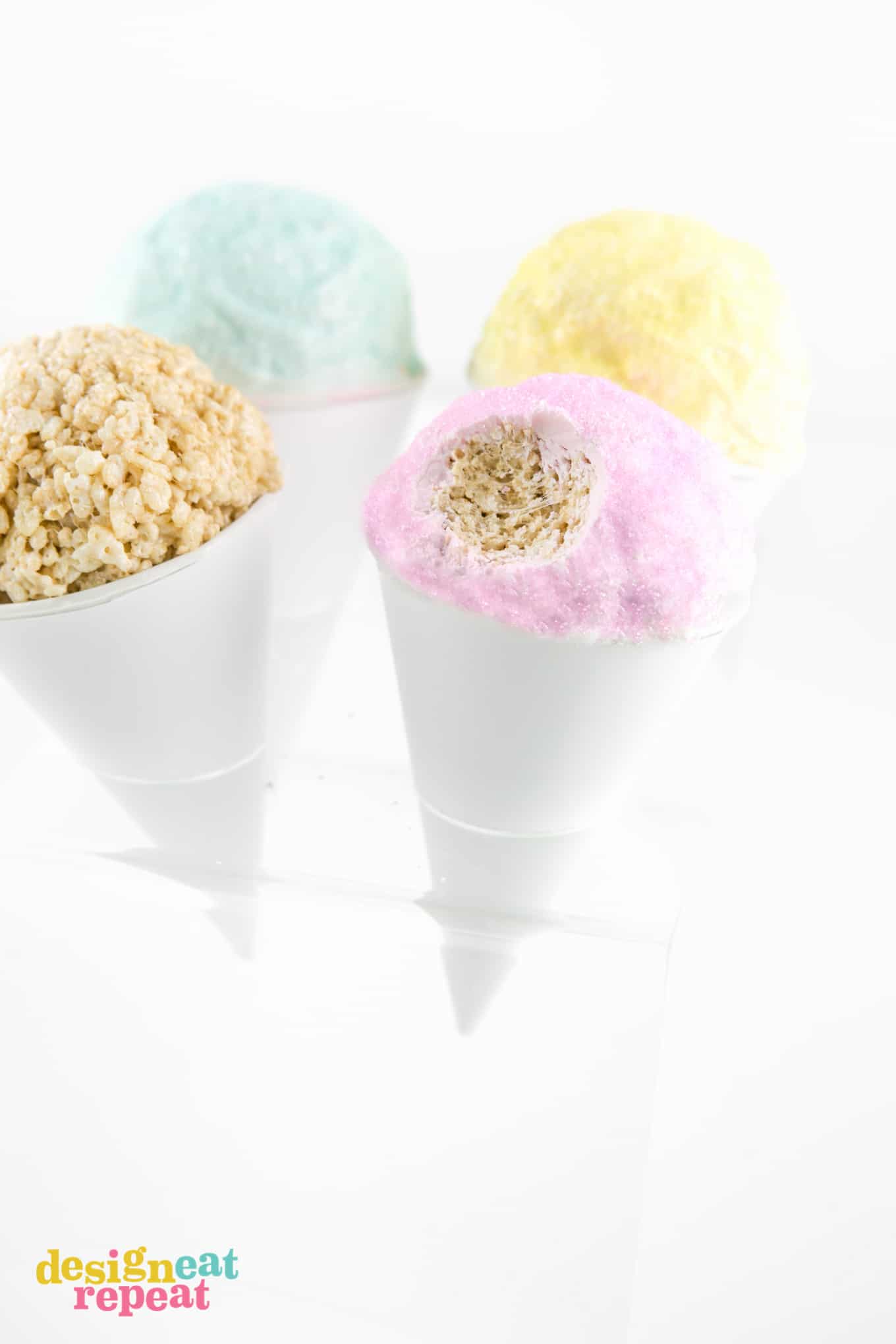 Every time I make rice krispie treats I get instantly transported back to college when I worked in the campus bakery. There was one particular time when one of the older ladies asked me to stir the (legit 3×4 foot pot) of rice krispie treats with what resembled a canoe paddle and I thought to myself, "Sure, no problem. I totally got this." I had seen her do it before and she made it look easy as can be, so I took it over like the young chap I thought I was. No joke after 2 minutes of cranking this 50lb. ball of gooey rice krispies, I pretty much died. And that was the last time I was every asked to stir the rice krispie trough.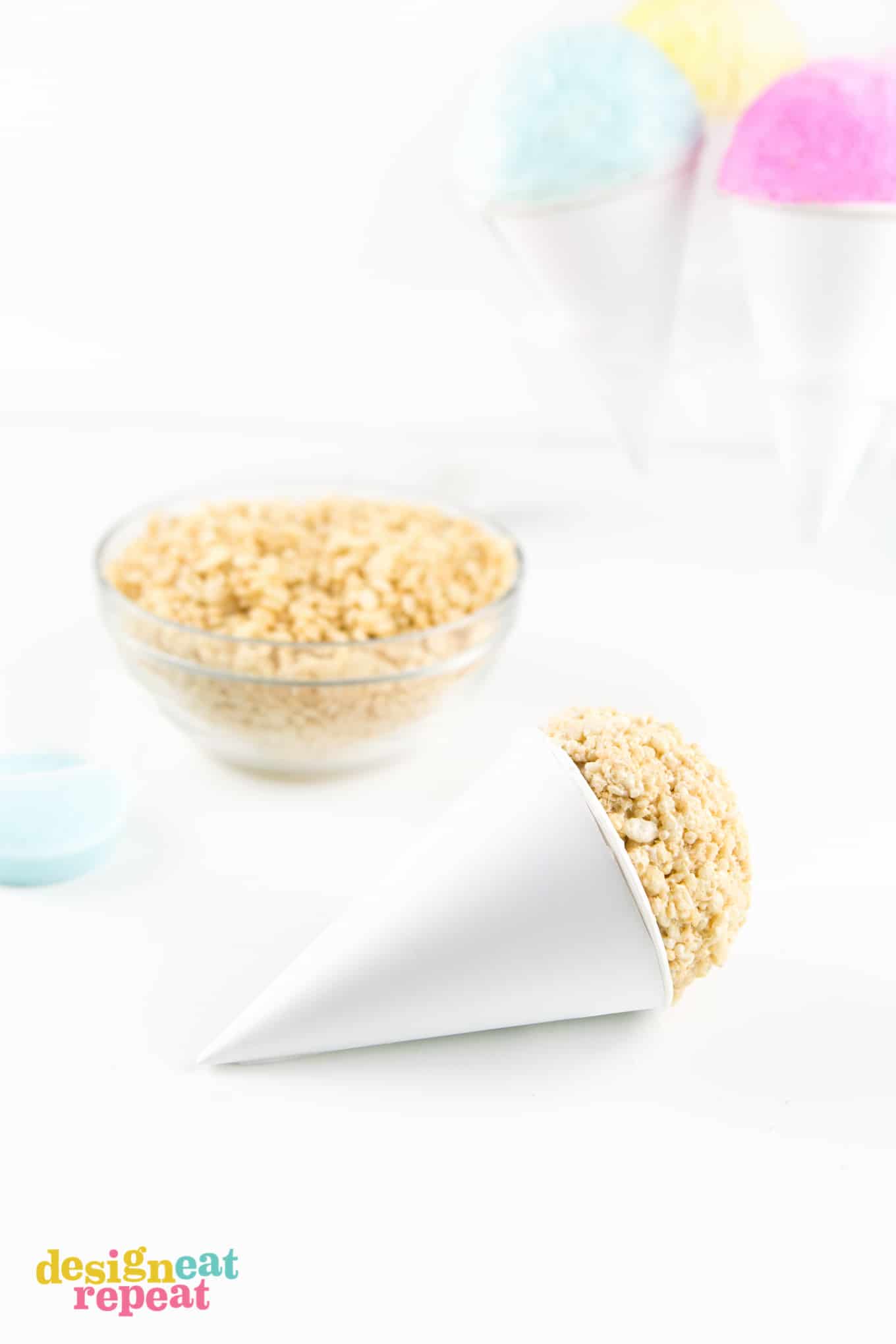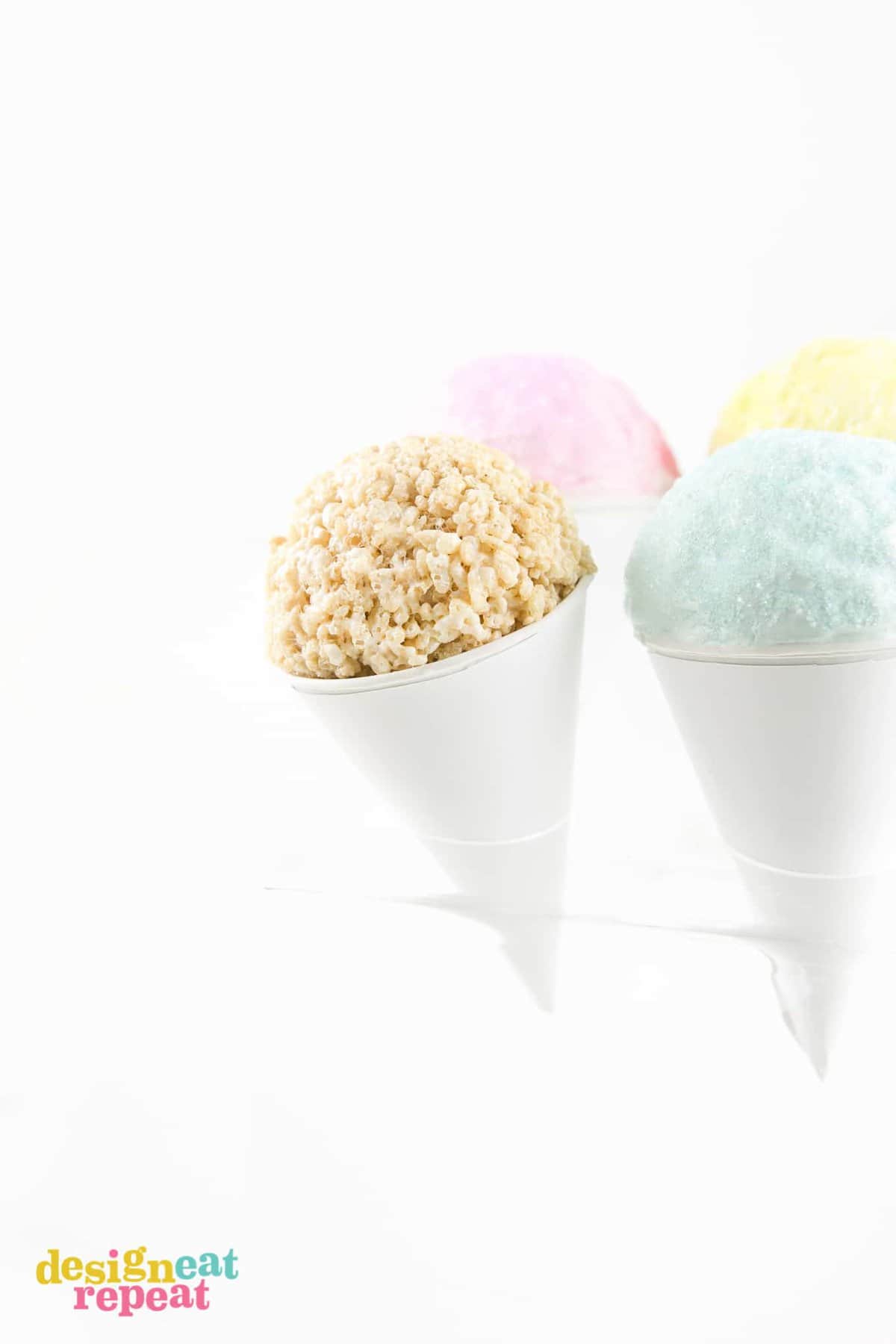 Luckily these are 1/50th of the mega batch I had to stir, making them super easy to whip up and a fun way to gift a sweet treat! After cooking on the stove, place the warm rice krispies in the snow cone cup and stuff until full. Next, take another handful and shape it into the top dome. Cover in colored white candy coating, sprinkle on colored sanding sugar, and within 30 minutes you have yourself some gooey, sweet rice krispies snow cones! I may or may not have just ate the pink one for dinner.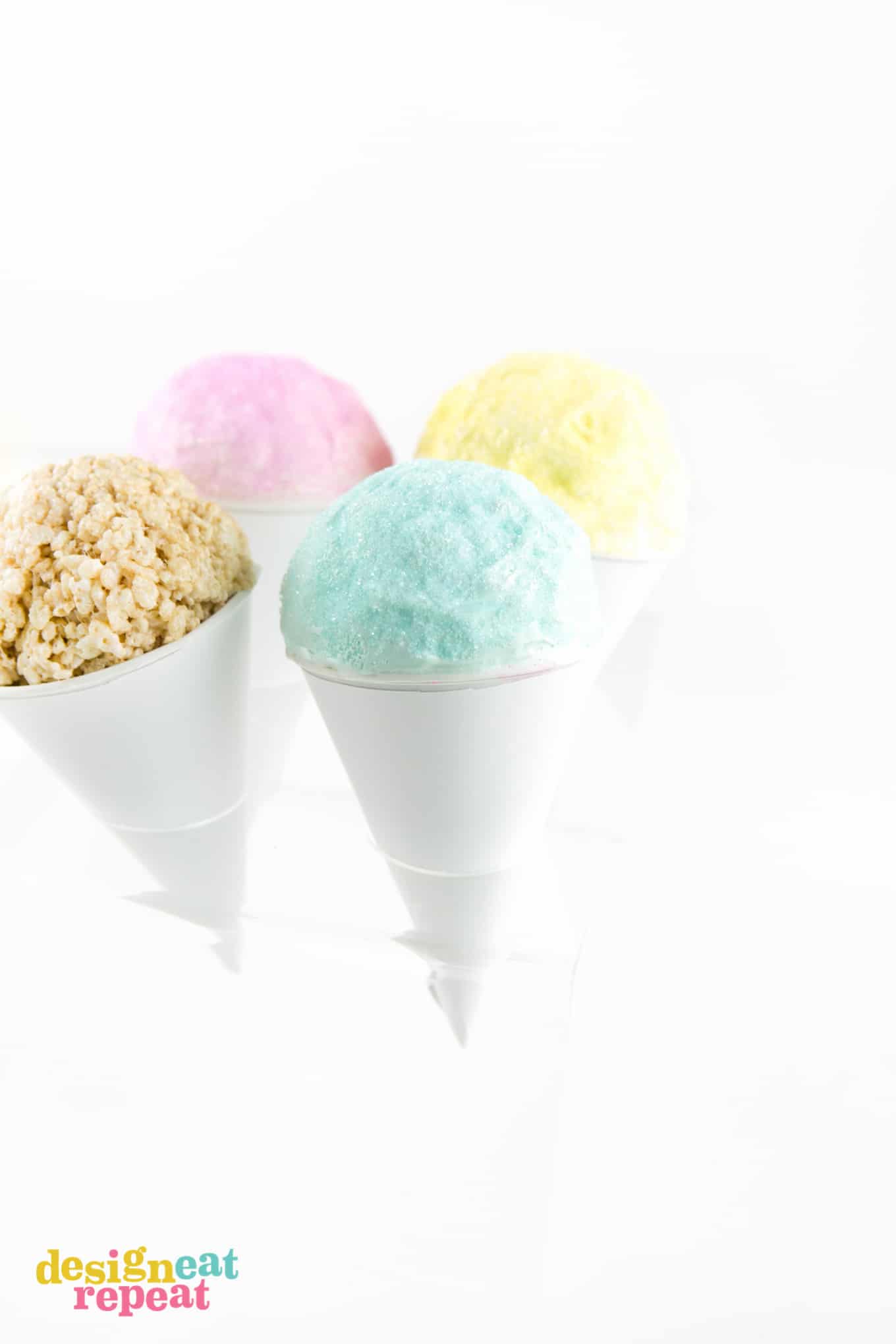 Easy Rice Krispies Snow Cones
Turn a old school treat into candy coated Rice Krispies Snow Cones!
Prep Time: 10 minutes
Cook Time: 10 minutes
Total Time: 20 minutes
Course: Dessert
Category: Kids Treats
Servings: 5 Snowcones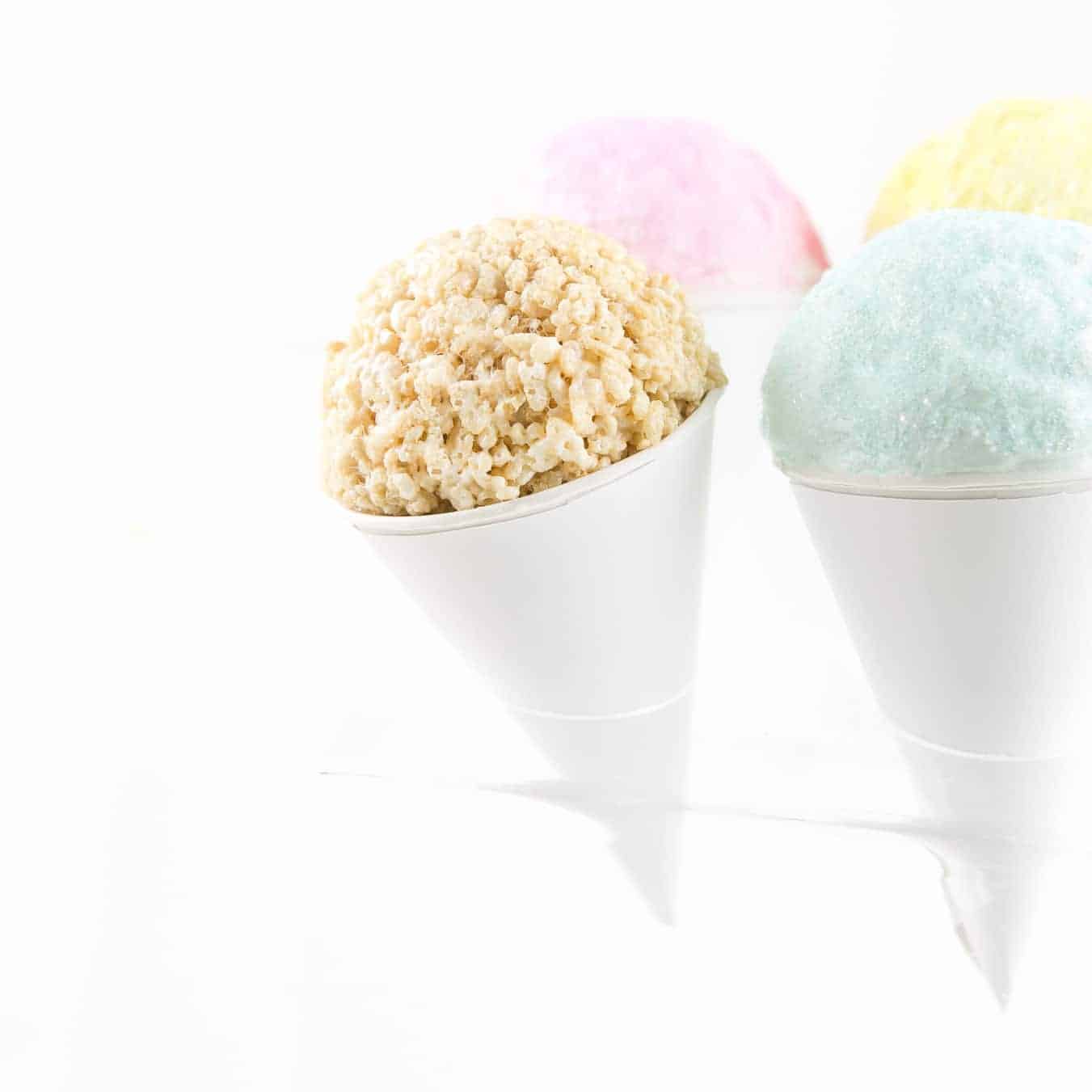 Ingredients
Rice Krispies (recipe from box)
3 tablespoons unsalted butter
4 cups mini marshmallows
6 cups Rice Krispies cereal
Materials & Topping
Paper Snow Cone Cups
12 oz. bag White Candy MeltsFood Coloring
Colored Sanding Sugar
Instructions
In large saucepan melt butter over low heat. Add marshmallows and stir until completely melted. Remove from heat.

Add Rice Krispies cereal. Stir until well coated.

Press mixture into bottoms of

snow cone cups

. Shape top dome and press on top.

Melt white candy melts according to instructions on packaging, dye with food coloring, and spoon on top of snow cones. Immediately after coating, sprinkle on sanding sugar.
Nutrition
Calories: 390kcal
Fat: 11g
Saturated fat: 8g
Cholesterol: 18mg
Sodium: 225mg
Potassium: 42mg
Carbohydrates: 70g
Sugar: 35g
Protein: 3g
Vitamin A: 2445%
Vitamin C: 21.3%
Calcium: 2%
Iron: 10.3%
So since it's National Cereal Day, tell me – what's your favorite cereal?