This post has been sponsored by BUTTERFINGER®. All thoughts and opinions are my own.
A fun, easy, and inexpensive Halloween activity to do with the kids leading up to Halloween. Based off the popular neighborhood game where you "BOO" your neighbors with Halloween candy and treats, these FREE "You've Been Booed' printables are here to help you create lifelong memories with the kids!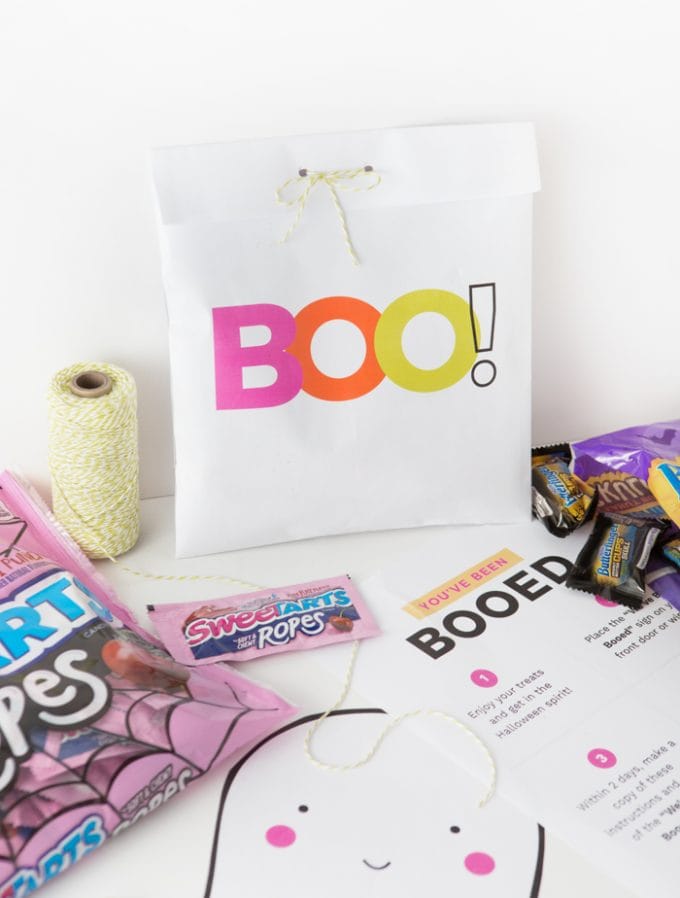 With just a few pieces of paper, your home printer and some Halloween candy from Walmart, you can whip up some Halloween treat bags in no time! Next time you're shopping for groceries, stock up on a few big bags of individually wrapped candy for the trick-or-treaters and then use that same candy to fill these DIY Halloween treat bags!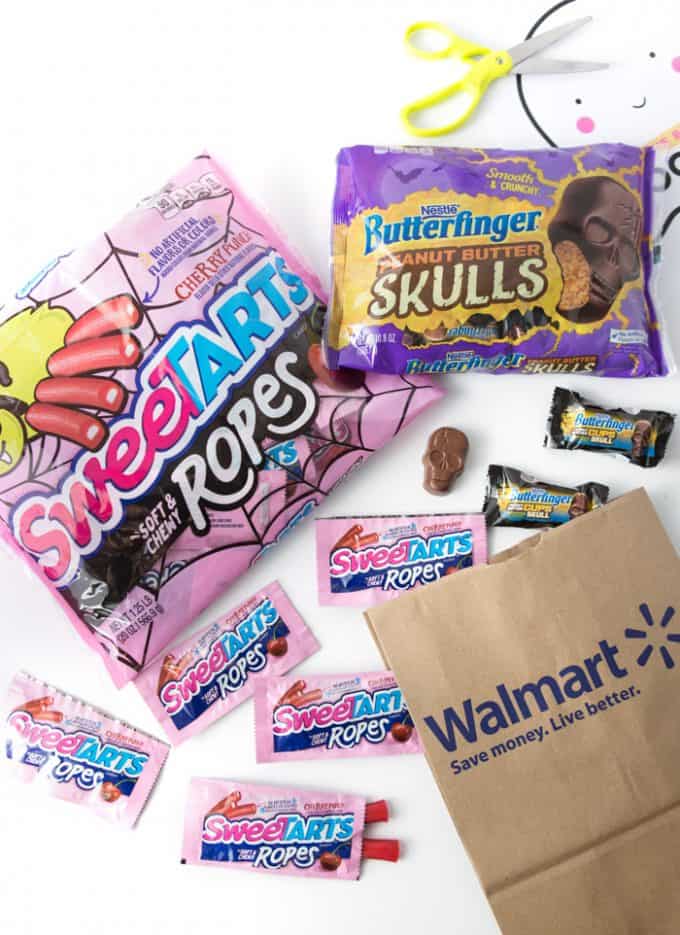 What You Need to Make "You've Been Booed" Printable Halloween Treat Bags
Computer Paper & Home Printer
Tape, Scissors, and Hole Punch
BUTTERFINGERS® Peanut Butter Cup Skulls and SweeTARTS® Ropes
Tip: You can find both candies in the seasonal Halloween aisle at Walmart (not in the traditional candy aisle). It's one of my favorite sections of the year and always results in a cart full of random Halloween decorations and treats.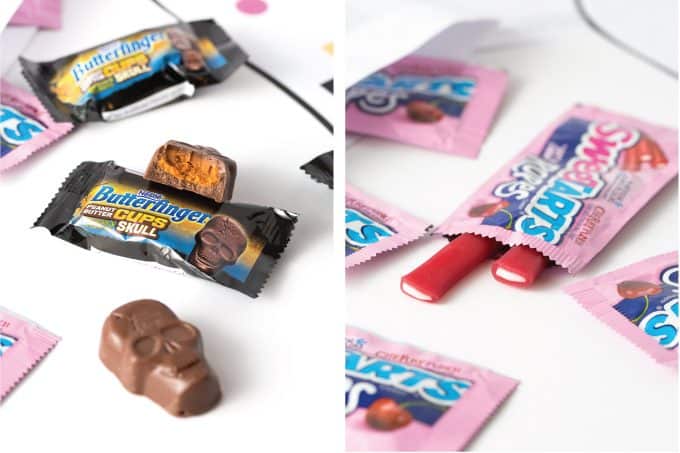 If you're a peanut butter cup fan, these Butterfingers Skulls are about to be your new fave. With a thick layer of chocolate and soft center, they've got the traditional, peanut-buttery taste of Butterfingers. These stick-to-the-roof-of-your-mouth, crunchy treats are the bold statement you need this Halloween!
The SweeTARTS® Ropes are a mix between licorice and fruit snacks and oh' so tasty. These chewy, delicately tart little ropes have a fruit-punch filling that explodes with a mouthwatering maze of texture and taste. Plus, they come in these individually wrapped packs with 2 little ropes; making them the perfect size for Halloween.
Materials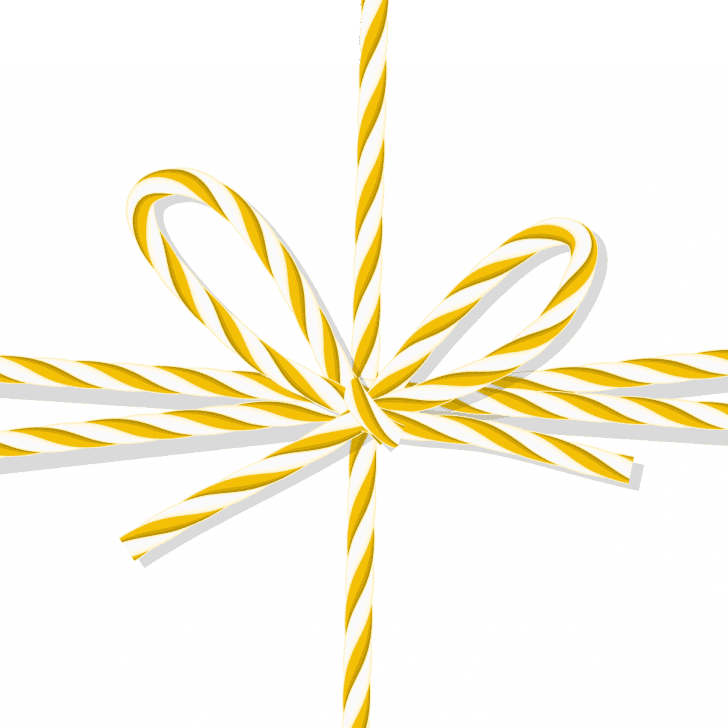 Baker's Twine
Candy to Fill
Clear Tape
Hole Punch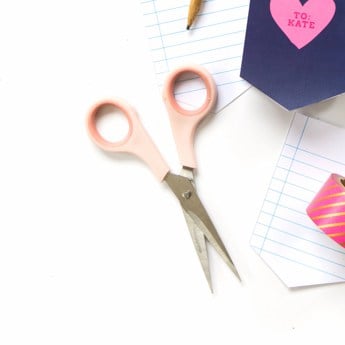 Scissors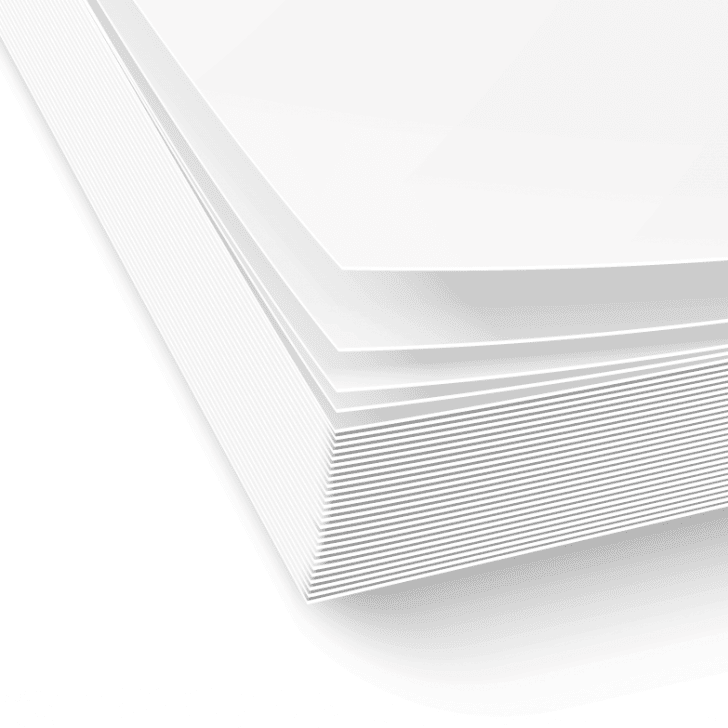 White Computer Paper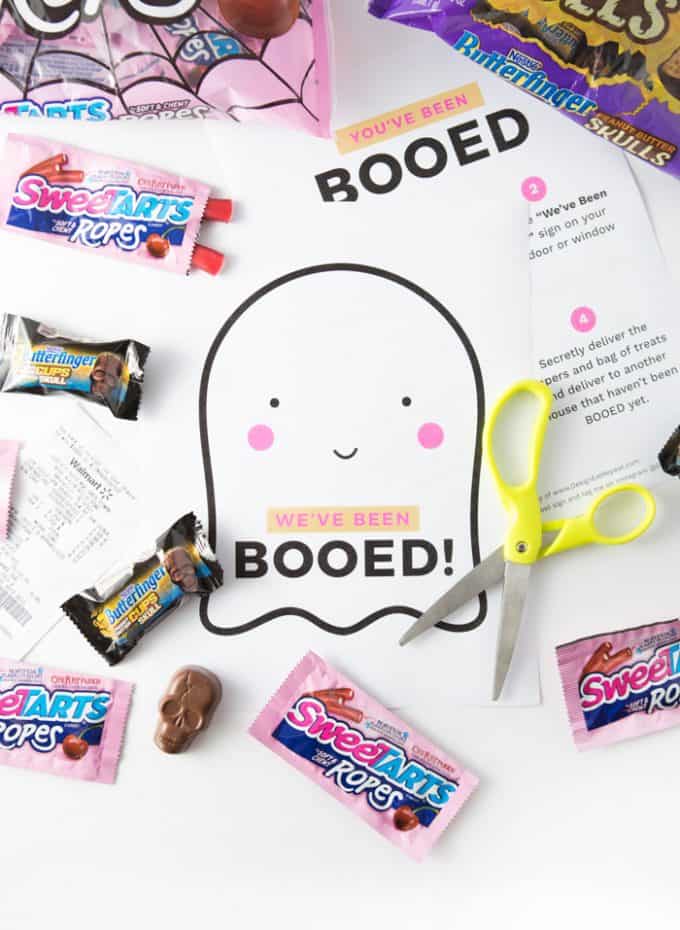 How to Make "You've Been Booed" Printable Halloween Treat Bags
Download the printables and print (1) copy of each page on 8.5 x 11" sized paper. Cut out the ghost from the "We've Been Booed" sheet.

Back the "BOO" sheet with a piece of blank paper.

Use a long strip of tape to tape all the sides closed, except for the top.

Fold the "You've Been Booed" sheet in half, then slip the ghost and "You've Been Booed" instruction sheet in the pouch. Finish by filling the pouch with a variety of Halloween Candy.

Fold over the top of the pouch to create a flap, then use a hole punch to punch two holes in the top.

Tie closed with a string or staple shut. Then follow the instructions below on how to gift!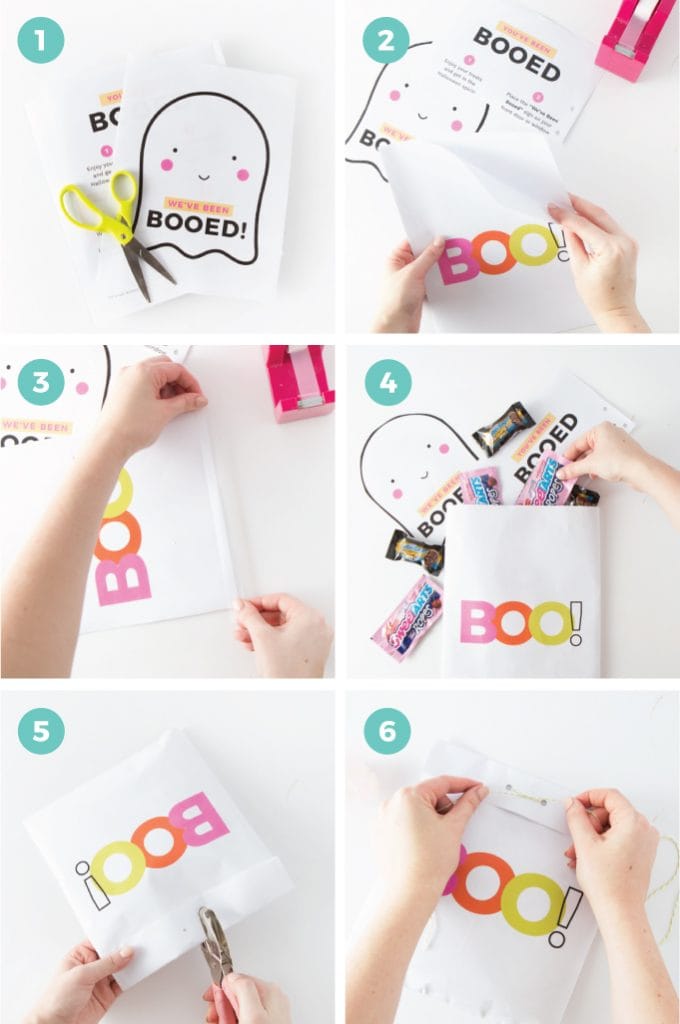 How to Play "You've Been Booed":
Starting October 1st, secretly leave the treat bag by a neighbors door then run away. (The fun of it is guessing who left it, so don't write who it was from.)
The recipient will then read the instructions and do the same to another unsuspecting neighbor. The goal is for your neighborhood to be infiltrated with Boo signs. If you're the one starting off and you don't want to be Booed back (and have to do it again), print off an extra ghost and place it in your door or window.
Note: Having the ghost sign on your door indicates you've already been BOOED, so if your recipient of choice already has one, choose another friend.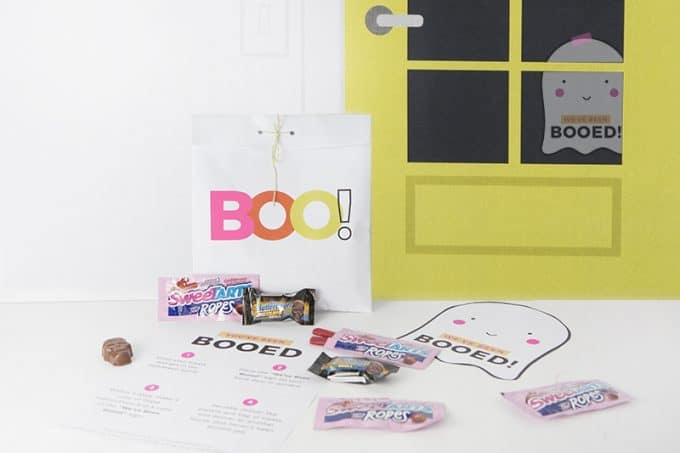 Frequently Asked Questions
How to Play "You've Been Booed" Office Version?
We used to play this at work and it was a fun pre-Halloween game for adults, too. Instead of delivering to neighbors, you instead secretly deliver two "boo packs" to coworker's desks. The best time to do this discreetly is before/after office hours or during the lunch break when the office is mostly empty.
The reason we had each person deliver 2 packs was so that it spread through the office quicker (if you're a smaller office, just do one). After you've been booed, you put the ghost sign on your desk, office door, or cubicle.
Can I print these black & white?
Of course! I intentionally designed these PDF files to use minimal color so that they would also look good in black and white.
What else can I fill the Halloween treat bags with?
In addition to the delicious Butterfingers & SweeTARTS, here are a few other fun "You've Been Booed" filler ideas:
Homemade Halloween Cookies (these easy eyeball cookies would be fun!)
Mini Coloring Books from the dollar store
Halloween trinkets from the dollar store (spider rings, slime, etc.)
Use a larger basket and deliver a Halloween cake mix, can of frosting, cupcake liners, and sprinkles for a fun Halloween cupcake activity.