Decorate back-to-school notebooks, binders, folders and book covers with these printable notebook stickers! Choose one of the trendy designs, draw on the details, and watch those boring school supplies transform into colorful desk decor.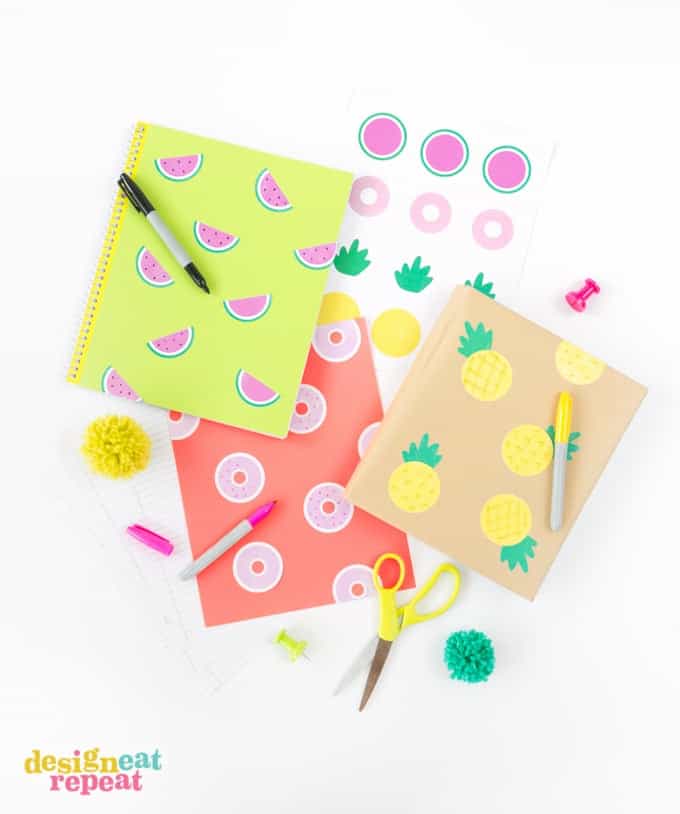 Growing up, organizing and packing my school supplies before the start of the year was one of my favorite things to do. There was something so magical about starting fresh with new crayons, notebooks, and folders. (Not to mention the fun of creating and labeling every single item with printable name labels that I likely customized with some crazy tween font.) Coming from a big family, we always got the 10 cent notebooks and folders from Walmart, but every year each of us could pick out one $1 "fancy" folder. Which was probably Pokemon for the boys and most definitely Lisa Frank unicorns and puppies for my rainbow crazed self. As for the cheaper ones, I usually whipped out my sticker stash or ol' Sharpies to give them some embellishment before they hit the halls.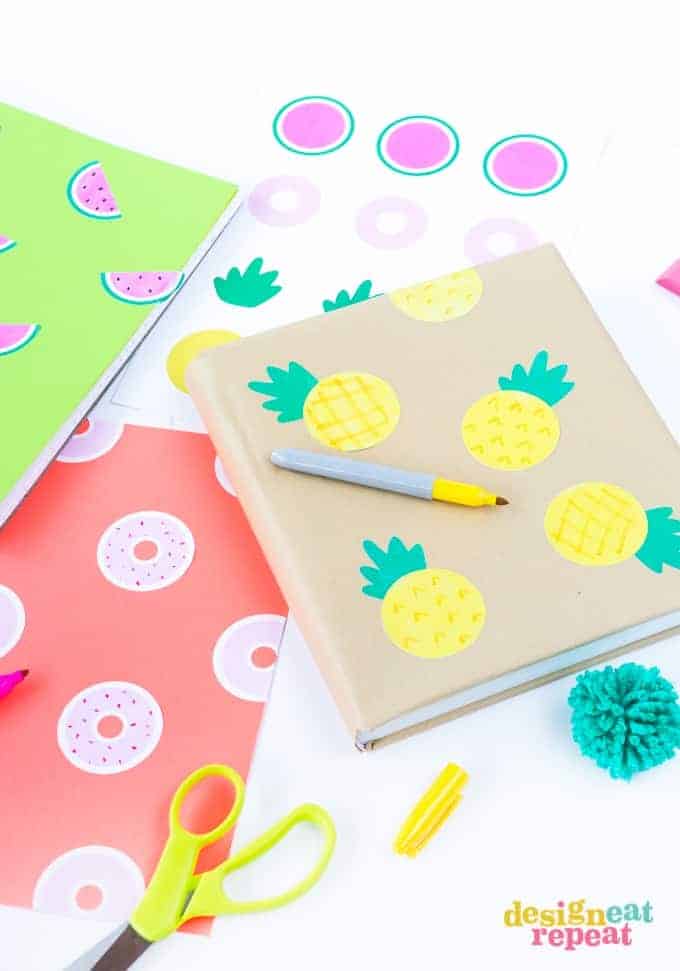 When it came time for high school I can remember those stretchy book covers being the fun patterned school supply item until of course, they got banned for ruining the binding of the books. We then resorted back to paper book covers which were a pain to put on and an even bigger pain from keeping from ripping apart in the midst of a 20lb. book-bag and tiny locker. So much of a pain that my one and only detention in all my school years was because I forgot to cover my math book by the deadline. (Rebel, I know.) Twelve years of escaping detentions and I got one for not wrapping my book in wrapping paper. Can't say I was too mad about it though because I did always wonder what detention was like.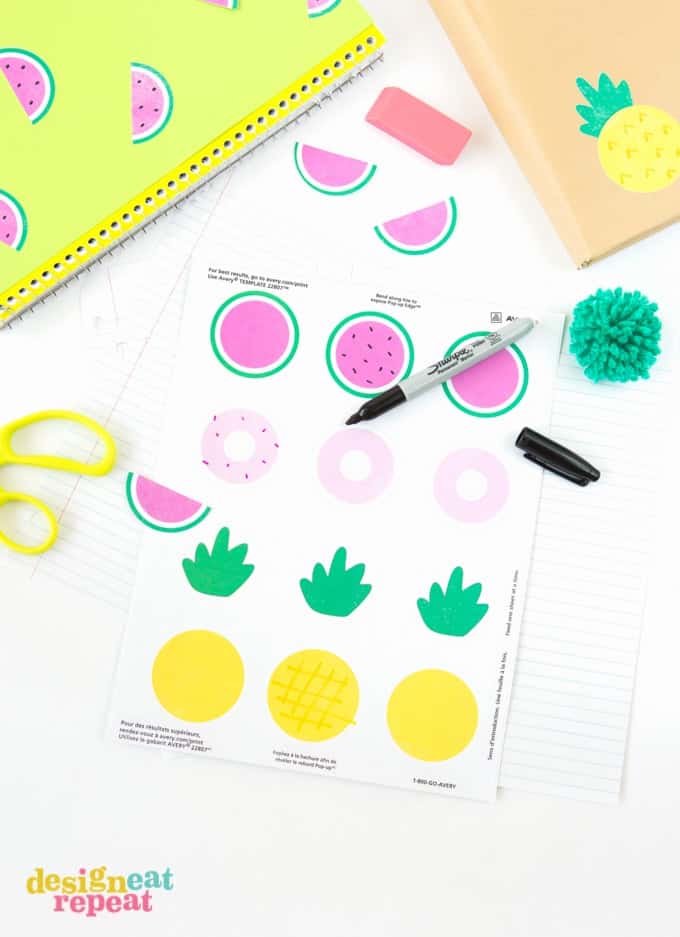 Now that my school days are over, I was trying to think of an easy and fun way kids and parents alike could embellish those 10 cent solid notebooks, folders, and binders without having to spend extra on all the patterned fancy ones. The solution? Pick up some solid colored items and kraft wrap and then slap on these fun watermelon, donuts, and pineapple stickers to create a DIY notebook that you can be proud showing off! I have the pre-made sticker sheet designed and ready to upload to Avery Design & Print Online and once printed, each sticker comes "blank" allowing you to draw on the watermelon seeds, sprinkles, and pineapple "hashmarks" adding another fun DIY element for kids. Use the watermelon as whole circles or cut them in half or quarters for fun slices.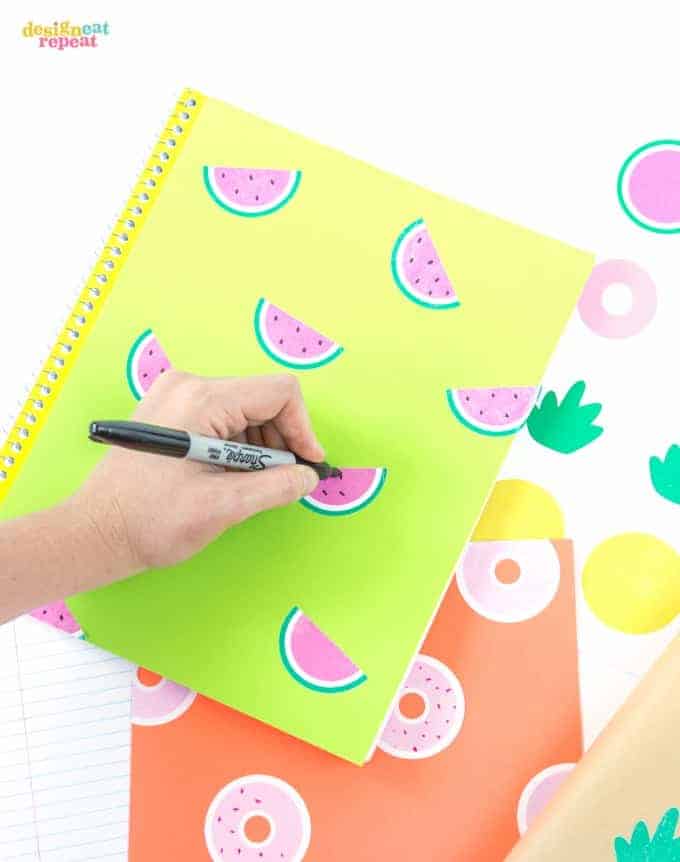 And if you want to take them a step further, write on each subject with the markers or use sticker letters for an added touch. Print off as many sheets of stickers as you need (the pack includes 120!) and you've got yourself enough fruit and sugar to keep you running all school year long!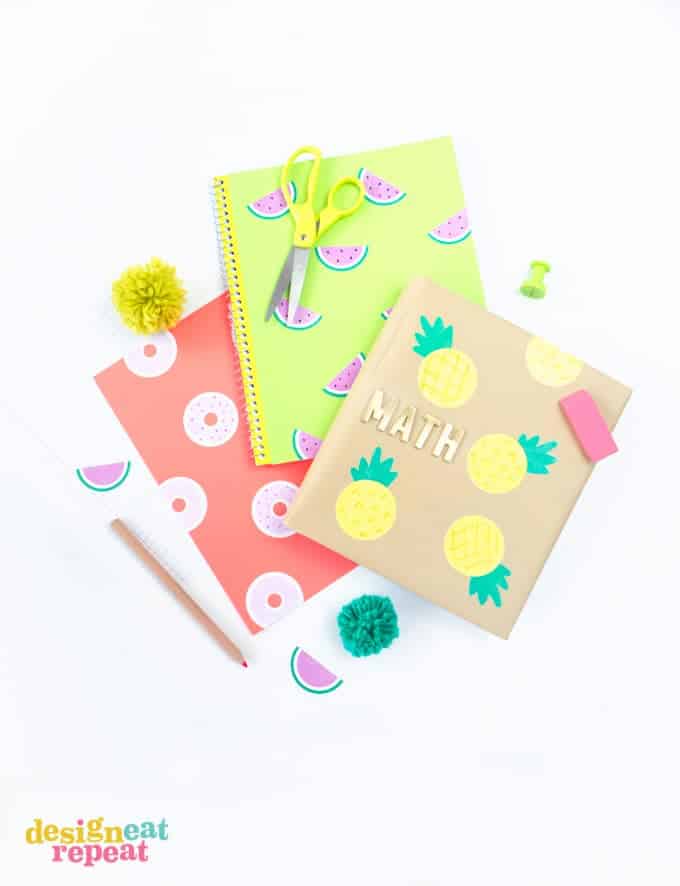 To Download & Print the Stickers:
A. Download & save the Avery Template to your computer.
B. Print and customize the tags through the Avery Design & Print Online software by:
1. Go to the Avery website and click "Open A Saved Project: From Your Computer" on the right side of the screen.
2. Upload the file you just downloaded.
4. Print on Avery Round Labels (#22807), peel off, and attach to notebooks, book covers, and folders!
(The pineapple toppers will need to be cut out with an exacto or scissors.)
Materials & Supplies:
Avery Round Labels (#22807)
Avery Template (Click here to download the template)
Exacto Knife (for adults only!) or Scissors

Please note that these files are for personal use only and redistribution or reselling for commercial use is strictly prohibited. If you would like to spread the word about this printable, you are free to do so but (A) must link directly back to this post for download (please do not link directly to the printable download file) and (B) may only use one image from the post. Thank you for your cooperation!