Can you guys believe Black Friday is just a week away? I'm usually one to sleep in on the shenanigans we like to call Black Friday (4am wake up calls, no thank you) and head out to the stores later in the day after the crowds have passed, but considering I won't be flying back home for Thanksgiving this year it's lookin' like it's going to be a day full of R&R, baking, and Netflix. And I'm not mad about it, considering I don't have much to buy this year. Being that this is the first time I'm far enough away from home that I'll have to fly home for Christmas, I realized that things are going to be a bit tricky since I can't really fit tons of gifts in my tiny suitcase and drag them home on a plane. So it's looking like I'm going to have to think up some creative (small) ways to gift this holiday season and probably give a good deal of gift cards. I always love seeing the designs on the gift card holders from the stores, but I thought I'd take it up a notch this year and create a fun gift card holder printable that is not only easy to transport, but also helps to make those little pieces of plastic a little more impressive!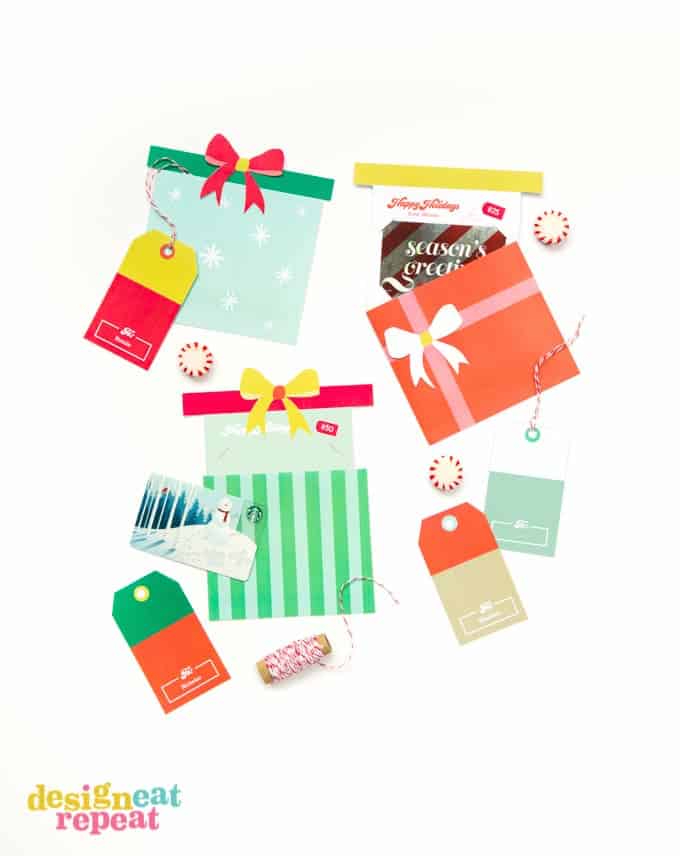 So instead of heading out and buying a $4 card to slip your gift cards into, you can print these little gift card holders at home with just a few sheets of paper! I designed the holder to fit on ONE sheet of Avery Matte White Postcards, which means there isn't a ton of assembling or folding that needs to happen in order to put it together. The great thing about the Avery Postcards is that they are already scored, making them easy to fold to create the pocket the top half slides into. And as a bonus, I designed these to all print on one side of the paper, meaning you don't have to figure out double sided printing! (Which is always a pain, am I right?!)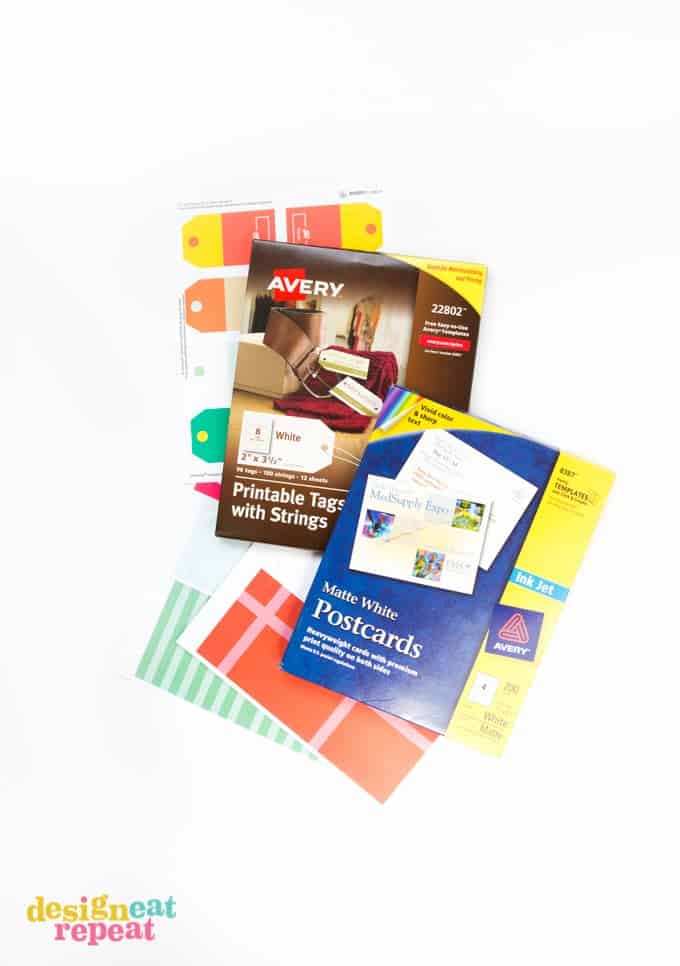 After uploading the (free!) files to Avery Design & Print Online and customizing the "From" and "Dollar Amount" bits (which is so easy to do in the software since I've already created the template!), simply print it out on a sheet of a Avery Postcard and then follow the cutting and taping instructions on the instruction PDF. I created "slit marks" to help you know where to cut to ensure the slits fit a standard sized gift card. Tip: To get the gift card into the slits without ripping the paper, you may need to lightly bend the gift card, slide in one end of it into the slits, and then slide in the other end.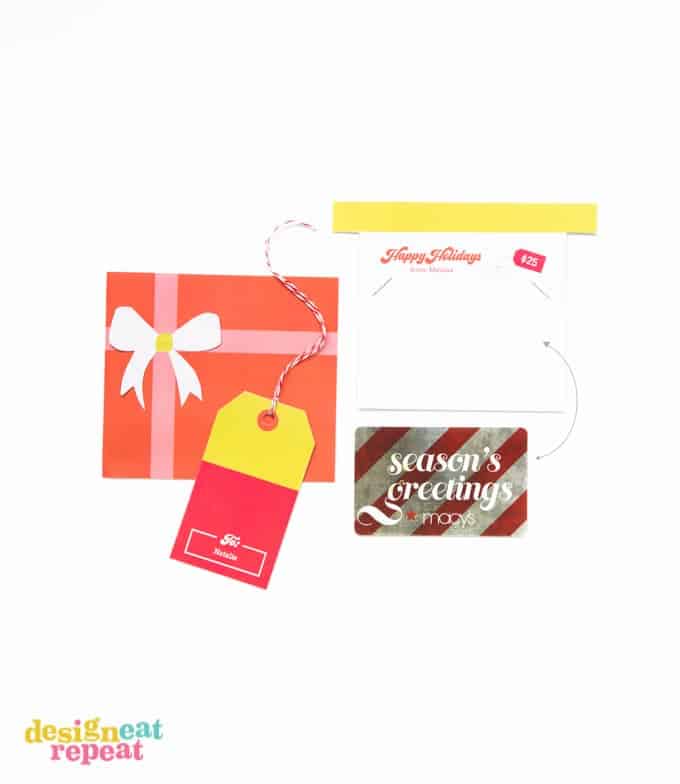 And because you're going to need to know whose is whose after you whip up a big stack of these cuties, I also designed these fun color blocked gift tags to tie to each one! You can upload the Avery template found below to Avery Design & Print Online to easily type in and customize your own names or you can print them off blank and write each name on with a pen. No messing with Photoshop or trying to insert the names in an image editor, it's all in one spot just waiting for you to personalize.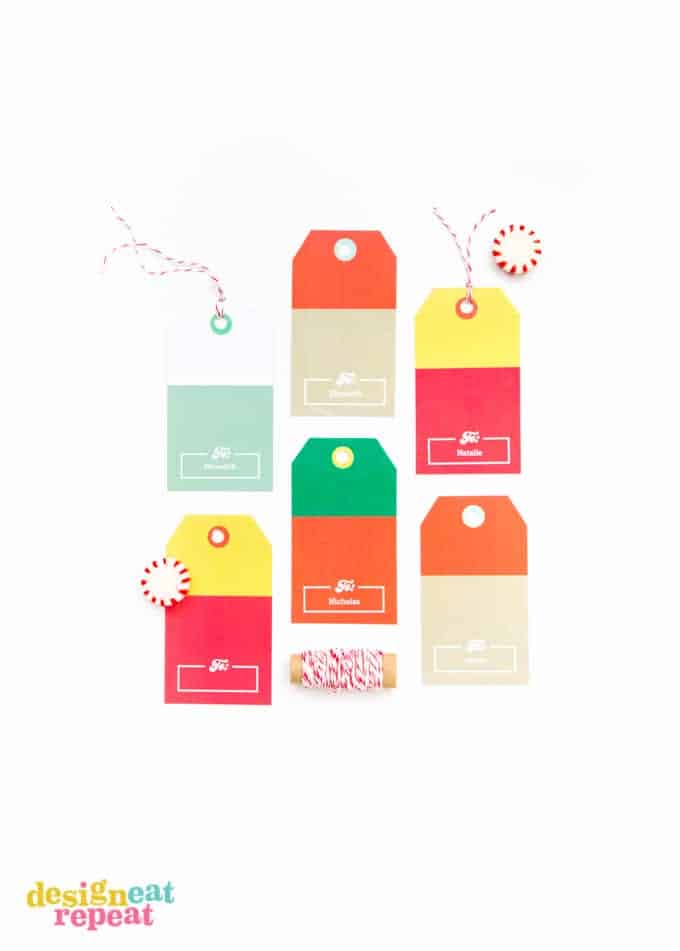 To finish things off, slide the top gift card piece into the holder, tie on a gift tag, and you're ready to conquer holiday gift giving in style! I mean seriously, who wouldn't want to get an interactive gift card? I don't care if you're 8 or 80, a card that resembles a pop-up book is always a win in my book.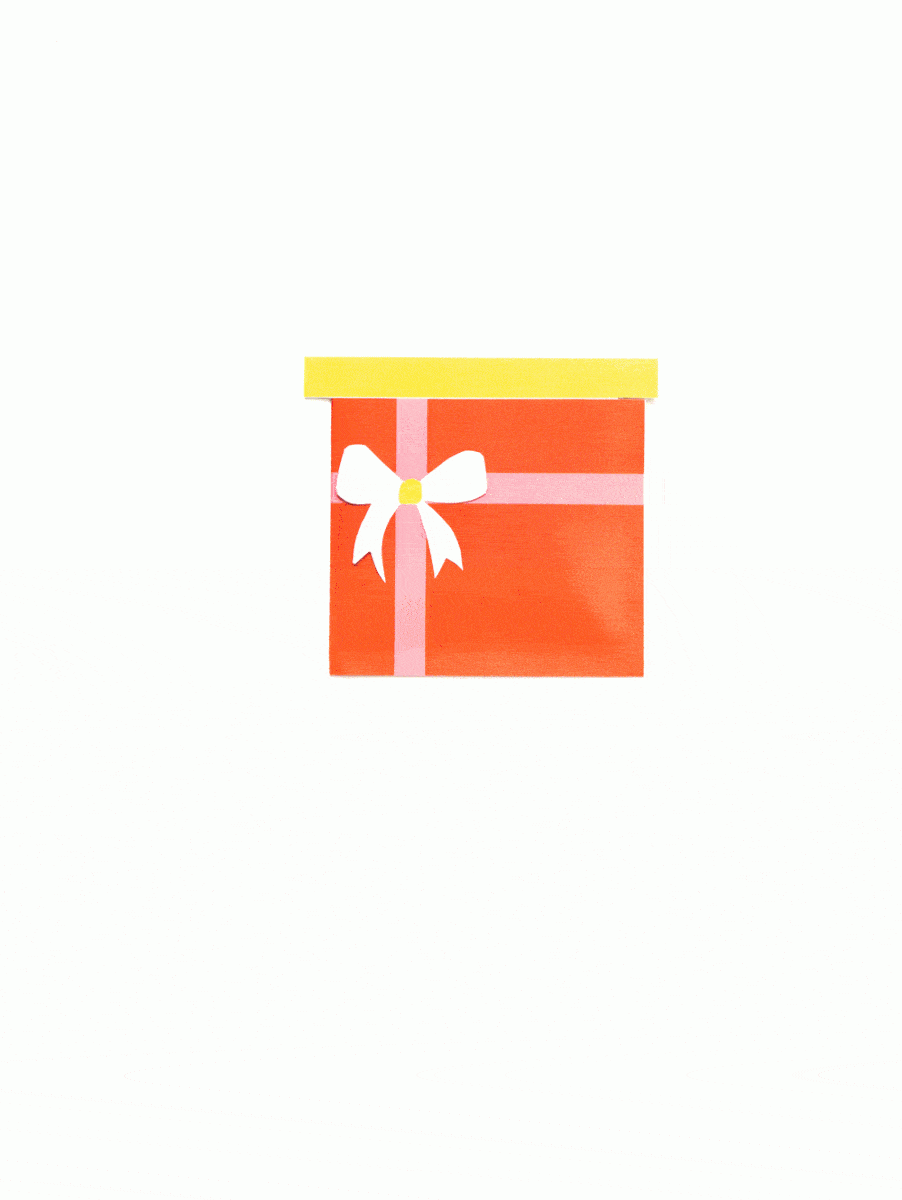 To Download & Print Avery Labels:
A. Download & save the Avery Templates to your computer.
B. Print the tags through the Avery Design & Print Online software by:
1. Go to the Avery website and click "Open A Saved Project: From Your Computer" on the right side of the screen.
2. Upload one of the files you just downloaded (the download folder includes all 3 color options + a template for the tags). Customize with your names & gift card amounts and then print on either Matte White Postcards (for the holder) or Printable Tags. Use an exacto knife to cut out the cards according to the instructions here.
So tell me: Are you typically a gift card giver? I love them since they're an easy way to allow everyone to get what they truly want…and I don't have to worry about spending $100 bucks at the airport to check through 2 extra suitcases to haul all the gifts home! Win, win.
This post was created in partnership with Avery. All content, templates, and opinions are that of my own. Thank you to my sponsors who help keep this blog & free printables running! For more holiday printables & projects, head on over to the holiday archive!